Are you feeling stuck thinking about the perfect wedding gift idea? Well, we kind of did the guesswork and are confident that the women in your list would love a big makeup set. Why? Because it has all the makings of a splendid gift- they feel personal and more fun.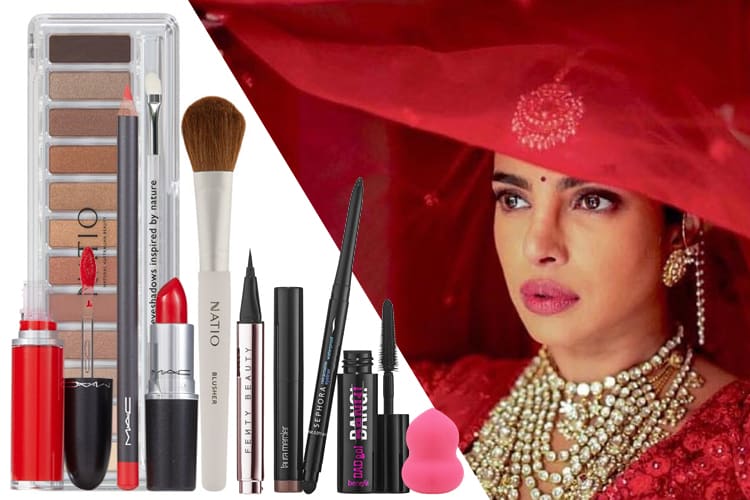 Where and which beauty products are exactly the best, you must be thinking? That's where we step in. Whether you're looking for your BFF, cousin, colleague, or someone from the family, or maybe yourself, we rounded the 10 best makeup gift sets, below, that is bound to be loved by all.
Best Makeup Gift Sets Ideas For Wedding:
Here are the lists of the perfect wedding gift choices for your favorite girls:
1. M.A.C Red Lip Kit:
You surely must someone on your BFF lipstick who is fanatic about red lipsticks. If red lips are their signature style, then darling you need to get this M.A.C red lip trio. This will certainly make a great gift if she is next in the line to get married.
2. Sephora Favorites Eye Candy Set:
This eye essential set is everything in one box. And it makes for the perfect gift for the special friend who absolutely is into dramatic cat-eyes.
3. Huda Beauty Demi Matte & Cream Lip Set:
This limited edition of matte lip cream set features two matte glosses and matching lip pencil. Its gorgeous acrylic case shaped as lips makes for the perfect wedding makeup gift set.
4. Natio 7 Makeup Products Gift Set:
You can't possibly go wrong with the seven makeup product gift set by Natio 7. It includes an applicator, blusher brush; primer, eye shadow palette, mascara, and lip shine to add that perfect shade of color. This will make any makeup lover happy.
5. Deborah Lippmann Beyond the Sea Gel Lab Pro Nail Color Set:
Shimmer nails with these mermaid-worthy hues by Deborah Lippmann. The nail color set is perfect to gift during the wedding season, as it can be suitably worn all-year-round.
6. Maybelline New York Bridal Kit:
With a Rs. 4120 value, it would be unjust for you not to flip on this deal. All the products separated are perfect for the bride-to-be. It's like a beauty makeup set but bettered with skincare benefits. The recipient is going to be forever thankful to you for it.
7. Benefit Cosmetics Feathered & Full Brow Set:
When we talk about brows, Benefit is one of the top brands for helping anyone achieve unbelievable arches. Get these essential set as a wedding gift which allows brows to stay perfect and feathered.
8. Sephora Favorites Give me Some Shine Lip Set:
If you know a signature lip set would bring a smile on your friend's lips then you need to grab this sampler set by Sephora. After getting a hold of this impressive collection, she's going to be a stickler of sorts for this one.
9. Natio 5 Piece Makeup Brushes Kit:
When it comes to makeup brushes, no one can unleash quite like Natio 5. Gift someone this luxe brush set and allow them to experience smooth makeup days to no end.
10. Givenchy Live Irresistible Blossom Crush Eau De Toilette Gift Set:
For the wedding, celebrate, and allow your loved ones to indulge in Givenchy! Make someone getting married happy by gifting them the Live Irresistible Blossom Crush fragrance by Givenchy elegant set. The gift kit also contains a magic khol and mascara.
Are these gift set choices for wedding personal and fun? Available in all price ranges-they make a great a great selection.
Which one would you love to present someone? Do let us know in the comment section below.