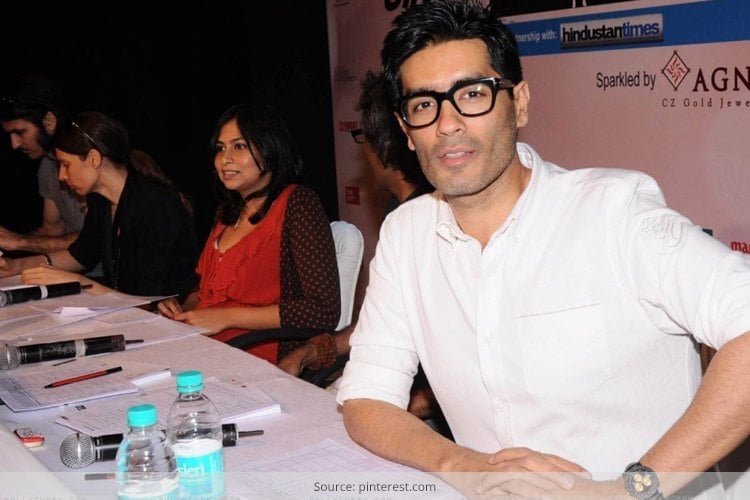 As we've already thrown light into Manish Malhotra's successful career in our previous edition, let's know more about him in this edition.
So, as we had ended our note on his popularity among directors and actors because of his splendid knowledge fashion appropriate for the characters played by the actors in different movies.
In initial days of his career, he would devote 18 hours per day in work. As we say, hard work always pays off, Manish could also taste the flavor of success after spending sleepless nights in his workshops.
Today with a sense of satisfaction, he admits that when he stepped into Bollywood, he was lucky to start working with big banners and actors. Just within three years of his career span, he was working with Yash Chopra and Dharma productions. He says,
"I've never really had a lull period or a period where big actors have refused to work with me."
In the span of 2 decades, he has been running from pillar to post so as to give his clients the best of his creations. In this run, Manish not only managed to earn the acknowledgement to change the face of Bollywood fashion, but he has managed to build a life-long friendship with celebs like the Kapoor sisters, Kajol, Madhuri Dixit, Karan Johar, Shahrukh Khan and so on.
On his equations with his celeb muses
Manish reveals that even if he doesn't meet them regularly, there is always a certain kind of respect and understanding between him and his celeb friends. He meets them occasionally for dinners. Either they visit him or he shows up at their house, there is a bonding. Today, some of them are  mothers and they have their own lives, whilst he has got his own.
He further continues –
 They know how the movie industry is. They know that jaise vo tang kiya karti thi, aaj koi aur actress tang kar rahi hogi…  
However, there is always an understanding and affection which will never fade.
While speaking of his equations with celebs, how could we just miss his long-term relationship with Karan Johar and Aditya Chopra. Even before Karan took over his father's company, Manish had already worked for Dharma Productions for Duplicate and Gumraah.
[sc:mediad]
Perhaps the reason why Manish has never lost any friend or client is because he values and respect whatever he is dealing with, be it his job or personal quotient with the celebs. He has always given them what they have exactly wanted. His loyalty and devotion towards his work has managed him to have such great camaraderie with the best in industry.
Among all the celebs, he has a special bonding with Karan Johar. Manish believes that Karan loves his sense of colors and he accurately understands his take for fashion. From Kuch Kuch Hota Hai days to Dostana, Karan has always relied on him for every release.
[Also Read: Smoking Celebrities]
While KKHH was a huge huge success for numerous reasons, the college students were highly impressed with the get-ups of Shahrukh, Rani and Kajol especially. Soon every girl was seen donning short hairs with broad hairbands, neon color cargos and cool DKNY tops.
Manish has still the skill to create magic, as he created with looks of Priyanka Chopra in Dostana. While Shilpa Shetty had a guest appearance in the casting song, but she could leave a lasting impression on the audience because of her svelte figure, flaunting through her sensual outfits designed by Manish.
When asked about the secret recipe of his success, he opens up saying it was possible because he also does Bollywood. It's true that no designer was accepted in mainstream Bollywood like him ever before.
His list of clientele includes names like Karishma Kapoor, Kareena Kapoor, Priyanka Chopra, Katrina Kaif, Nita Ambani, Shobhana Bhartiya and Madhuri Dixit shows that his work is appreciated in Bollywood and outside alike.
To be an integral part of Indian film industry that is notorious for its very short-lived life, Manish Malhotra's survival for more than two decades is indeed commendable.
The best part is that he is lucky to have been a favorite name among actors of varied generations, right from Sridevi and Madhuri Dixit to Priyanka Chopra and Sonam Kapoor. It's truly difficult for any technician to last that long.
Being one of the busiest designers in the fraternity, Manish confesses that he never has had a free day in his life. Unlike other fashion designers, who take an off after every show, he along-with his team have always been on the run from one runway to another.
As he is about to enter his silver jubilee year in Bollywood, his passion for Bollywood fashion has only deepened with the time. His love for Indian cinema was clearly visible when his Lakme Fashion Week show was showcased in retro style, commemorating the 100 years of Bollywood.
It's a fact that Manish is never going to fall out of love for cinema and fashion of course, he is socially conscious and has always readily contributed his element to revive rudimentary art and traditional elements which have died over the years.