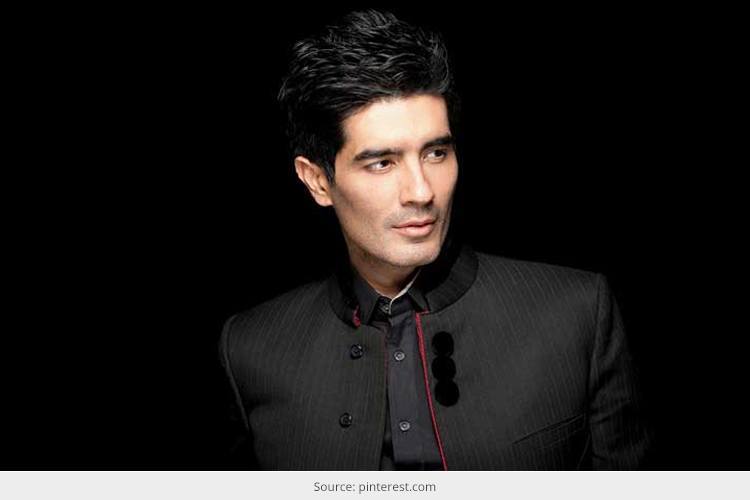 Circa 1995 when Manish Malhotra, the pied piper of Bollywood fashion had managed to toss up a job for himself in Ram Gopal Varma's Rangeela, little did this budding fashion designer know that his career path would earn him an invincible eminence of being Bollywood's reigning fashion designer.
Fashionlady takes a sneak peak into the journey of this most adorable costume designer in Bollywood and world of fashion alike. We've divided this section into two since it was impossible to decipher his success story in one piece.
Do have a read!
His faddish store located in Mumbai suburb is serenely tucked into a whimsical bylane, away from prying gazes. On second thought, may be Manish has purposefully set-up his boutique to avoid the curious eyes of his fans, who're likely to nudge his tiny alley, as Bollywood celebs zip in and out of their favorite designer's store.
If you ever get a luck to visit his store when he is available, you can how his precision is more than palpable. He takes note of each and everything of his store. He arranges and rearranges until his collections are all-racked and he is convinced.
That is the mark of a man consumed by passion for what he loves.
Manish, who prefers to be addressed as 'Bombay-Bandra boy', belongs to a middle-class Punjabi family. His passion for Bollywood drove him to what he is today. Way back in early '70s he had his first encounter with Hindi cinema and by the time he had reached his Xth grade, he had developed a surpassing passion for fabrics and colors celebs were seen donning in movies.
An alumnus of Mumbai's Elphinstone College, Manish Malhotra entered into the world of modeling while he was still doing his degree.
His first ad was in 1986-87 and he had received र 2000 for it. In those days, he had modeled for Weekender, Phillips, Frooti, Binanca tooth drops etc. And when it was time to make some serious career choices, he decided to mater the nuances of costume designing, finally landing on what he had always loved dearly.
He first worked in a boutique for 1 year, before starting out his independent job in a single room with a tailor. When was just putting the foundation of his career, biggies like Abu Jani & Sandeep Khosla, Rohit Bal, Rohit Khosla had all launched at Ensemble.
Manish realized if he wanted to make a mark then he needed to take a runaround and shift his focus to other path – movies. he successfully combined his passion for clothes and love for Hindi cinemas.
Rakesh Shrestha, photographer had introduced him to actors and asked them to look at his sketches. This actually marked the beginning of his journey which has lasted more than 2 decades.
[sc:mediad]
According to Manish, his biggest calling card was that he could sketch. Through movies, he introduced hair styling and make-up together. Below are some of his hand-drawn sketches –
When Manish stepped into Bollywood to give a make-over to all the then celebs, Bollywood was all about flashy bright pants and floral-printed shirts, something which was synonymous with Govinda's style.
A self-confessed fan of well-kept and absolute look, Manish is  big fan of 60's fashion – the flowers intact, the blouse perfectly fitted, the sari pallu in order, the sharp bandhgala. He even loves the polka mania from 70's and of course the retro 80's, which was in reality the worst phase of Bollywood fashion.
As per him – "I am not 'boho' or an overtly busy personality." Although 80's fashion was loud with heavy use of sequins like Sridevi's looks in Himmatwala, he still liked some of the elements if not all.
He had the courage to change the face of Bollywood fashion. He had a vision to rescue all of his favorite Bollywood celebs, especially heroines from the then fashion fiasco and today he is contended he has contributed considerably.
He knew he could only sustain in this dreamworld, if he succeeded in bringing about a change – a revolution in Bollywood fashion. It was not easy for him. By the time he made his entry, there was only female designers for actresses.
When Rangeela happened in 1995 and when he was honored with Filmfare award for costume designing – which was also the first award of its kind conferred by Filmfare then there was no looking back for this house of talent. His other two biggest success were Raja Hindustani and Dil to Pagal Hai, which earned him repute of makeovers. Manish managed to give Bollywood the panache it lacked.
From waffling confidence to bouncing cheques, Manish soared high over professional clouds like a pro. To him, he was the child who was madly in love with cinema and it just liked him back, giving him everything he had always dreamt for.
The reason for his popularity among the directors and actors is not the fact that he looks at films from the point of view of fashion alone, but he has the ability to look at a film from director's point of view.
Stay tuned for Part 2