Going completely green with your beauty routine is not always simple. With so many labels, it's often difficult to comprehend what ingredients really go into the skin care products and whether they're actually as green as they claim to be.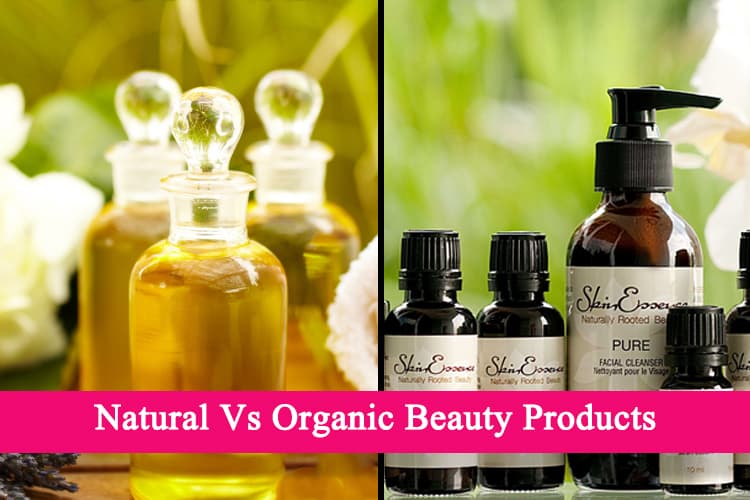 Natural and organic are two of the most common marketing buzzwords to describe the ingredients that are sourced from nature, but can still be a little misleading.
Here's a little know-how on what is the difference between all natural and organic beauty products.
Difference between Natural, Organic, and Vegan beauty products:
Keep scrolling to find out what terms like organic, vegan, and chemical-free really mean:
Natural beauty products:
A natural ingredient is considered to be anything that is derived from a plant, mineral, or an animal by product. But as most of these products claim to be natural, they aren't regulated by any major brands. This can mean that a product that contains natural skin care ingredients can claim that it is natural, despite the addition of synthetic ingredients.
The term is unregulated and legally, it means nothing and should be taken as a marketing measure. In general term, it means that at least few natural ingredients have been used in the product, but it can only be labeled as natural if it contains up to 30% synthetic ingredients.
But while the term natural is not regulated, all the natural products are not frauds. Look at the label to check the ingredients. And if it contains ingredients like acetate, nitrocellulose, red, etc that means it is hardly natural.
Remember they'll be listed from the highest percentage to lowest; therefore select a product where synthetic ingredients are mainly at the bottom of the list if included.
If all the listed ingredients are just the International Nomenclature of Cosmetics Ingredients, for example, sodium cocoate is saponified coconut oil, the product is all-natural.
Still confused? We break it down for you. The scientific names of naturally occurring ingredients may sound synthetic. For example, sodium chloride is just sea salt and citric acid is a compound present in lemon and other citrus fruits.
You'll slowly start recognizing these with practice. In addition, you'll learn to ensure your product is natural through some research.
Organic beauty products:
The term organic refers to how an ingredient was farmed. This means it must be prepared and grown without pesticides, chemical fertilizers, antibiotics, or growth hormones. Using the word organic on skin care products is highly regulated, although there is no accrediting body that owns the certified organic rule implementation around the world.
So organic can mean that ingredients are organically farmed and are regulated by the FDA. But the products only have to contain a certain percentage of organic matter to be passed off as organic on its label.
The ingredients must be grown and prepared under rigid conditions, but the concentration percentage of organic ingredients must be higher.
If you want to check for organic products, just look for the logo, and if it's there, you know that you're good to go.
The use of the word organic is highly regulated, and legally it can mean the ingredients have been certified by the USDA. To make out an organic beauty product, you can check an accompanying logo that confirms this. If you see the logo, it means that 100% of the ingredients have been grown and processed under strict codes of cleanliness, including no chemical fertilizers or pesticides, and absolutely no genetically modified organisms.
Vegan beauty products:
A product that is labeled vegan contains no animal products or by products. But chances are that a vegan beauty product could contain synthetic chemicals as long as no animals are harmed in the process.
To check whether a product is vegan, we'll repeat once again, read the ingredient list!
The Best Natural and Organic Beauty Products:
Natural and organic beauty products are having a big moment now. With the increasing demand for clean products, going natural no longer means to settle for healthcare stores. So if you are ready to switch over to a completely nontoxic routine and looking for the best green products, then scroll down. If there was ever a right time to go natural, it's now!
1. Tata Harper Clarifying Moisturizer:
This is a lightweight moisturizer that leaves behind a matte finish. This is perfect when you don't have time for face oils or balms to absorb.
2. May Lindstrom, The Pendulum Potion Complete Cleansing Oil:
The Pendulum Potion Complete Cleansing Oil by May Lindstrom is the ultimate beauty product to energize the night cleansing routine. The result is smooth, cleansed, and hydrated skin. Not only that, it has a delicious blend of earthy, spicy, and a sexy smell too.
3. Kjaer Weis, The Beautiful Oil:
This treats dry skin, uneven skin, and hyper-pigmentation wonderfully. It soaks in smoothly, smells light and fresh, and is perfect to use as a moisturizer or primer, and leaves your skin smooth and silky.
4. RMS Beauty, Raw Coconut Cream:
The raw coconut cream by RMS Beauty deeply nourishes, repairs, and strengthens skin using an antioxidant-rich formula. It protects skin against free-radical damage and premature ageing. The cream features anti-fungal and antimicrobial properties and so does not irritate the skin. It is also used for removing makeup including tough waterproof mascara. And this is suitable for all skin types, including sensitive, dry, and acne-prone skin. It is 100% pure, raw and unrefined, making it better than store-bought coconut oil.
5. Inika Organic Long Lash Vegan Mascara:
The mascara features a stout, yet elegant wand, which easily separates and adds volume to lashes. It is vegan, cruelty-free, and a natural mascara that can lengthen lashes with nourishing ingredients.
Bottom-line:
The most important things to look for in a label are the ingredients. That can help you to differentiate the difference between organic and natural. Do you have an experience to share when you tried an organic product? Share with us in the comments box below.