You as an urban, updated woman should be very particular about what you slather or spray on the epidermis. Molecules of a fragrance make their way to the bloodstream via the skin, nose, and the lungs. So, what smells stimulating and invigorating may not always be salubrious from the viewpoint of your health, especially if the perfume happens to be synthetic.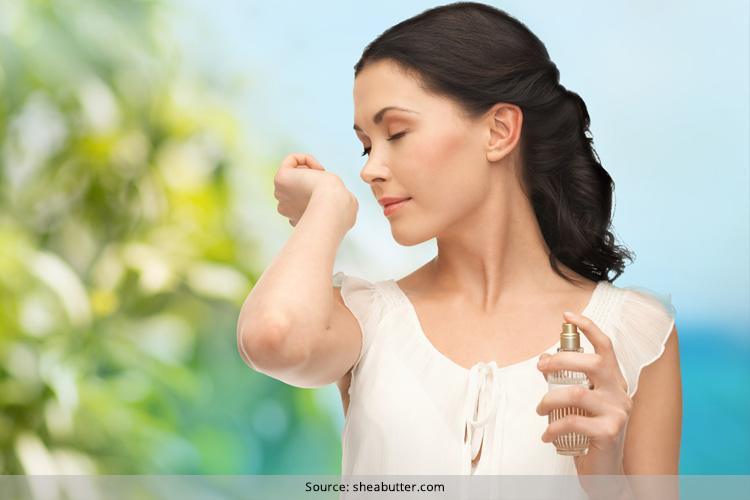 As FDA doesn't make it mandatory for perfumeries to exhaustively list all ingredients, you'll never be able to find out if your fragrance bottle is free of petrochemicals or alcohol. Choose from the following 7 organic alcohol free perfume brands if you want to stay conscientious and keep your body free from unwarranted toxins.
7 Alcohol Free Perfume Brands
If you want to steer clear of popular fragrance brands that may contain ingredients extracted from phthalates, petrochemicals, hydroxyl compounds (alcohol), and animal extracts, then you've some healthy alternatives. You can always choose from alcohol free perfume brands that are approved as organic by USDA. The following brands of scents have been formulated from ingredients that don't have any trace of acetate, solvents, petrochemicals, alcohol, and toxic dyes and are certified as vegan by PETA.
1. Parfums Honore' Des Pres Nu Green
Each and every bottle of Parfums Honore' Des Pres is cent per cent organic, including of course the Nu Green. Talking about fragrance without alcohol, the seasoned perfumer, Olivia Giacobetti has painstakingly seen to it that the perfume range is thoroughly organic formulated from botanic elements. And Nu Green, like the other varieties or collections of Parfums Honore' Des Pres lives to up to its expectations as it contains extracts of tarragon, mint, and cedar.
2. Pacifica Waikiki Pikake
Pacifica perfumery is based in Hawaii and makes good use of the local flora for distilling its perfumes. Jasmine extract is the chief or base ingredient of Waikiki Pikake and has a rich smattering of sandalwood essential as well. Not only are the fragrance brands of Pacifica including Waikiki Pikake, French Lilac, and Tahitian Gardenia fully organic but their packaging are also completely recyclable.
3. L'Artisan Parfumeur Eau Naturelle de Jatamansi
The Eau Naturelle de Jatamansi from the house of the French perfumer L'Artisan Parfumer exudes an aroma which is heady but in a subtle way. The fragrance of Eau Naturelle de Jatamansi that invades your senses furtively lingers on because of the potency of its ingredients. Jatamansi or Himalayan spikenard forms the essence of this fragrance which gets a healthy boost because of the other ingredients including bergamot, Australian sandalwood, cardamom, Indian papyrus, and guaiacum wood.
4. Christy Organics Natural Perfume
Christy Organics, based in Melbourne, Australia exclusively concocts and retails roll-on perfumes that are cent per cent organic. Its extensive range of collections with fascinating names such as 'Abundance', 'Trance', and 'Urbane' are free from parabens, alcohol, synthetics, alcohol, petrochemicals, additives and preservatives. All its bottles contain perfume that has been obtained by blending vegan or plant-based elements sourced domestically.
5. Abel Organics
Abel Organics is the brainchild of Frances Shoemack that was conceptualized to serve her need for a fragrance that was truly natural. She uses organic ingredients that are blended with essential oils and food-grade alcohol. The cases in which the perfumes are bottled have been chiseled out of wood reclaimed from canal beams and railway carriages.
6. Iba Halal Care Pure Perfume First Lady
Discussing about non-alcoholic perfumes in India, Iba Halal Care is a leading perfumer distilling perfumes that are completely devoid of any animal extracts, alcohol, parabens, and sulfates. The First Lady Pure Perfume from Iba Halal Care has an unmistakably floral fragrance that lingers on all through the day. You need to spray the perfume just once and the refreshing scent lasts for hours on end.
[sc:mediad]
7. Nemat Spray Perfumes
Nemat is one of the prominent alcohol-free perfume brands in India bottled by Nemat Enterprises based in Mumbai. The perfumery has an exclusive selection of light, lingering and refreshing alcohol-free fragrances meticulously formulated with signature blends. The classic perfume varieties of Nemat packaged in glass bottles, roll-on aerosols, and sprays are also completely free of any animal extracts.
Your signature perfume, should essentially on one hand, be an extension of your personality embodying who you're. And on the other, this fragrance must be a healthy option, and not one that unwarrantedly jeopardizes your wellbeing. And only organic alcohol-free perfume brands can effectively fulfill these criterions.