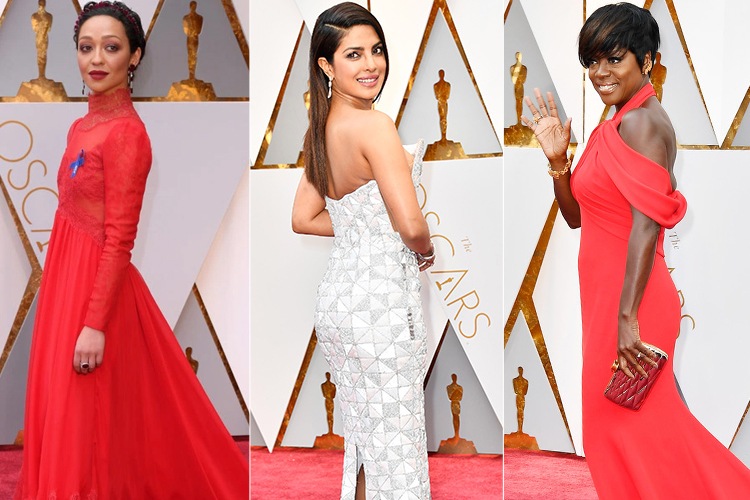 It was a Gala night that saw glorious history being made. We can't deny that the year 2016 has seen some of the best films in the history of cinema. The night that awarded those gem of movies had to be special, and special it was. The stars of Hollywood had saved the best in their wardrobe for this evening and made an appearance to die for.
Emma Stone, the frontrunner for the award of best performance by an actress in a leading role nominated for "La La Land," was seen in a Givenchy haute couture. The golden dress with its slim sleeves made it a moment of fashion for all. A winner of a dress for the perfect winner of an actress.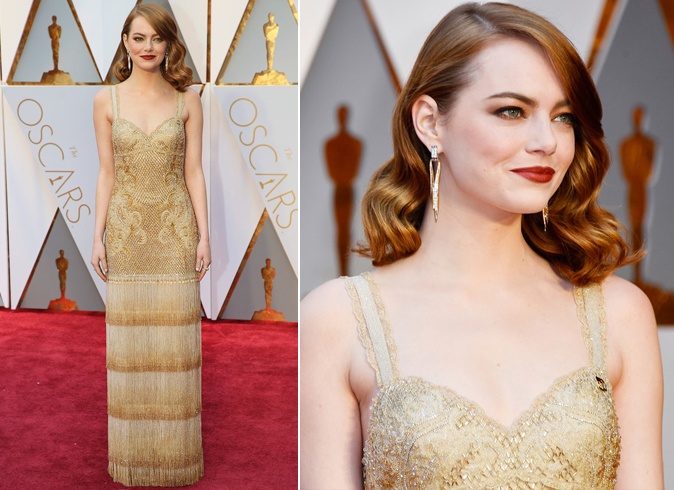 Naomie Harris was nominated for her exceptional performance in "Moonlight," her white Calvin Klein dress was speaking of her confidence in winning. A little cut out below the bust added extra details to the dress.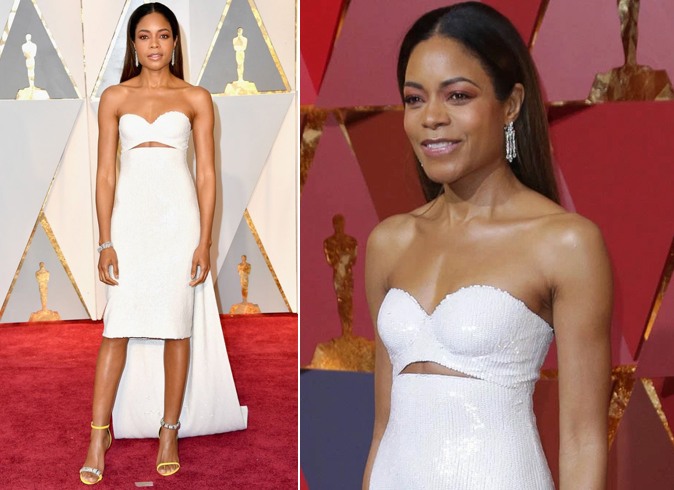 Ruth Negga was seen at the red carpet of Oscars last evening in a custom Valentino gown. The red specimen of craftsmanship caught all eyes for the little blue bow the actress decided on wearing for the special evening.  The ribbon, according to The Hollywood Reporter, is part of the American Civic Liberties Union'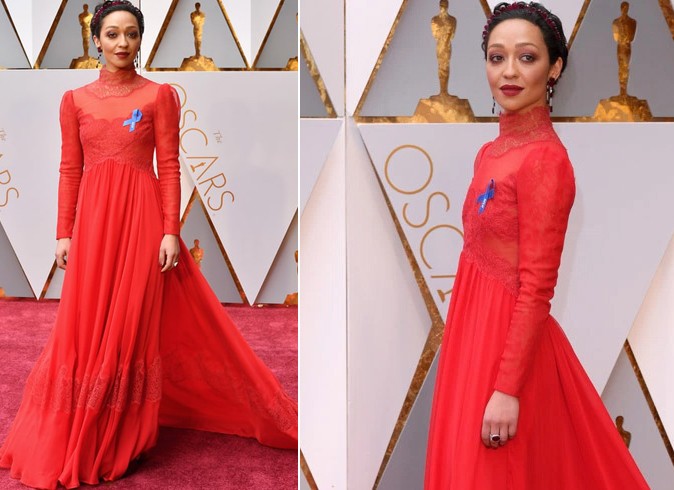 Janelle Monáe, actress of 'Moonlight' and 'Hidden Figures' was spotted in a very uniquely crafted dress by Elie Saab. The sheer bodice with flying birds to secure her décolletage claimed everyone's thought and attention. The black and white ensemble was one of the most embellished ones and if I may say, costume-esque seen in the evening.
Taraji P. Henson in her Alberta Ferretti was the epitome of elegance. The perfect gown in navy blue with sleeve off the shoulder accompanied by an Angelina Jolie leg was everything that defines class. Truth be told, in my opinion, Taraji channeled the Angelina Jolie leg way better than the pioneer herself. Now let's take a moment to bow down to her Nirav Modi diamond necklace.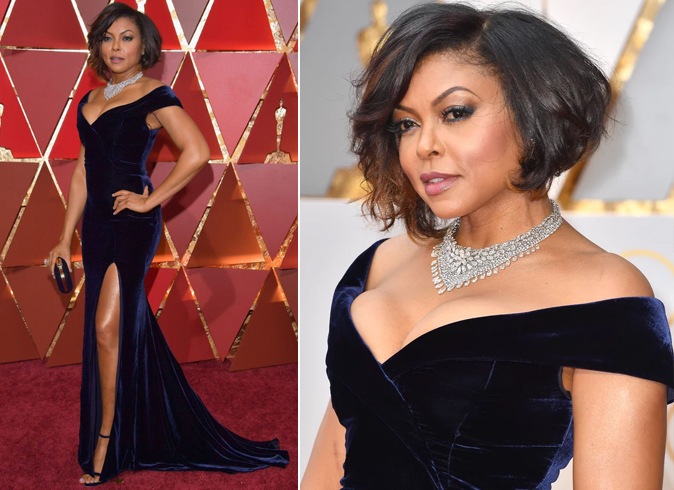 Priyanka Chopra Stunning us year after year at the Oscars, with her drop dead gorgeous outfits and intact fashion. She donned a Ralph and Russo white pearly strapless dress, giving the shutterbugs no rest at all. She teamed the look with open straight hair and her lovely smile. Her dress supposedly has diamonds worth 60 carats, well, she definitely looked more than that.
[Also Read: Priyanka Chopra]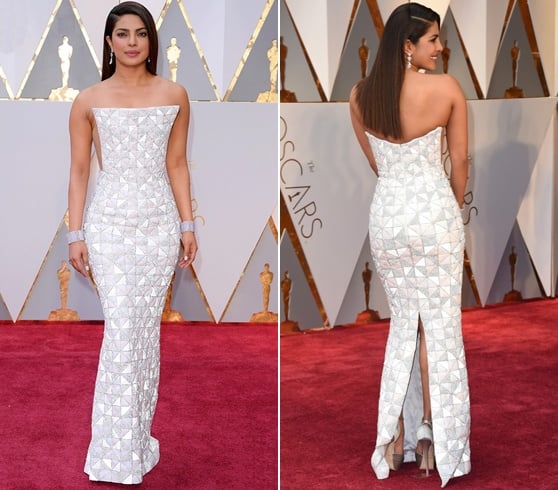 'Fences' star Viola Davis walked the red carpet looking knockout in her fire engine red gown by Armani Privé. I will be honest, it did take me awhile to wrap my head around the halter neck to sleeve situation. We are loving her short hair and a flash of smile that completed the look.
Isabelle Huppert, famous for her role in "Elle," kept it rather simple. Her full sleeves Armani Privé, glistening with sequence woven in had a little belt that brought out the shape of her body. The little trail added to the exquisiteness.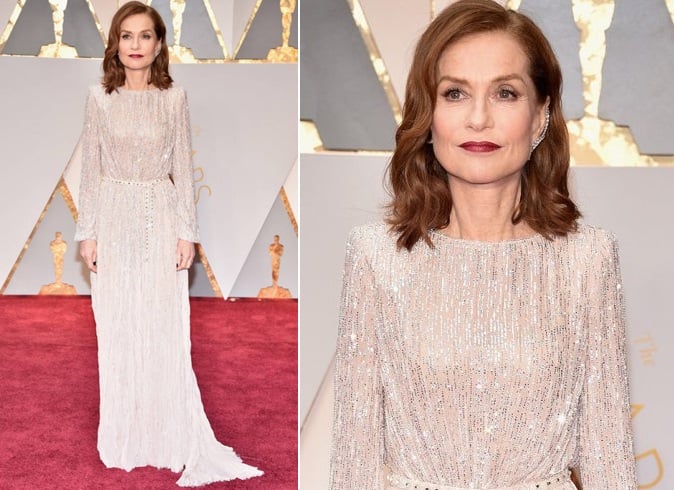 Michelle Williams's Louis Vuitton gown emitted an illusion of separates. The dark halter neck bodice with its plunging neck line made for a perfect contrast against the glittery and flowy skirt. I, personally think, she could have opted for a different hair do – maybe extensions – for the makeup and hair stood rather plain against the dress.
Brie Larson's Oscar de la Renta dress was a testimony of the designer's creativity. With its stream of ruffles that settled as a pool by her feet, the uptight neckline in a deep sweetheart, the dress was not even a dress, it was a walking dream.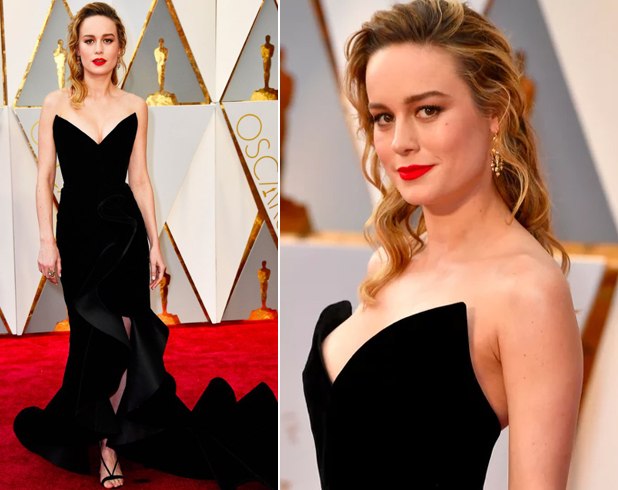 Octavia Spencer was again one of our favorites and ranks very high on the list of best dressed in her off-shoulder Marchesa gown. The silver gown, with just the right amount of fringes on the skirt portion, a beautifully pleated bodice complimented the actress's frame. Her diamonds from Forevermark rounded up the look.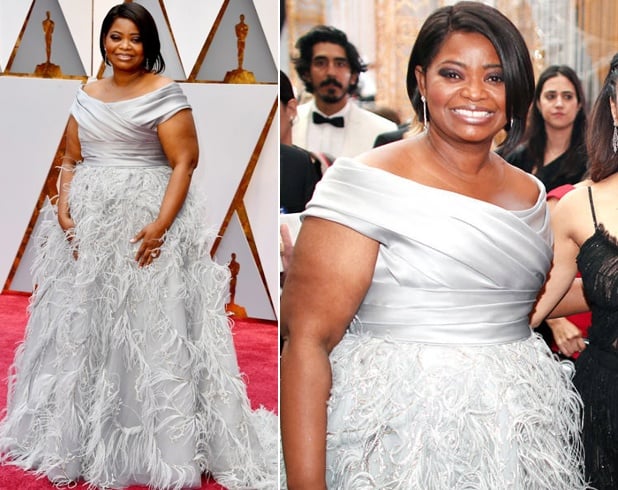 Nicole Kidman graced the Oscar red carpet wearing Armani Privé. The nude gown – not naked – featured the most intricate form of embroidery ever. Her scarlet lips was just an enhancement into her unfathomable beauty. And yes, we are totally loving the ruby earrings.  It doesn't matter if Nicole wins an Oscar or not, she will forever rule our hearts.
Dakota Johnson, the kind of beauty who could roll up in the geekiest of dresses and still look like a diva was rocking a Gucci this evening. 50 Shades of Grey or the sequences of it might never make it to the Oscar nominations, but who needs an award when actress herself resembles one in her molten gold full sleeves dress.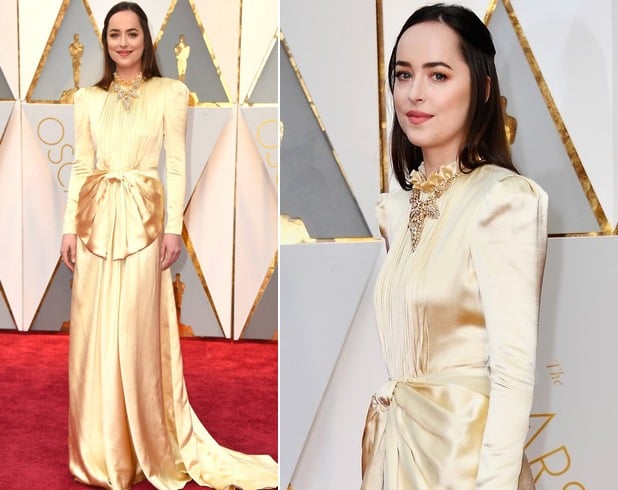 [Also Read: Top 35 Best Oscar Dresses Revealed]
We wrap up our Oscar celebration, excited that Emma Stone took the golden man home. We wrap up our Oscar style check anticipating the styles of next year.
Images Source: popsugar, eonline