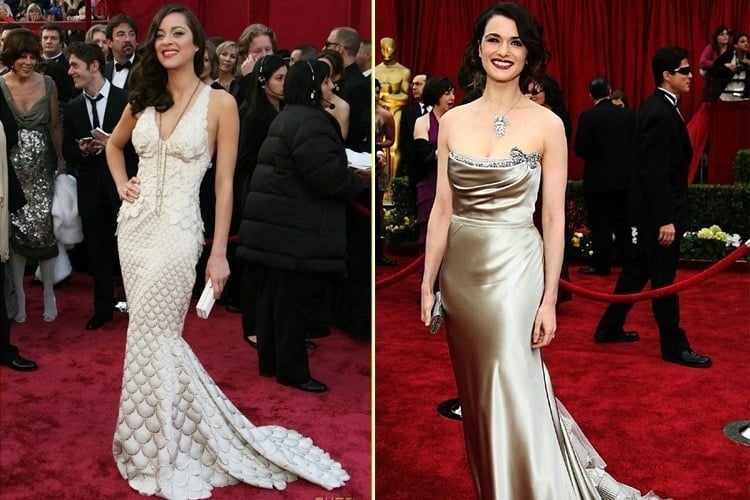 Although every celebrity comes in the best of her attire to woo the audience, history is only written with a few, whose red carpet dresses have given iconic moments to the best dressed red carpet history. Have a look!
Best Oscar Dresses Of All Time
1. Julia Roberts
Julia Roberts not only made waves when she stepped because she had bagged the best actress award in 2001, but her dress was the one everyone was talking about. The actress opened the doors for custom-made vintage dresses.
[ Also Read: What To Wear For New Year Party: Make It A Night To Remember! ]
This vintage Valentino gown dating back to 1982 broke all conventions revamped the tradition of wearing vintage more covetable and ultimately fashionable. Valentino has described this moment as one of the major highlights of his career.
2. Kate Winslet
Ben de Lisi's career went skyrocketed when Kate Winslet picked up his design to wear it to 2002 Oscars. This beautiful one-shouldered gown was one of Kate's many stealing moments and she has now become a pro on the red carpet.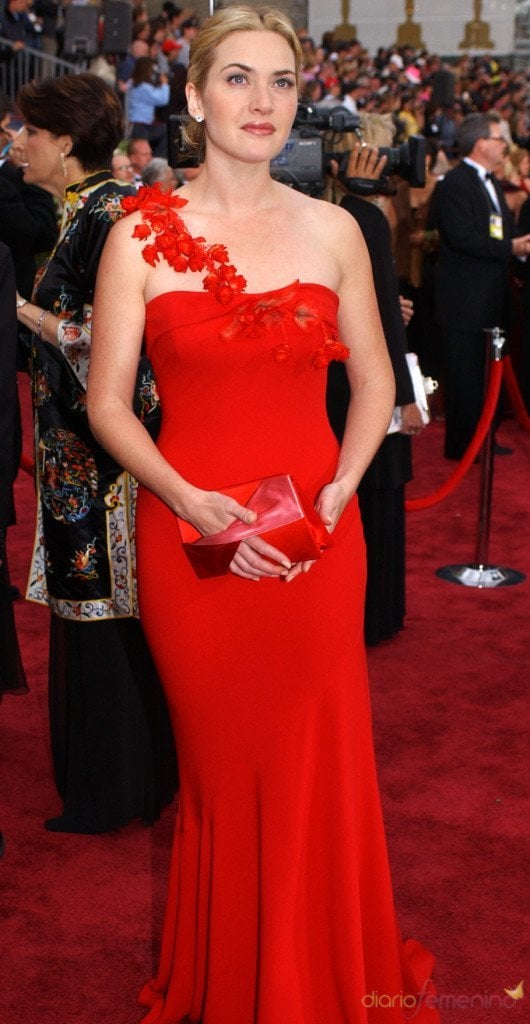 3. Renee Zellweger
It would have been quite a risky choice to carry yellow on a red carpet, but Renee knew exactly what she wanted and she chose to done in this Lily et Cie's vintage masterpiece. Her fashion statement was taken to the next level by her bright red lips and 1940's hairstyle.
[ Also Read: Celebrities Putting Their Best Foot Forward ]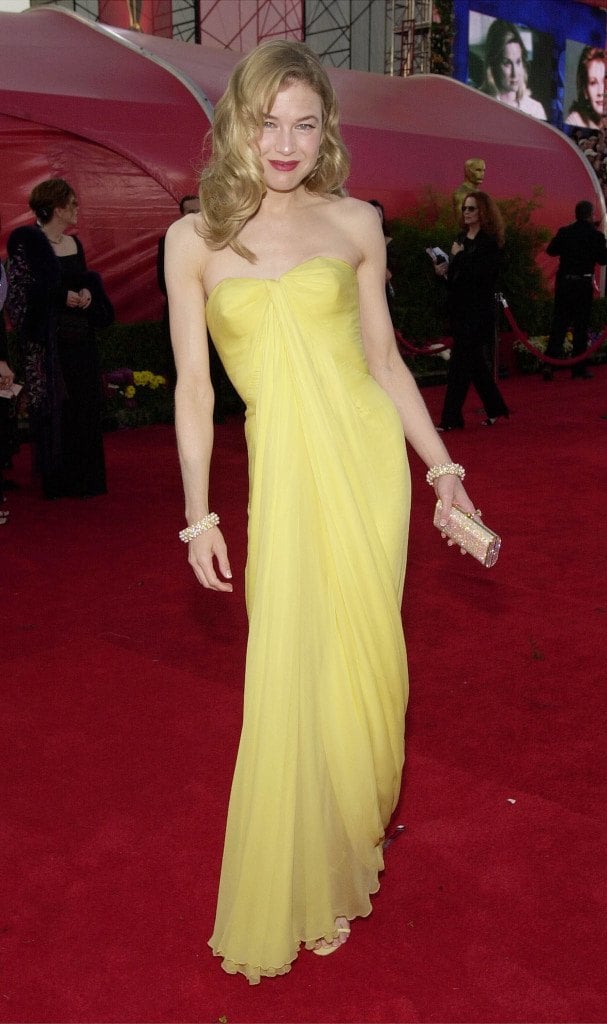 4. Rooney Mara
She was nominated for the first time for best actress due to her work in Girl with the Dragon Tattoo. This 27-year old actress caused a stir when she walked the red carpet in this heart-throbbing white Givenchy Haute Couture gown.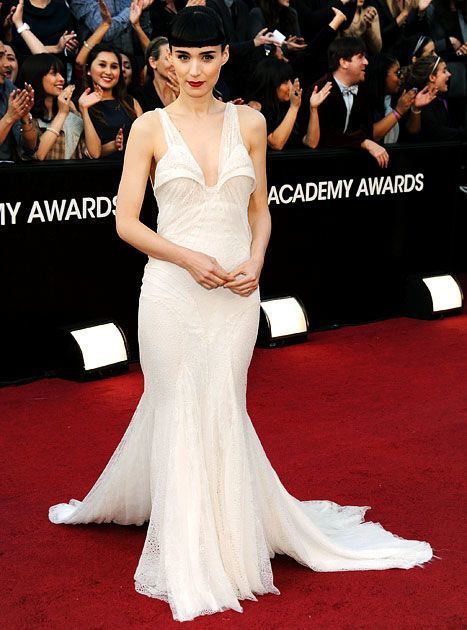 5. Anne Hathaway
When it comes to red carpet dressing, the top-notch design house Marchesa has been one of the favorites of many actresses in the recent years. Anne Hathaway looked stunning in this draped asymmetric gown in 2008.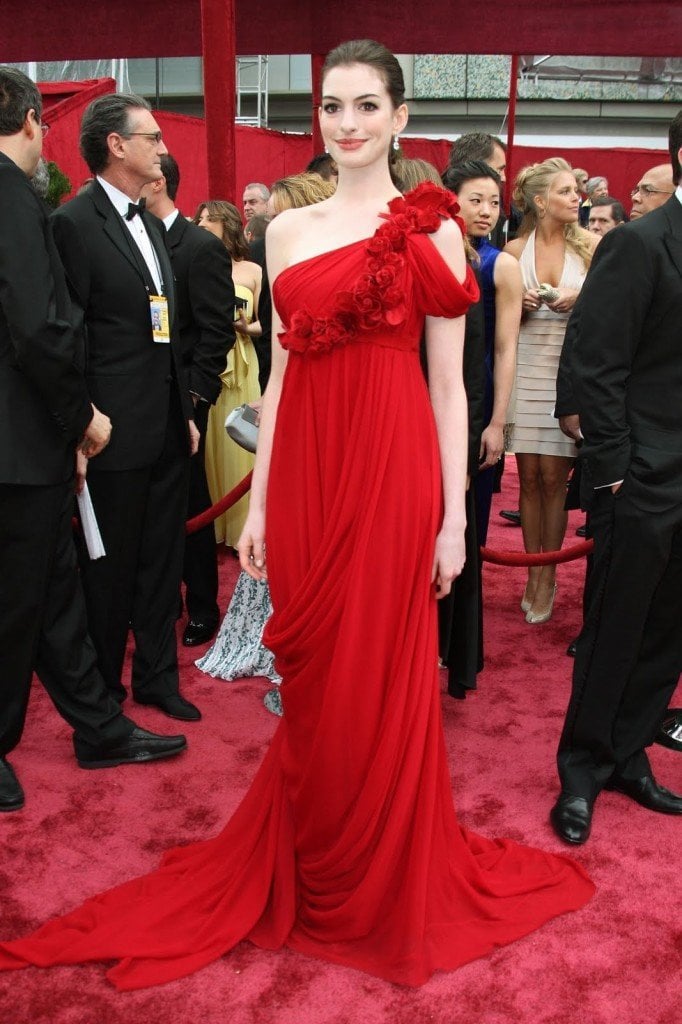 6. Marion Cotillard
In 2008 Marion Cotillard topped the best dressed list and credit goes to John Paul Gaultier's stunning white and silver mermaid dress. This curve-skimming fishtail gown was was embellished in hundreds of shimmering scales. Nothing short of perfection!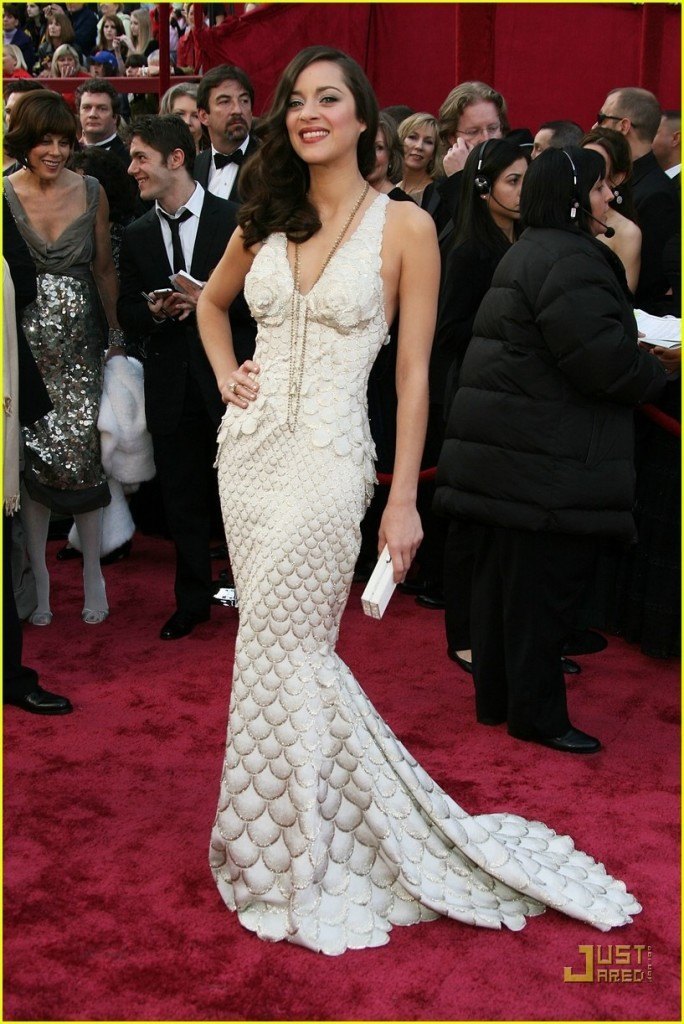 7. Sandra Bullock
The actress in 2010 not only bagged the golden statue, but also topped the best dressed list, as she arrived in this floor-skimming metallic Marchesa gown.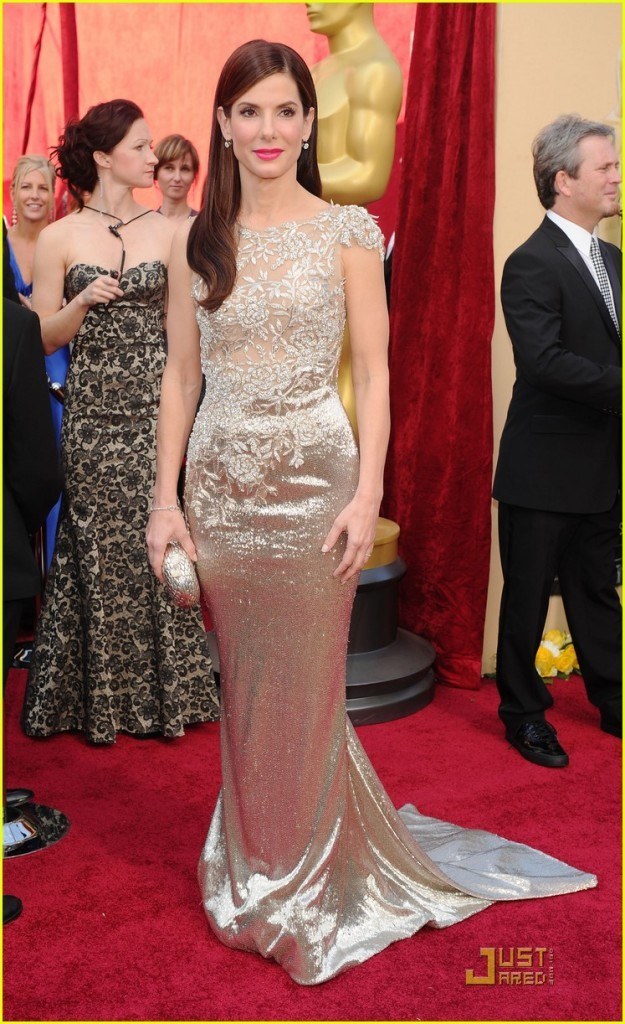 8. Anna Kendrick
She might have lost the Best Supporting Actress Oscar to Mo'nique in 2010, but she definitely won when it came to dressing, thanks to her blush pink Elie Saab Haute Couture gown and Sergio Rossi suede platforms. What else was needed!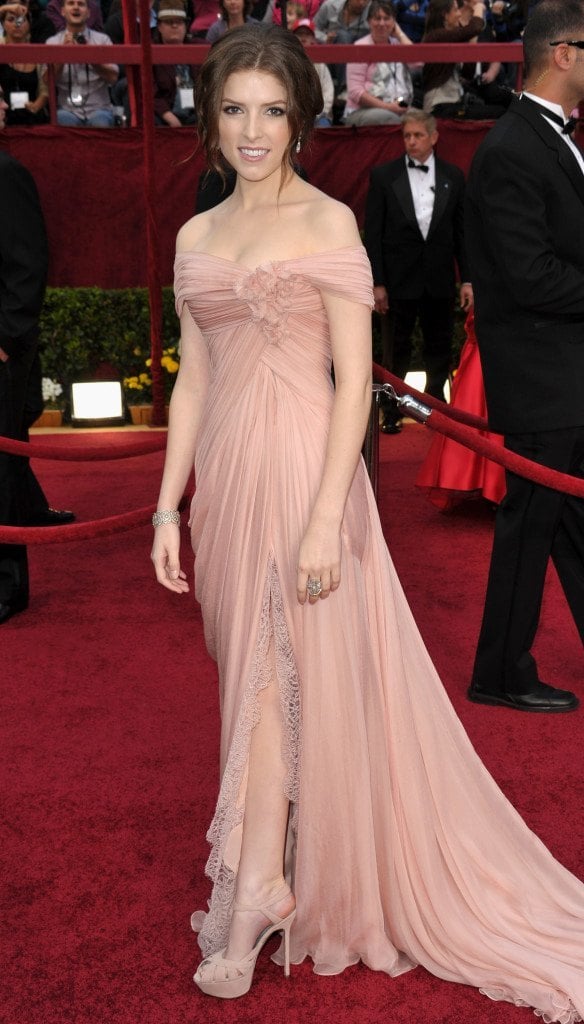 9. Mila Kunis
She lost the Best Supporting Actress for her role in Black Swan in 2011, but her Elie Saab Haute Couture surely dragged everyone's attention that evening.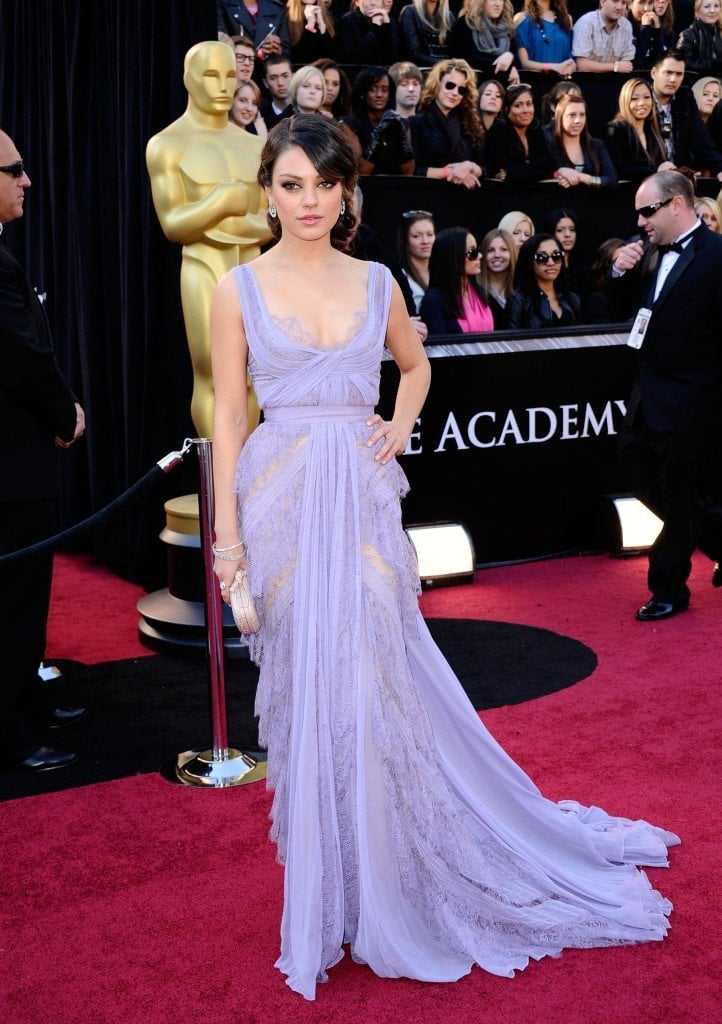 10. Anne Hathaway
She did it again in 2009! It seems, Anne Hathaway is determined enough to steal the show on every Oscar night. She believed in the tried-and-tested formula of classic cut by wearing Armani Privé's gown in 2009 and it really worked. And to add more glitter, she minimized it by Cartier's jewelery and Roger Vivier's clutch.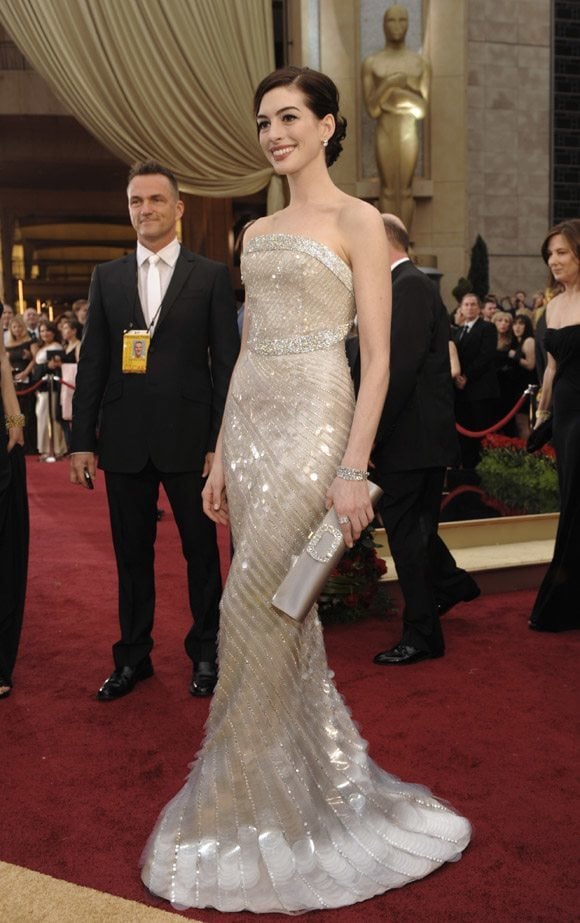 11. Rachel Weisz
The year after winning the Best Supporting Actress Oscar for her movie, Constant Gardener, she was back again only to present an award. She was dressed in a champagne-shaded Vera Wang's gown, which was ornamented with stunning delaminate smartly on the bust and a short chain embellished with plaited satin and tulle.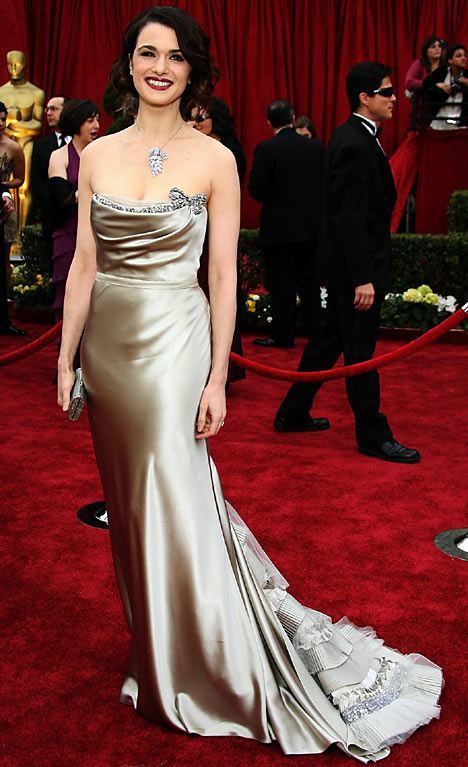 12. Nicole Kidman
Ms Kidman knows how to personify elegance and how to make million of jaws hitting to the ground. She did it exactly at the 2007 Academy Awards, as she became the ultimate scarlet in this stunning Balenciaga gown. She even added more twist with a traditional silhouette along-with a trailing bow tied behind the neck.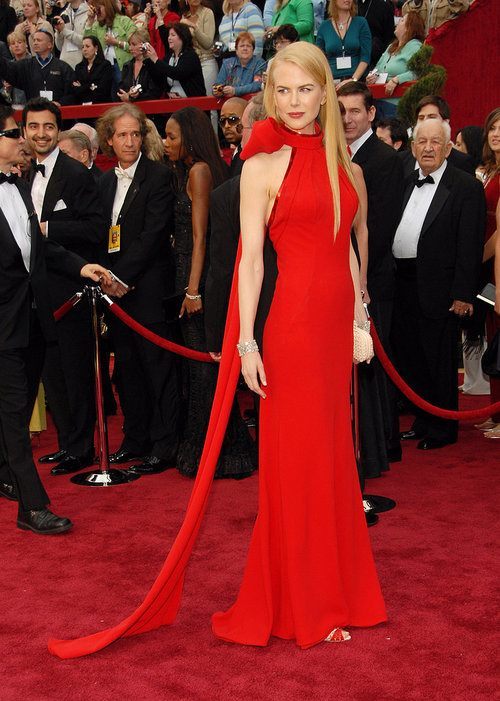 [sc:mediad]
13. Penelope Cruz
Penelope looked fabulous in her blush feathered Versace gown in 2007 , which went on to become one of the most iconic dresses of the decade.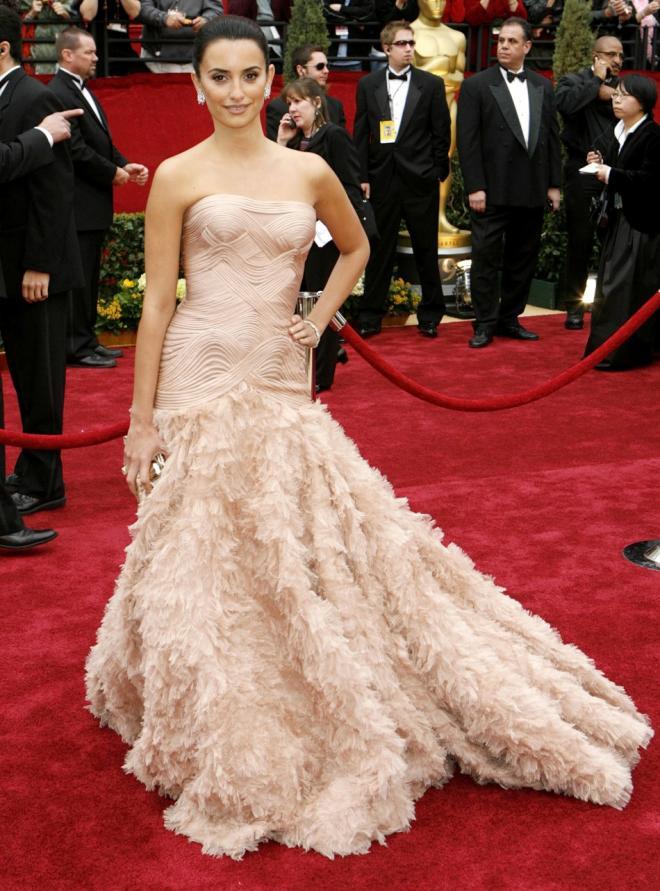 14. Jessica Alba
The Honey actress flaunted her enviable figure in this glittering Versace dress at the 2006 Academy Awards. Her nude back and slinky halter neck design made her even look more sexier.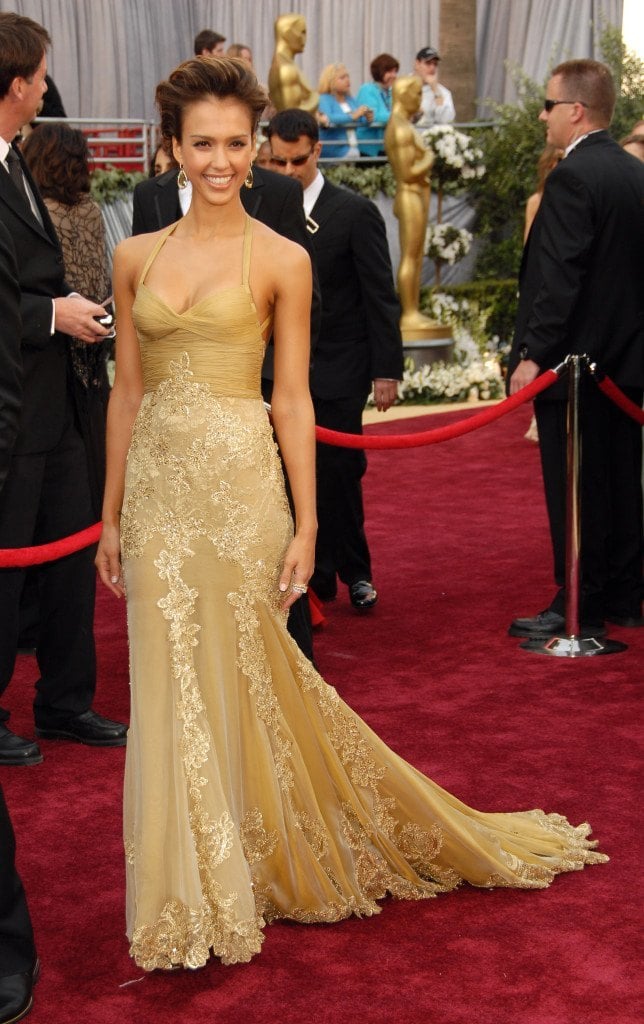 15. Michelle Williams
She wore a Vera Wang dress in the following year and received both love/hate reactions.
16. Drew Barrymore
The lady's love for black landed her in choosing one of the best iconic Oscar dresses of the decade in 2005. The strapless Atelier Versace gown wrapped up her prefect porcelain white neck and shoulders.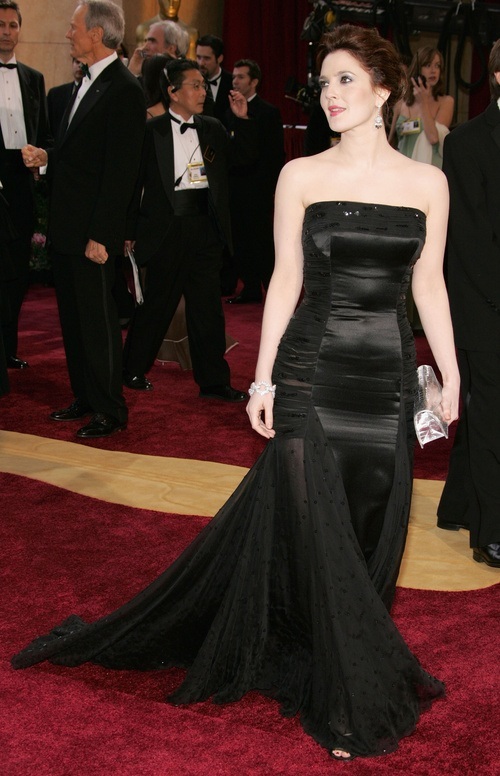 17. Charlize Theron
In 2004 she won an Oscar for her movie, Monster and next year she showed up to present the Best Actor Award. To do this honor, she had worn a splendid duck-egg blue haute couture gown by John Galliano for Christian Dior. The gown was frothy and big, flaunting a 4 foot train.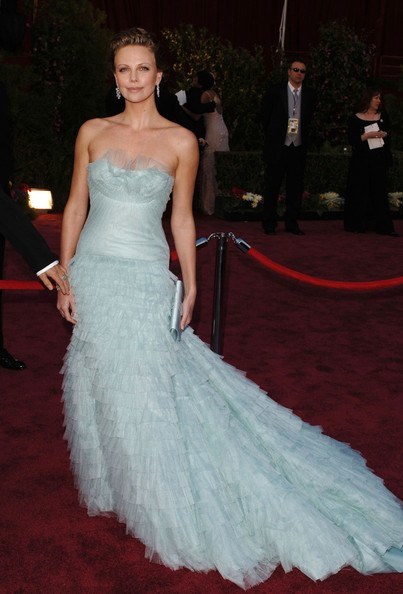 18. Beyonce
How could we expect Beyonce not to steal the show? The queen of pop made a stir in this glittering gown by Versace in 2005.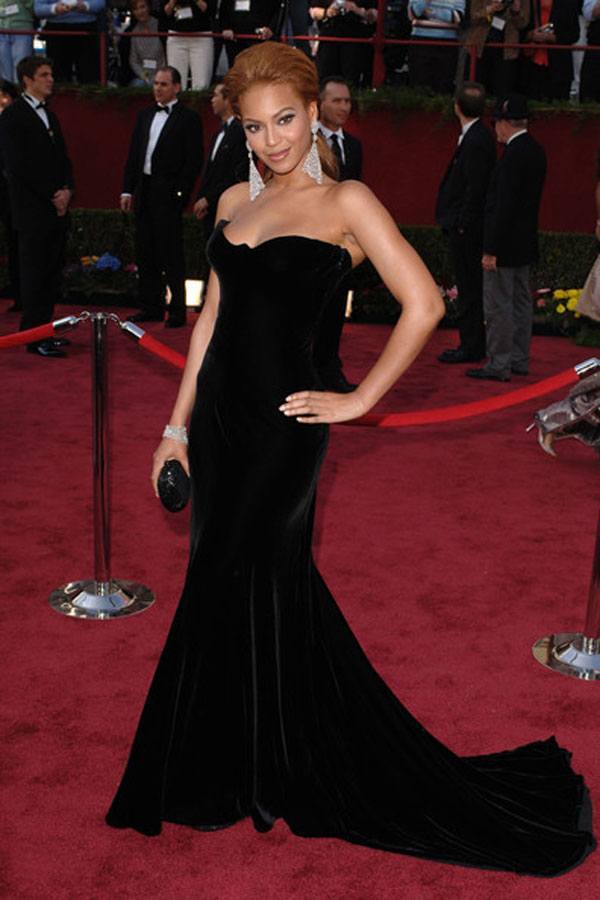 19. Hilary Swank
Hilary Swank made sure to look fabulous from all contours, when she arrived the following year for Academy Awards. The navy Guy Laroche gown with a daringly low back made quite a stir that evening.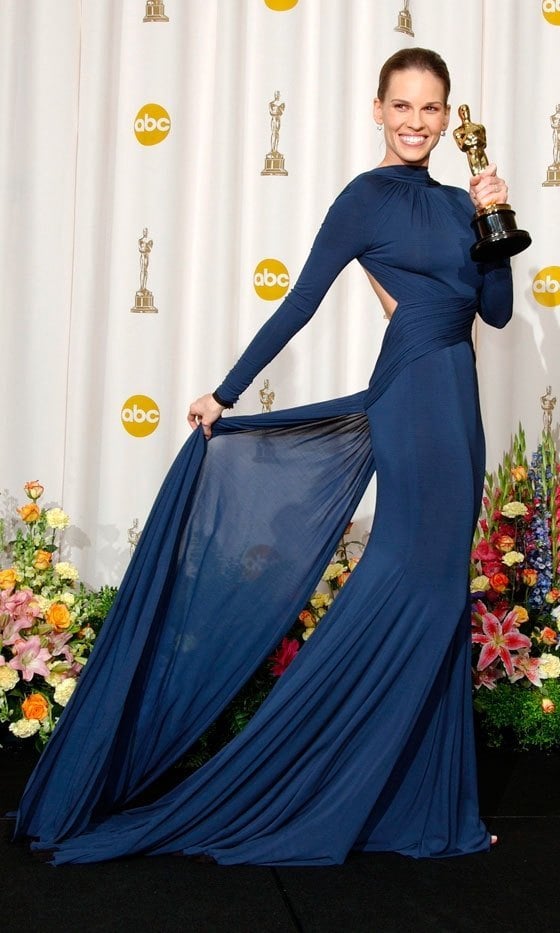 20. Cate Blanchett
Cate Blachett wore a dress of her lifetime, Apart from winning the Best Supporting Actress Oscar for The Aviator in 2005, she easily grabbed everyone's attention, as she looked stunning in a vibrant Valentinio Couture gown, which was designed by himself.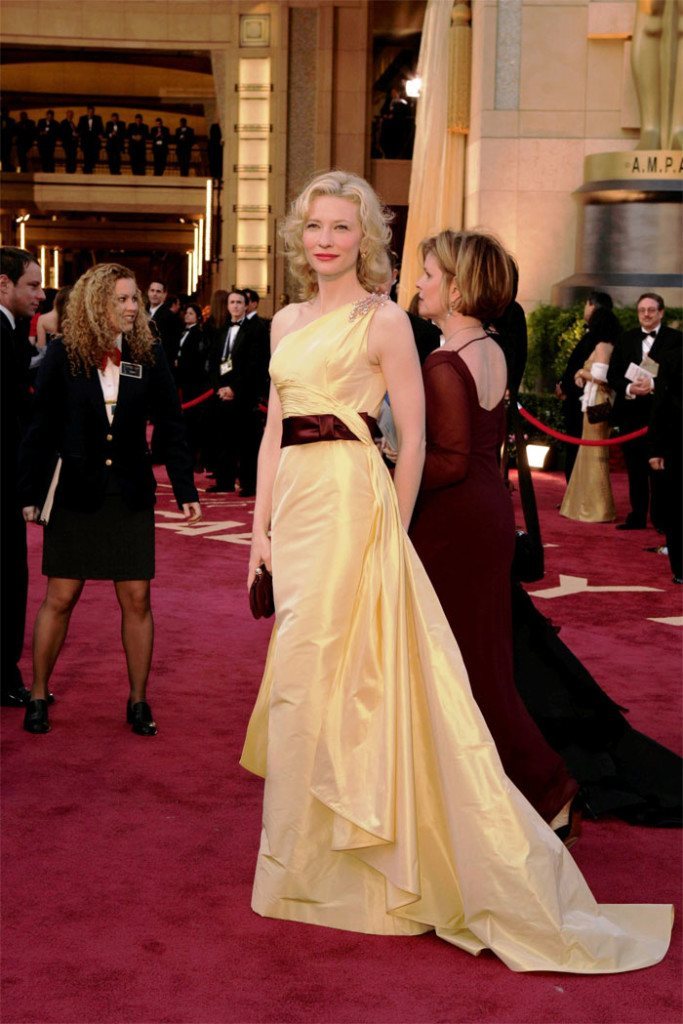 "This time I decided to have one special dress, conceived for this one special actress." – Valentino
21. Angelina Jolie
The ethereally beautiful actress was seen wearing a plunging white satin gown with matching wrap from Marc Bouwer at the 2004 Oscars. Her matching jewelry enhanced her look greatly.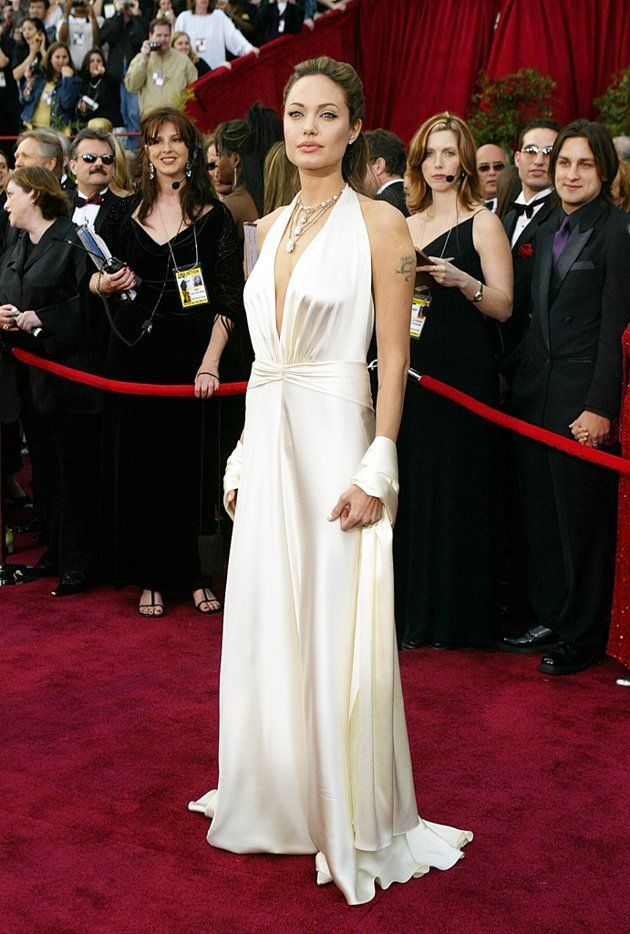 22. Halle Berry
In 2002 Halle Berry knew her assets and was confident enought o flaunt it. In a sheer Ellie Saab gown, she was indeed one of the best dressed that night, not to mention, the winner for "Best Actress" for "Monster's Ball."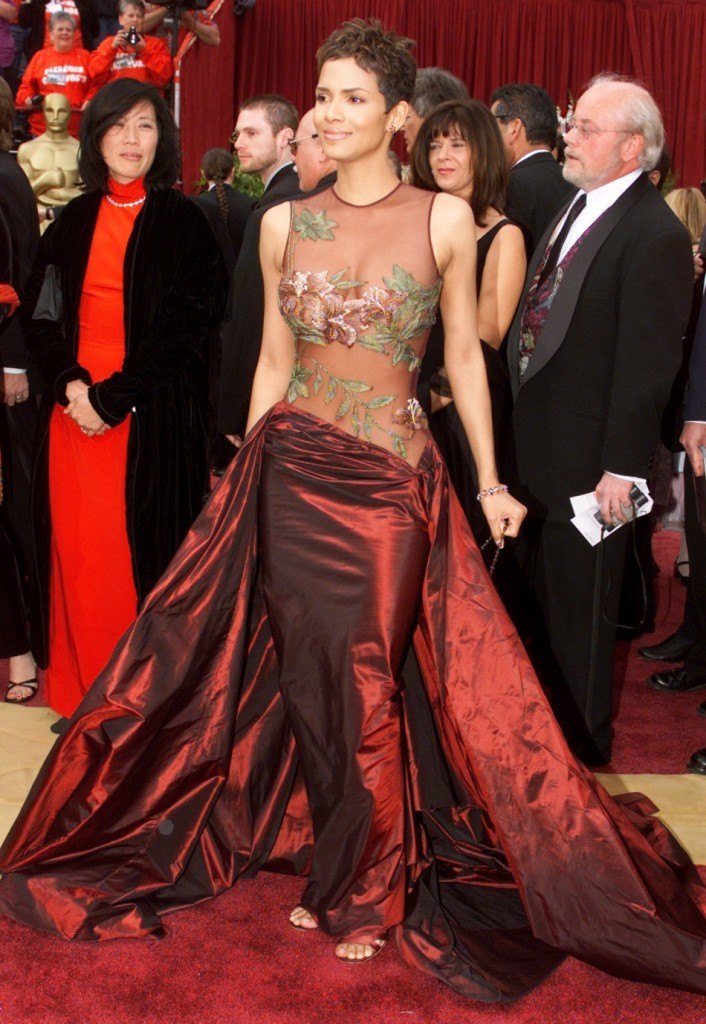 23. Nicole Kidman
Nicole Kidman's dress was the talk of the town, when she arrived with her the then husband, Tom Cruise in 1997. This gorgeous gown was designed by John Galliano for Christian Dior.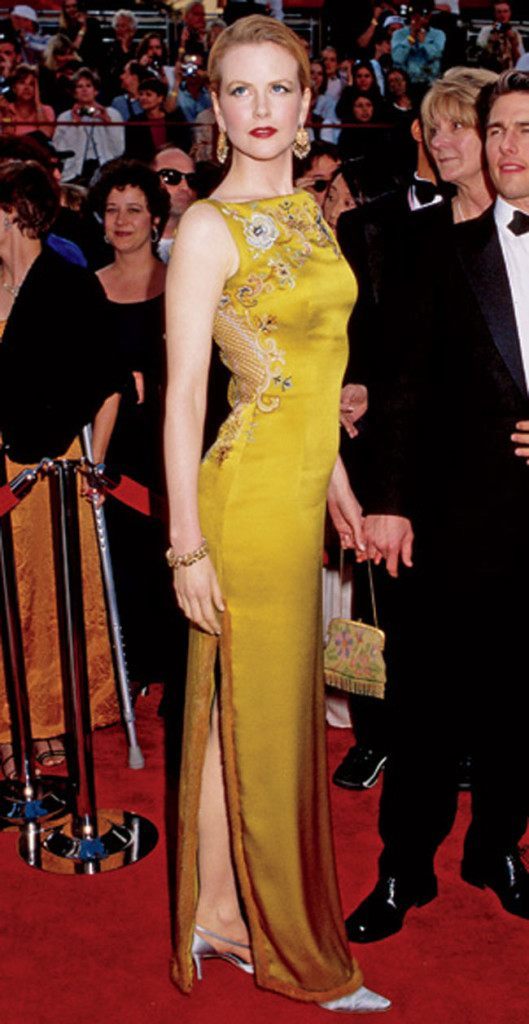 24. Jennifer Lopez
Quite interestingly, Jlo's fashion moment lasted more than her relationship with Ben Affleck. This topped the best dressed list in 2003. She has been known to be highly influenced from former First Lady, which led her to become quite choosy when it comes to dressing on the red carpet.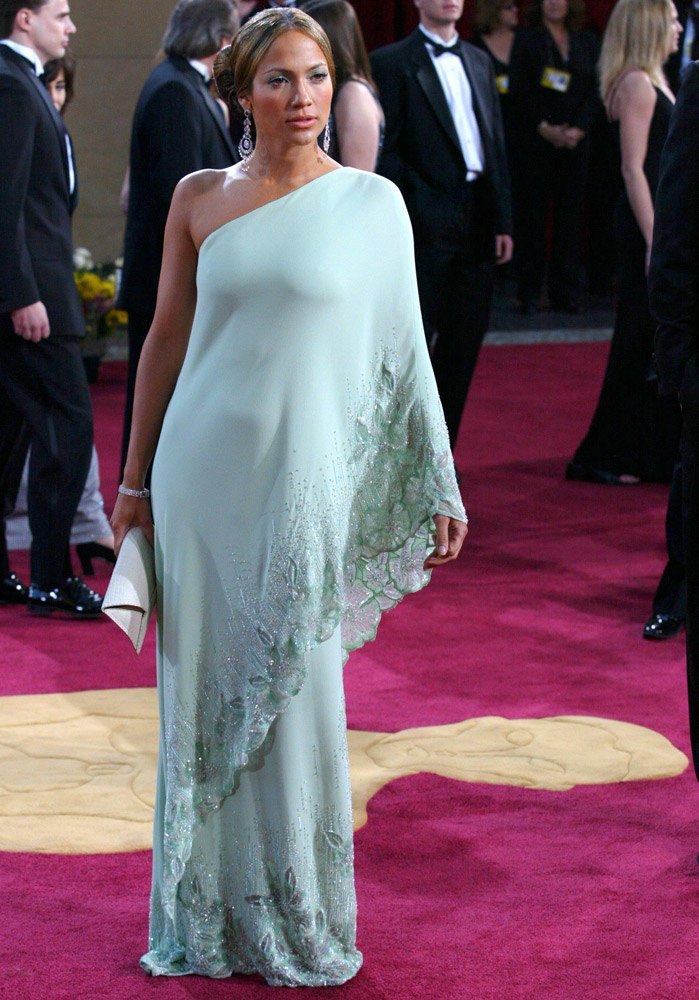 25. Audrey Hepburn
As we say, some of the best things are saved for the last and here we go. It was indeed an iconic moment in the history of Hollywood, when she won the Best Actress Oscar for her role in Roman Holiday in 1953.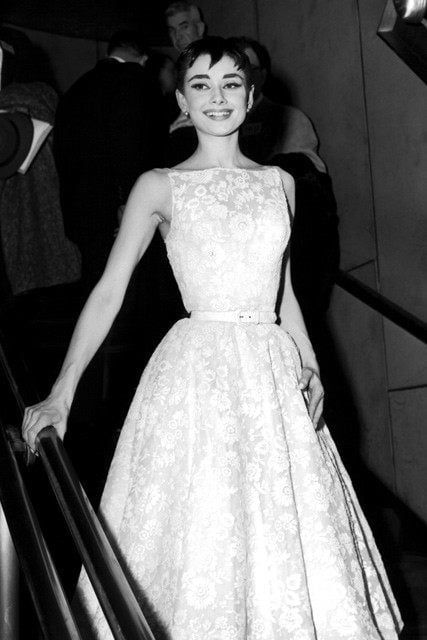 26. Kate Hudson
The gorgeous Kate Hudson ensured that all eyes were on her at the 2003 Oscar Awards Red Carpet. Her Versace Oscar dress was slightly vintage in style and took an astonishing 500 hours to be created. The hand-made gold chiffon silk dress with a wide V-neck was perfectly in sync with her subtle yet glowing makeup. Gorgeous is the only way to describe this beauty!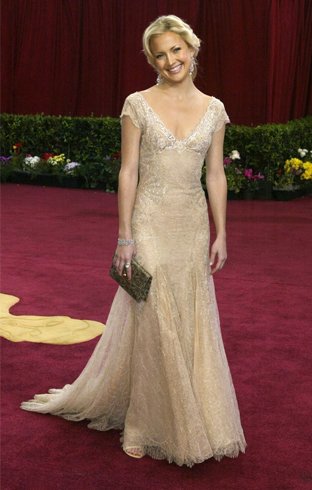 27. Halle Barry
All that glitters is not just gold but also Halle Barry's Elie Saab dress which she wore at the 2003 Oscar's. This $20,000 gown is definitely one of the most beautiful Oscar dresses that we have seen on the red carpet. The one side shoulder dress needed nothing more than a golden clutch to complement it.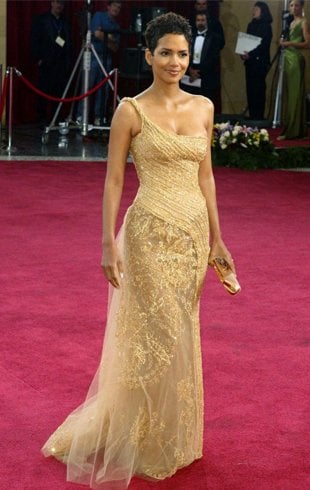 28. Julianne Moore
From gold to silver, we saw yet another beautiful Oscar dress adorned by the stunning Julianne Moore. To say that Atelier Versace's gowns are a preferred choice for red carpet events would be an understatement. This glittering sheath dress embellished with tiny pearls and crystals looked perfect on Julianne. The next time we think of a starry night, we are sure this is what we would conjure in our minds.
[ Also Read: Look Like A Million Dollars In These New Years Eve Dresses ]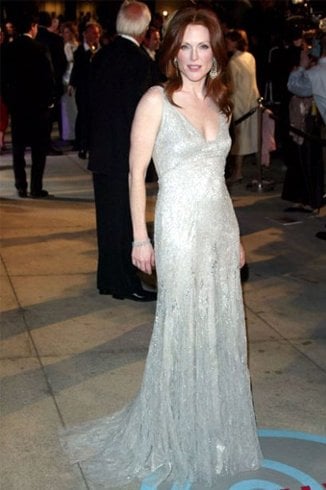 29. Gwyneth Paltrow
Though we do love our Hollywood beauties turning up in various colored ensembles at the red carpet events, we have always had a soft corner for those white Oscar dresses! An all-white ensemble can never go wrong and on the bright red carpet, it definitely makes you stand out. This is exactly why we are totally crushing on this white Tom Ford gown that Gwyneth wore at the 2012 Oscars. The white cape added a whole new layer of elegance and it was the perfect minimalistic dress.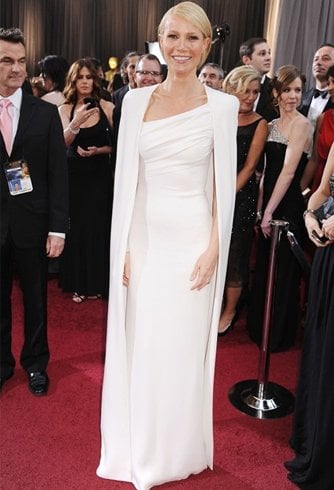 30. Reese Witherspoon
At the 2006 Oscars, we didn't know whether we loved the fact that Reese Witherspoon won the award for the Best Actress for her movie Walk The Line or the absolutely exquisite vintage 1955 Christian Dior gown that she wore for the event! She styled her hair in a simple updo which ensured that all eyes were on her beautiful dress. When asked about her dress she said, 'It's mine, which is nice!' And it surely was more than nice and deserves to be in the list of top Oscar dresses, don't you think so?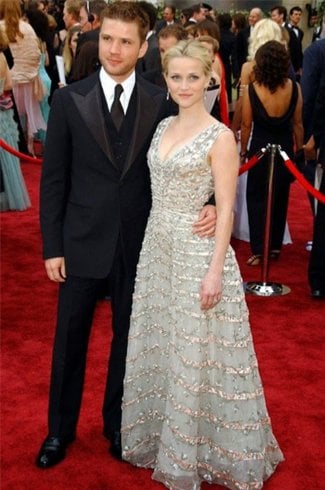 31. Lupita Nyong'o
Lupita Nyong'o had us in tears with her emotional speech that she gave after winning the Best Supporting Actress Award for her movie 12 Years a Slave! But she also gave us a reason to smile as she walked down the red carpet in a simple powder blue Prada gown. A plunging neckline, some slight ruffles and a cutesy headband; Lupita showed us that simplicity always wins over everything else and there is no doubt that this would be one of the most memorable Oscar dresses of all time.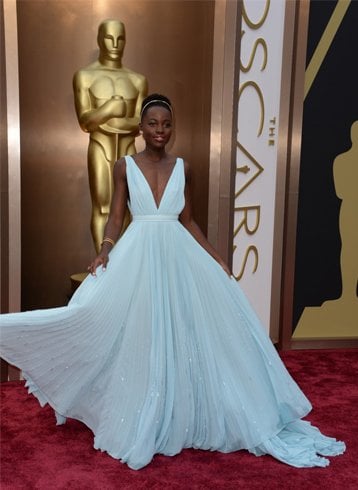 32. Jennifer Aniston
A post on celebrity Oscar dresses is incomplete without mentioning the gorgeous Jennifer Aniston. At the 2013 Oscars, Jen gave a tough competition to the red carpet itself as she looked princessy in a red Valentino gown. There is no one who does a traditional style better than Jen and she once again proved it with this strapless A-line dress. With her left natural, she added another classic piece of accessory to go with her outfit – a gold box clutch.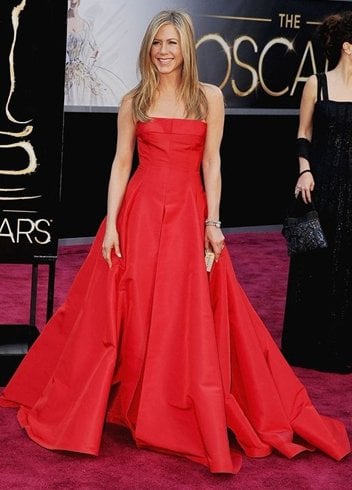 33. Penelope Cruz
Wouldn't it have been absolutely fun and amazing if we could have the Oscar awards for best dressed celebrities too? Well, until they come up with something like that, we surely have our list every year and Penelope Cruz is right at the top of our list for her 2008 Oscar appearance. When you have the honor of presenting the award for the 'Best Foreign Language Film' category, you surely need to pay extra attention to your outfit and Karl Lagerfeld did an outstanding job of designing this black feathered gown for Penelope. She completed her perfect look by wearing jewelry by Chopard, satin Jimmy Choo shoes and a Roger Vivier clutch.
[ Also Read: Different Ways To Wear Red Christmas Dress ]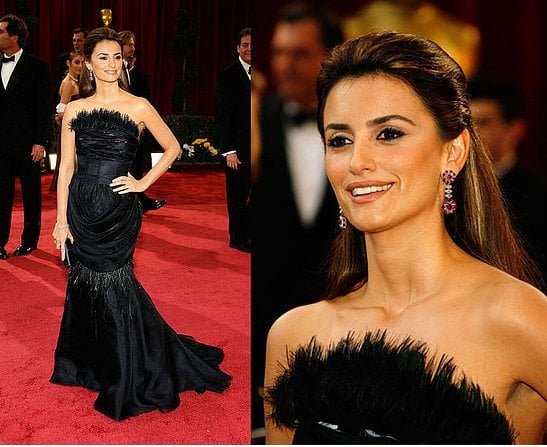 34. Emily Blunt
The Devil Wears Prada's actress, Emily Blunt's dress for Oscar night looked as sexy as her! The Calvin Klein midnight blue dress accentuated her curves sexily and we must say that the dress looked tailor-made for her. A pair of diamond stud earrings and a metallic clutch accompanied her strapless dress. The shimmery blue dress was just like looking at the dark midnight sky!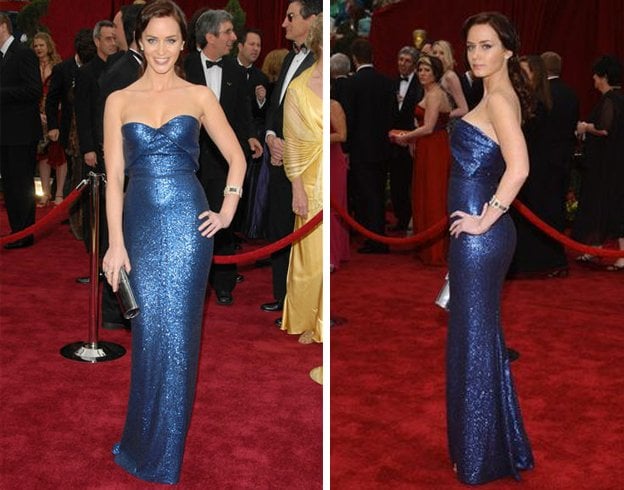 35. Salma Hayek
Versace is one of the most sought after brands for Oscar appearances and keeping this popularity in mind, the stunning Salma Hayek picked up a Versace gown and set the red carpet on fire! Her aquamarine colored satin gown hugged her curves at all the right places and took our breath away! With her natural black hair framing her face, the reporters and photographers just couldn't get enough of her.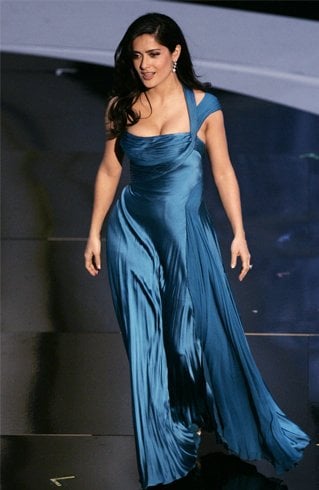 While talking and raving about all the Oscar night dresses, we need to acknowledge the Oscar dress designers as well. Though it is common to see creations by known designers such as Christian Dior, Versace, Prada, etc., there are also a lot of celebs who try out new designers.
So which of these Oscar dresses are your favorites? Let us know by commenting below.
Source: pinterest