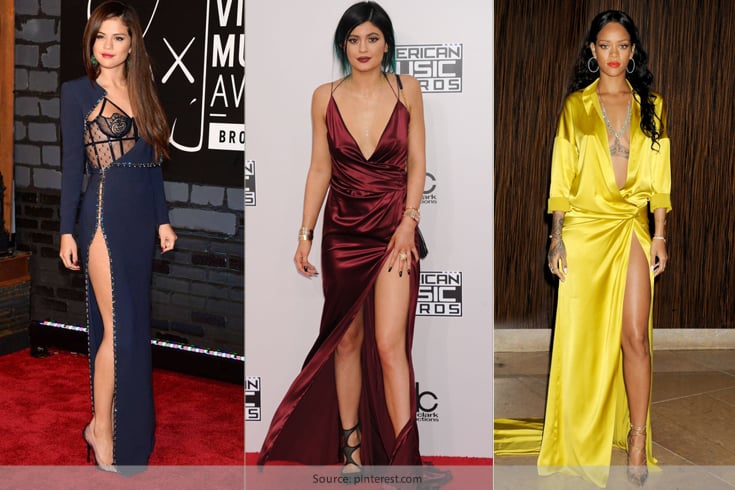 Our stars don't lose out on one opportunity to look divine and have a pack of stylist behind them, always on the run to find something different, something that would set them aside from the rest. But, as soon as something new hits the red carpet, it becomes the trend everyone embraces. When boobs and backs became too commonplace, the divas came back to the basic – basic as in uber basic. It has now become all about the legs. High slits are everything now. On runways, in premiers, in award functions, it's all about the slit that roars skyward.
Selena Gomez – All Grown up
Selena Gomez was the cute little wizzard from Waverly Place, until she rolled up in the eventful evening of MTV VMAs 2013. The daring Atelier Versace gown in navy blue took the curtain off of her freshly gain womanhood. Yes people, Sel Go was no more the cute kid we knew her as, she was a diva from all angles. No? Just look at those legs sneaking out of that never-ending slit.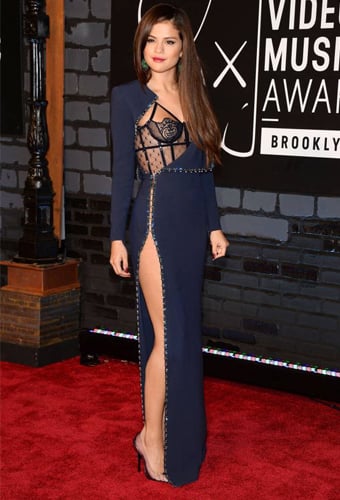 Angelina Jolie's Meme Feast
The internet trolls got a new job when Angelina Jolie stepped onto the red carpet of 84th Academy Awards' looking like what no human has ever looked before – well yeah, I exaggerated a little, but how about the zillion memes inspired by the iconic Angelina leg circulating the inter webs since. That Versace slit dress is going down in history, in case you couldn't tell already.
[Also Read: Indian Celebrities in a Jolie Slit]
Doutzen Kroes Won't Stay Behind
The high slit is not a trend owned by American actors and pop stars. It is but an international phenomenon. Dutch model Doutzen Kroes and actress gives the high slit her own version in this Versace peach halter neck number.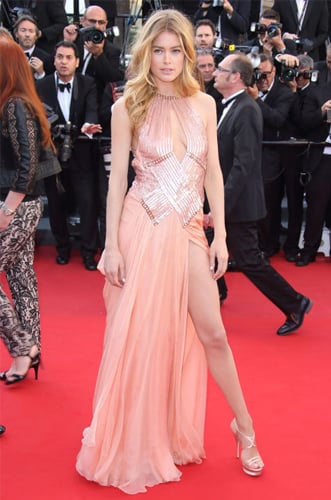 Jennifer Lopez Not From The Block
J.Lo was never the naïve Jenny from the block, she was in fact block ahead of others when it came to the style game. At the Golden Globes she was majestic in her Barberella gown. Lo and behold people – legs for daysssss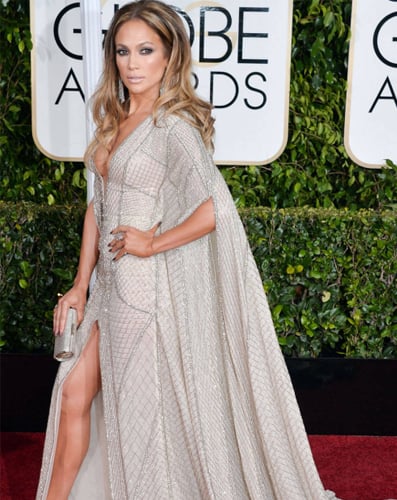 [sc:mediad]
Bela Hadid Is Homeschooled
When you are Bela Hadid you don't have to look too far for fashion inspiration, you have Gigi Hadid right under the same roof. The rising model was a bold and comfortable in her Alexandre Vauthier couture gown. This piece shows a different level of high slit, she was lucky to have missed an extremely mortifying wardrobe malfunction which also convinces me that there has to be a double sided tape keeping the silk right where it belongs.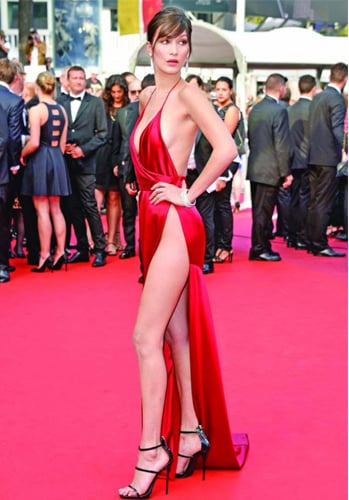 Ciara Gets Her A-Game
Ciara is the next one on our list to have taken her high slit game a notch or two up. Dressed in an Alexandre Vauthier, Cara put those legs on full display. Are we in love yet? Totally!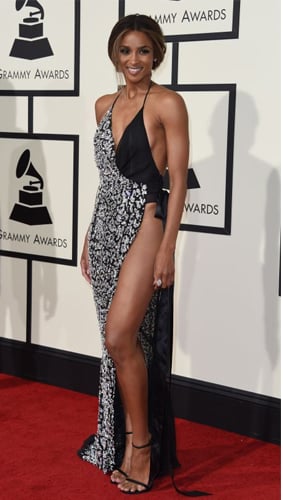 Kylie Was 'Leg all' Whether Or Not Legal
It is not a struggle to keep up with all that is in when you are a Kardashian; or, as in this case, a Jenner. She was barely legal when she flaunted some major legs through the slit of her Alexandre Vauthier Couture from spring 2014 collection. Burgundy was a perfect choice of color and couldn't ogle that that daring slit more.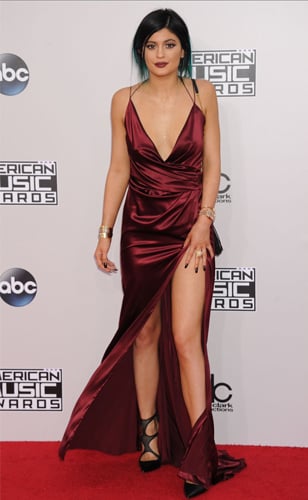 Lady Gaga Making America Great Again
The "Applause" singer was love for the love of the United States. In her patriotic version she threw on a custom Marc Jacobs coat-styled dress in blue with white embroidery that played off pretty well with the crimson locks she rocked with matching red heels. But all things set aside, let's all agree we can't take eyes off those legs.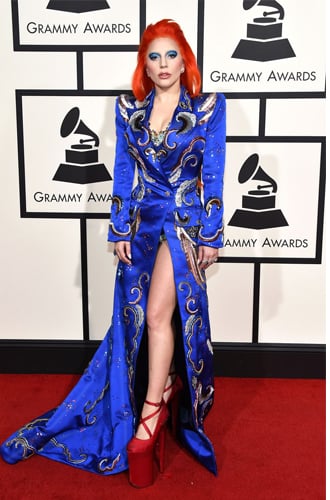 Hail Queen Bey
Yet another a burgundy dress that was prepared to cast magic. The queen never gets it wrong, she always sets it right. The 'Lemonade' singer was reflecting light, the shutterbugs must have had a hard time. Bey was a perfect blend of the most dangerous cleavage and the deadliest slit in her epic gown was picked from the pre-Fall 2015 collection by German fashion designer Philipp Plein.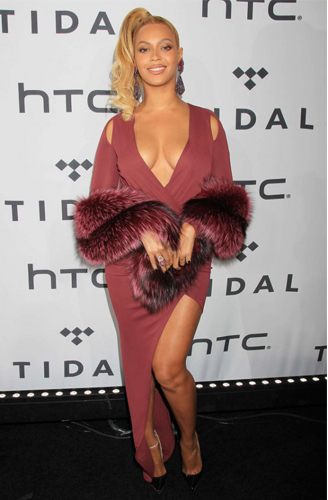 Rihanna Makes It Work Work Work
This satin dress by Alexandre Vauthier could easily pass for w night robe, but what can you say – Rihanna made is work anyhow. The bright lemon dress had one clasp to hold it together. Despite the screaming cleavage, it was the leg sticking out of the slit that attracted the camera.
Cleavage, side boob, under boob, back, I guess everything is done. Now that they are circling back to basic, what do you think will be the next big show for celebs on the red carpet?
Images Source: pinterest.com