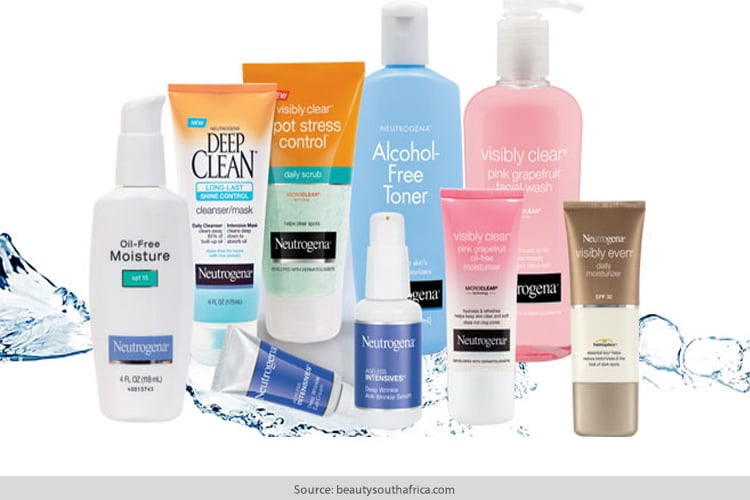 Read on to find out about the top Neutrogena products to include in your Beauty Care Routine:
1. Neutrogena Face Wash
Priced at Rs. 450, the Deep Clean Neutrogena is a top favorite amongst teenagers given all the skin issues they face during their teen years. Used on a regular basis, the face wash is proven to have impeccable results. It keeps the oil away from your face and helps tackle pimple problems and prevents any out breaks if used regularly. If you're a little over those teenage blues you can try the Neutrogena Pore Refining Cleanser.
2. Neutrogena Eye Cream
The Neutrogena Rapid wrinkle eye cream is one of its kind since this cream actually works and works quick! Though it is a little high priced at Rs. 1400, the super hydrating, fragrance-free eye cream is worth every buck. It has a sleek, satiny feel and blends well into the skin. It helps get your fine lines smoother and make your eyes look brighter. Considering the cream has a super smooth texture, gets easily absorbed and has a quintessential wrinkle-bashing power, this eye cream is a favorite amongst users.
3. Neutrogena Oil Free Moisture
Neutrogena is the number one skin-care range when it comes to dermatologist recommended skin care in making pure, clean skin formulas. Priced at Rs. 790, the Neutrogena Oil-Free Moisture for sensitive skin is clinically proven to bring in long-lasting hydration for softer, smoother and younger looking skin. This light formula absorbs quickly into your face without any grease or clogging of pores. It's hypo-allergenic, alcohol free and fragrance-free, and also contains a broad SPF spectrum protection of SPF 15.
[ Also Read: Best Skin Care Products: Keep These In Your Beauty Bag! ]
4. Neutrogena Body Oil
Priced at Rs. 660, this super soothing, lightly scented oil is transformative when used on damp skin. It only takes a few drops and is absorbed into the skin quickly leaving your skin soft, smooth and silky. It is great for after-sun moisturizing, and great for soothing dry skin during the winter months.
[ Also Read: Calamine Lotion: Beauty Benefits And Uses ]
5. Neutrogena Conditioner
Neutrogena conditioners add that extra smoothness, bounce and softness into your hair, all in just Rs. 400.. The conditioner doesn't weigh hair down, instead moisturizes so well that even highlighted hair stays in great condition, and you would rarely have any breakages or split ends bothering you.
[sc:mediad]
6. Neutrogena Hair Mask
The hair mask known for its extraordinary take on damaged hair and frizz control is priced at around Rs. 460. As per user reviews, this conditioner works better than some other very expensive treatment masks for dry hair. It conditions, repairs and leaves your hair feeling smooth and silky. The overall texture of the product along with its pleasant smell and effective formula make it one of Neutrogena's best till date.
7. Neutrogena Lip Balm
Priced at Rs. 200 this clear, unscented lip balm is loved widely for its effective sun protection and moisturizing properties. It goes on to your lip smoothly and feels super moisturizing. Being a great conditioner for those with dry lips this balm stays put for quite a long time.
8. Neutrogena T Gel Shampoo
Getting an antidandruff shampoo that actually leaves your hair feeling smooth and frizz free is quite a dream right? Neutrogena T gel shampoo priced at Rs. 460 gets you exactly that. Reviewers have gone to the extent of terming it as "Happiness in a bottle". This affordable, scalp-soothing dandruff shampoo smells great leaves scalp super soft, clean and clear of flakes. Pretty impressive right?
9. Neutrogena Rainbath
The Neutrogena Rainbath is an amazingly fresh shower gel that doubles perfectly as a shaving cream and super foamy body wash. The pleasant aroma hit the senses at the sweet spots leaving the user with a clean, natural scent that makes the user feel like they are in an actual rainforest. Maybe that's why this body wash priced at Rs. 530 is called a "Rain Bath".
10. Neutrogena Face Moisturizer
This Neutrogena Face Moisturizer is a natural multi vitamin nourishing moisturizer that doubles as a sunscreen if you aren't too fond of sunscreens. This non-irritating formula has a light texture which goes easy on the skin, hydrating the epidermis without making the surface moist. But, if you want a dedicated sunscreen you can opt for the Neutrogena Sunscreen with SPF 40 protection.
11. Neutrogena Alcohol Free Toner
The Neutrogena alcohol free toner is another product that you just cannot miss. The lightly scented toner is much better than a lot of other toners in its class. Priced at Rs. 360, this toner is great for all skin types and helps rejuvenate your skin, leaving it fresh and supple.
If you haven't tried Neutrogena products you should give it a go immediately as they are highly recommended by dermatologists and users alike.