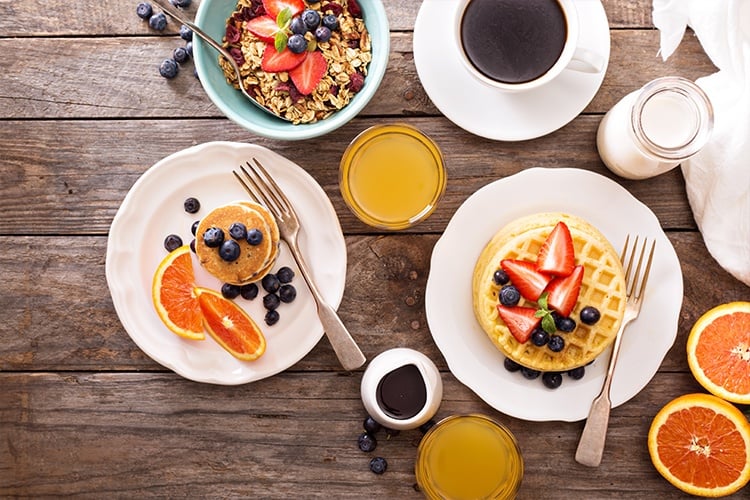 We have all heard our mothers relentlessly repeating that breakfast is the more important meal of the day and we should not miss it at any cost. Guess what? She is absolutely right, like always. To keep healthy we must never skip breakfast. But, easier said than done, sometimes it gets quite tiresome to lift ourselves of bed on a weekday, let alone make a healthy breakfast, especially more so during the summers when the heat is beating you down day in day out. The lightest of chores can get quite cumbersome when the summer heat is considered.
[Also Read: How You Can Include Vegetable in Your Breakfast?]
So, what do we do? How do we go about our day? The key here is to have a healthy start. Here is where we step in. Let us ask you some basic questions to start with. Are you tired of the same old routine breakfast every day? Are the summers getting you more tired than usual? Do you want to start you day on a super positive vibe? If the answers to all of the above questions are yes, Bingo! You have found the perfect article for you.
Best Summer Breakfast Ideas
In this article, we are going to walk you through some of the best summer breakfast ideas. What's more? We are actually going to consider the health quotient while choosing them. Read on to find out the ones that suit you best.
1. Light And Refreshing Chia Pudding
Here are the Ingredients required for the pudding:
Organic white chia seeds (2 tbsp.)
Organic unsweetened nut milk (4 oz.)
Vanilla extract (1 tsp.)
Maple syrup (1 tsp.)
Cinnamon (1/4 tsp.)
Pink Himalayan salt (1 pinch)
Combine all the ingredients and store the mixture in the fridge if you want to use it for several days. When you want to enjoy your pudding, just take the mixture and top it off with some fresh, in-season fruit. Voila! summer breakfast ready.
[sc:mediad]
2. Summer-Inspired Muesli
Muesli is one the top breakfast favorites, for this particular recipe the Ingredients you will be needing are:
Oats (1/3 cup)
Chia seeds (1 Tbsp)
Milk or water (2-3 Tbsp)
Frozen blueberries (1/2 cup)
Plain Greek yogurt (6 oz)
Mix the oats, chia seeds and milk or water. Top off with blueberries and yogurt. Allow this mix to sit in the refrigerator overnight. In the morning, stir and serve with your favorite peanut butter.
3. Summer Oatmeal
Summer oatmeal is probably one the easiest summer breakfast recipes on the list. It does not require cooking and is served as a cold cereal. What's more? It serves as a refreshing way to enjoy those healthy whole grains in the spring and summer.
The Ingredients are as follows:
Unsweetened vanilla almond milk (4 cups)
Dry rolled oats (2 cups)
Cinnamon (1/2 teaspoon)
Pure vanilla extract (1/2 tsp)
Combine ingredients in a large bowl and refrigerate for 4 hours or overnight. In the morning, just scoop soaked oats into a serving dish and enjoy with your favorite toppings like Plum, Candied Ginger, Cashews or Apple + Honey + Almonds.
[Also Read: Top Beauty Benefits of Having Fruits for Breakfast]
4. Yogurt Parfaits
'Parfait'- the word itself gets us dreaming about it. How about incorporating that as a summer breakfast? Cant' wait right? This is a great summer breakfast idea especially for kids, since they'll enjoy assembling the whole meal themselves.
The Ingredients you will need are:
Favorite flavored yogurt (4 tsp)
Ffresh fruits (8 slices)
Low-sugar cereal (1 cup)
Repeat layers of yogurt, fruits and a bit of cereal for a healthy breakfast that even doubles as a splendid artwork.
5. Refreshing Smoothies
Smoothies are the perfect summer thing. You can make a smoothie of just about anything and enjoy it at your convenience. Whipping up a smoothie for breakfast when you can't stand the heat and you're too lazy to make anything else is a great idea. One of the best things about this is that you can customize it to your liking. Use just about any ingredients and with some ice in the mix, your breakfast is ready. Or should we say "pre-breakfast" (since you'll get hungry in just about no time).
6. Breakfast Summer Salad
If you choose salad at lunchtime, there's no probable reason as to why you should not enjoy it as your first meal of the day also. What's better than a cool refreshing watermelon salad?
The ingredients required are:
Chopped watermelon (1 cup)
Chopped and peeled cucumber (1/4 cup)
Feta cheese (1/4 cup)
Chopped mint
Lime juice
Combine all the ingredients in a chilled bowl and top with a squeeze of lime juice and some chopped mint for the ultimate morning refresher.
Now, that you have a range of summer breakfast recipes to choose from, go ahead and give your summer day a perfect start.