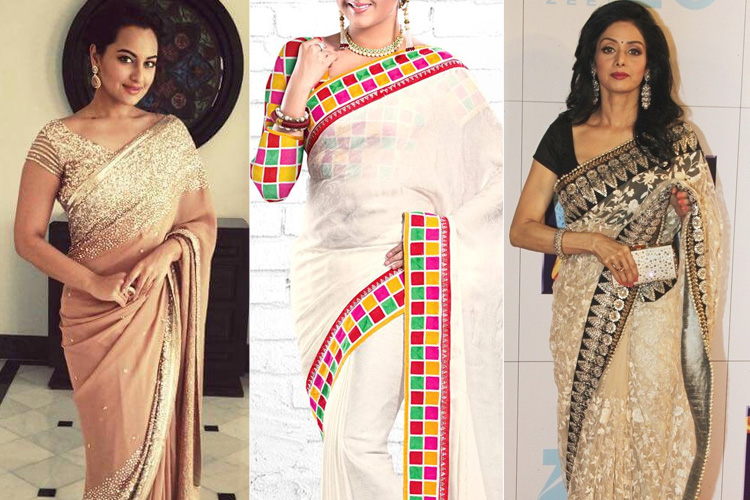 Newer elucidation and unusual drapes are what young girls experiment with these days because of its convenience. But at the end of the day, there is nothing like the original saree draping. In a way, the blend of the modern conceptual saree and traditional saree style is what we all need.
Few designers burst into the scene in mid 2000s with their modern interpretation of linen saris. But it did not stop there; saris came in the form of gown saris, bikini saris, boxy blouses, plain saree with border, stitched-up saris, double pallu saree, and the like. And designers today are willing to experiment more with the whole six yards.
With so much interpretation, the saree has stopped being just a red carpet ensemble alone. The modern woman loves to wear it for parties and work altogether. In fact the modern narratives of the saree like the Grecian drape, caped saris, sari sleeves on gown and saree tail makes it easier for women to fall in love with it.
Modern women love the pleasures of small surprises in their saree; be it in the form of blouses, petticoat, choli, corset, bikini top, embellished borders, and even draping technqiues. The interpretation of modern designs weaved into traditional handlooms is thereby a popular choice today. Imagine how you can transform your favorite plain chiffon saree with a modern touch of border.
Different Styles of Plain saree with Border
The saree has different languages and approaches to it, and must be allowed to experiment with. It can be formal, fun, cool, sexy, traditional, and so much more. All the more, a saree with contrasting or matching borders like floral motifs, gold embroidery, Arabic ornamentation, and other cultural designs can take your traditional saree up a notch. So, we bring you few ideas of plain saree with border for unparalleled fancy. Take a look:
1. Velvet Saree Border
Velvet has permeated the fashion world such that designers are weaving this royal fabric into tailored suits, grandiose skirts, and Indian wear. This festive season, you can opt for rich velvet saree border and matching blouse. You can wear these gorgeous velvet borders keeping the lines and textures to a minimum. Try to avoid wearing gaudy velvet borders if you are on the curvier side as it can make you look boxy.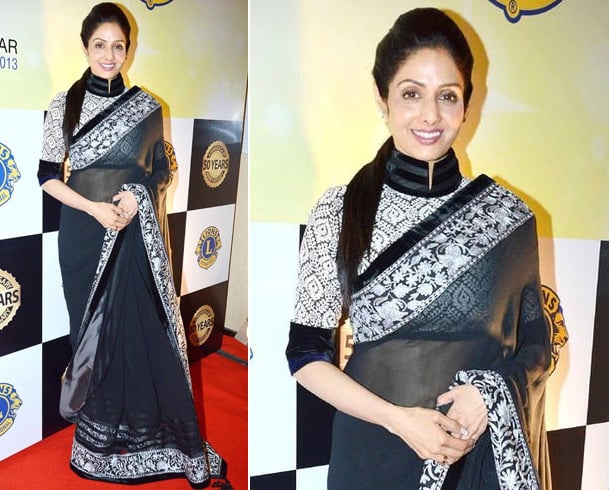 2. Kundan Embellished Border
You can go for an enthralling saree color matched with Kundan embellished border. A kundan embroidery all the way back to your neckline can bring out a crafty look. You can go for half or ¾ sleeves with a similar patterned saree. Or look out for a heavy embroidery border if you are wearing a sleeveless blouse to make it look amazing.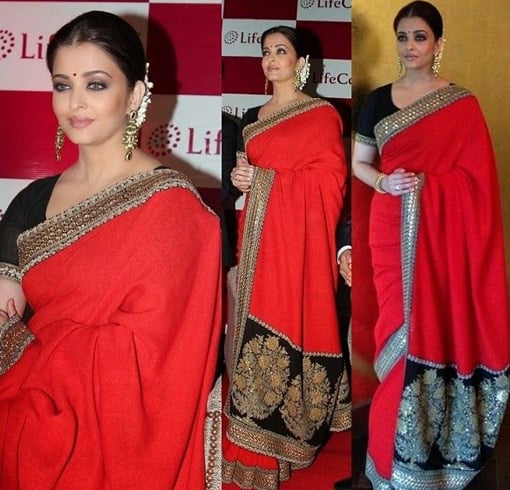 3. Tussled Lace Border
You can pull off even the plainest sari with a twist of tussles lace border. This can bring about an element of surprise to your sari design. You can look out for a sheer flimsy fabric to match with the tussled border. Look for a saree design that brings out a dimension to your neckline and back.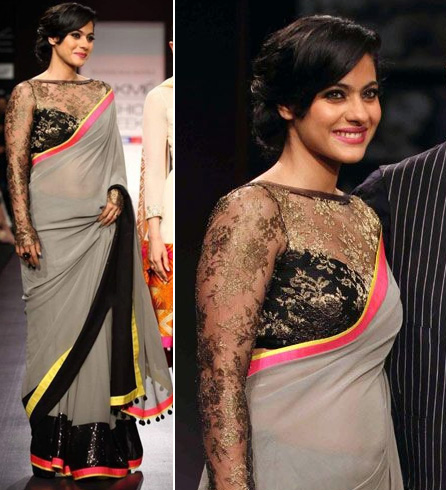 4. Contrast Saree Border
If you love clean lines, and minimal cuts, then you should go for a contrasting saree border. This can allow you to make a classic statement. A contrast border can look perfect on net, lace, cotton, and silk plain saris.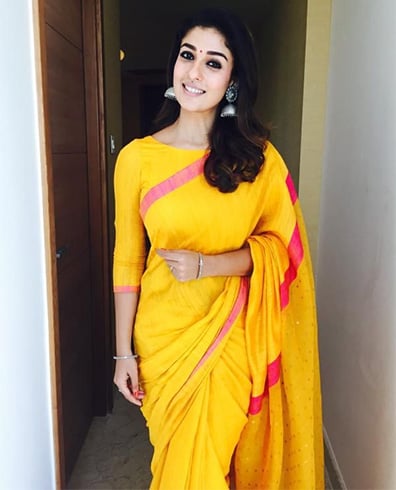 5. Temple Saree Border
A temple saree border never goes out of trend. This traditional saree border matches with both silk and cotton saris. The temple sari is mostly woven with rich zari over bright colors. Most Bollywood actresses like Vidya Balan and Rekha are often spotted wearing gorgeous Kanjeevaram saris with amazing borders. You can reserve your Kanjeeveram saris with temple border for weddings and parties.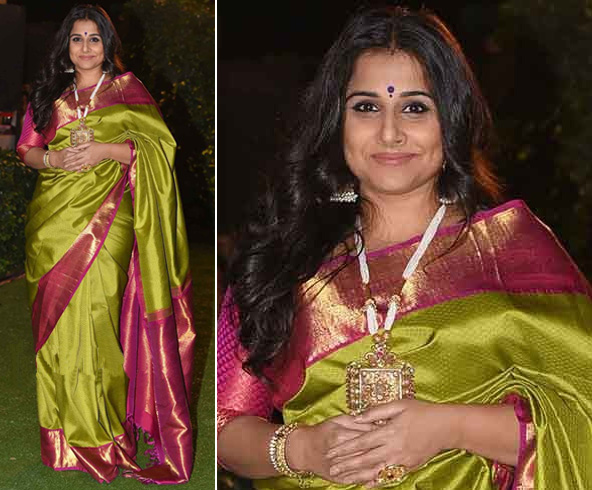 6. Banaras Border
A sari with a Banaras border never misses a beat when it comes to rendering style. You need not be over the top when it comes to wearing this design. You go for a plain chiffon saree with a pop of hot pink, red, or gold Banaras border. Look out for actress Sridevi's parrot green chiffon saree ensemble with Banaras border. Her silver lining border is a perfect match to her studded accessories.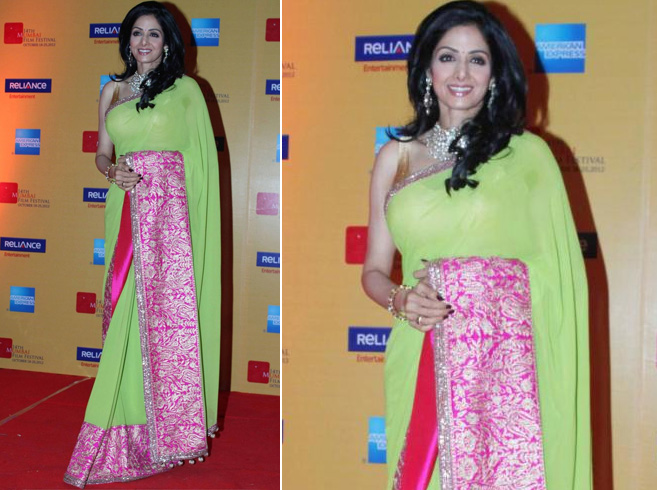 7. Checked Saree Border
One simple saree border design is a checkered border. A sari with a check border is simple yet looks elegant. This can be paired with both office wear and work wear. You can pair it up with a designer sheer blouse for a night out or party.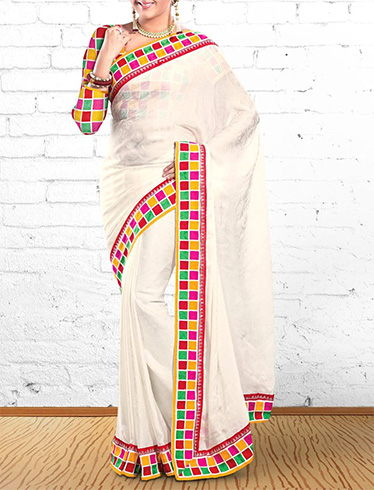 8. Floral Motif Border
Florals prints are a trend that has dominated all fashion finds, including Indian wear. It is no surprise to see floral printed saris and blouse. These prints pretty much go with plain saris with light embroidery work. You can also try a plain saree with a floral border to a work party or a special occasion.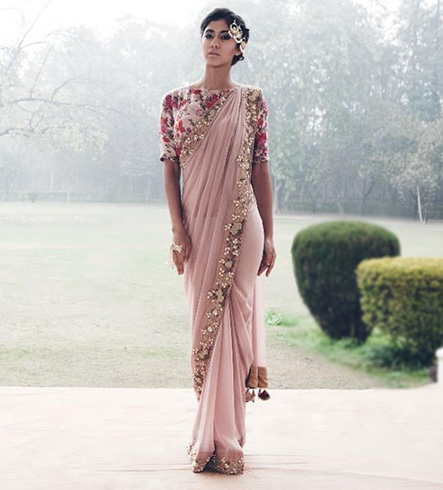 9. Gaudy Diamond Embellished Border
A gorgeous saree with gaudy diamond embellished border can be a stunner. An intricate designed saree with gold embossing motifs and deep neckline towards the front and back can be a good choice for your luxurious selections.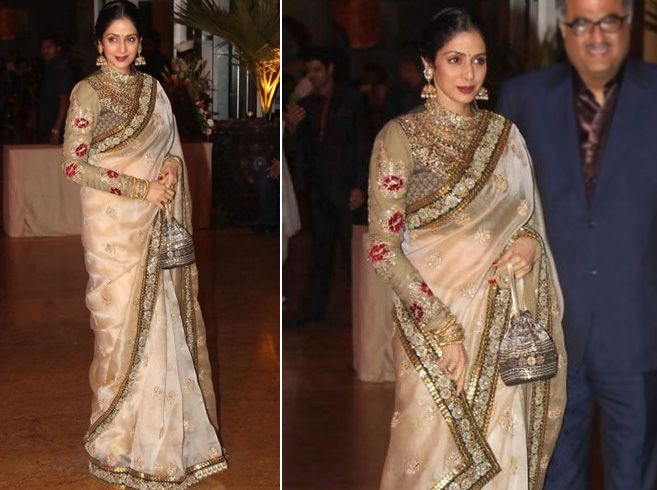 10. Scallop Saree Border
A scallop saree border looks great on a net saree. You can go for an embellished sari with intricate butta, beads, and mirror work. Pair it with a plunging neckline blouse, and a scallop border for pulling off the style.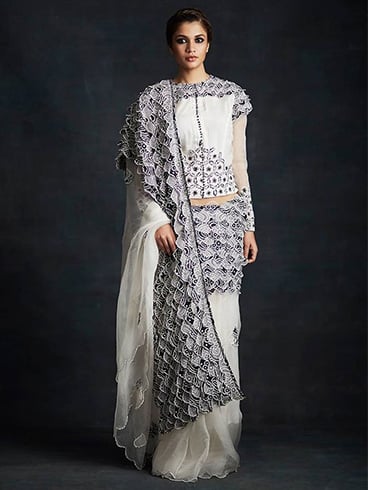 11. Mirror work Saree Border
A mirror work saree border is a style that can help you achieve amazing results. This saree border style can work well with plain saris to balance out any lack luster effect. You can also select saris with thin mirror work if you are not keen with plain designed ones. Go for a light embroidery work for an understated elegance.
[sc:mediad]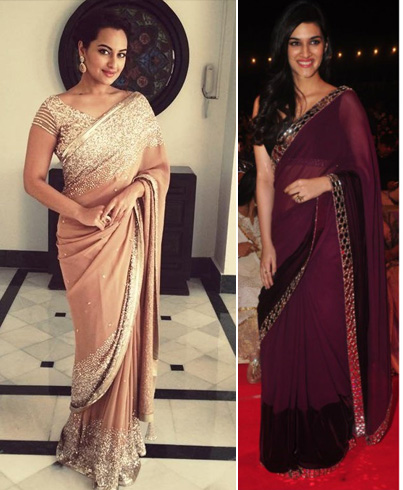 12. Sequined Border
Little details like a sequined border on a plain saree and create an interesting silhouette. You can go for a sober colored saree with a sequined border. You can also look for borders that come with tussles, fringe, and pom-poms for added illusion. All these detailing work can add personality to your saree.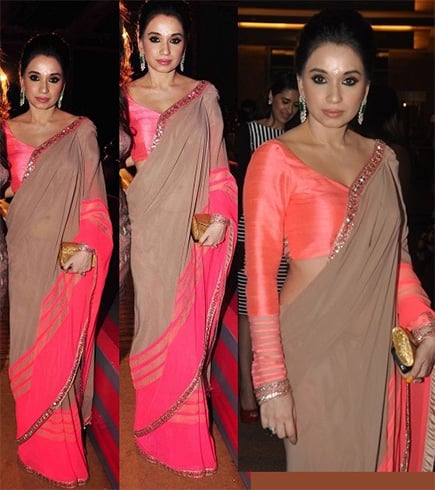 13. Black Thin Satin Border
A plain saree with thin border can be a simple and classic pick. You can try satin and georgette fabrics with similar designed saris. If you do not want to wear a sleeveless blouse, then go for a 3/4th or a full sleeved.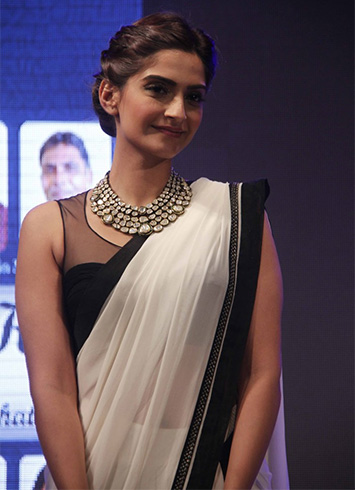 14. Zari Border
You can pick plain chiffon sarees with zari border minus jewellery for a night out party. You can try a stack of bangles to finish your look. The plain chiffon sari with a bronze zari work at the borders and pallu can make a bold statement.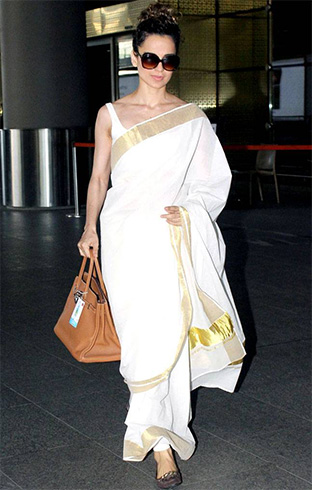 15. Gold Sequined Border
A simple sheer plain saree finished with a gold sequined border can bring out a stunning result. Look out for a saree with intricate beadwork designs and delicate lacy sleeves for an eye-catching finish. Go for minimal accessories and side swept hairdo for the final cut.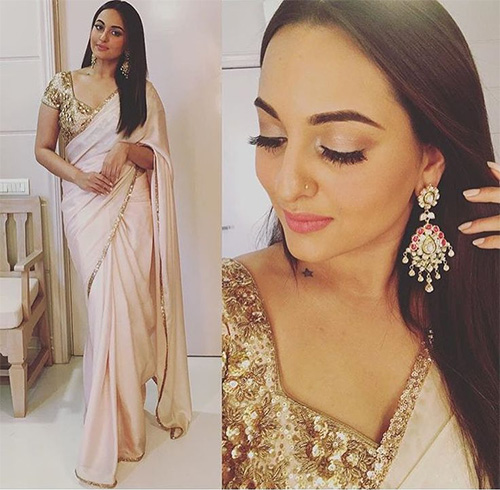 16. Scattered Pearls Border
A heavy embroidered border can be given a classy touch if done correctly. You can try saree embroidery finishes such as this one here. The scattered pearls on the border complement the pastel satin fabric along with the jaal embroidered blouse.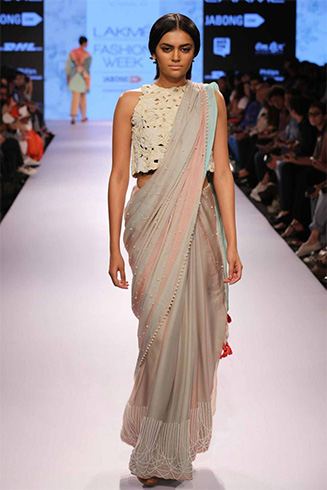 17. Zardori Work Border
If you are going for a light colored plain saree, then you should opt for one with zardozi work. You can try on different separate to use as blouse. A floral printed blouse can make an interesting contrast with your otherwise moderate saree design.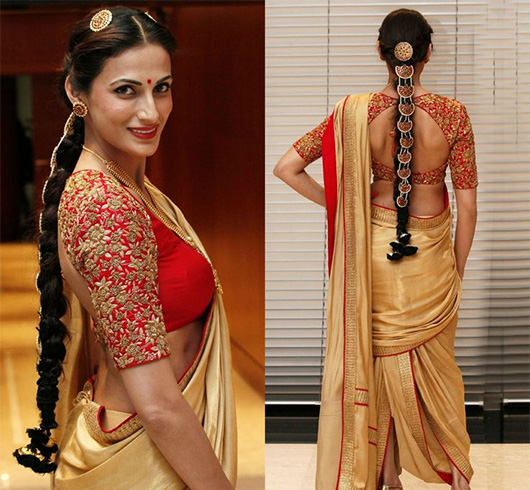 18. Embroidery Border
A figure hugging plain georgette or chiffon saree can be a lovely choice for your evening soiree. What can add to the charm of the saree would be a rich embroidery border. You can look for a gold thread embroidery border designed along the length of the saree for added depth. Pair it with a similar designed blouse to finish the look.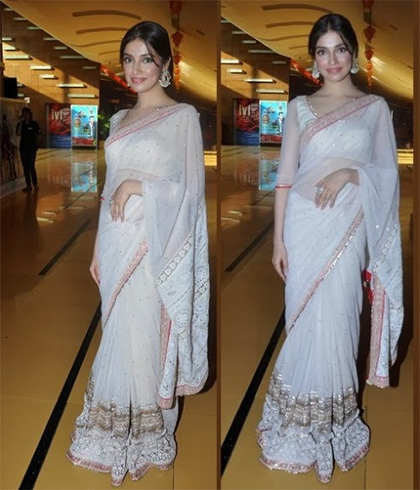 19. Appliqué Work Border
Plain saris in georgette fabric can never go out of style. Try one with an appliqué work border for bringing out the design in the best way possible. Pair it with a stack of bangles, jhumkas, and bindi.
20. Golden Border
An easy breezy plain cotton or silk saree can be great for a daytime look. You can look for plain silk sarees with golden border for a refreshing look. You can go for sleeveless blouse or ¾th sleeves to go with similarly designed saree.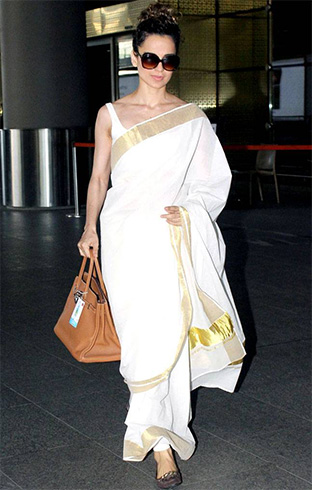 22. Gold Lining Border
Another gold rendition you can take cue from is this Shilpa Shetty's classic Mayyur Girotra's sari with jewellery by Anmol. Her curvaceous body frame is only enhanced with the tinge of gold on her saree border and blouse.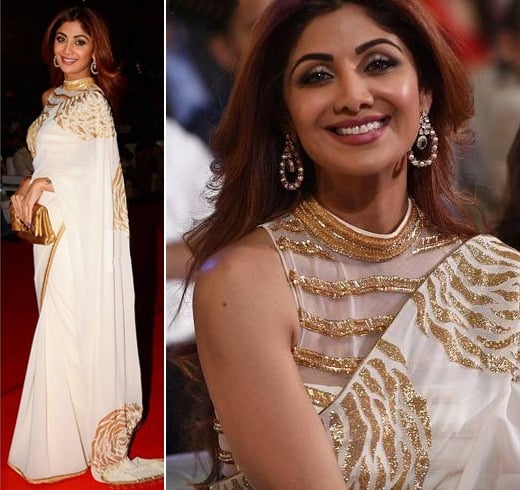 23. Nude and Gold Border
Go subtle and simplistic with a nude saree in gold border. One look that we love is this Radhika Apte's nude saree by Anavila Misra with red blouse and golden border. She used accessories from Amrapali and red lips for an alluring blending.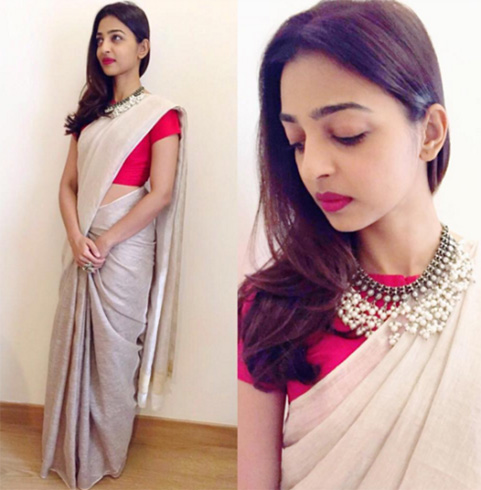 24. Chamoise Satin Border
To bring a desiness to your saree collection, try a satin or a georgette plain saree that comes with chamoise satin borders. You can team the look with crystal earrings and minimal makeup. This saree idea will look attractive as described and allow you to hit the right connection.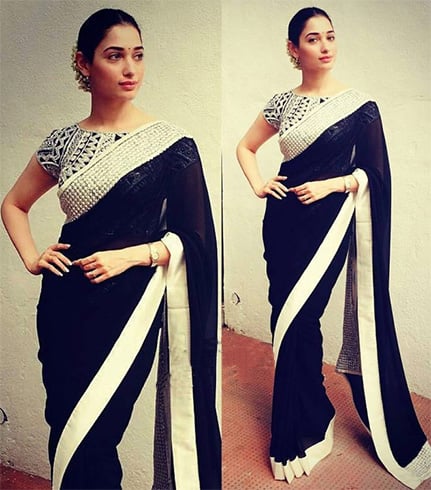 25. Heavy Border
You can add a touch of royalty to your plain saree with heavy border. You can pair the ensemble with a closed cropped and full-sleeved blouse. You can try both plain and heavy saris.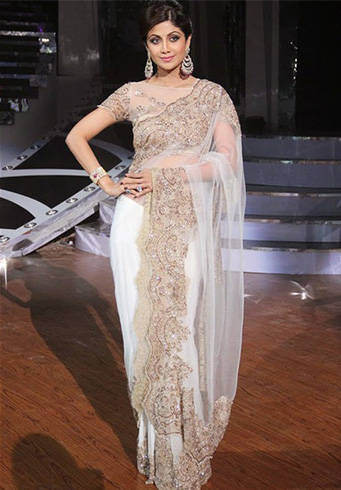 26. Silver Embroidery Border
A good way to liven up a plain saree is an embroidered border. You can take cue from Ileana D'Cruz's bright pink saree by Sulakshana. The intricate blouse with pearl embellishment and silver embroidery border is the focal point of the ensemble. We love the unconventional saree draping and the bright pink.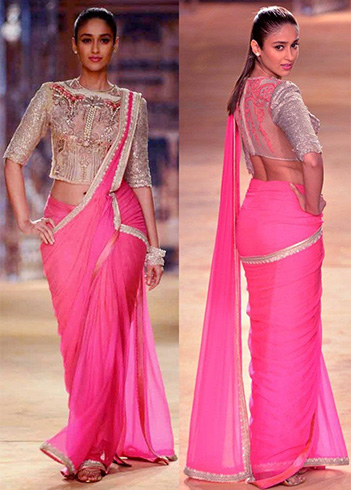 27. Heavy Gold Sequined Border
Sheer saris can make a great statement. You can wear one with the right border and blouse with a sheer saree. This Sabyasachi saree worn by Priyanka Chopra is the right amount of gold sequined work. Take cue from how the actress has accessorized her look with gold jhumkas and ring from Amrapali.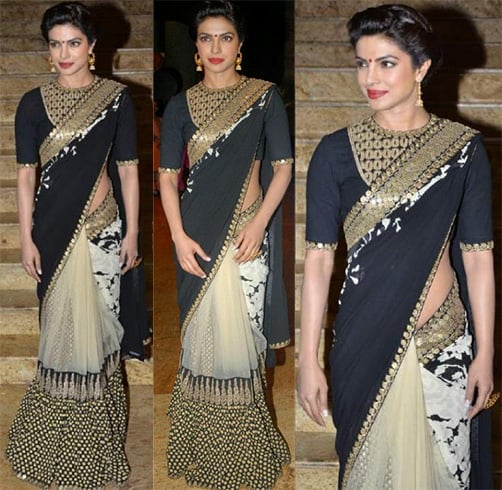 28. Laced Border
A laced border with a simple saree can also look just as striking. You can check out Sridevi's yellow chiffon plain sari fringed with lace during her attendance at the engagement of Subbarami Reddy's grandson Rajiv. Standing tall and stunning, the actress looked every bit the style diva that she is.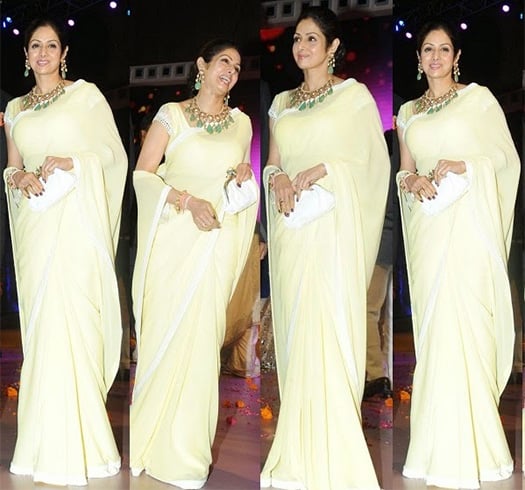 29. Blue Powder Lace Embroidered Border
Anushka Sharma gave us fresh inspo to wear for a party. She is pictured in a powder blue embroidered saree border and embellished elbow-sleeve blouse. Her chandbali earrings and tiny bindi-are worth emulating. The border running through the saree reminds us of rich trinkets.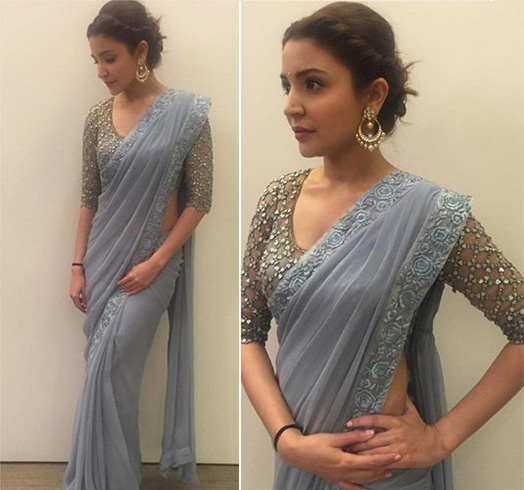 30. Zardosi Border
A plain saree with a zardozi blouse or border is a dream combination. Most women love to wear it for weddings. You can also try steady zardozi work for a contemporary finish.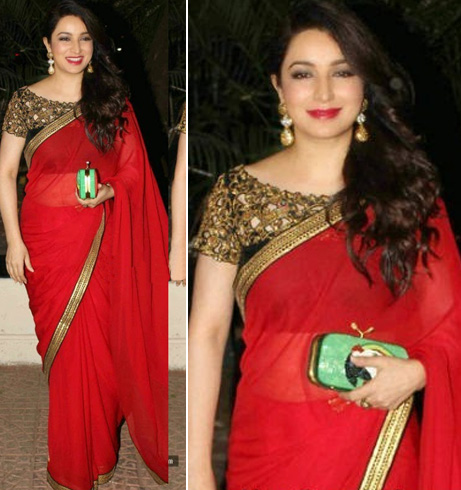 Here, ends our list of plain saree with border. With a spread of catalogue like this, you will have plenty of ideas for your next party scene. Which one is your favorite design? Do drop in a message in the comments section below.
Images Source: pinterest