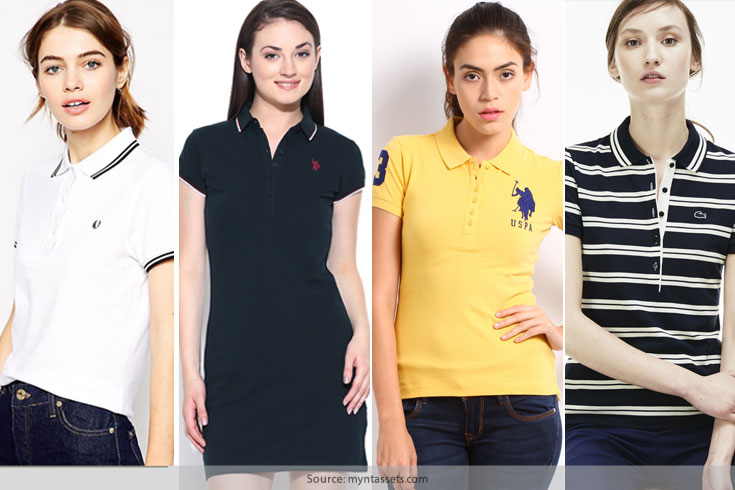 Fashion is forever changing. Like man, even fashion evolves. It's the law of nature. So, time to retire your worn out T-shirt 'cos its time to adopt polo t-shirt trend.
Polo T-shirts may bring an image of a golf course or social-flavoured wardrobes in front of your eyes. But, in reality, a polo tee is far more versatile than what is thought out to be.
The absolute key to wearing a polo t-shirt is pairing it with clothing or items that helps give it a more feminine feel. This means you may have to ditch your usual khakis and sneakers to get on the creative side so that you can combine it with pieces that help you flaunt your curves.
This polo t-shirts for women has made its presence felt at leading S/S 15 runways like Chanel, Balenciaga and more, marking a prominent makeover. Take a look at this S/S 15 Balenciaga polo shirt. Doesn't it look a true must-have?
The Polo t-shirt trend looks a true genius in this color-blocked take designed by Proenza Schouler.
Any guesses on who are the engineers of this signature Polo t-shirt Trend? Lacoste and Polo Ralph Lauren who both sent their polo tee versions down their recent S/S15 runways.
What are the plus points of the Polo t-shirt trend? Well, first of all, it is an easy shape to wear. Secondly, it has returned with retro, fitted styles and contemporary looking boyfriend fits. However, what makes this preppy style look a fashion hottie is the unconventional play of fabrics, prints and textures, apart from dropped shoulder and boxy silhouettes.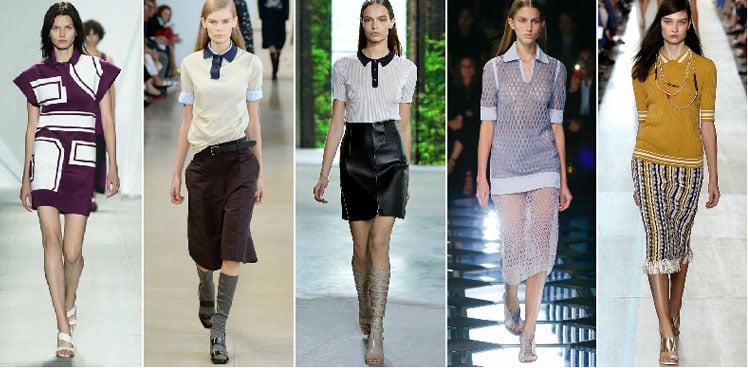 Yes, I know you want to make the polo t-shirt look cool and not boring and dull. Check out the examples shown below which will give you a fresh fashion perspective of the Polo t-shirt trend.
Wearing Polo Tee
When it comes to how to wear polo t-shirts, there are number of options. The beauty of wearing a polo shirt is that you can customise it to the situation.
A Polo T-shirt comes in many colours, fabrics and cuttings which are put into use for sewing shirts. You just need to find the right shade of a shirt which suits your natural skin tone. Plus, it is important to take into account the overall colours of the ensemble in a holistic way.
[sc:mediad]
A cotton-made polo shirt with a bit of elastic fibers will fit your body more tightly and create a sporty look. Though there are cotton or knitted polo shirts, they fit your figure less tightly, and are better worn in untucked way.
Just tuck in your polo t-shirt into a pair of distressed flare jeans. As for accessories, team it up with chunky looking high heel sandals.
How about giving a peppy complementary touch to your polo shirt by going for a skirt with animal print?
Spring time can always stay in your memory book when you pair button-down polo shirt with culottes.
Tips On Wearing Polo Tee
When it comes to office style meaning polo t-shirts for work, you can combine a polo shirt with a blazer in a casual way. The shirt can be tucked into the trousers or jeans. Except the topmost button, all the buttons should be fastened. Also, the corners of the collar should remain under the blazer cut.
For a picnic do or a party outdoors, it makes sense to wear a polo shirt with shorts, and further complement it with large ornaments on the neck and hands. You can also tuck the polo t-shirt in shorts and wear a decorative belt.
Do not wear absolutely loose polo shirts, as they can make your figure look much bigger than it actually is.
So dearies, hope you got a hang of Polo t-shirt Trend and how to make it look rocking at work and casual dos. Would you wear polo t-shirts for work? Share your thoughts with us in the comments section.