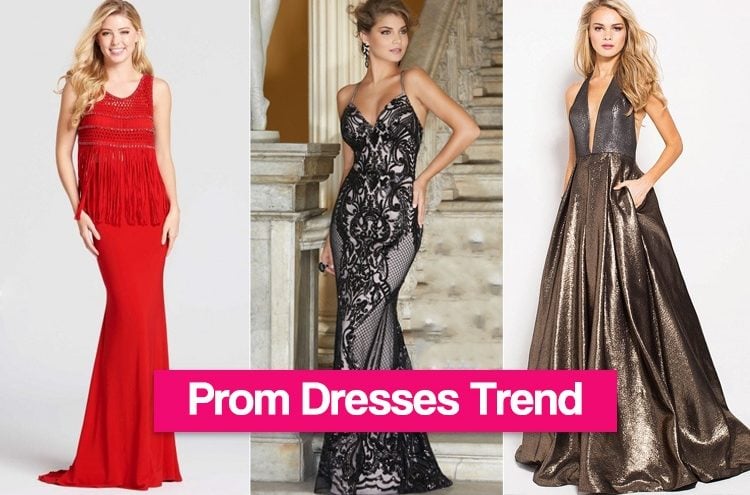 For those wondering what Prom is all about, it is a big event for every young girl. It is an occasion where the girl dresses up her best and has fun. Whichever prom dress the girl wears gets immortalized through the photographs that are taken this day. So you need to find a dress that makes you look your best. The dress has to be comfortable too since you will be wearing it for several hours and dancing in it. Time to know more and follow the prom dresses trend 2019.
Here are our top picks from the best of prom dresses trend 2019:
1. Fringe Dress:
This is one of the hottest prom dress styles and it was a rage among the Flappers during the 1920's for the most glitzy, glamorous and carefree look it gave. It was a natural source of attraction as the fringe dress shimmered and swayed when the prom girl entered a room or stepped upon the dance floor.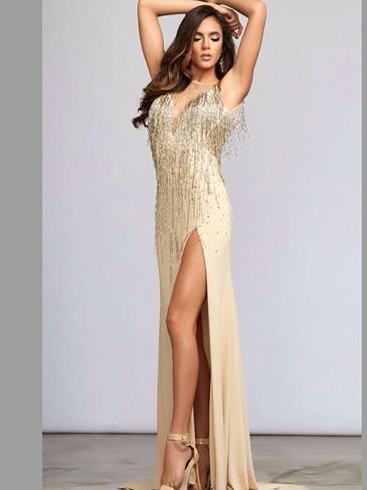 2. Ball Gown Prom Dresses:
For the grand entrance of your dreams, a romantic ball gown prom dress is the perfect evening wear. It fulfills your wish of walking into a room and feeling like a princess. Twirl across the dance floor and you will feel like royalty. In fact, prom dresses in a ball gown look are scoring in popularity. What about the colors? Well, soft hues like powder blue and rose gold are very much in trend as prom dress styles. So much so that they are becoming as popular as red and black dresses. If you want a bold look in the red spectrum, then go for burgundy colored prom dresses. They are very much in vogue this year.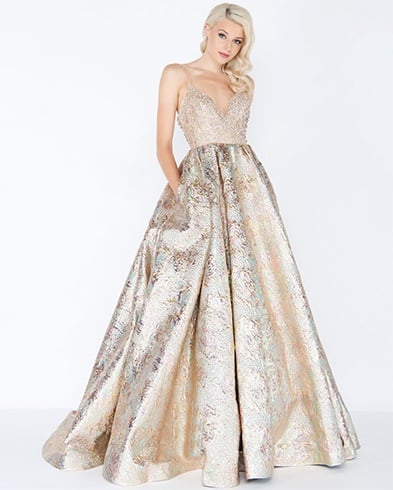 3. The Golden Touch:
Gold will never let you down – as jewelry or trendy short prom dresses. A gown embellished with golden sequins or brocade will go down in memory and happily so. While gold is the hottest choice this year, the metallics are pretty fashionable too. Metallics are universal in their appeal and can go with any complexion, hairstyle, and makeup. It is the surest way to grab all the attention no matter what the occasion is! There is no room for accessories to complete your prom look when your dress is shimmering with golden details. Make a stunning appearance in gold dress and get noticed in a flash of a second.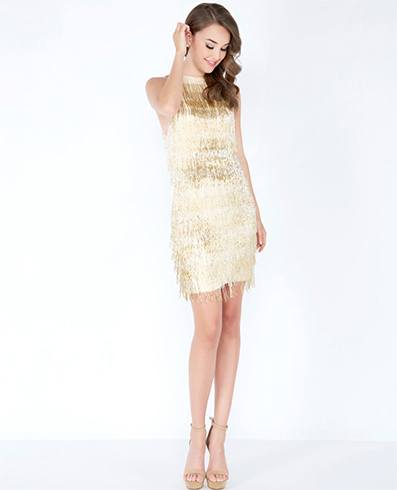 4. Dramatic Backs:
The prom culture is such that the young chick in you may like to show off a bit of skin (which is okay). But you can avoid looking too flashy when you wear some dramatic details on the back. By doing this, you can show off your sense of style in a sophisticated way without raising eyebrows. Pick from illusion designs that are embellished with low-cut open backs, lace appliques and crystal embroidery, sheer overlays, and pretty looking keyhole cut-outs.
Make a note of this –
That illusion details and keyhole backs get you beautiful coverage, while low-cut and open backs are revealing and bold. The choice is yours – the cute trendy prom dresses can be made bold and daring too.
But yes, never forget to choose a hairstyle that highlights the back of your prom dress without distracting from its statement features.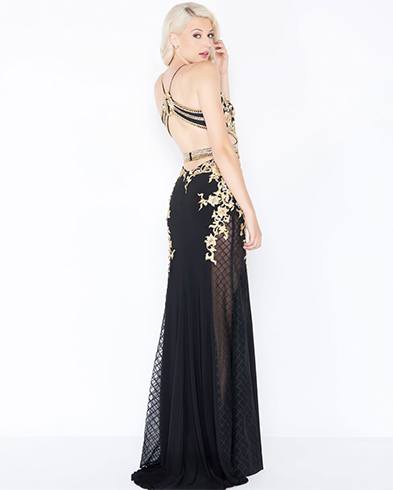 5. Lace Details And Accents:
Lacy affair is hard to resist when it comes to teen girls. It looks elegant and classy both. A lace all-over dress looks eternally romantic. Go in for playful colors like bright red or blue. Go gothic with black lace, who stops you? Or choose a dress that has lace sleeves. If you wish to have a more contemporary look, then go in for mermaid or sheath in lace. These serve as sexy silhouettes. Whenever you are wearing a lace dress or lace accentuated prom outfit, minimize the accessories that you need to carry or you will end up with a cluttered look.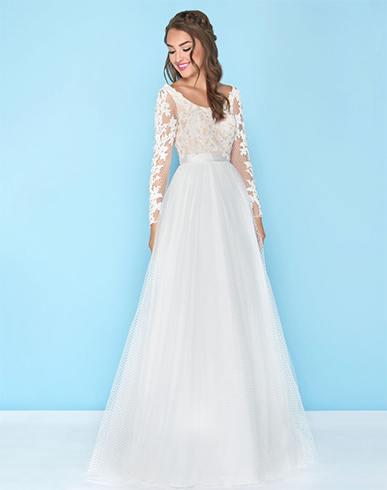 6. High-Low Hemlines:
One of the prominent features of prom dresses trend 2019 is high-low hemlines. So that you don't hide your long lovely slender legs beneath yards and yards of fabric. You need to show them off. That is the protocol of prom fashion. The short hemline in the front growing to floor-length at the back looks youthful and chic. The next thing you need to pay attention to is your footwear because it will be visible beneath the short skirt in the front.
Depending on the color of your prom dress, it makes sense to wear high-heeled sandals or pumps in contrasting colors. The impact of dressy high-low gown cascading and flowing in the background is phenomenal and camera-friendly.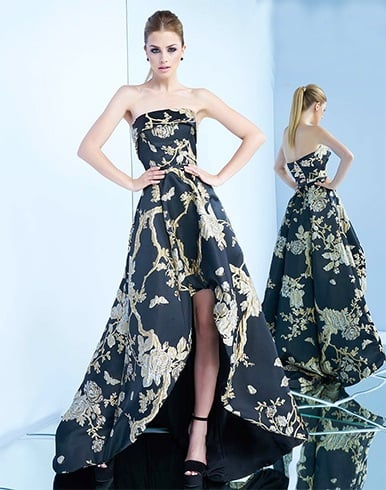 7. Straps And More:
Heard of spaghetti straps? Or slightly wider straps on the shoulders crossing over the back? They are fashionable to the core. This 90s trend looks best in solid color dresses. Go explore dresses that come with sheer panels and cut-outs along the sides and neckline and have slender straps. They will make you prom-perfect. But try to keep your accessories to a bare minimum and go in for a hairstyle which is natural or tousled.
[sc:mediad]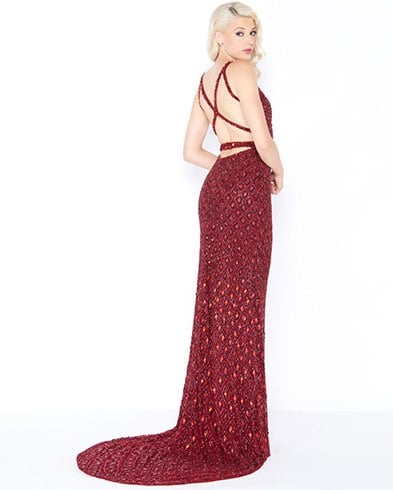 8. Black And White:
Update the all-black gothic look by going in for a black and white combination. This is a classic mix of two neutrals and stands out for its simplicity and elegance. Party hoppers can safely call it a monochrome look. Very much from the range of cute trendy prom dresses. For added impact, go in for a black and white prom dress with a plunging neckline. Add a pop of color to it through brightly colored heels or sandals.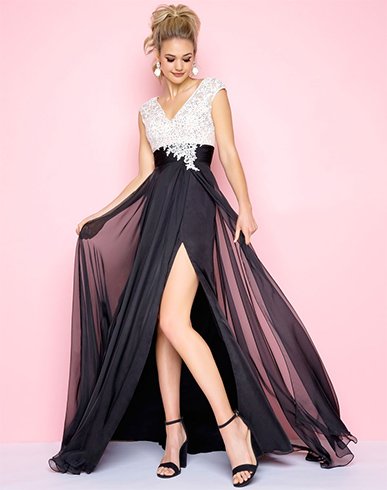 9. Two-Piece Dresses:
The beauty of two-piece dresses is the customized look it brings you. You can mix and match a variety of colors and textures from top to bottom to make your own fashion statement. When you have the right top and skirt, you can virtually create any silhouette. Guess the latest trend? Pair a crop top with a skirt. So that you get a separate bodice and skirt coming together perfectly.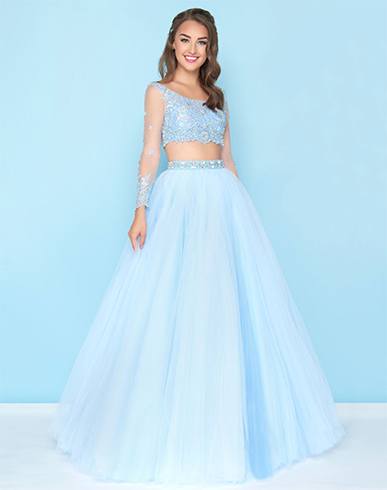 10. Plus Size Prom Outfits:
The trendy plus size prom dresses are not hard to locate these days. Many stores order specific styles in plus sizes. But there are online sites which offer a variety of plus size prom dresses from the hottest designers. So no need to worry about size issues.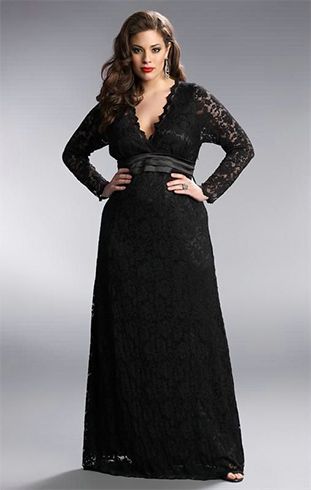 I hope you liked the trending prom dresses of 2019. Which ones will you personally go in for and recommend to your friends and cousins? Tell us in the comments box below.
Images Source: macduggal