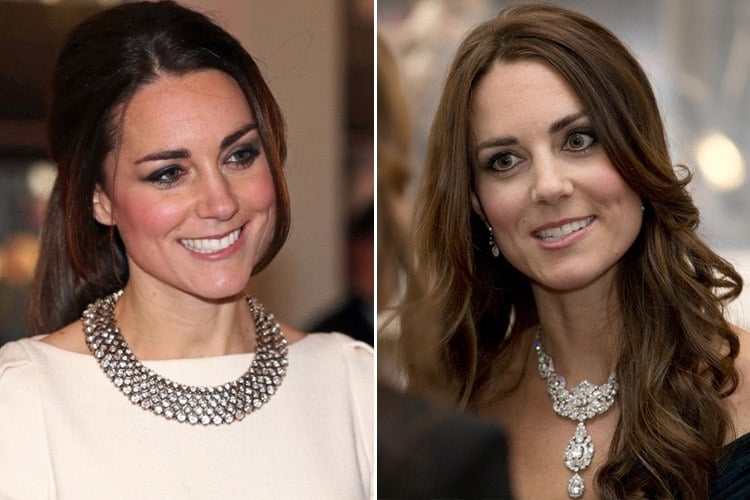 The Duke and Duchess Of Cambridge had come to India in April this year with their baby doll Princess Charlotte, if you recall. The Duchess Kate Middleton looked Queen personified, didn't she, while the crème de la crème of Bollywood got the privilege to interact and get photo clicked with her at the Bollywood gala held at the Taj Palace hotel.
[Also Read: 25 times Kate Middleton Took Over The World Of Fashion]
How many of you are eager enough to have a glance at Kate Middleton jewels? I can see many hands going up in the air.
Well, Kate Middleton is a proud owner of heritage pieces that have come to her either as loans or as gifts. And this includes her diamond-encrusted Royal Family Order of Queen Elizabeth II badge.
Kate Middleton Royal Jewels
Let's check out Kate Middleton royal jewels which will keep you hooked onto it till the last word.
Diamond And Sapphire Engagement Ring
Well, to start with, the Duchess of Cambridge proudly owns one of the world's famous jewelry pieces – a diamond and sapphire engagement ring which was earlier worn by Princess Diana. You can call it a legacy passed on by Lady Diana to Kate Middleton as that was an oval blue engagement ring, which had fourteen solitaire diamonds surrounding a twelve carat oval blue Ceylon sapphire set in 18-karat white gold.
This show stopping ring costing £28,000 was created by former Crown Jeweller Garrard & Co. Kate Middleton had the following to say 'It's beautiful. I just hope to look after it. It's very, very special.'
That besides, Kate Middleton jewellery collection includes an extensive collection of pendants, earrings, rings and bracelets which have become the subject of attention of royal watchers over the years.
Links Of London Hope Egg Earrings
The beaming bride Kate Middleton sported Links of London Hope Egg Earrings at the time of her romantic embrace with Prince William.
The white topaz earrings costing £275 represented hope and new life and are seen as a symbol of hope and new life, and are an important symbol in Russia, commonly given as birthday gifts.
[Also Read: Kate Middleton and Her Coat Style]
Now we move onto the royal wedding where the lovely Kate looked gorgeous in her ivory and satin Alexander McQueen gown which made her the true blue royal bride.
The Halo Tiara
The Cartier Halo Tiara that Kate Middleton wore on her wedding day lent to her by the Queen Elizabeth made her look like the future queen. In fact, this tiara set with 739 brilliants and 149 baton diamonds was given to Queen Elizabeth by her mother on her 18th birthday.
New Zealand Fern Brooch
During her official visit to New Zealand in April this year, the Duchess of Cambridge was clicked wearing the fern brooch of Queen Elizabeth II. It was originally given to the Queen at the time of her coronation world tour in 1953 and 1954.
[sc:mediad]
The Nizam Of Hyderabad Necklace
The Duchess is not too fond of wearing jewelry. As it so happened, the Queen asked that Kate should be given more access to the jewels so that she can look a 'princess'. That is when the Nizam of Hyderabad necklace happened which Kate wore on her visit to the National Portrait Gallery (of whom she is a patron of) in February this year.
This necklace has a chain of 38 diamonds along with a center piece of 13 emerald-cut diamonds. Quite a necky affair!
The Queen Mother's Fringe Earrings
Talk of Kate Middleton royal jewels and The Duchess wore a pair of diamond and sapphire fringe earrings, once a possession of the Queen Mother (pictured in 1986 in London) for the 2015 Women in Hedge Funds dinner. Apparently, the Queen Mother was a great fan of fringe earrings.
Hope you loved every royal treasure of Kate Middleton jewels. Drop in a line and tell us which of the Kate Middleton jewels fascinated you the most.