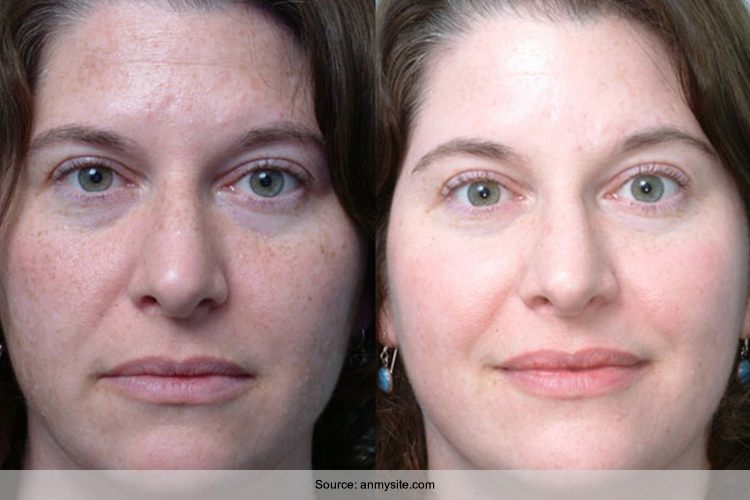 Who doesn't love a flawless skin and don't we all hoard creams and lotions that will give us that perfect and spotless skin? But the sad news is, not everyone is blessed with a clear skin, and even if we do, various factors may actually lead to certain flaws such as dark spots, hyperpigmentation, adult acne, open pores and so much more as we age. In this article, we will talk about dark patches on the skin and how to remove them. Before we get to the part where we will tell you some amazing ways to get rid of the dark patches, you have to first understand why you got these marks in the first place and how to identify them.
What Exactly Is a Dark Spot?
Though not common in younger women, dark spots are mostly seen in middle-aged women and it is actually the visible result of the hyperpigmentation of the skin. These pigmentations or discoloring of the skin occurs when a localized patch of melanin (a hormone produced by our skin) accumulates in a specific area of the skin. These accumulations can occur anywhere in the skin, but it is mostly seen on the forehead, face or cheekbone area. Dark spots always occur due to a reason, so if you have seen something suspicious on the skin and that spot has been there on the skin for a pretty long time, it may be possible that you have a bigger ailment. You should immediately get it checked by a doctor.
What Causes These Dark Spots?
Like we mentioned before, though it is not common among younger women, most females might get dark spots due to a myriad of reason including exposure to UV rays of the sun (the aftermath of not using a sunblock), they may be age spots or preludes to wrinkles (this is in case of older women), they may be due to genetic reasons, due to hormonal disorder or due to some imminent skin disease.
How To Identify The Kind Of Dark Spots You Have?
As you are aware, you might get dark spots due to a number of reasons. So before beginning learning how to get rid of the dark spots, know about the various types:
Melasma: One of the most common types of dark patches, these appear due to hormonal imbalance in your body. So, ladies get these dark patches mostly when they are going through major hormonal changes like during pregnancy or menopause. You might also get these dark patches as a side effect of using birth control pills or while undergoing a hormone therapy. When the levels of estrogen and/or progesterone are changing in the body, it might show on your skin as dark patches or spots. As the first line of defense, if you can do without it, your dermatologist will ask you to stop having the hormonal contraceptive pills and also getting rid of the IUDs. If you are suffering from a thyroid related disorder you may develop melasma.
Lentigines: These are also known as sun spots as they occur when your skin is exposed to the UV rays of the sun especially when you haven't properly used sun protection. Most of the women who get it are usually above the age of 60, but many times, much younger men and women may also get these sun-exposure related dark spots. There is no fixed pattern and they might appear randomly over the skin, mostly on the cheeks.
Post-inflammatory hyperpigmentation (PIH): As the name suggests, these dark spots may occur as a result of trauma to the skin in the form of psoriasis, burns, and acne. Certain skin treatments that had been very intensive can also lead to these dark spots.
Top 4 Methods To Reduce Dark Patches Naturally:
Once you have identified the type of dark spots on your skin, you can visit a dermatologist to start off with the treatment. They will be able to tell you what would be the best possible treatment option for your dark spots on the basis of your age and skin type and condition. Before you proceed to medicines, why not try some of the commonly available items in your kitchen? These natural products work as well as their medicinal counterparts and don't even have side effects! Let's start with these:
1. Exfoliation:
If you notice that the dark spots on your skin have only been there for a short while (like two months or so), then it might be possible that these spots exist only on the top layers of the skin and it may actually be possible to remove them by the simple process of exfoliation. The simple definition of exfoliation is to remove the dead skin cells from the top layer of the skin by using gentle abrasive methods and in the process bring a fresh layer of skin to the top.
The key to a good exfoliating agent is to find a face wash or a scrub that have tiny particles that will gently scrub the skin and take off the top layer. A hard scrub will actually harm your skin.
The best thing is, you can even make your own exfoliating agent – Just mix some ground raw almonds or ground oatmeal into your regular face wash and rub gently on your skin. Concentrate on the dark spots and apply more on the dark patches in small circular motions to improve skin texture and also get rid of the spots.
In case you are not happy with the manual process of exfoliation, there are also electronic exfoliators available in the market- the common one is called 'Clarisonic'. This one can dig a little deeper than your standard cleanser. The handheld device can work very gently and remove the dead skin cells from your face. The device works on two AA batteries and can be bought online or is available at most drugstores.
2. Citrus Food items to reduce pigmentation:
One very important ingredient in citrus foods is ascorbic acid. This too acts as an exfoliating agent and can help to remove the top layer of skin without causing any damage to the dermis. To treat dark patches using lemon juice. Just squeeze the goodness of a lemon on a cotton ball and gently dab it on your skin. Let the juice get soaked by your skin for about 20 minutes. You have to repeat this application twice a day for best results and see your dark patches disappear.
Sometimes for people with sensitive skin, direct application of lemon juice might not be preferable as it may lead to an itching and burning sensation. In such cases, just make a honey and lemon face mask. The presence of honey makes it a soothing potion and prevents any burning sensation. Just mix the juice of half a lemon with two teaspoons of honey. Now apply this mask and let it sit there for about 30 minutes. After that, splash some lukewarm water and wash your face well.
For a stronger potion, make a paste of lemon juice with turmeric (a very effective skin-lightening agent) and mix it together. Apply this paste on your face for about 15 minutes and then wash it off with warm water. Apply a moisturizer to soothe your skin.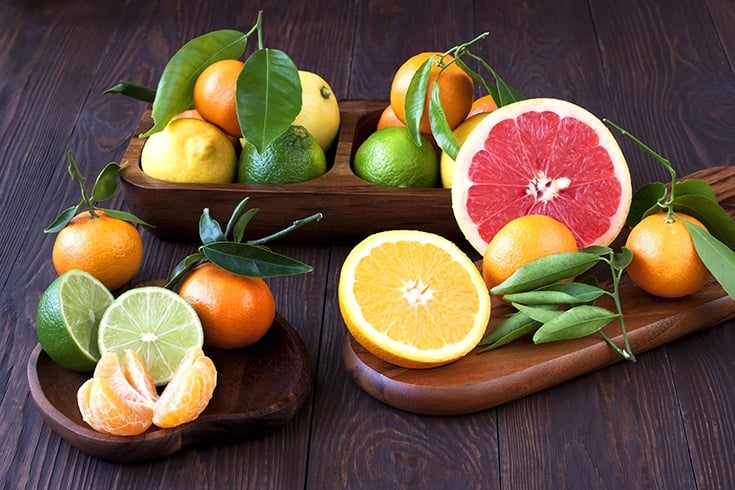 3. Papaya:
Papaya is not only great for your health, but the presence of the enzyme papain is great to exfoliate your skin. The papaya fruit contains Vitamin A and Vitamin E, both of which are great to reduce skin discoloration. Just apply a small piece of papaya to the area that has the most number of patches twice a day. Let your skin soak in the goodness for at least 20-30 minutes. Or for an easier method, you can blend the papaya into a paste and convert it into a face mask. Keep this mask on for 30 minutes and then wash off with cool water.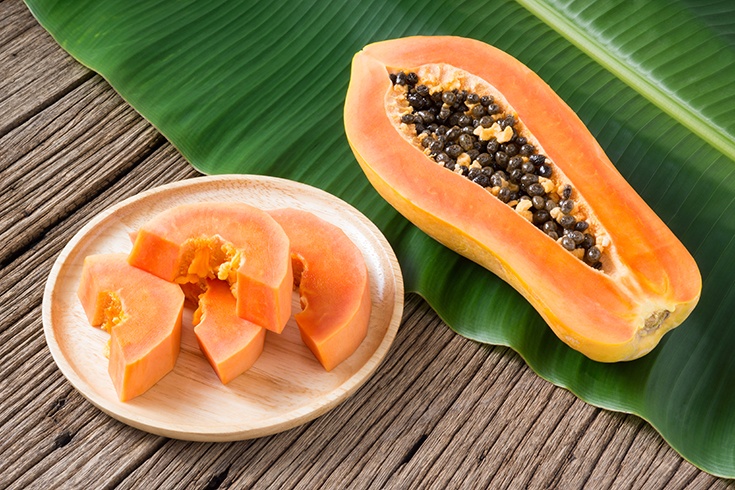 4. Vitamin E Rich Foods:
Vitamin E- rich foods are very good sources of antioxidants that help remove free radicals from the body. They can also help repair the cells in the body and applying them topically to the skin can also work wonders and remove the dark patches. You could use foods such as spinach, avocados, and nuts to improve the texture of your skin and also remove dark spots.
These were some of the natural ways to get rid of dark patches, but there are also many dark spot removal creams that are available and are actually recommended by dermatologists for medical purposes. Read on to know some of them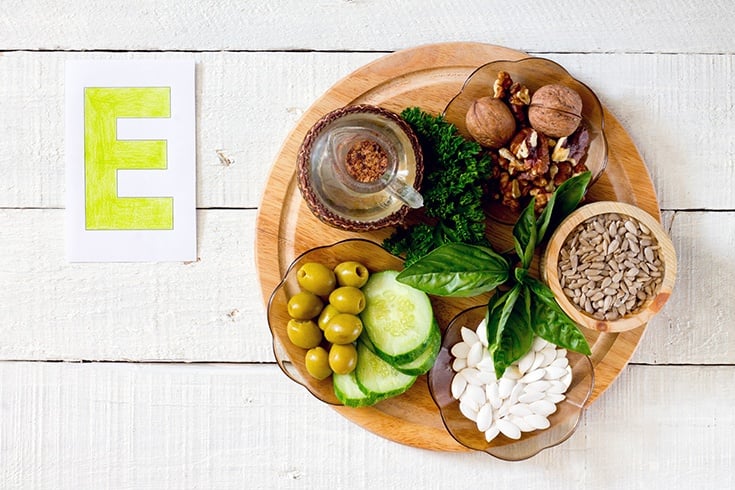 Top 7 Intensive Methods For Removal Of Dark Spots:
Here are some common intensive treatments you can avail at skin clinics to get an even skin tone:
1. Using Bleaching Agents or Creams:
When you first start getting these dark patches and spots, the doctor will usually prescribe you bleach as the first line of treatment. This is to be used on your skin topically and can be used to remove the discolored/patchy layers of skin. There are different versions of these bleaching treatments available in most medicinal stores and if you are not happy with the results, you could even go for stronger prescription strength ones (only after consulting your dermatologist). Most of these bleaching creams will include substances called hydroxy acids that are good for skin lightening purposes. There are also bleaches available at any beauty store. These are the ingredients you should look out for if you want a product from any beauty store: kojic acid, arbutin, and lactic acid – all three of them are known to be very effective lightening agents.
2. Hydroquinone:
This is a chemical that is known to be a very effective skin lightening agent. Even though a lot of research has gone into its development, some people still argue that it is not safe enough. In 2006, the FDA actually withdrew its approval based on evidence that it could potentially cause cancer. However, studies conducted by the American Academy of Dermatology disagrees with the FDA and they have argued that when this is used under proper supervision, it could actually be very beneficial for patchy skin and not harmful. To be on the safe side buy this cream only after consulting your skin specialist. He may recommend a cream that contains Hydroquinone at 2% strength initially.
3. Retinoids:
This is a direct form of Vitamin A and it not only acts as a skin lightening agent, but it also increases the rate of skin regeneration. As we all know, when we remove the dead skin cells, these are more easily replaced by newer and lighter ones. This is a medicine that is only available by prescription because it might have some potential health risks, especially for pregnant women. Pregnant women might get a lot of patches due to the massive hormonal changes they are undergoing but they should not take this medicine until it has been prescribed by the doctor. A stronger dosage might also lead to skin irritation.
4. Chemical Peel:
This is a new method of lightening the skin and involves using a chemical solution. This solution will improve and smoothen the texture of the skin on the face. This specialized treatment is only available at skin clinics and you may need to go for several sittings to get a good skin texture. Usually, this solution has concentrated levels of the acids described as kojic acid, lactic acid, etc. These peels work by removing the dead cells on the surface of the skin. After the chemical peels, the new skin appears very smooth and of course healthier than the old skin that was 'peeled or removed'. Please remember to get this done only under the supervision of a good dermatologist.
[sc:mediad]
5. Microdermabrasion:
Another chemical procedure, this involves using tiny crystals that are used to "sandblast" the upper layers of your skin off. Again, this is a process that needs to be performed only by a dermatologist, who will administer a local anesthesia before beginning with the process. You will have to repeat this procedure once a month for the next few months to attain an even skin tone. Dermabrasion will result in a very smooth skin, and you will also see a reduction in wrinkles, pigments, patches, and scars.
6. Intense Pulsed Light (IPL):
IPL is a very effective laser treatment that will use very quick pulses of light to destroy the pigment-causing melanin – the main agent that causes your skin to darken. This is a procedure that is more expensive than all the others we have mentioned before and it is also very painful.
7. Steroids:
Using steroid creams on the affected areas actually helps to treat melasma. Ask your dermatologist to prescribe one for topical application to bid adieu to your dark spots.
A Word Of Caution:
Please consult a dermatologist before opting for any of the above skin treatments.
Any drastic change in skin color or texture reflects an underlying health issue. So immediately consulting a doctor is a must.
Remember, a balanced diet, 8 hours of beauty sleep, drinking 8 glasses of water daily besides the regular cleaning, toning, and moisturizing skin care regimen are essential to get a radiant skin. Also, use a sunscreen lotion daily even if the weather outside is cloudy to avert any sun damage.
Hope you found this article informative. If you are suffering from dark spots share your experience with us in the comments section below. Also, If you know any more home remedies to reduce dark spots do share it with other beauty enthusiasts here.