We all fancy the celeb life, drool over their colossal closets, envy the massive shoe collection, but there is still a part in the celeb life that we just don't desire. The constant surveillance of paparazzi and the judgmental comment, mostly hateful and mean, they induce. Something similar happened when my girl Selena Gomez headed for a vacation in Mexico on April last year. Enjoying the water in an adorable pink swimsuit, the pop star was trying to be just a normal human being – but damn those paparazzi eyes.
[Also Read: Cute Selena Gomez Fashion Trends]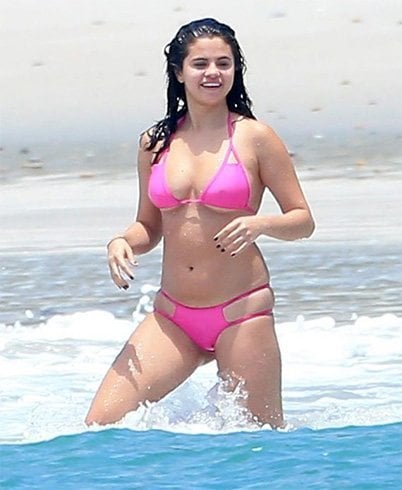 Soon the interwebs were inundated with body shamming comment aimed at the 23 year old singer. The trolls pounced on the chance to tear her apart and went straight up calling her FAT. Like what the eff? But our girl isn't the one to take any kinda crap, she went ahead posting a personal picture in a sexy bathing suit in all the channels of social media with the caption – "I love being happy with me yall," along with the hashtag #TheresMoreToLove. But now it's been over a year, and her recent red carpet appearances totally show that the teen sensation certainly has way less to love now. Let's see what Sel Go did to achieve those perfect measurements.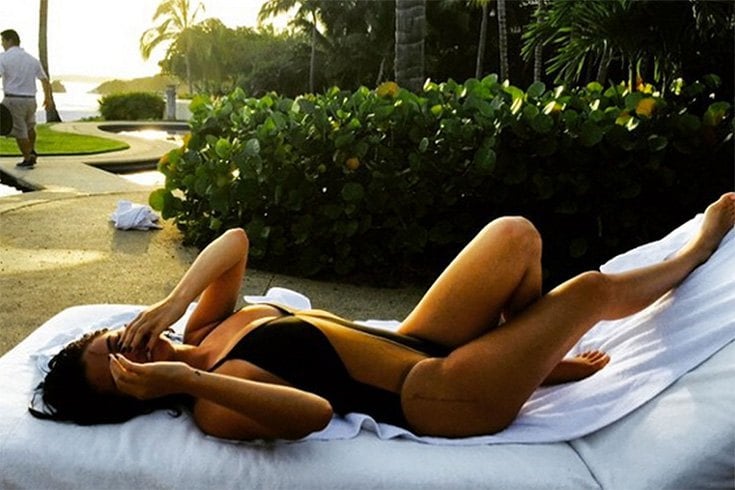 Following the strictness of her trainer Amy Rosoff Davis, who has a say in every aspect of the singer's fitness, diet and lifestyle, Selena is in insane shape now. Here is the break out of it all. Since last spring, Selena and Amy have chalked out a workout regimen and boy did the plan work like magic or what?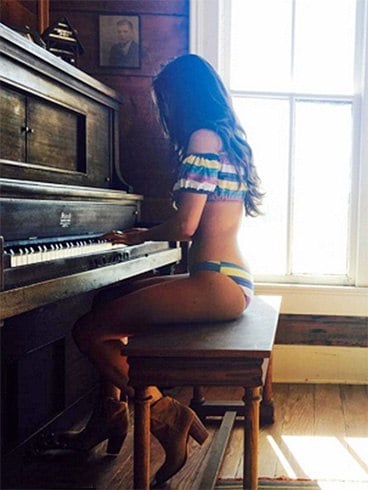 It's quite surprising that her trainer doesn't scrutinize her weight every now and then, in fact Amy doesn't weigh Selena at all. She isn't a believer of scales, but as the two work very closely, they understand the changes in the songstress's body just by studying it and following that her clothes fit her differently than before. Amy states – But ultimately, a body that eats well and works is going to look better because it's healthy.
Will you believe if I say Selena gets to eat whatever she wants to and still maintains that body? Yes, that is exactly what she does. Amy doesn't restrict her client from enjoying life's greatest gift – Food, and nothing is off limits for the 'Same Old Love' singer. The trainer words her thoughts – "I don't believe in denying yourself, but I also believe in moderation. Life is too short not to enjoy food." However, Amy does encourage better choices for the beautiful popstar.
[Also Read: How To Do Selena Gomez Hairstyles]
Being from Texas, Selena has a special place for fast food in her heart, but trainer Amy doesn't condone this food habit. "She loves Tex-Mex and fast food that I would normally not condone," Amy said. "I will walk onto the tour bus and smell fast food, throw it in the trash, and hand her a carrot and hummus." Says Amy whose encouragement toward whole food has brought about some significant changes in shaping Selena's physique. To which her trainer added "She responds really quickly. We'll do barely any ab exercises and two days later, I'm like, 'Whoa!'"
Amy who has been incorporating whole and healthy food for our favorite singer has shared a few secrets with us, and we are glad to share it with the world: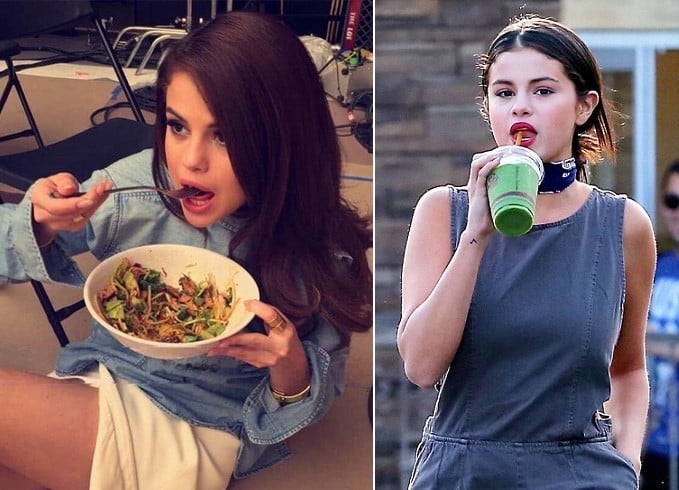 What she Eats – Keeping it healthy and filling, Selena has been prescribed a breakfast that comprises scrambled eggs, rice, avocado, chorizo, with beans; or a yummy blend of full-fat Greek yogurt and granola. Her lunch is a spread of a "power salad" of turkey, accompanied again with avocado and beans, and a homemade dressing made of olive oil, dijon mustard, red wine vinegar and lemon juice. For dinner she would take a Teriyaki bowl with Asian-marinated cucumber, some chicken or fish or, and teriyaki sauce over rice. Sometimes she would trade her rice with sushi. An avocado is again a staple, even for dinner. Selena loves her glass of juice and imbibes one glassful just before she takes to the stage. The juice is a healthy mixture of cucumber, kale, ginger and carrot.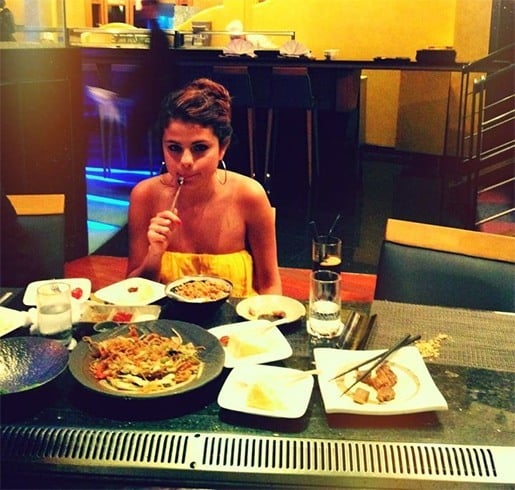 [sc:mediad]
What She Does – Both the star and the trainer believe that the body shouldn't get bored and hence they keep their work out a healthy balance of yoga, cardio and pilates. With some of her crew members and Amy, Selena goes for long hikes and engage in some arm dancing and circuit training during these sessions. "I've always believed the best way to keep your muscles active is to mix it up. We switch things up almost every day." says Amy.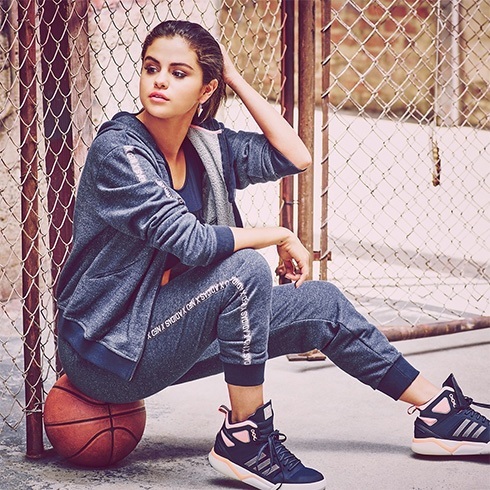 Amy cheers for loads of stretches. This adds flexibility to her body which comes handy for her dance moves on the stage and otherwise too. That is why Selena engrosses herself into stretching during her vocal warm up sessions.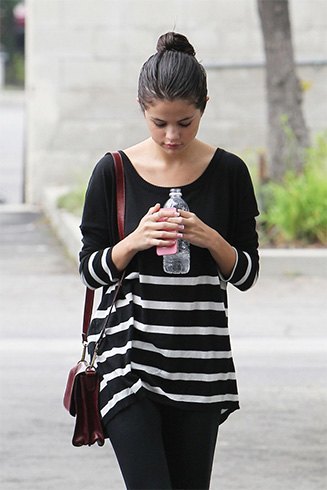 Water is the mantra for a healthy body, inward and outward. The rule stands itself even with Selena. During her interview with Vogue magazine, the star confesses, "I always have water, tons of water. It's even in my bathroom because I used to be so bad at drinking water and I want to stay hydrated."
[Also Read: Selena Gomez Red Carpet Looks]
Amy has introduced her celeb client to Shape House, which is an "urban sweat lodge". Selena lies in an "infrared burrito" for 55 minutes and leaves with "literally glowing," skin. Amy said. These are called sweat sessions. According to the trainer, one "typical sweat session burns between 800 to 1,600 calories." Selena is in total love with infrared sweating and carries a sweat bag even for the road.
But more than anything else, it is a healthy body image and loads of confidence that works for the Instagram queen whom we are absolutely in love with.