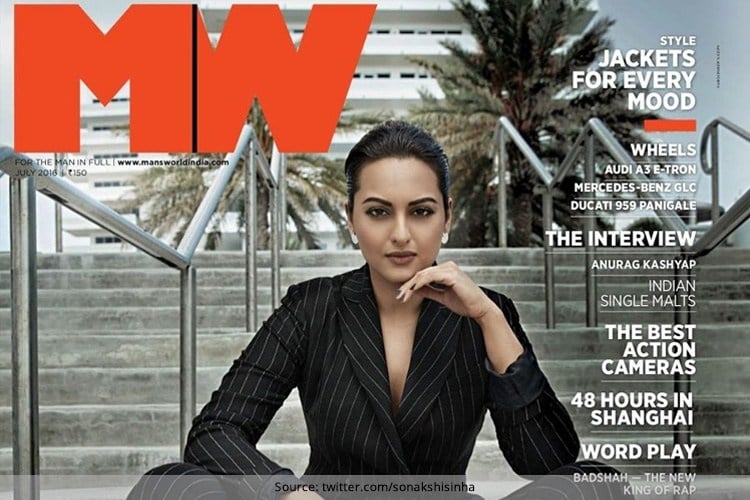 Sonakshi Sinha is found guilty as charged for the offense of stealing millions of hearts and weakening the pulse. Wondering what lead to this?
[Also Read: Featuring Sonakshi Sinha As The Boho Bride For Harper Bazaar Bride's, May Issue]
Read to know more.
Sonakshi Sinha, sits on the cover of MW magazine with a bossy attitude. She looks like she means business, and definitely no nonsense with her razor sharp style. This effect is achieved by the Diesel pant suit that she donned. With Zara shoes, striking studs and hair pinned neat and sleek into a bun, she looked hypnotic.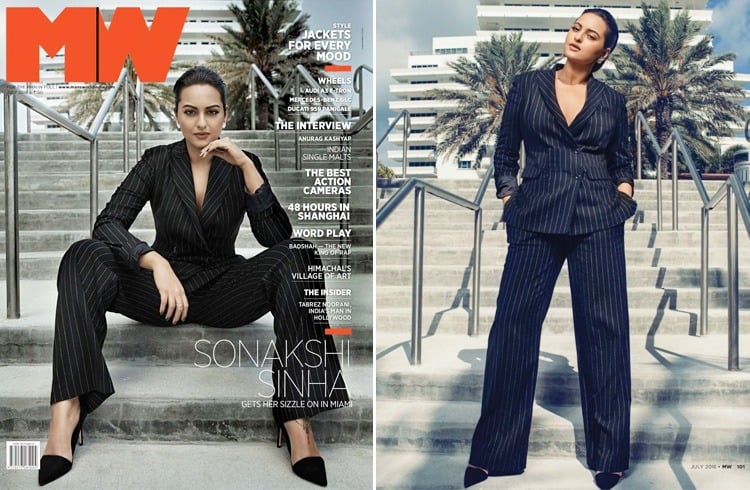 While the cover photo spoke a strong, powerful dialect, the rest of the photo-shoot was sensuousness overloaded. Take a look here-
1. She looked breathtaking in a Tommy Hilfiger shirt dress. She flaunted her toned legs and struck a penetrating gaze. With her hair pinned high up in a bun and brown manicure, she closed her look.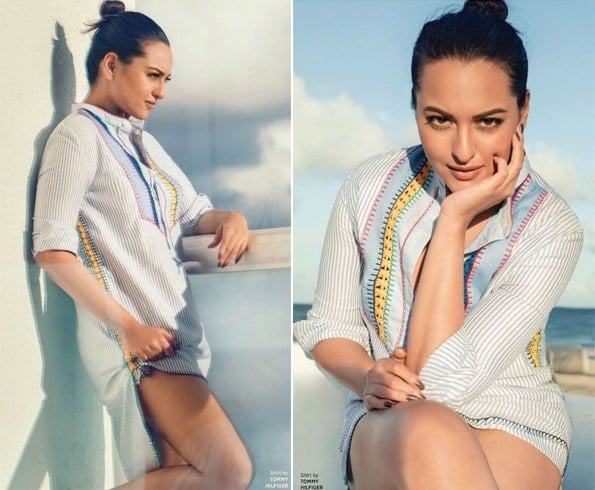 2. She perched on a bar stool leaning onto the platform lusciously, in a Zara one-shoulder dress. She casually topped a Tommy Hilfiger shirt. With her hair pulled into a pony, she looked beautiful.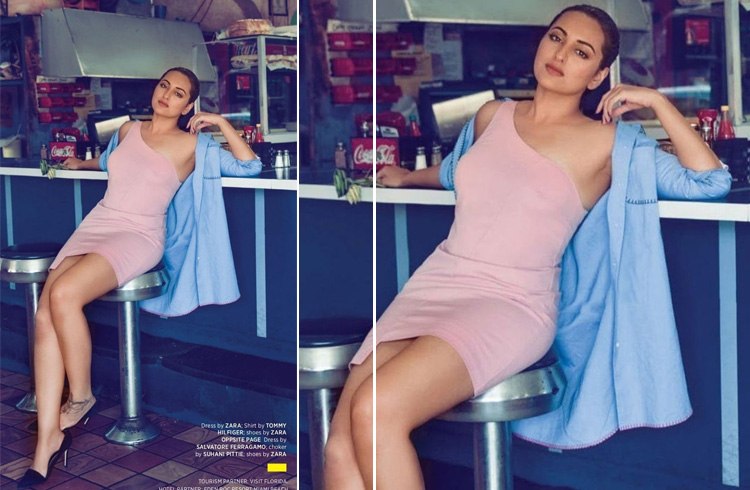 3. Sonakshi looked delicate and sweet in a black French Connection dress. With cuffs from Hermes, hair pinned up and a mischievous grin, she rounded her look.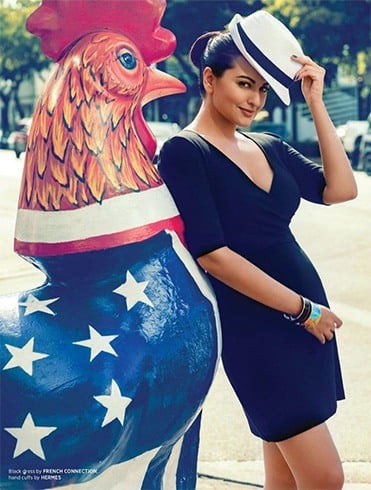 4. In a jade Nikhil Thampi thigh high slit dress, Hermes belt and Koovs ankle strap sandals, she looked intoxicating as wine. She let down her hair and the backdrop was picked creatively to make the look more attractive.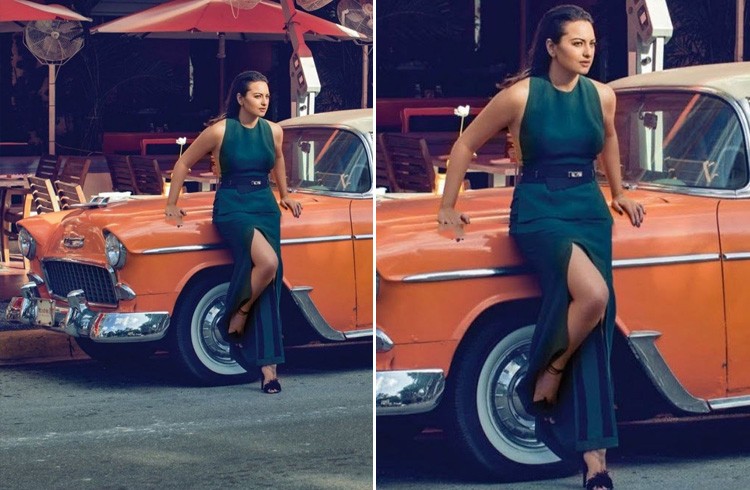 5. Like a goddess of ocean, she stilled on the oceanfront in an H&M dress, Tom Ford jacket and Hermes cuffs. With her after swim hair hue, she closed her look attractively.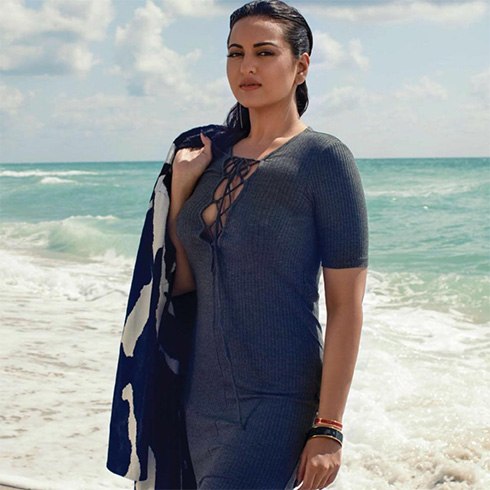 Here are few more images from the photo-shoot where the diva is spotted having a gala time-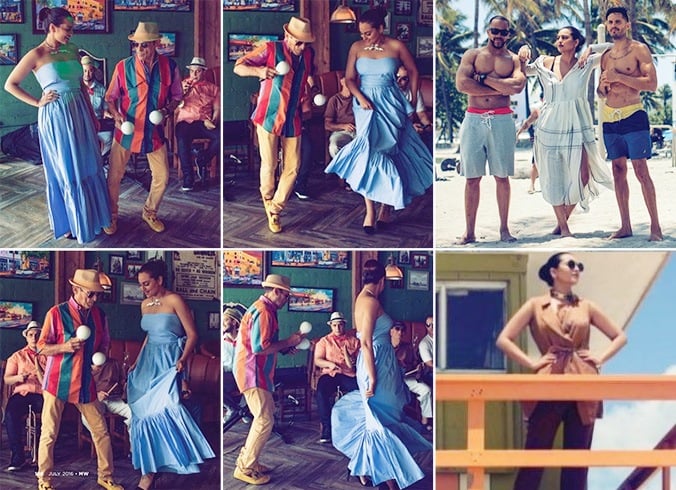 The fashion credits go to Kanika Karvinkop the stylist, and Colston Julian the photographer, for such an irresistible photo-shoot of the season.
Hope you enjoyed the post!!
Images Source: instagram.com, fropky.com