In an absolutely shocking Instagram post, Bollywood actress Sonali Bendre shared the tragic news of her being diagnosed with high-grade cancer. She also shared that her cancer has metastasized, which means, that the cancer cells have spread from it's primary origin to new areas of her body.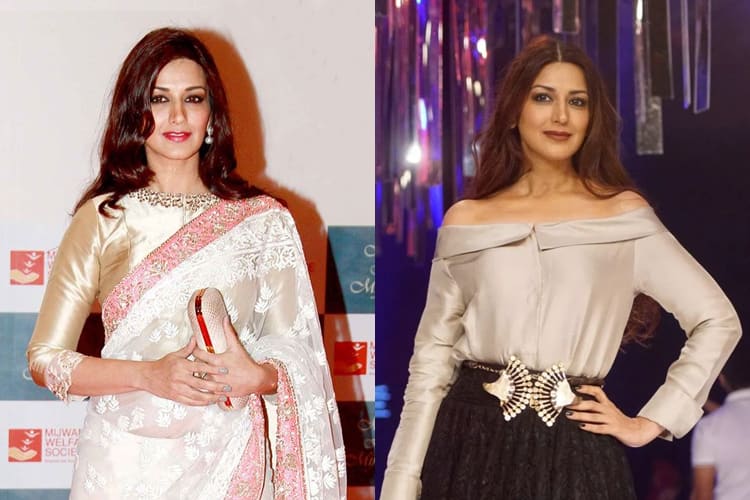 In a rather heart-wrenching post, Sonali wrote, "Sometimes, when you least expect it, life throws you a curveball. I have recently been diagnosed with high-grade cancer that has metastasized, which we frankly did not see coming. A niggling pain led to some tests, which led to this unexpected diagnosis. My family and close friends have rallied around me, providing the best support system that anyone can ask for. I am very blessed and thankful for each of them.

There is no better way to tackle this than to take swift and immediate action. And so, as advised by my doctors, I am currently undergoing a course of treatment in New York. We remain optimistic and I am determined to fight every step of the way. What has helped has been the immense outpouring of love and support I've received over the past few days, for which I am very grateful."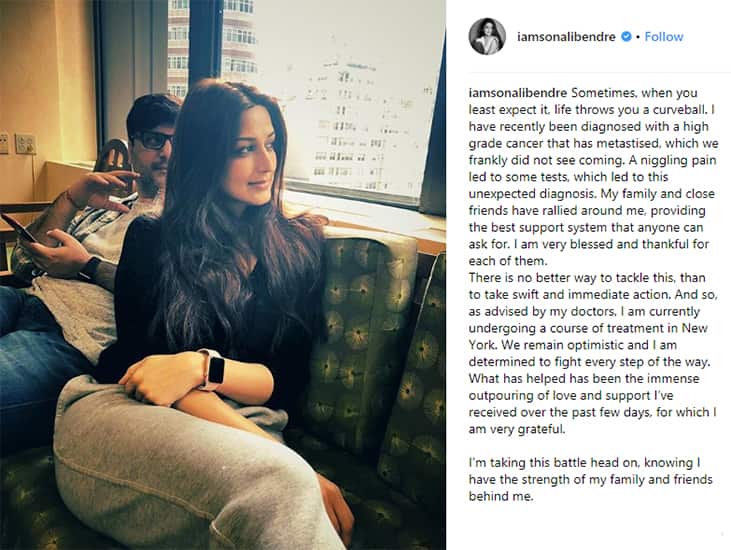 The news of the hail and hearty looking Sonali having cancer has caused hysteria in B-town, with the industry insiders sending all their love and best wishes to the actress, who is currently in New York for her treatment.
Sonali's mane makeover though drastic has not taken a toll on her sunshine smile! The diva with long silky tresses looked ethereal no doubt but her latest bob cut makes her look equally astounding. We salute her never say die spirit and her ability to smile in the face of the adversities.
In the words of my favourite author Isabel Allende, "We don't even know how strong we are until we are forced to bring that hidden strength forward. In times of tragedy, of war, of necessity, people do amazing things. The human capacity for survival and renewal is awesome."
The outpouring of love I've received in the last few days has been so overwhelming… and I'm especially grateful to those of you who shared stories of your experiences in dealing with cancer, whether it was your own or of loved ones. Your stories have given me an extra dosage of strength and courage, and more importantly, the knowledge that I'm not alone.
Each day comes with its own challenges and victories and so for now, I'm taking this #OneDayAtATime. The only thing I'm trying to be consistent about is maintaining a positive outlook… literally #SwitchOnTheSunshine – it's my way of dealing with this. Sharing my journey is also part of this process… I can only hope it reminds you that all is not lost and that someone, somewhere understands what you're going through.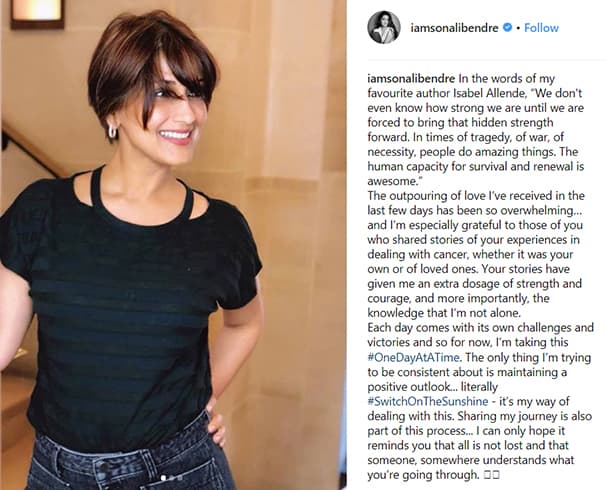 We too want to send across our love and support to the beautiful diva who is not just a talented actress but a timeless fashionista.
From movies to running a book club to executing her duties as a judge the suave and sophisticated personal style of actress Sonali Bendre has given us many a head-turning fashion moments, both on-screen and off-screen.
While her beauty remains intact Sonali's personal style has evolved over the years. We can only say that with time the diva has only become bolder and more confident with her fashion experiments and carries her outfits with an effortless charm.
Going down the memory lane, here's a quick throwback to all the top recent looks of Sonali Bendre that are proof of her exceptional style.
Top Fashion Statements Made By Sonali Bendre In The Recent Past:
Top Fashion Statements Made By Sonali Bendre In The Recent Past:
Stunned Everyone In An Ethnic Avatar At Sonam Kapoor's Wedding:
For Sonam Kapoor's wedding functions Sonali donned the punjaban look wearing a golden short kurta with an ivory patiala from the Abu Jani Sandeep Khosla label. Golden jhumkas and tousled hair sealed her wedding look to perfection.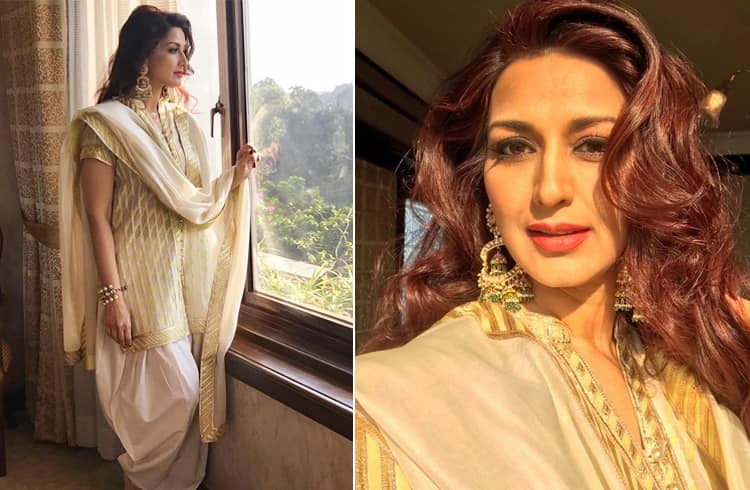 Aced The Color Blocking Game:
For the JIO Filmfare Awards night, Sonali color blocked bright hues of yellow, orange, pink and black in this Amit Aggarwal couture gown. A side low bun complemented her striking silhouette.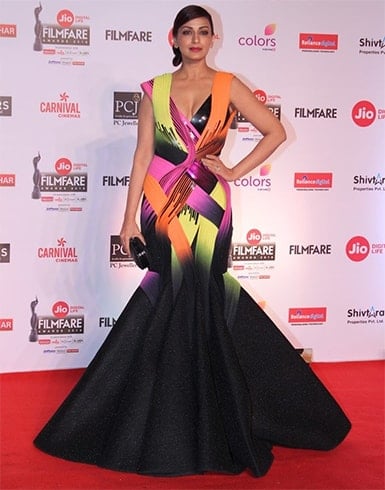 Played The Perfect Boss Lady In A Pantsuit:
Sonali exuded some bossy vibes suited up in shades of grey from the label Kanika Goyal.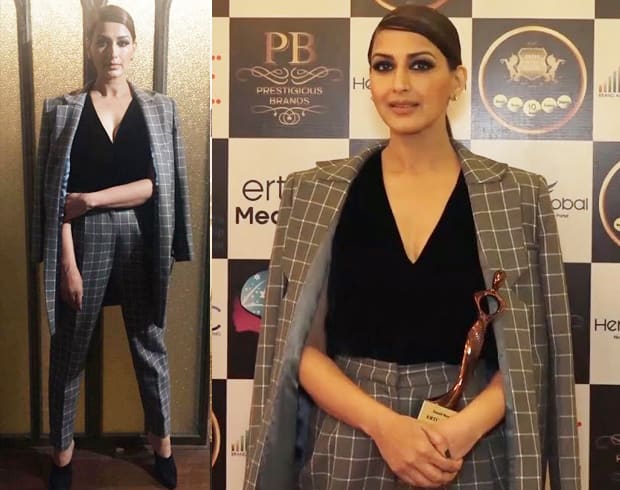 Looked Ethereal In A Pastel Blue Gown:
On the sets of India's Best Dramebaaz, Sonali twirled away wearing a pretty pastel blue floral dress from Anita Dongre. While her dress upped her daintiness it was her braided updo that added all the Cinderella charm to her look.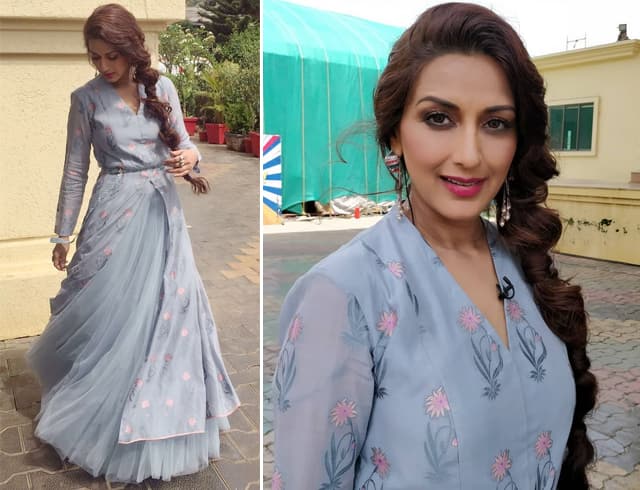 Nailed A Marsala Gown:
Wearing a gown from Esha Amiin, Sonali worked the rich rustic marsala to the T. While the knotted waist highlighted Sonali's curves, her blow-dried tresses added some drama to her appearance.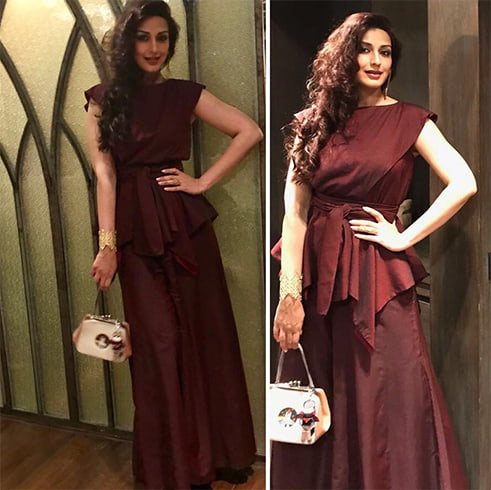 Displayed Her Flare For Fusion Wear:
The Anavila handloom pant saree Sonali wore for Ganesh Chaturthi is fresh in our memory.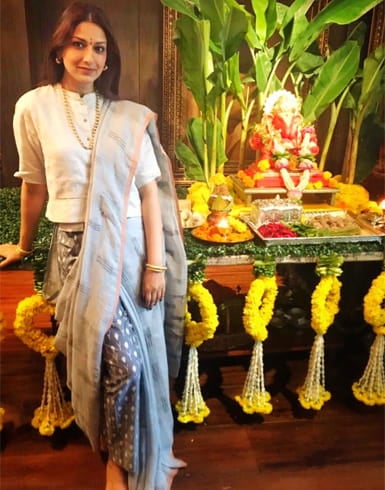 Experimented With Her Choice Of Saree:
We had loved this dramatic Abu Jani Sandeep Khosla saree on Sonali Bendre. Lined with ruffles and fringes this one had Sonali look gorgeous.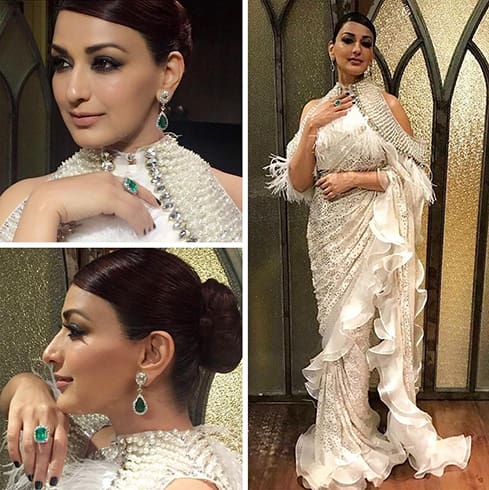 Donned The Ethnic Skirt And Formal Shirt Combo:
Last year designer Payal Khandwala was a favorite of the actress. The designer made it to Maharashtra's Most Stylish Awards with her muse Sonali wearing a red Banarasi skirt along with a navy blue top tucked in.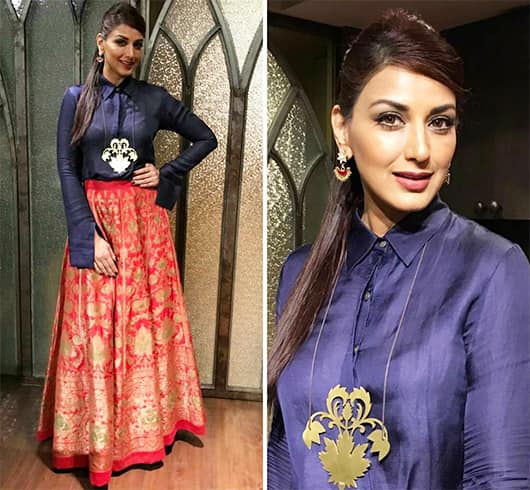 Mesmerized Everyone In A Metallic Silver Skirt:
We had liked this chic look of Sonali Bendre from Manish Malhotra's 50th birthday celebrations.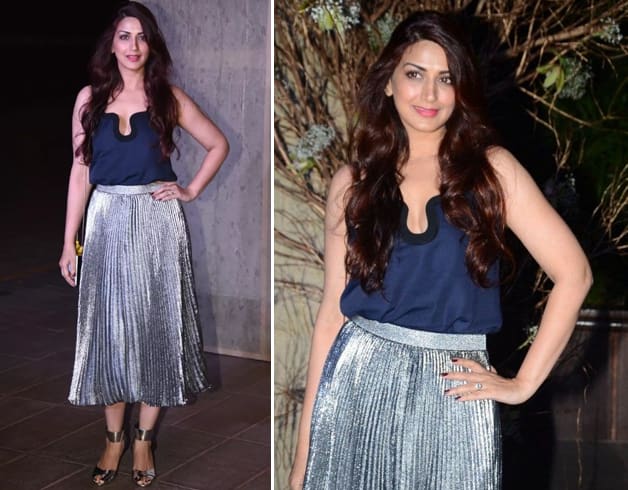 Exuded Cool Vibes In A Casual Avatar:
At the premiere of Book Club, Sonali collaborated with PVR to get her book club into the spotlight. Wearing a high-waist flared denim with a black bell-sleeve top she looked ravishing.
Now, it's time to recollect her iconic outfits on the silver screen.
Sonali Bendre's Top On-Screen Fashion Moments:
Check out our compilation of some of the best on-screen looks of Sonali Bendre.
Unique Ivory Lehenga In Hum Saath Saath Hain:
The most popular movie of Sonali Bendre was Hum Saath Saath Hain. With big names in the star cast, this blockbuster film had Sonali playing the love interest of superstar Salman Khan.
For the song, 'Maiya Yashoda', Sonali's pristine ivory lehenga stood out and absorbed all the attention. Working an all ivory look, Sonali Bendre looked mesmerizing.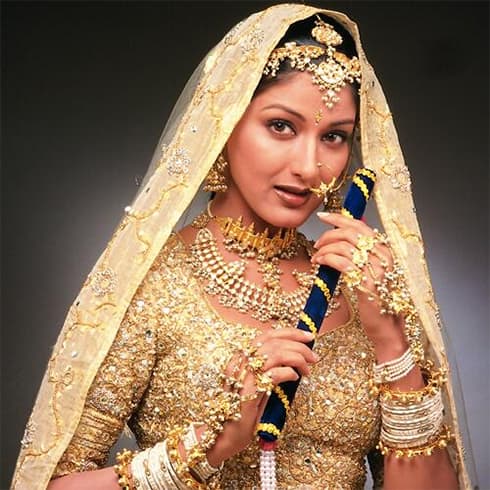 Seductive Wet Look In Sarfarosh:
The action thriller Sarfarosh featured a song, 'Jo Haal Dil Ka', that got temperatures soaring courtesy the steamy appearance of Sonali Bendre.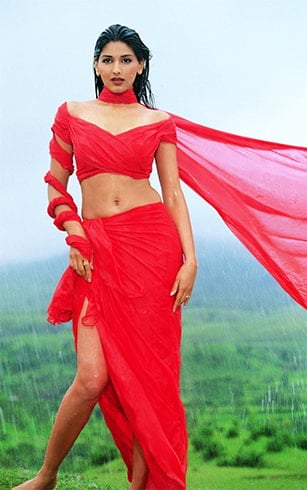 Designer Chaniya Cholis In Jis Desh Mein Ganga Rehta Hain:
Playing a fun gujju village girl, Sonali played the cute card wearing those chaniya cholis.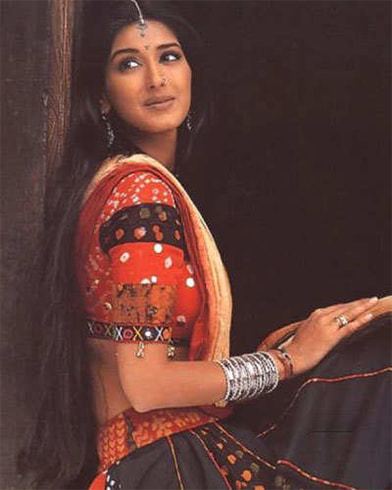 Dainty Outfits In Diljale:
The superhit movie Diljale, had Sonali play the ex-girlfriend of terrorist Ajay Devgn. Contrary to her intense role, her girl-next-door look was everything sweet.
Devious Looks In Duplicate:
Ditching her usual nice girl image, Sonali went for a hot gangster girl look for the film, Duplicate. The silver bikini and sarong look from the song, 'Mere Mehboob Mere Sanam', was the talk of the town.
[sc:mediad]
The permed hair updo with a braided crown was a deviation from her usual silky straight sleek look.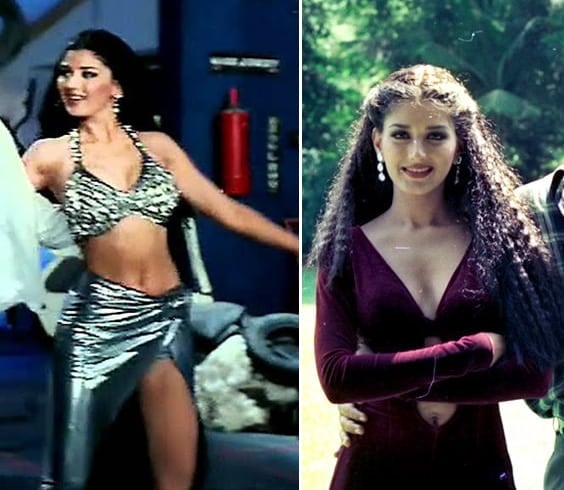 Extraordinary Garba Look In Dil Hi Dil Mein:
The movie may have been forgotten, but you may recollect the 90's A.R.Rahman songs from the movie. While the track 'Aye Nazneen Suno Na', had Sonali carry her tresses in a flounce mid-length hairdo, the whitewashed garba look from the song 'Chand Aaya Hai Zameen Pe' had many imitating it for their dandiya nights.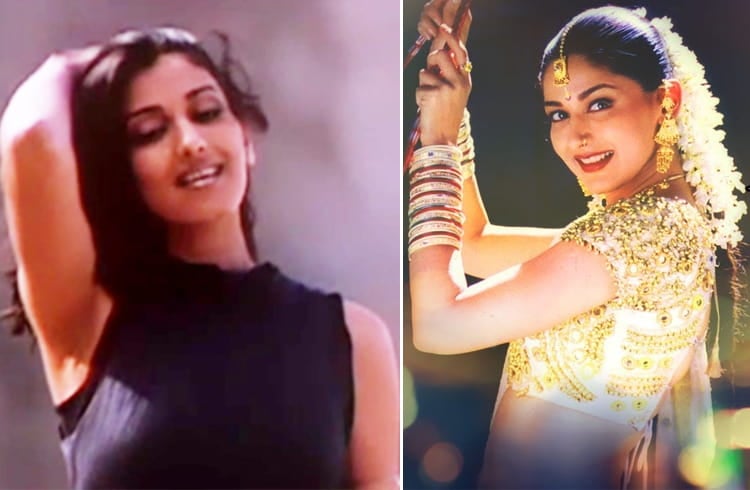 Gorgeous Geeky Look In Humara Dil Aapke Paas Hain:
In a rather brief appearance in this Anil Kapoor and Aishwarya Rai movie, Sonali managed to get noticed due to her nerdy look while wearing those black rectangular frames.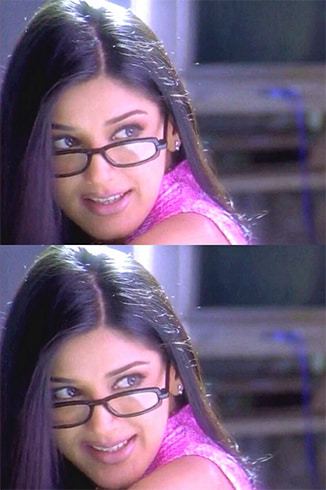 Experimental Dhoti Pants In Bombay:
The 'Humma Humma' song is epic. While the song is such a blockbuster we are not sure if you ever noticed the girl dancing in the track. It was none other than Sonali Bendre who grooved to the tunes of A.R. Rahman carrying the dramatic dhoti pant look.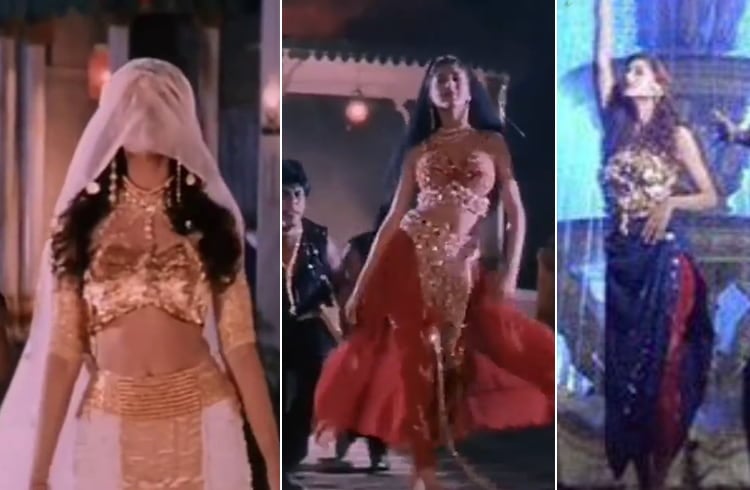 Our trip down memory lane helped us appreciate the lovely diva's style evolution.
We would like to wish Sonali the best of luck to battle it out with cancer. Like her fashion sense may her recovery be equally awe-inspiring!
Tell us which look of Sonali is your favorite and why in the comments box below.
Images Source: instagram.com/iamsonalibendre