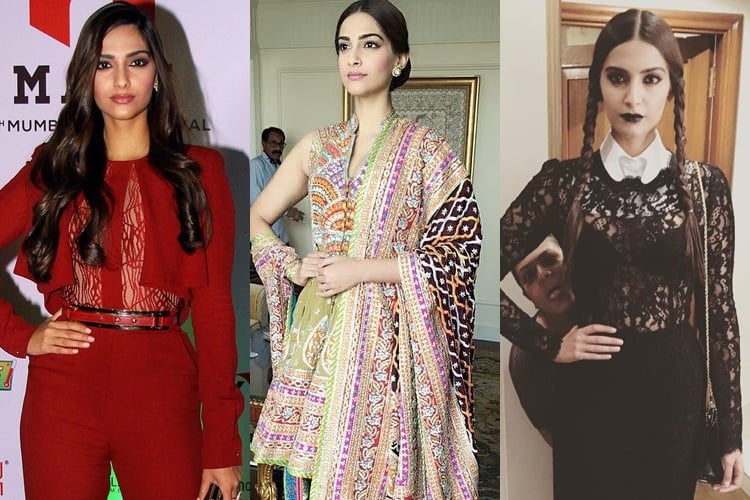 Sonam Kapoor is our Maya Angelou. We mean – why not? Maya Angelou inspired everyone to be a better human. She gave everyone hope to live and a reason to survive. She used her words to empower every individual and we loved her for that.
Well the truth is, we still love her.
Likewise, Sonam Kapoor inspires us to wear better clothes. To look good, to have better hairstyles and to empower ourselves with style and confidence.
Over the weekend, Sonam Kapoor was pretty busy. She made different outings for different reasons and managed to look fabulous at every single one of them!
How about we take a look the different outfits she wore?
Look#1
To promote her movie, Sonam Kapoor donned a very vibrant and very beautiful outfit by Abu Jani & Sandeep Khosla. The many colours and the busy work on the suit made it look so pretty! We fell for the outfit, and for Sonam of course!
Look#2
For the MAMI Mumbai Film Festival 2015, Sonam Kapoor donned an absolute #BossLady suit. Everything about her outfit screamed confidence and class! Just so you guys know, it was a suit designed by Elie Saab.
Look#3
Sonam Kapoor then ended her night by attending a Halloween party. If you thought you saw Sonam Kapoor in all outfits, then you are terribly wrong! Because this Dolce & Gabbana Halloween outfit just blew everything off the charts!
[sc:mediad]
Sexy is what she looked!
Psst.. She was doing an Adam's Family cosplay. Fit the part to the T, right?
What can we say? Our Sonam Kapoor is perfect like that!