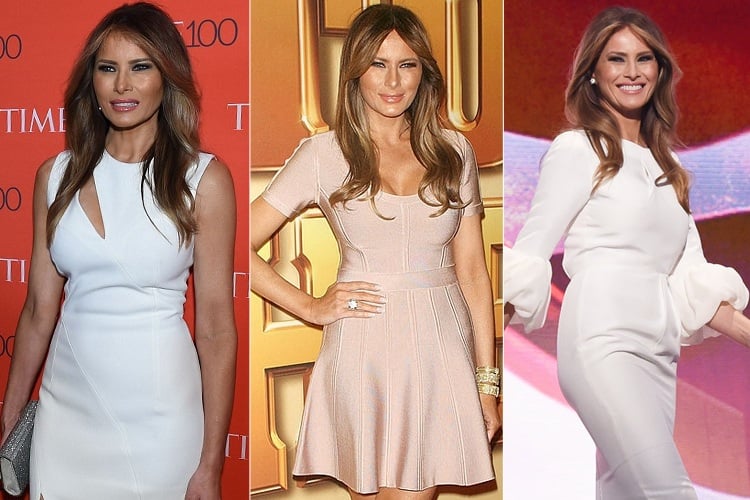 Though Melania will be the third super model to have graced the position of FLOTUS, the style statement of Mrs. Trump is parted from the others – even the opposition would secretly nod their heads to my statement.
Let's chronicle USA's soon to be First Lady's style since the pre-campaign days when the Trumps were a regular socializing at various red carpets. The couple attended the Vanity Fair Party in February 2011, and Melania looked lovely in her blank strapless gown. The floor length gown was spangled with all over sequins and turned Melania into the star of the show.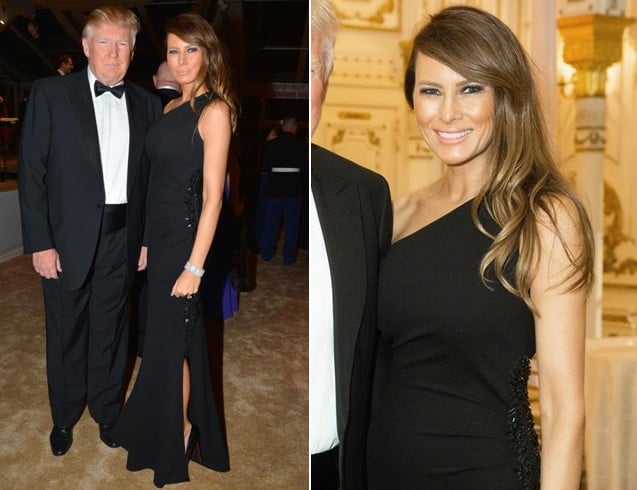 Same year Mrs. Trump was spotted with billionaire husband at the Met Gala. Her heavily embellished gown was certainly head turner. The nude dress featured a stylish trail that added to the grace of the ex-model.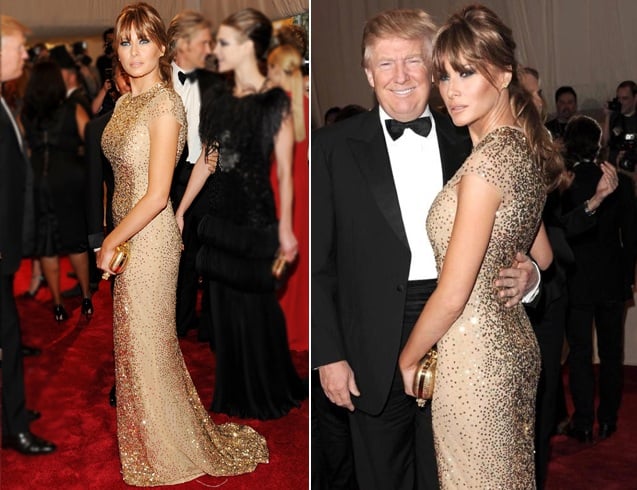 At the premier of 'Tower Heist' in 2011, Melania walked across the red carpet in a dusty pink bodycoon dress. She made an effort to match her attire with sandals and opted for these towering peep-toe bellies with a chunky platform heel.
[sc:mediad]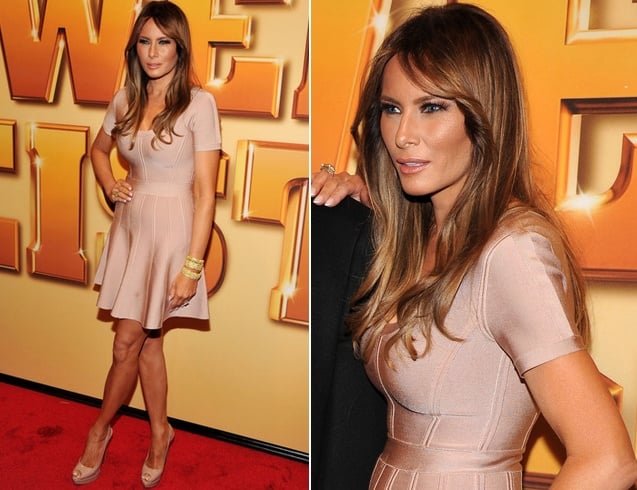 Her political career was yet to be launched and she was focusing more on making herself an identity for people to recognize. Hence in 2012 she attended the Met Gala again, this time she put on a white dress. The embellishment of this full sleeve piece leaves the onlookers speechless – not only for the oozing glamour. Did you happen to check those pointy shoulders? They are up for some responsibilities, none of us could figure this then.
[Also Read: Hillary Clinton's Presidential Fashion Statements]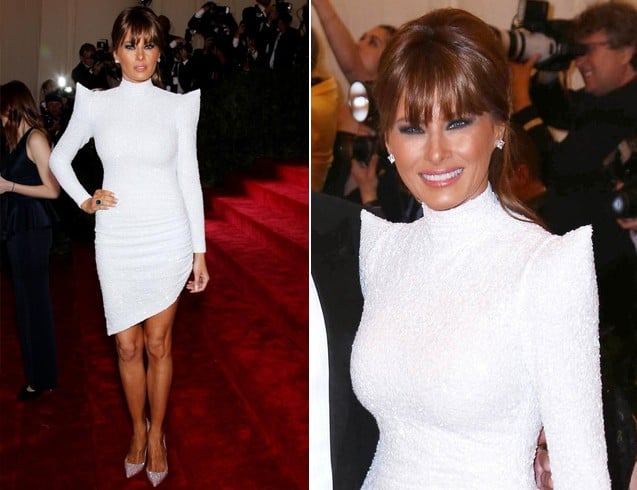 At the 58th International Red Cross Ball held at Palm Beach, FL, the trumps were among the noted guests. Mrs. Trump's black gown featuring a classic side slit was befitting of the occasion. Take a moment to take in that diamond bracelet around her wrist – well, you can do that if you have a billionaire aiming for the higher office in the world wrapped around your finger. Some women are just lucky!!!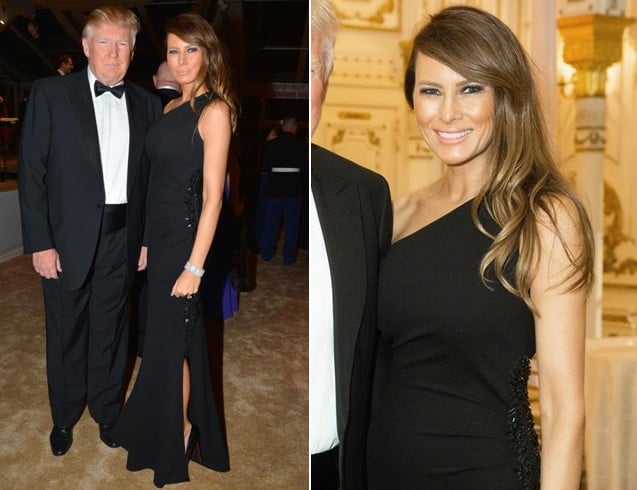 As she started getting invited to more formal events, her choice of wardrobe took a more conservative turn. She marked her presence at the White House Correspondents Dinner in a flowy gown gathered at the waist in the lightest shade of mint. The attire had a heavy bodice with a deep yet demure neck.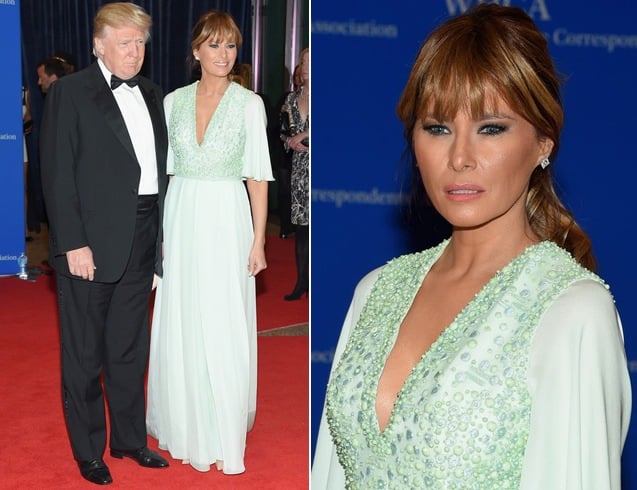 As more and more political venues got added to her calendar, her appearances picked gravity. Soon, she emerged as the queen of shoulder robing, that is what rich people do – they never wear their jackets – they just carry it to cover their shoulders. The better half of one of America's biggest business man looked every bit corporate in her white trousers and a top to go with it at the CNBC Republican Presidential Debate held in October 2015.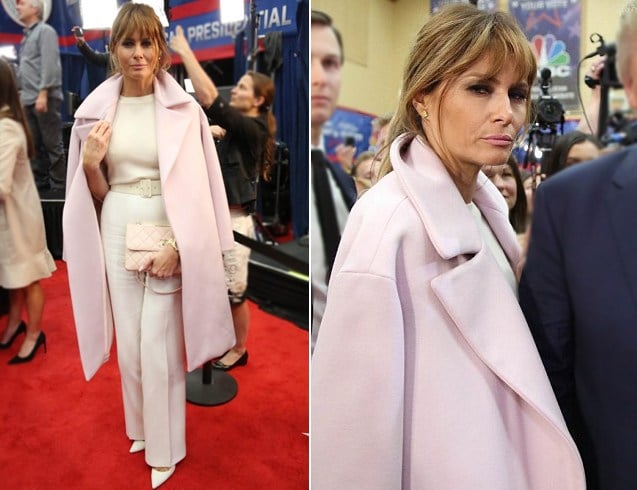 Once again channeling the 'rich people style of carrying a coat' Melania was spotted at the CNN Republican Presidential Debate in Las Vegas the same year in camel slung over a white dress. Her pointed shoes were in a matching color with the dress.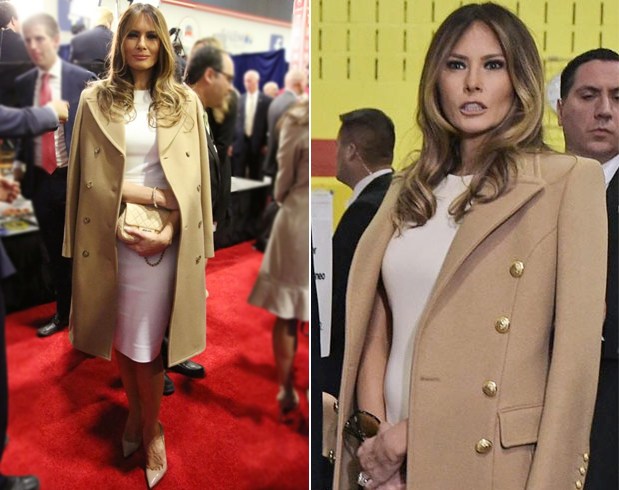 Not something that a conventional First Lady would opt for, but being a model gives you an upper hand over the conventional and widely accepted norms. The First Lady in line was hence seen in a white floor length gown with a brow-raising slit and some interesting cut outs at the shoulder at the 100 Gala in April this year.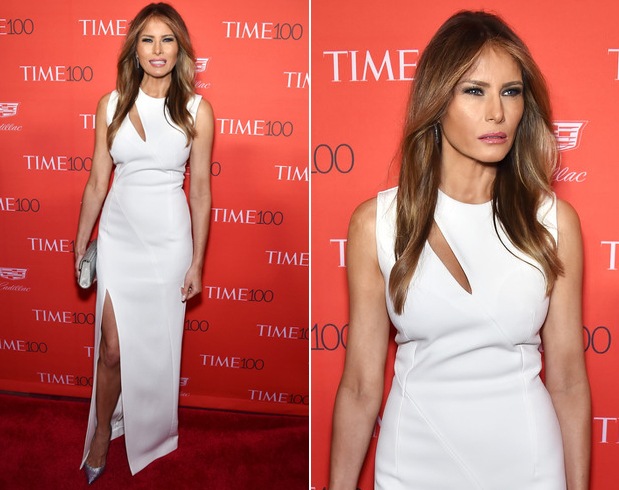 She looked gorgeous in her magenta shift dress that she slipped into while accompanying her husband to an election campaign held in Briarcliff, New York in June this year. The simple dress had no unnecessary adornments and was appropriate of the occasion.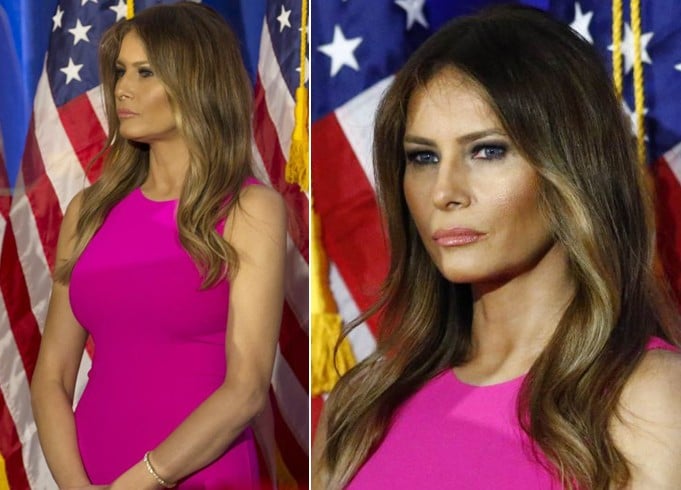 Her speech at the Democratic Convention placed her on a number of memes, thankfully, her dress wasn't a disaster. In fact the white knee length ensemble from Net-a-Portal's bride range was an elegant piece on the mother of one. The statement bell sleeves deserve a special mention.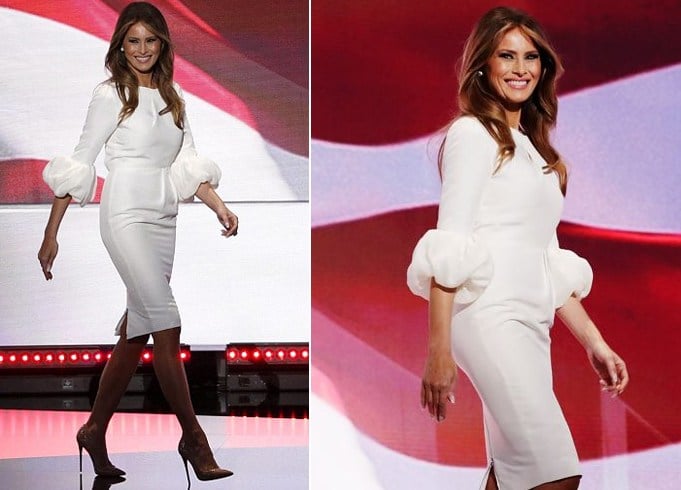 Now this one was famous and equally infamous – more so because it was worn by the famous wife, right after her husband's infamous comments surfaced. The top is called – and mind you we are not kidding, it is actually the name of the style – Pussy Bow shirt. The Gucci blouse became a sensation overnight and was met with huge demand.
[Also Read: Michelle Obama Fashion Statements]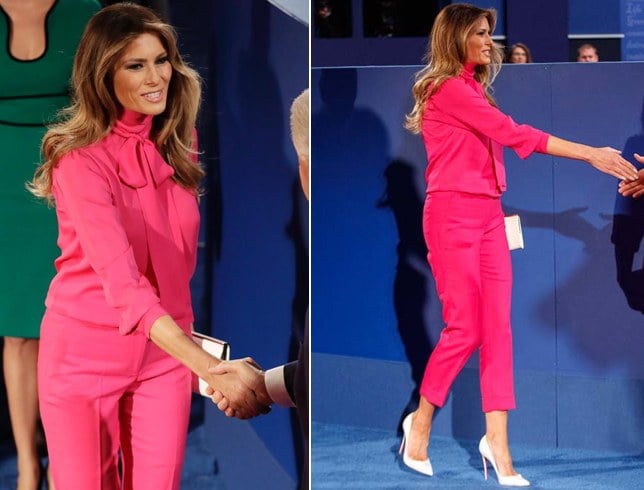 We are a special fan of the dusty pink blouse sown out of silk by Emilia Wickstead that Melania paired with a high waisted skirt in white and wore to the Main Line Sports Center in Pennsylvania.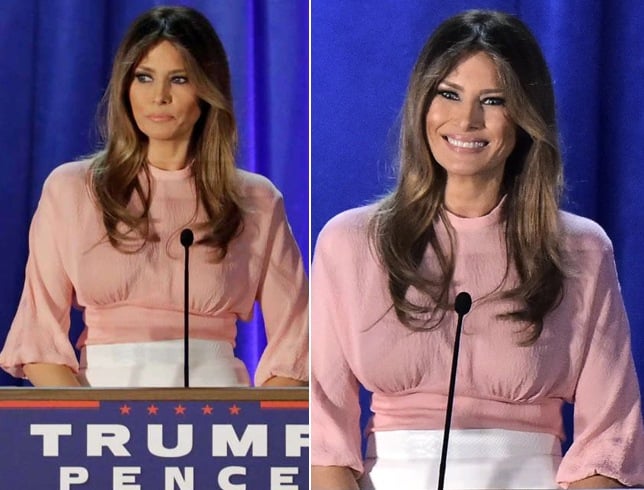 Finally to celebrate husband Donald Trump's victory, the New First Lady picked a single shoulder white jumpsuit from designer Ralph Lauren's collection.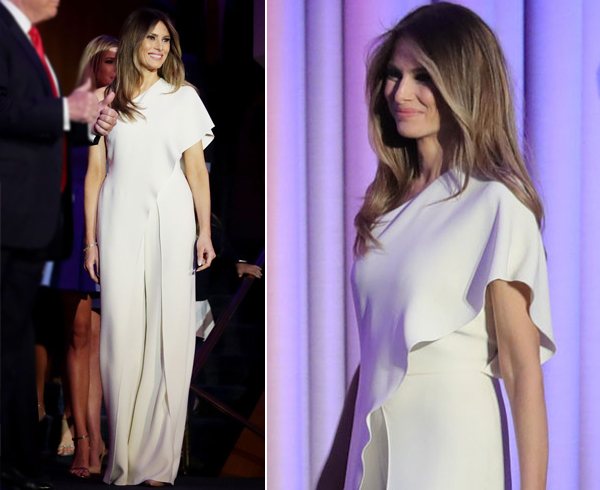 Donald Trump takes over as President of the United States on 20th January 2017, and we are certain to get numerous style moments from First Lady Melania Trump.
Images Source: telegraph.co.uk, eonline.com