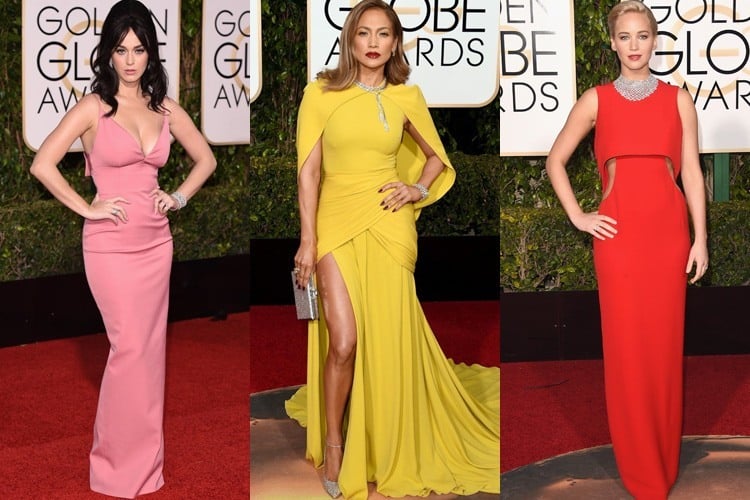 Right after the People's Choice awards, it's time for the Golden Globes. As the red carpet of the Golden Globes rolled out our stars walked it dressed to the nines. The Golden Globes have never failed to come out as one of the most glitzy nights of the year and this year was no different.
[Read Here: The Best Dressed Celebs At the People's Choice Awards 2016]
Zendaya
Zendaya has topped our favorite list lately and has perfected the art of slaying at the red carpets. The young singer lived a 'fairytale moment' at the 2016 golden Globe. Her three tiered Marchesa gown was boasting some interesting laser-cut floral details. The stylist was smart in tucking her hair behind those delicate ears and the bling of the Yoko London pearl-and-diamond earrings took away our breath. Some might have opined that she looked like a wedding cake, but then we say she looked every bit delicious.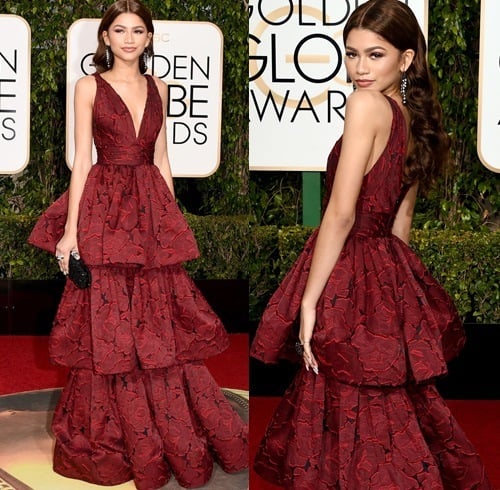 Jennifer Lawrence
Jennifer Lawrence has just killed it in every red carpet she has ever set her foot on, so what will make you think that the Golden Globes would be any different. The 'Joy' star looked incredible at the 2016 Golden Globes, and the shout out goes to Dior. The slinky red number was smoking all kinds of heat in the winter chill. A little bit of side-tummy flash worked in her favor too. And if you by any chance missed it, check out that Chopard's diamond necklace she rocked, let me make it official, this 'Hunger Games' girl had the entire galaxy wrapped around her neck, like literally.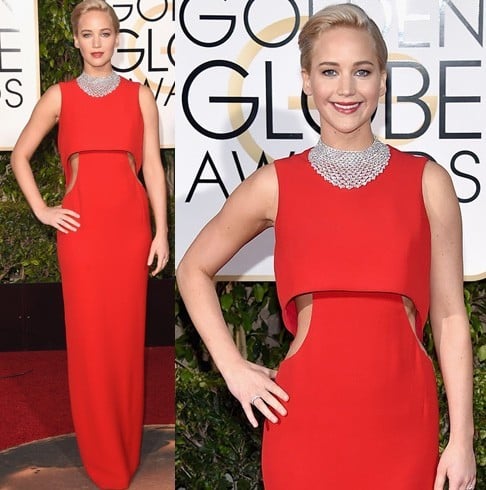 Jennifer Lopez
So what do you get when you put a high slit in a Giambattista Valli Haute Couture gown that has a bright marigold hue and is graced with a cape; to compliment this amazing dress you get silver Jimmy Choo heels and complete the ensemble with Harry Winston diamonds and a Judith Leiber clutch? Yaaaas guys, you get Jennifer Lopez on the red carpet of Golden Globes 2016. In the mustard-golden attire and her royal cape, J.Lo broke down the meaning of Golden Globes for us – I am all Golden and the Globe revolves around me. Period.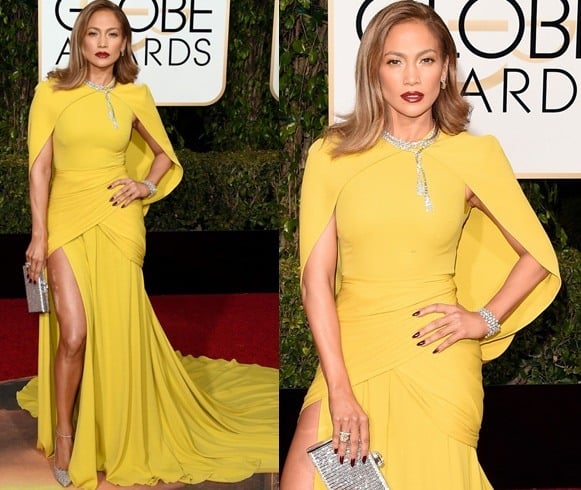 Katy Perry
The 'Roar' singer picked up a stunning floor length dress to stun the Golden Globes this year. The pink curve-hugging Prada gown had a perfectly placed huge bow at the back to accentuate the stars presence at the event. She went full on styled like Priscilla Presley, rocking the super-high hair which she fessed up later to be fake. Now you know why I love this Katy Cat, her bouffant can be fake but she isn't it. And neither the tons of Harry Winston jewels that shone on her tender wrists.
[Also Read: Golden Globes]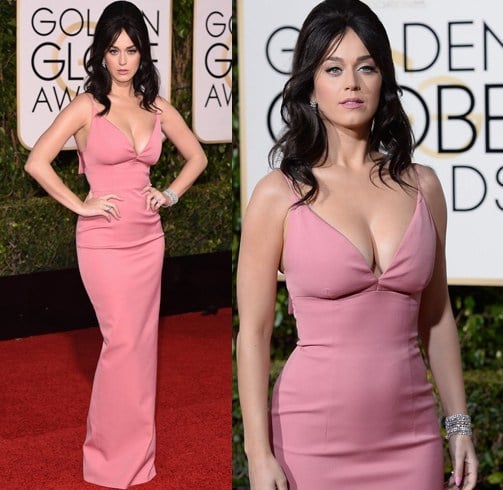 [sc:mediad]
Olivia Wilde
Now let me present to you the best appearance of the event and also topped last year's favorite look. The Michael Kors Collection gown that patterned a plunging scarlet was a vision from the heaven. This diva further went on to perfect the look by teaming it up with all these super expensive Bulgari accessories that listed down to a heavy jeweled choker, cocktail ring and gold clutch. We are not equipped to praise this get up enough so we choose to stay spellbound.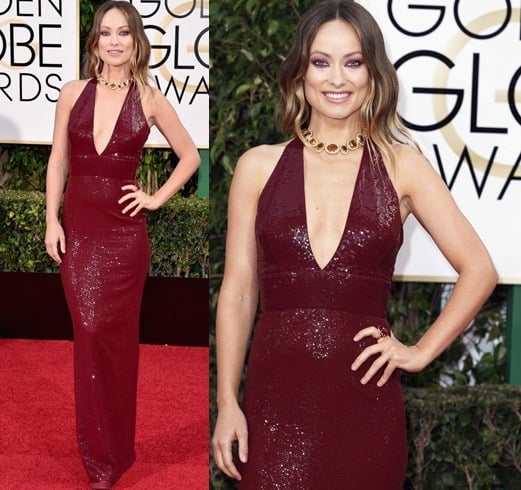 Lady Gaga
Gone are the days of bizzare styling for Lady Gaga. Well, we can't vouch for forever and for always, but this evening saw the singer in a much sober yet put together version of hers. And we couldn't help but gawk. "American Horror Story" star slipped into an elegant velvet off -shoulder Atelier Versace gown in black. Did you take a look of those padded hips? She draped some rich 210 carats of Neil Lane diamonds around her wrists and kept the make up in the hues of nude. Very unlikely of the singer who once showed up in a meat dress, yet we can't help but confess every inch of her was lovable.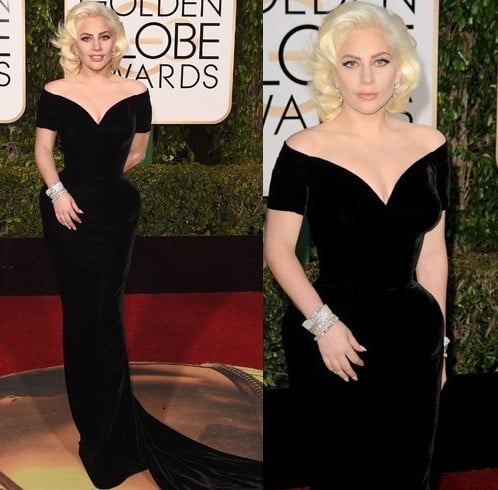 Julianne Moore
This ageless beauty was a star-studded mid night sky. That generously sequined full-sleeved navy gown sported an asymmetrical velvet collar was a sight to never let go out of sight. She kept the jewelry to the minimal with a few pieces of Chopard jewelry. Julianne just preached us how less is basically more.
[Also Read: Who Wore What At The Met Gala 2016]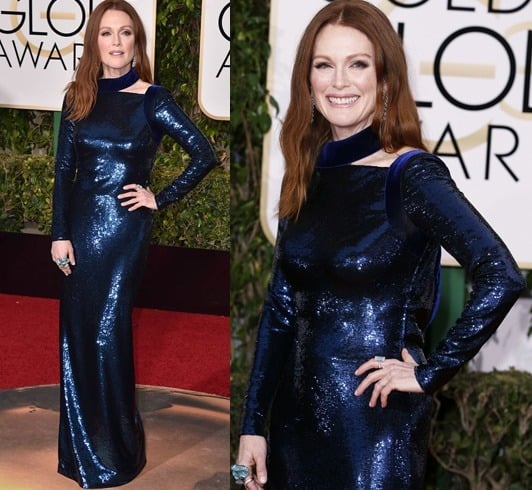 The 2016 Golden Globes was indeed a night to have honored the most talented of the actors in the industry, however, were would we be if no one talked fashion. So keeping up to our tradition, these were the seven best dressed of the event this night. Hope we have caught your eyeballs with all the glitz and shimmer. Till the next star studded awards night, See ya, guys.