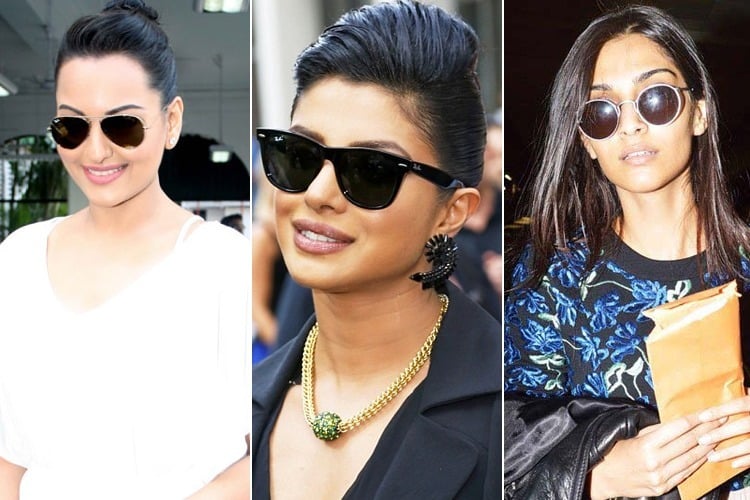 Be it sporting neon lipsticks or wacky hairdos, our lovely B-town ladies do everything in style, no matter what. With such huge fan following, their style statement is ought to be the talk of the town and our trend setters live up to it perfectly.
So to give you a gist of our B-town Pandora box, we have listed some awesome sunglasses our celebs have been flaunting lately.
[Also Read: Facts While Shopping for Sunglasses]
Grab a look and pick your favorite!
Priyanka Chopra- Curvy Wayfarers
Priyanka Chopra is a Rock-star! Be it the fashion industry or the movies, she has rocked it everywhere. In this look she is seen shielding her eyes with a curvy RayBan Wayfarer for a New York Shoot looking her hottest best. She carried off the look with great poise and style, making this look one of her sexiest appearances this year.
Sonakshi Sinha- Aviators
Who else could sport aviators better than our Dabangg Girl , Ms Curvaceous " Sonakshi Sinha"! Being the chilled out chick she always is, the aviators suit her the best. The curves of this RayBan aviator compliments her beautifully. If you want your summer look to get sexier, aviators will do wonders for you. Try them out!
Sonam Kapoor- Roundies
If you are a street style hunter, then these roundies are just the ones for you. Being as round as they can, these glasses will just set the right style statement for you. Sonam being a fashionista as always, flaunted this look glamorously. Carrying it off with such ease, she looked her chic best with this look. So pick up the roundies and let heads go round and round!
[sc:mediad]
Jacqueline Fernandes- Cat Eye Glasses
Bringing the retro back in town, the cat eye glasses are here to make a statement like never before. With a crazy new upgrade, these glasses are a mainstream fashion accessory now. A signature style of her own, Jacqueline nails this look flawlessly. Being the beauty queen she is, these cat-eye glasses bring out her wilder side amazingly! Wohoo..
Chitrangada Singh- Geeky Glasses
Being geeky is not boring anymore. The Geeks have finally given the fashion industry a super cool look they thought was uncool once. The Geeky glasses couldn't have looked more sexy or kinkier than this. And Chitrangada sporting the look, woah, that's like the cream on the icing. Her extravagant looks would bring the dead out of the graves any day, but with this look to ogle at, they would never return back.
I hope our actresses have given a whole new dimension to your sun-glass fetish. What are you waiting for? Go grab those glasses this weekend to look the Greek goddess you are!
Happy Shopping Ladies! 🙂