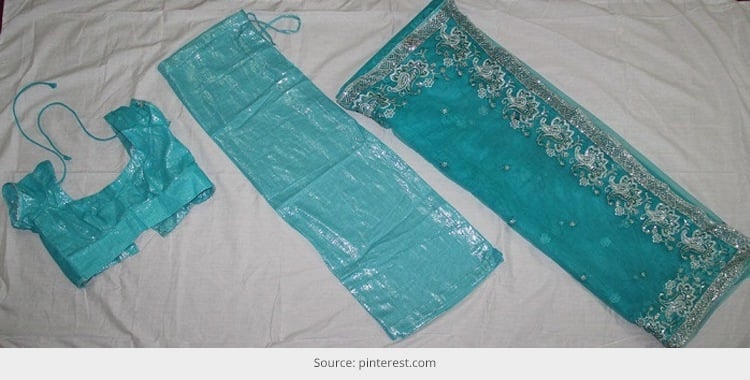 Simplicity and grace win hands down…
In this edition, we are going to talk how the inner piece of garment, petticoat has become the motif of glamor these days i.e. going glamorous from within.
The concept of the Plain-Jane cotton inner garment for saree is a passé. The traditional underskirt, petticoat has undergone numerous transitions, such as addition of embellishments such as sequin, embroidery and even a little peeka-boo.
These days these skirts are worn in contrast with the sarees. Just like the blouses, they are also demanding great attention. Thus, they are slowly transforming into a symbol of glamor.
Classic creations by Masaba such as her bright citrus number under sheer sarees and Varun Bahl's shimmering silver and black heavy-sequenced petticoat tell it all.
This festive season if you pick such a designer under skirt piece for your saree and if anyone, say neighborhood aunty frowns over you then update them with this new-fangled tradition.
Petticoat, beyond cultures has now become a stylish outer garment yet keeping the tradition intact. While in South India, the half-sari is the traditional outfit for unmarried girls, the Roman Catholics in India are used to wear beautiful underskirts outside in delicate fabrics and crochet detailing.
Sometimes the traditional floral printed petticoats look more beautiful than the sarees.
Do a Sridevi number
If you follow trends then it's always better to check-out celebs style factor. However, do not push yourself too far from what you're comfortable with.
For instance, last year at Delhi Couture Week, Sridevi had donned a Sayasachi creation over an embroidered black petticoat.
[sc:mediad]
She looked gorgeous as she paired her look with a heavily embroidered blouse which constantly kept her in the limelight. Such attire works best for a formal evening.
Paint 'em right
If above style worked for you and still you want to experiment then check out for designer wears from fashion houses like Manish Malhotra and Masaba Gupta. A Manish number is to drape a sheer saree over a metallic sequined petticoat. Such style always adds a glamorous element to your personality.
And if sequins don't amuse you then you can go for a printed underskirt just like Kalki Koechin did for Cannes last year. She had worn a white Sabysachi saree over a printed petticoat.
Just like blouse, you can also mix & match your under skirt with the sari. You can also go for a matching blouse with petticoat for a sheer sari. Either you can go blingy or take inspiration from Masaba's collections, where a vibrant yellow petticoat dramatically highlights the neon-pink shade of the sari.
You can also add a rollicking ruffle edging over a contrasting color to the hem of the petticoat, letting it to peep from under the sari.
Going filmy
With Chennai Express all set to have a grand release this Eid, Deepika's traditional look in half sarees is the latest telltale in the Indian fashion domain. You can either go for a dramatic petticoat in non-traditional fabric, such as mashroo; it's a mix of silk and cotton threads given a satin feel or you can get one with thick border to hardly make it look like a petticoat.
Tips to consider…
Always remember it's a tricky trend. Too much experimentation may spoil the entire look. When going for such visible under skirts, do not go for the traditional pieces with knotted drawstrings. Instead go for the ones with hooks to save yourself from fashion disaster.
A slim silhouette always looks smarter in such showy petticoats. Such style works best for curvaceous women. We suggest you to avoid such styles if you're too thin or obese.
If you want to highlight this garment then avoid wearing heavily embroidered blouse.
Lastly, such embellished peep-through petticoats go with contemporary sarees and not with the traditional ones.