Sunscreen, sun hats, sunglasses – Is that all your summer needs? Nope! You are missing out on so many more summer essentials. While you've planned out your summer vacation and bought your first bikini, we've rounded up more items that keep you protected and other essentials.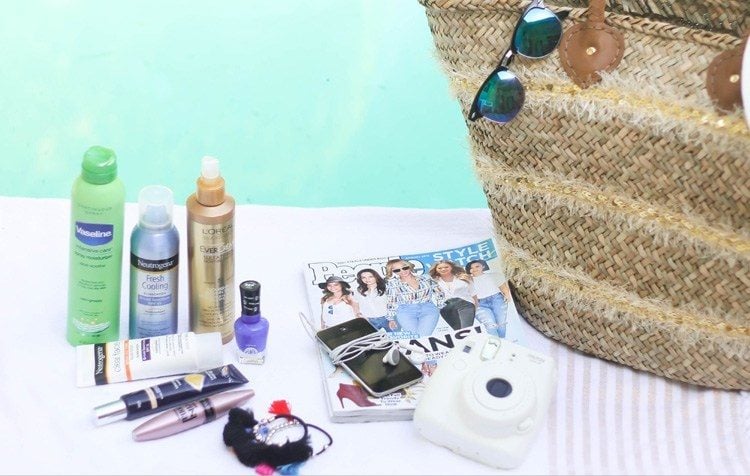 You desperately need these beach bag items that will be your biggest friend and saviour in warm temperatures.
Beach Bag Necessities:
Are you wondering what to put in a beach bag? Let's get started with identifying the beach necessities that lie anywhere between makeup kits to miscellaneous beach items.
Broad Spectrum Sunscreen:
Whether you go to the beach or step out in the sun, fighting the harmful UV rays is a tall task. But that's where the power of SPF comes from. It helps ward off fine lines and keeps its promise of giving you a youthful appearance. Broad Spectrum Sunscreen is a vital part of your summer beach essentials list and can never be missed.
Try: Neutrogena Ultra Sheer Body Mist Sunblock SPF 30
Cleansing Wipes:
Wondering what to take to the beach? One of the first and basic elements in beach necessities is alcohol-free cleansing wipes. They will help swipe off sand, dirt, and grime from your face.
Try: Olay Essentials Wet Cleansing Wipes
Liquid Bronzer:
Dab multiple bronzers over your sunscreen on your eyes, lips, cheeks, or body. It will help your arms and legs get the much-needed subtle glow. Call it beach makeup for your body.
Try: NARS Multiple Bronzer
Leave-In Conditioner:
Beach waves are hot and leave-in conditioners are beach necessities. That is why you need to protect your hair strands from after-sun drying. Go for SPF hairspray or a leave-in conditioner that has UV filters. It will prevent your hair colour from fading away.
Try: TRESemme Climate Control Spray
Body Fragrance:
It's nice to jump around and play in the sun, sand, and salt. But don't overlook the body odour and sweat. Wearing a soft deodorant will help as a part of beach essentials.
Try: Tom Ford Neroli Portofino Deodorant Stick
Tint For Lips And Cheeks:
Soaking in the sun by all means, but ever wondered how your lips and cheeks are devoid of lustre? Applying a water-resistant beach tint is great in order to maintain beach beauty.
Try: Becca Beach Tint
[Also Read: Take Beach Holiday Tips From Bipasha Basu]
Waterproof Mascara:
For all you gals who wish your eyes do the talking, mascara is ample makeup to perk up your eyes. But, are you going to allow your precious mascara to get washed off with the beach waves? Try waterproof mascara that won't make your eyelashes brittle. Beach makeup essentials are a must for all you makeup maniacs right?
Try: Maybelline Great Lash Proof Mascara
Try: Bad Gal Waterproof Mascara By Benefit
Brow Gel:
Go splash your way in the beach waters, but you need to keep your brows in place, don't you? An eyebrow gel keeps the hairs in place the way they should be.
Try: Bobbi Brown Long-Wear Brow Gel
[sc:mediad]
Waterproof Concealer:
One of the key beach bag essentials is a Waterproof Concealer. It helps cover up your blemishes and gives a natural shine to your complexion. That is why this is considered as an Extreme Camouflage Cream.
Try: Make Up For Ever Waterproof Concealer
All-Round Balm:
Your lips and legs need a suitable skin protectant that can prevent your skin from the harshness of the sun. A worthy balm that will put a shine and calm down the irritated skin.
Try: Elizabeth Arden Eight Hour Cream Skin Protectant
Sea Salt Spray:
Eager to give your hair that wavy beach hairstyle you see in comics and films? All you need is a bit of sea salt texturizing spray and it's good to go.
Try: Not Your Mother's Beach Babe Texturizing Sea Salt Spray
Now that you know beach bag essentials, hope you will be taking them along and enjoying beach beauty. Wishing you all a lovely and beachy trip!