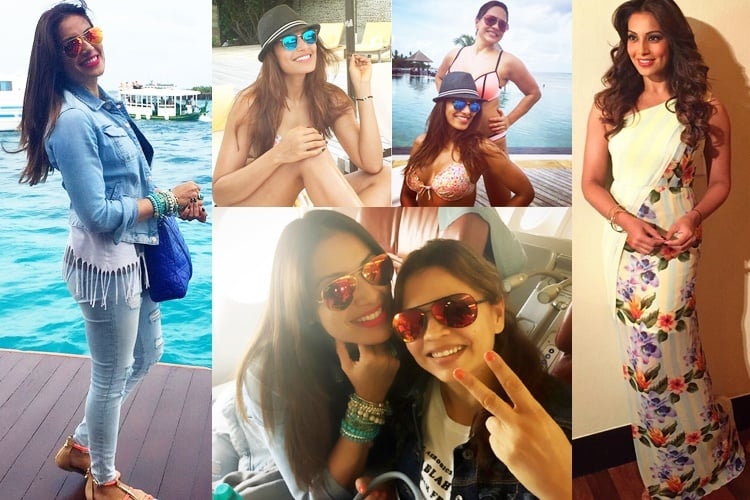 Bipasha Basu is off on a well-deserved break to one of the most popular holiday destinations in the world. Mrs. Kapoor Khan recently went there and had a blast and now, we can see Bipasha Basu doing the same with a bunch of her friends!
[Also Read: Ways To Dress While On A Beach Holiday]
While we are glad that we can experience second hand holidays through celebrities and their Instagram, we are also sneakily happy about the fact that we can learn every do's and don'ts of a certain holiday. In this case – a beach holiday!!
Here's what we learned from Bipasha Basu's current Maldives holiday.
Pack lots and lots of Bikinis
Colourful raybans are your best friend
Pack one formal dress (you never know, you just might need it for a special dinner date!)
Jute totes are a necessity
Take your straightener AND curler along
Go easy on your makeup
Learn how to pose for Instagram pictures!!
Now, while these are the things that we learnt, we are most thankful for the last tidbit i.e. how to pose for pictures on Instagram!
You guys may wonder – what is there to learn? But watch these images
She might be wearing bikinis, but there is nothing about both these pictures that's very bold. In fact, you go aww!! Could you imagine that?
Of course, you might want to show off your perfect beach body in a standing pose with hands on your hip. But, do you really want to post such a picture on instagram where people can take screenshots? *raised eyebrow*
[sc:mediad]
Then, here's another picture
All you need is a short dress, a huge tote, a pair of flip-flops and good hair tools!! Pssstt.. do you guys notice the understated makeup?
A pretty dress never disappoints you ladies. Always pack one!
This is how you pose for silhouettes
P.S – we are loving the fringe bikini!!
Here's a short compilation of her holiday so far,