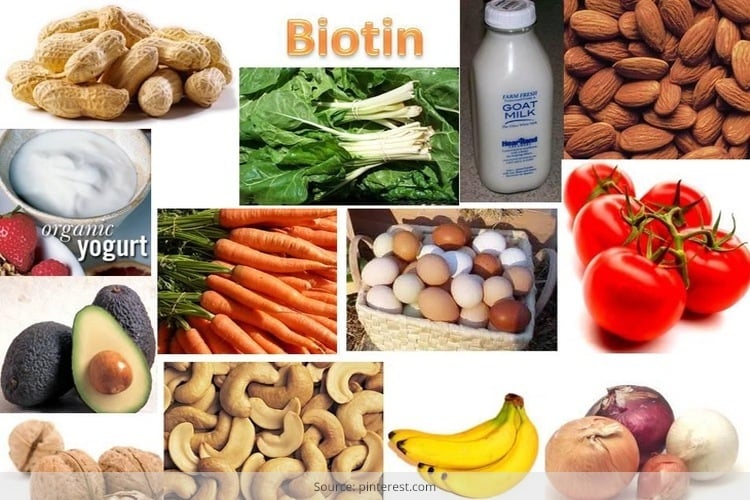 Ever memorized the vitamin chart in school? Well, you must be used to hearing the popular vitamins A, B, C, D, E and K that you must have skipped vitamin H.
[Also Read: Healthiest Foods for Women]
So what's so special about the vitamin H? Is it a new find that was lying dormant all this while?
Vitamin H also known as Biotin, is important in cell growth and improving metabolism. Biotin is actually an essential vitamin that promotes skin, nail and hair growth. So when you see weak nails, hair fall and unhealthy skin, you can make out the reason. It is attributed to biotin deficiency. We have shortlisted some biotin rich foods you need to have so that you stay in the pink of health.
Biotin is a health find that goes back to 70 years. It is well-known in boosting hair growth and dealing with dry hair. Since it is a coenzyme, it plays a vital role in providing energy by breaking down carbohydrates and fats and converting them into glucose. Here are some biotin rich foods for hair growth that you will need to consume.
[Also Read: How to Decrease Your Appetite]
1. Almonds
Most of you would be aware of the connection between almonds and hair growth. This eye-shaped nutrient is packed with biotin, vitamin E and protein and makes your skin stay smooth and free from wrinkles, and hair nourished as ever.
Almonds are a great snacking option that can be carried to school, office, long drives or outstation trips. It makes you get rid of your fast food cravings such as potato chips and junk food and gives you healthy fats and calcium.
2. Carrots
Carrots have adequate amounts of biotin, as well as beta-carotene. Both of them help to improve your general eye health.
[Also Read: Vegetable and Fruit Juices that Fight Hair Fall ]
3. Yeast and Grains
Yeast in the form of nutritional yeast and Brewer's yeast and grains are the best biotin rich foods for hair growth. Whole grains and products made from whole grains give good levels of vitamin H. Eating one slice of whole-wheat bread can fetch you about 0.02 to 6 micrograms of biotin. Various forms of nuts such as peanuts, walnuts, and almonds are also good in biotin.
4. Walnut
It's a nutty affair as far as biotin-rich foods are concerned. Similar to almonds, walnut has plenty of biotin for your hair growth. Take a small portion of it in a day. Walnuts also have lots of antioxidants (that promote youthfulness), protein and minerals such as zinc, potassium, iron, calcium.
5. Cold Water Fish
One of the best biotin rich foods for hair growth is the cold water fish, as it has the highest levels of vitamin H. Abundant in omega 3 fatty acids cold water fish reduces fat accumulation in the arteries and bad cholesterol.
[sc:mediad]
6. Spinach
Spinach is among the best leafy veggies that has protein and biotin content. It also has vitamin B, foliate, and Vitamin E.
7. Yogurt
Yogurt is not only rich in protein, it has loads of biotin that make it healthy to consume in order to develop healthy hair and nails.
8. Whole Wheat Bread
Each morning when you dig into whole wheat bread for breakfast, you are taking one of the best biotin-rich foods. When you consume yeast in bread, it will give you more biotin for the body growth. Whole wheat bread is very much high in fiber, vitamin B and minerals such as iron, phosphorus, calcium, copper, zinc, folic acid.
9. Eggs
Eggs are biotin rich and extremely high in nutrients that boost hair growth. They give you a good chance to get stronger muscles, healthier brain, more energy, lower heart disease risk, and longer hair. Therefore, eat eggs regularly.
[Also Read:Benefits of Egg For Skin and Hair]
10. Dairy Products
Dairy products are not only healthy, they are rich in biotin and calcium too. Choose milk, buttermilk, cheese, cottage cheese, and yogurt to benefit from bone improvement, reduction in osteoporosis, prevention of cardiovascular disease and hair health in particular.
There are plenty of more foods such as chicken, meat and seafood, soybean, vegetables and fruits, berries, nuts, tuna, mushrooms etc. which contain biotin. They help boost your regular diet and bring improvement in the health of your skin, hair and nails. So don't think much and start adopting a biotin-rich diet and lifestyle today.