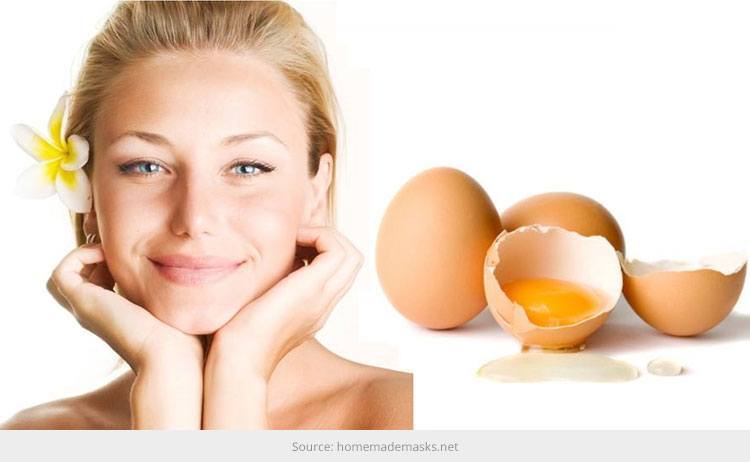 Sunday ho ya Monday roz khao ande! Yes, we love to pamper our stomachs on weekdays and weekends with the humble aloo parantha to rajma chawal to chicken biryani. But can there be anything more nourishing, fulfilling and healthy than an egg recipe, whether it is for stomach or for skin?
Of course, much of the credit of looking good goes to our grandma and mom. Their coaxing us to wash our hair with egg yolk and applying egg pack on our face can never be forgotten. The trend of using egg masks is very much alive, even today. So get a pen and paper and start jotting down the various kinds of face masks that can be made out of eggs,h and get your beauty quotient bounce back.
Factopedia on Eggs for Beauty
There are two parts in an egg – the yellow yolk and the white, that are beneficial for skin and hair. Egg yolk does the job of nourishing and strengthening hair. Egg whites have high amounts of Vitamin A and collagen that help in faster treatment of scars and burns, wrinkles, acne, skin rashes. With 69 different kinds of proteins in an egg, you can imagine the power of reducing fine lines. Let us tell you how you can make egg a part of your beauty mask.
Types of Egg Mask for Skin
Egg Facial Mask
Take a single egg from the egg tray and beat it. Apply the beaten egg on your face. Wait for about 20-30 minutes and wash it. You will find a rejuvenated face. For those who have dry skin, use only the egg yolk. Those having oily skin need to use the egg white only.
Egg White Mask
Take 1 egg white, ½ tablespoon cornstarch and 2 drops of lavender essential oil. In a medium cup whisk the egg white until foamy and add cornstarch and lavender oil, till the entire mixture becomes thick. Apply it over your face, wait for 30 minutes or until it dries. Then rinse your face and pat it dry.
Egg Whites and Yogurt Mask
This happens to be the simplest egg mask which is easy to make and takes all of 2 minutes. Beat the eggs and collect 2 egg whites in a clean bowl (remember to separate the yolk). Add 2 tablespoons of plain yogurt. Mix them and apply it to face. Wash it after few minutes with warm water and wipe it away with a fresh piece of cloth. See how moisturised and soothing your face feels!
[sc:mediad]
Egg Mask with Avocado
It is no secret that there are several different ways to use avocado for skin and hair. Avocados are high in Vitamin A, which helps remove dead skin cells, while the oils in the avocado help soften out skin. Honey and egg yolk bring nourishment to the skin. Take a bowl, 1 ripe avocado, ¼ cup honey and 1 egg yolk. Cut the avocado into half and scoop out its flesh into a bowl. Mash the avocado until smooth. Now add ¼ cup of honey, egg yolk and mix. Apply the mixture on your face and leave it for 15 minutes. Rinse with warm water and use moisturizer. Use the leftover mask as a hydrating hair mask as well.
So these were some of the most effective egg masks for face.
Types of Egg Mask for Hair
It is advisable to use hair masks for healthy, at least once in two weeks. This way, besides looking healthy, the masks would help give a brilliant shine as well, and also enhance proper hair growth.
Honey, Egg, Olive Oil Hair Mask
Combine 2 eggs with 2 tablespoons of olive oil. Add 1 tablespoon honey to it and mix until it gets creamy. Apply it starting from your hair roots to hair tips and cover your hair with a shower cap or plastic wrap for about an hour. Follow it up by rinsing with warm water till the smell goes away and apply shampoo and conditioner for best results.
Eggs & Mayonnaise
Treating frizzy hair is a tall task but you can do it easily at home. Damp your hair first. Then get 2 egg yolks and 1 tablespoon of mayonnaise. Blend them well and apply them on your hair starting from hair roots. Cover with a shower cap and leave it for 15 minutes. Wash it with your regular shampoo.
Egg Mask for removal of unwanted facial hair
This is one of the best home remedies to get rid of facial hair. Get corn flour, sugar and egg white and whisk them into a smooth paste in a bowl. Apply it evenly on your face and let it dry till the time it sticks to your face. Now pull the egg mask firmly so that your facial hair comes along with it. Do it gently as it might pain a little. However, the results would be amazing.
Get a crate of eggs now and start doing these home tricks for bouncy hair and shining skin.