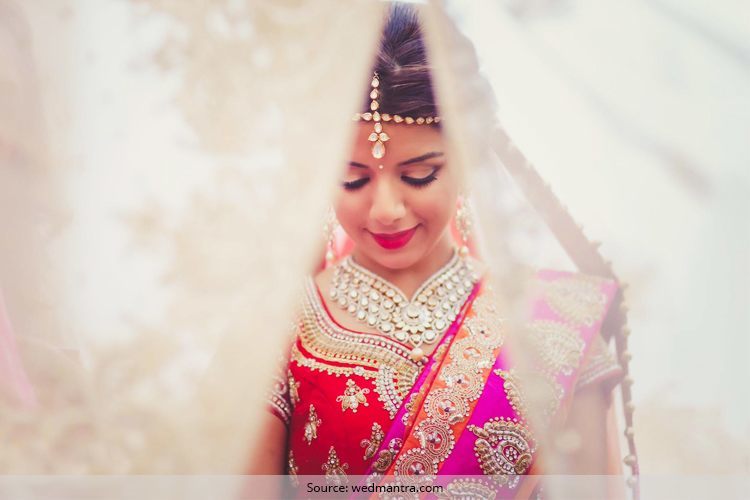 When it comes to bridal fashion, the trends change extensively every year. Last year, traditional designs were combined appropriately with contemporary cuts and bright sparkling hues. But this year, desi fusion is going to be the biggest fashion statement for soon-to-be brides. So, take some inspiration from the latest bridal fashion trends and come up with an exciting fashion-forward look. Here we go:
[Also Read: Bridal Headpieces]
1. Embellishments on Bridal Sarees and Bridal Lehengas
2015 is going to be the year of embellishments for beautiful and gorgeous brides. Amazing details and intricate designing elements like sequins, stones, crystals, mirrors, beads, golden zari, golden lace, metallic thread, etc. have been accenting bridal fashion this year. We are simply loving all those meticulous details. Are you?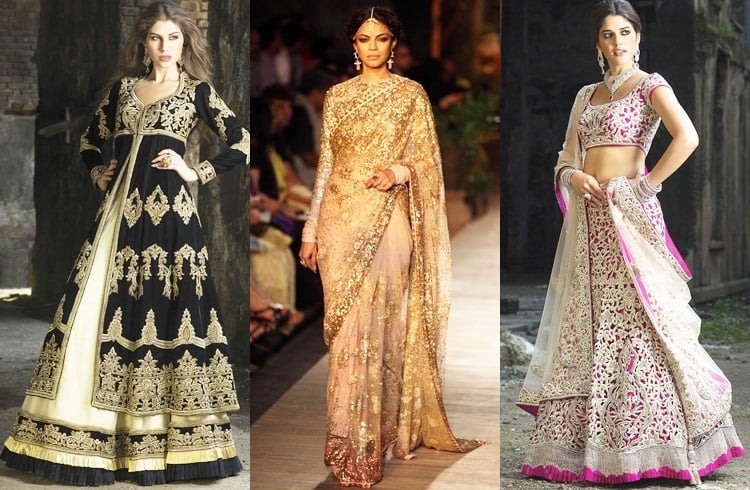 2. Embroidery on Bridal Sarees and Bridal Lehengas
We have to mention embroidery separately. Yes. This vintage classic design gives bridal wear the perfect elegant touch and has been trending this season like crazy. Desi brides in heavily embroidered outfits look absolutely stunning. From zari to aari, embroidery is going to rule this wedding season for sure.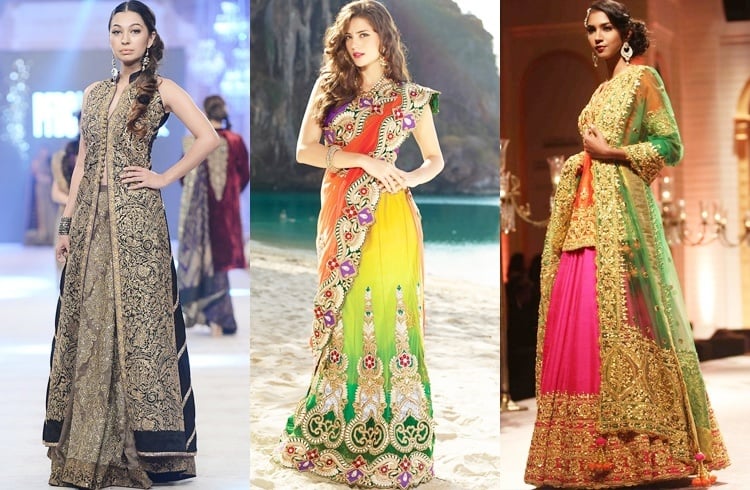 3. Concept Saree
Now, this is one trend that has been taking centre stage in this year's bridal fashion. Need to decode the 'concept' of the 'concept saree'? Well, it is an edgy contemporary version of the iconic 'six yards of grace' that has been reinvented by focusing on the younger generation. These pre-stitched as well as pre-draped sarees and lehenga sarees can be worn effortlessly just like gowns without compromising with the sophistication. Style reloaded, what say?
[Also Read: Wedding Color Palettes For Spring]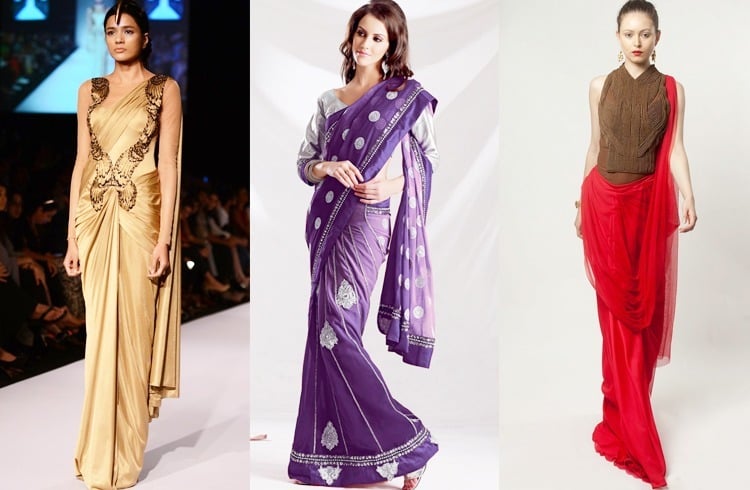 4. Bridal Gold Jewelry
Heavy colorful stone, jadau and kundan jewelry is no longer in vogue this year. Gold is again back in bridal fashion and this time it is here to STAY. Intricate gold ornaments make the bride look extremely elegant by adding a subtle radiance to her actual beauty. Moreover, it goes perfectly well with all sorts of bridal outfits, irrespective of shades, designs and patterns.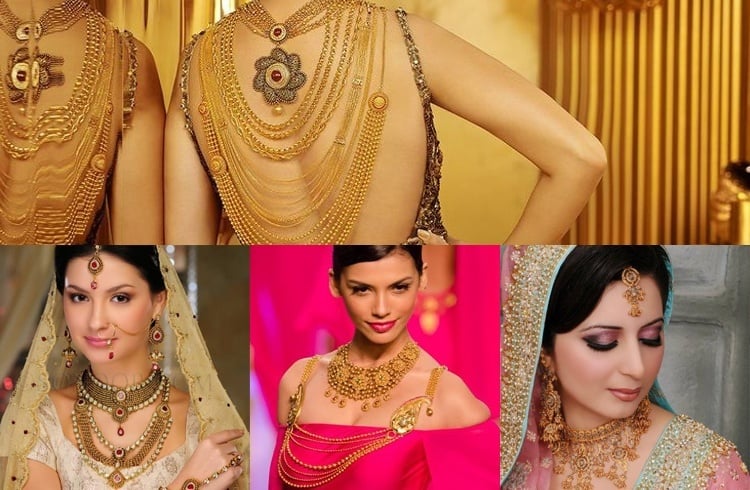 5. Bridal Motif Jewelry
Apart from gold, wedding jewelry with beautiful traditional motifs has also been a big hit in 2015. Peacock, being a representation of splendor and classiness, is all the rage among Indian brides. The motifs of pearls or diamonds or even their combination have also gained much popularity due to delicate yet dazzling appearances.
6. Bridal Hair Accessories
Like all other years, 2015 has also been seeing the majestic presence of the classic hair accessories in wedding fashion. But this time, this royal head jewelry is given a slight new twist to separate it from the festive style. From traditional gold mang tikas to motif design matha pattis, everything is going to be classed up this season for gleaming bridal looks.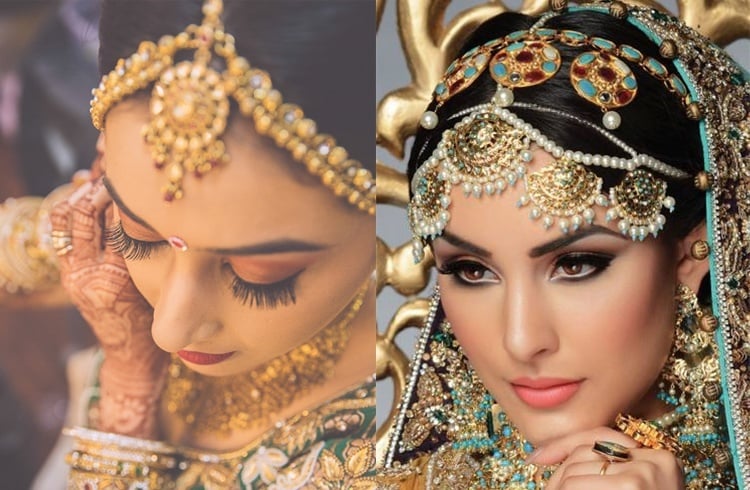 7. Nose Ring
If there is one bridal trend that never goes out of fashion, it is the nose ring or nath. And this year, huge gold naths with simple ethnic look or amazing detailing are what catching the attention of brides. Go for amazing decoratios, such as kundan, colorful stones, pearls, beads or meenakari work. Also remember, 'the bigger the better' is the rule.
[Also Read: Nose Rings You Will Love]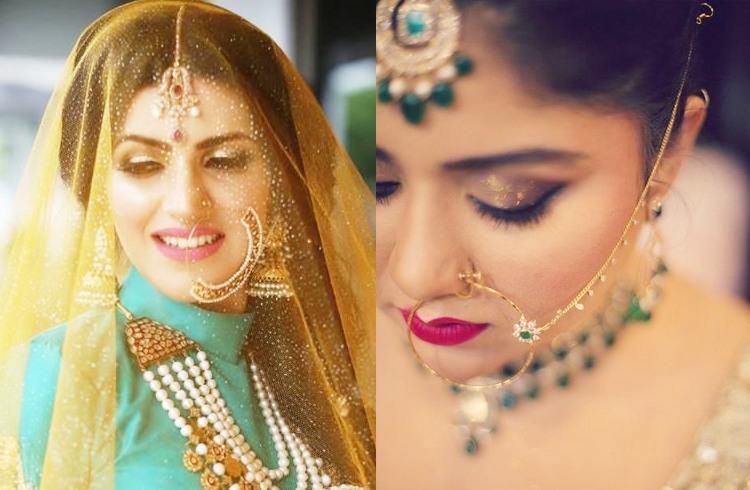 8. Bridal Makeup
Fresh and natural is what this year's bridal makeup is all about. Forget that highly painted 'plaster' look. Only a primer that is nude or even one shade darker than your actual skin tone and a subtle yet glorious blend of blush will help you outshine others on your big day. You may go for bold eyes and sensual pout to complement your bright flawless bridal look perfectly.
[Also Read: Bridal Makeup Tips]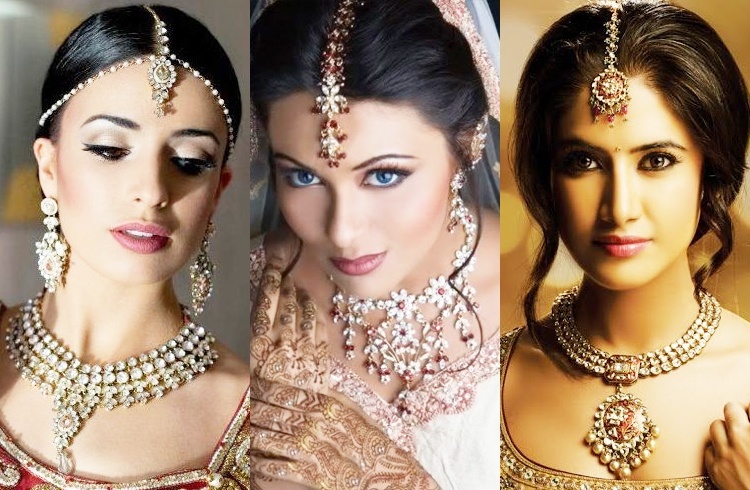 9. Bridal Hairstyles
Walking down the aisle with a huge flower wrapped bun or wearing a long pretty braid with even prettier gold hair gear, gorgeous South Indian looks have become the latest trends in bridal hairstyle. More and more women are opting for a good mash-up of north Indian apparels and south Indian hairstyles to come up with an exclusive look on their big days.
[sc:mediad]
10. Bridal Mehndi
Bridal mehndi designs have evolved a lot throughout India and the present year is seeing more and more of the 'tikya' design. Instead of being simple and casual, those round floral patterns of henna give a true feminine touch to the entire bridal outfit. Amazing, no?
11. Bridal Footwear
2015 bridal footwear trend is balancing out both stylish flats and fashionable heels equally. If you prefer heels, go for striking golden or silver peep-toes that comes with amazing decorations and perfect fit. And if you are not a heel-person, find a pair of strappy flats with unique embellishments.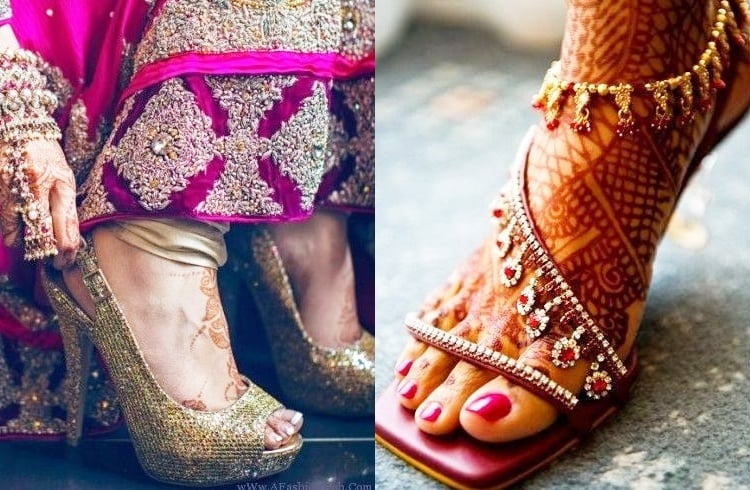 12. Dhoti Salwar
Finally, here is something for brides who want to think out-of-box for their 'mehendi' or 'sangeet' ceremony. Yes, dhoti salwar is absolutely the thing you should watch out for this wedding season. Team it up with a highly embellished kurta or a simple one layered with a Nehru jacket. You'll look amazingly chic yet, somehow, classic.
[Also Read: Things You Must Have in Your Trousseau]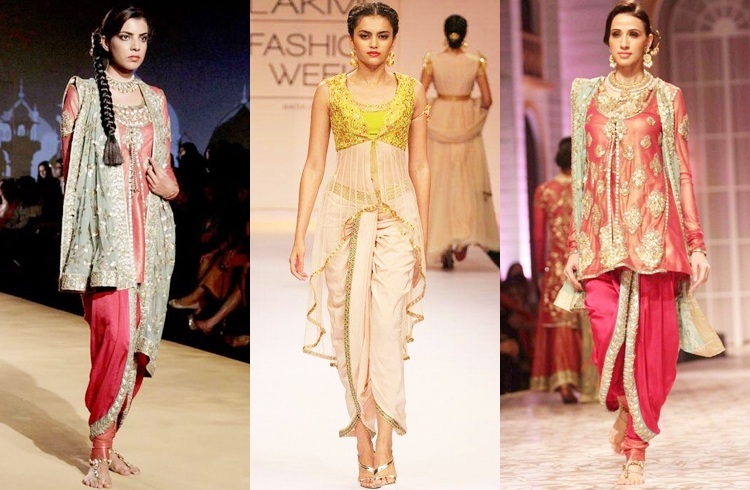 Impressed by the look book of 2015 bridal trends? Start planning your own D-day appearance now!
Happy Wedding!