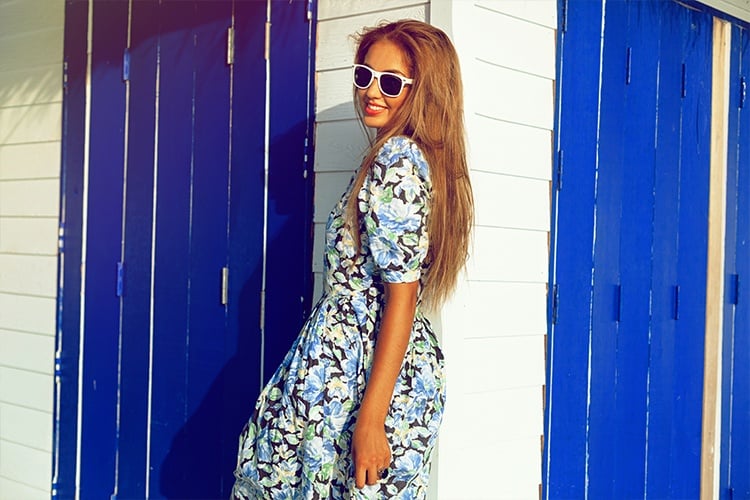 As we have already discussed on monochrome, white shirt and flattering asymmetric hemlines in our part 1, we are back to throw light on floral prints, which are perfect for this season. Continue reading!!
Fashion industry is huge with countless trends that come and go. This season monochrome, neon and floral print have got everyone going gaga over. This season, fashion industry brings in more varieties and styles, especially for girls.
The designs available in market are not only fashionable but extremely comfortable. Gone are the days when you had to compromise with comfort for fashion. With loafers and ballet flats, fashionista have become more relaxed and confident in flaunting their style quotient.
[Also Read: Indonesian Summer Fashion]
With heavy competition among the designers, they have now geared up themselves to make their collection stand out amongst others. In this bid, customers are the most benefited as they are now exposed to diverse choices.
The revived floral style has witnessed numerous changes in the quintessential floral pattern, which we have been seeing since ages. For soaring temperatures, floral printed outfits always look great because of the freshness and the feminine appeal they bring along with it.
Your fashion taste can never go wrong with such prints, which used to be reminiscent of actresses in 50's and 60's movies. They always preferred floral printed sarees/dresses and yes, they looked extremely charming and beautiful even in black & white reel.
Summer brings with it sweat, exhaustion, humidity and harshness. Floral prints on the other hand enlivens the mood and adds charm to the wearers' personality. This is one of the major reasons why this print has many takers.
Florals can be irresistible and illusive at the same time. The idea is to wear the print depending on the occasion and place you are wearing to. However, these prints get a thumbs-up for college, as it aptly suits the ambiance and mood.
Go through the fashion guide below to pick a few styles to suit different mood and occasions. Have a look!
For brunch or casual outing –
Bright and huge floral print are perfect for such affairs. You should go for shades like yellow, red or green, the brighter the better. You can pair such printed tops with shrugs, contrasting fitted blazers or scarves for creating an elegant appeal. Blazers in floral prints can also look great with denims or linen pants.
For night outs or parties –
LBD are expected dresses in parties. You can create a twist by going for knee-length dresses in small floral prints in hues like greys, blacks or whites and believe us, all of these will look amazing and classy. You can also dare to try floral pants or pencil skirts which look really striking.
By the beach –
A pair of floral shorts and a tank top with beaded necklace will surely create magic. Even you can opt for maxis in pastel florals and cotton dresses, which are feminine and elegant, are perfect for hot, humid climate around the beach.
[sc:mediad]
At college –
You can go for floral kurtis or dresses. However, avoid wearing bright colors, instead go for pastels and small prints. You can accessorize our outfit with a dainty floral pendant or a scrunchie in floral print to jazz up your look.