While we all visualize our travel summer wardrobe, the burden of an over-packed suitcase can ruin the adventure. So, this summer, we want you to take a vow on packing light and heading out with only the essentials in town.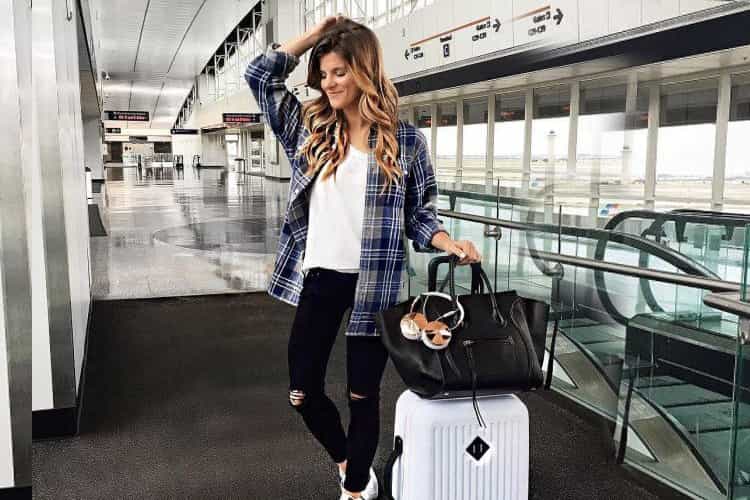 This doesn't mean you compromise on your cool summer wear or accessories. Hence, we've summed up a few of the essential ingredients for a trendy and efficient vacation wardrobe.
Summer Packing List For Your Vacay:
From a perfect summer dress to the color-tinted sunglasses, your summer travel essentials are listed here. Scroll below to see a few of our favorite must-have items:
1. Smart Suitcase
There are regular roller bags, and then there are smart roller bags. Think about your suitcases as you would for any other bag. A tacky bag around your shoulders may not be cool. So, go for a scratch-proof suitcase in a fun print that is slightly large in size but still fits in the overhead compartments (this is perfect for those who can't help but over-pack).
2. A Hat:
Choose a hat that promises to never bend out of shape in your luggage. And a hat that shields your face from UV rays but also adds instant coolness. Other cool options can be a paint-splattered version or a colorful stunner that feels a little grown up when compared to your logo-adorned ones.
3. A Day-to-Night Bag:
You can mix the forces of a beach straw bag in the designs of an evening bag, which you can carry throughout your entire trip. A structured shape in graphic designs or saturated colors is a practical choice for taking around your iPad, travel journal, and kit. This can also add style to your travel ensemble.
4. Comfy Shoes:
Approach your footwear as how you would with your day-to-evening bag. And this can literally be one item that you can wear all-day-long. Look for a pair that can handle a walking tour but also work for a semi-formal dinner. This can make one-part fashion and one-part functionality. A classic choice is ankle-strap sandals, so you never lose the shoe in the sand. After all, strolling around the wide walkway sans footwear is never in vogue.
5. Large But Lightweight Scarf:
For unexpected chilly nights, a lightweight scarf can be your greatest lifesaver. It can barely take up space in your bag and can work both as a shawl wrap and a park blanket. Besides, it is the perfect protection against the airplane's finicky temperatures. Keeping an oversized but lightweight scarf in your tote can work as a full-body covering. Something in gauze material can offer you an extra layer during chillier evenings, without making you feel heavy.
6. Colored Tinted Sunglasses:
If there's ever a time to wear fun sunglasses, then it is during vacation. You can go all the way with emojis or colored tinted lens pair. Go for a pair that is retro and current at the same time. Picking the same will give a modern twist to a range of classic frames, so you can get your hands on a natural filter in the trendiest way possible.
7. Portable Charger:
When you are traveling, always make sure to keep your phone fully charged. You wouldn't want to lose out on Google Maps in a new country, do you? And you wouldn't like to be glued to your phone whilst relaxing, and there's nothing worse than seeing the flashing red battery indicator.
So, avoid a dead phone and get a portable charger that fits your pocket. A small, lightweight portable charger will not leave you stranded on the island.
8. Throw-on Printed Dresses:
One of the most versatile items you can toss in your bag without thinking twice has to be the throw-on dress. This dress can be worn in a multitude of ways. You can try it with sandals for a day out for sightseeing, wear it over your swimsuit for a spontaneous dinner plan, or layer with trousers for an impromptu night out.
9. Roomy Dopp Kit:
There is no reason to stuff your daily essentials into your old pouch you've had since your first expedition. You can try dopp kits as they're not only cool but functional too. Grab one kit in a quirky print that could double up as a clutch.
10. Comfy Cutoffs:
Look for a comfortable pair of cutoffs to go with your daily look. This season is all about tattered and frayed hems that is longer and chic. Wear them with a striped or graphic tee for the day, and dress them up with a fancy tank for the night.
11. Bright Swimsuit:
We love the crossover between an itsy-bitsy bikini and one-piece swimming suit. A flattering, high-waisted bottom can allow you to indulge in that extra piece of a doughnut without making you feel like you need to suck in. For summer, a bright bikini is a must. Even if you just want to dip in the private hotel tub, you'll be happy that you had a suit on that you absolutely love.
12. Analog Camera:
You're at an exotic destination, so it's time to get off your phone. Save some space in your bag for an actual camera. This can make a good replacement for your mobile. You can create memories without getting tempted to check your phone every minute.
[sc:mediad]
13. The Packable Maxi:
You'll never be in a holiday mode until you're walking around the beach in a maxi dress. To keep your look current, pick a graphic pattern or floral design that can stand out in a sea of basics. Pull it out, throw it in, and you are all set girl.
14. Wear all-wear Studs:
Your accessory routine should be kept simple when you're on holiday. You wouldn't want to be fussing your entire box with you. Instead, try out eye-catching studs with unique shapes and classic feel that can go with basically everything in your wardrobe.
15. Crossbody Bag:
Planning on doing sightseeing? Then, get your hands on the hands-free crossbody bag to hold your essential items. But, do not sacrifice your style for functionality. Instead, look for a bag that fits the two brackets. Choose a bag that features convenient pockets, long strap, and has luxe finishing or leather.
16. Dry Shampoo:
Getting ready on-the-go is a must. One perfect travel beauty essential includes the dry shampoo. You can go for mini-versions of dry shampoo that has a fresh, floral fragrance to liven up your dull tresses.
17. CC Cream With SPF:
You cannot leave on a summer holiday without a CC cream which combines SPF, foundation, and moisturizing power. You can look for an oil-free formula that can easily correct skin problems with a bonus of sunscreen.
18. Tinted Lip and Cheek Stain:
While traveling, always carry your double-duty products. The multitasking tinted lip and cheek stain can provide you a sun-kissed glow. Perfect for completing your summer beauty essentials!
19. Moisturizing Razor:
While traveling, you should exclude all unnecessary items but not compromise on your travel makeup essentials, like a moisturizing razor. Choose a razor with a moisturizing bar that surrounds the blade. You will not need shaving cream and moisturizer after that.
20. Simple White Button-down Shirt:
A simple white button-down shirt is the most favored pick of all times. Take this along to tie at the waist. Pair it with a maxi skirt or above your bikini suit when you head to the beach.
21. The Smartwatch:
Tracking time is never the essence of a vacation, but you're going to need an everyday watch to remember the exact happy hours. Choose plastic or white straps for an easy and holiday-ready feel other than your standard rose gold or brass piece.
22. Travel Journal:
No matter where you're traveling to, your trip is undeniably going to one of your best memories. So keep a journal to write down your thoughts and experiences. Select travel journals that come in sleek and fun covers that can tempt you to relive your vacation memories even months later.
23. Travel Wallet:
No matter where you are headed to, always separate your rupees from your dollars and Euros with a smart travel wallet. Look for a slim fit that you can take everywhere, featuring four separate pockets that can help track your money.
These are our picks for summer travel essentials that you need for your next vacation. So stick to your promise of not over-packing with these travel must-haves. Items like these will cut on space and make room for collectible souvenirs you know you definitely want.