Indian cinema offers its usual fare of – 'jhakkas' masala films to the award-winning parallel cinema. But if there is one cinematic fare which remains etched in the audience memory, it is a BIOPIC. Hope you know that a biopic on film star Sanjay Dutt titled 'Sanju' made by Rajkumar Hirani (the maker of Munna Bhai M.B.B.S) is up for release in June this year. However, the biopic that released on May 9, 2018, is what the movie buffs and viewers are currently going gaga about.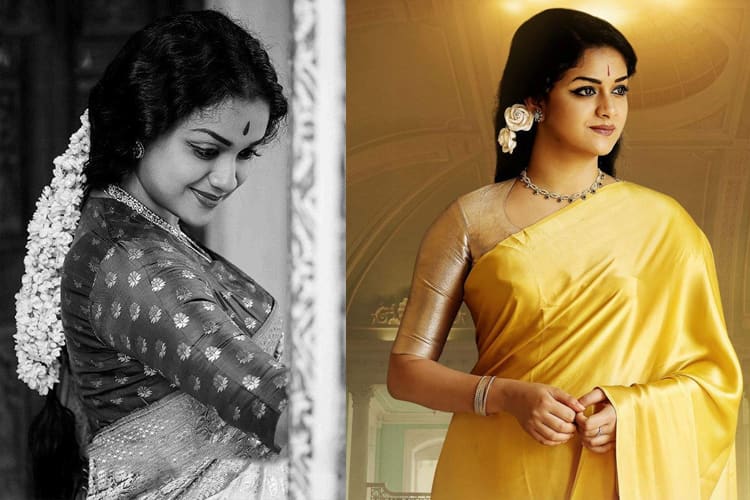 Yes, you guessed it right. It is "Mahanati" – the Tamil-Telugu bilingual biopic that we can't stop gushing about. For fashion lovers and followers, it is not only Savitri's biopic but also an eternal fashion inspiration.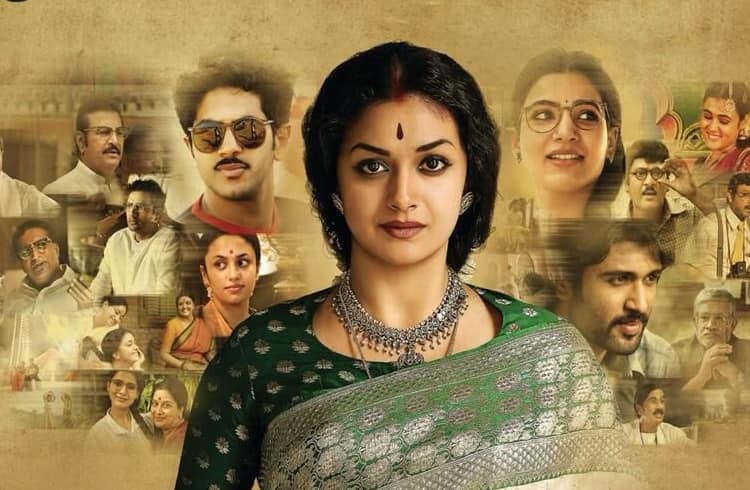 Storyline:
The story of the film Mahanati revolves around the legendary Southern actor Savitri who rode high on popularity for nearly three decades.
Starring Keerthy Suresh (in the titular role as Mahanati), Samantha Akkineni, and Dulquer Salmaan (Savitri's on-screen and off-screen partner Gemini Ganesan with whom she had a tumultuous relationship), this period drama set in the golden era is aimed at showing how Savitri was seen as a legendary figure at that time.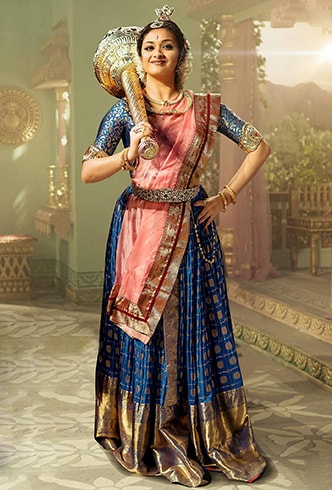 The film has been directed by Nag Ashwin who is a self-confessed fan of Savitri. He says, "I was fascinated by her life, the ups and downs, and the stardom she enjoyed. For many years, she was considered a bigger star than most of her male counterparts. When I started reading more about her and gathered information from various sources, I felt her story deserved to be told and celebrated". Well told is the story, which is larger than life. After Baahubali, it shows yet again how Tollywood cinema can produce epics.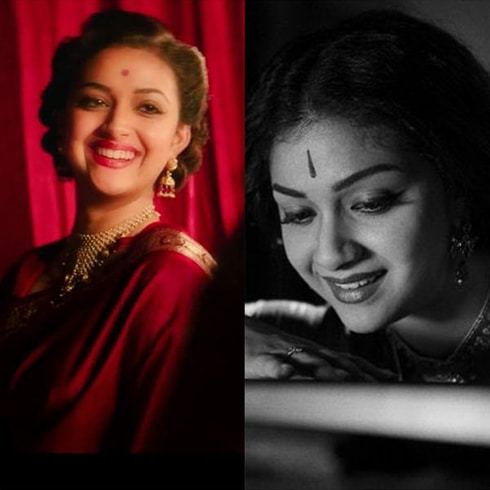 Born on December 6, 1934, Savitri started her acting career as a child artiste in stage productions. In 1952, she made her debut in Telugu cinema in LV Prasad's Pelli Chesi Choodu. After that, the actor delivered a long list of hits in the Telugu and Tamil film industries. Some of her most successful projects include Devadas (1953), Missamma (1955), Mayabazar (1957), Kalathur Kannama (1959), Pasamalar (1961), Karpagam (1963), Mooga Manasulu (1964) and Thiruvilayadal (1967).
What about the profile of legendary star Savitri? She was a producer, director, singer, and race car driver!
YES, did you know that Savitri owned a fleet of vintage cars?
Now that you are clear about the star profile of the legendary actress Savitri, let's focus on the glamour – the costumes, jewelry and everything to do with fashion that Savitri wore and adopted three decades back.
Mahanati Costumes And Styling:
Heard of Indrakshi Pattanaik?
She is the stylist who had just one obsession when she was roped in for the magnum opus 'Mahanati' –that of recreating the vintage look for the on-screen character Savitri.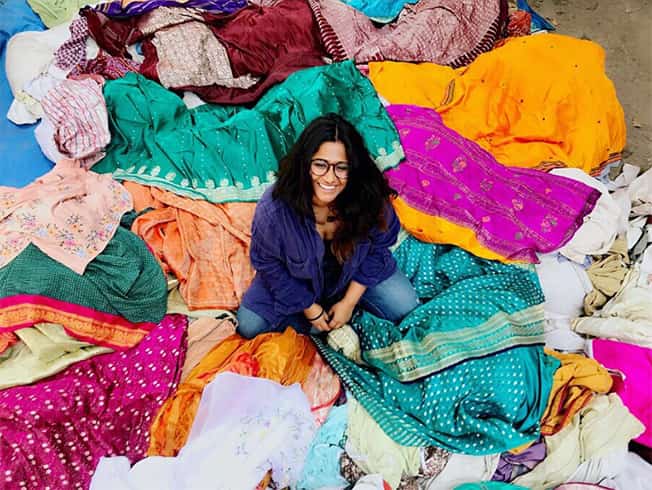 It might seem hard to believe but Indrakshi had not a whiff of South Indian cinema before she signed up for the film Mahanati. That's because Indrakshi grew up on "vintage Bengali films by the likes of Satyajit Ray." With luck, the film Mahanati fell into Indrakshi's lap and it is due to her imagination and workmanship that the costume detailing seen in the movie became a visual treat that we see today.
Savitri In Real Life: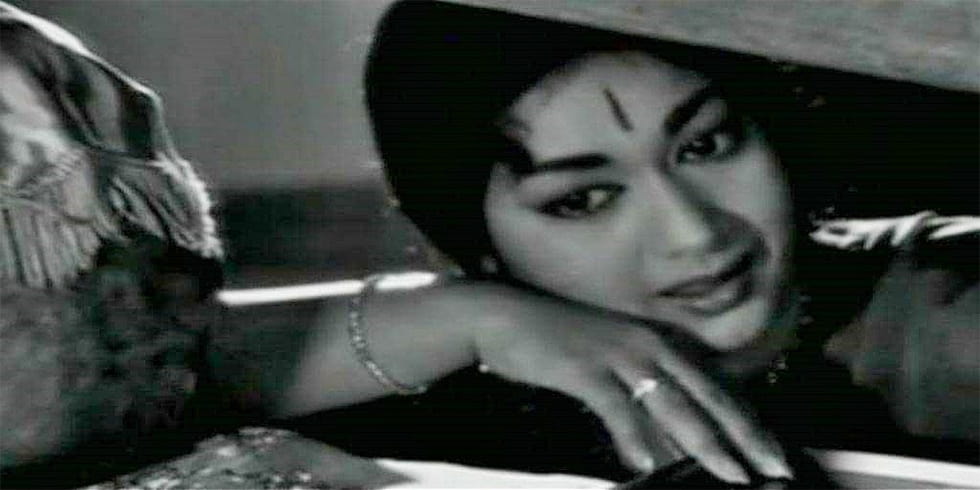 Savitri Played By Keerthy Suresh In The Film Mahanati: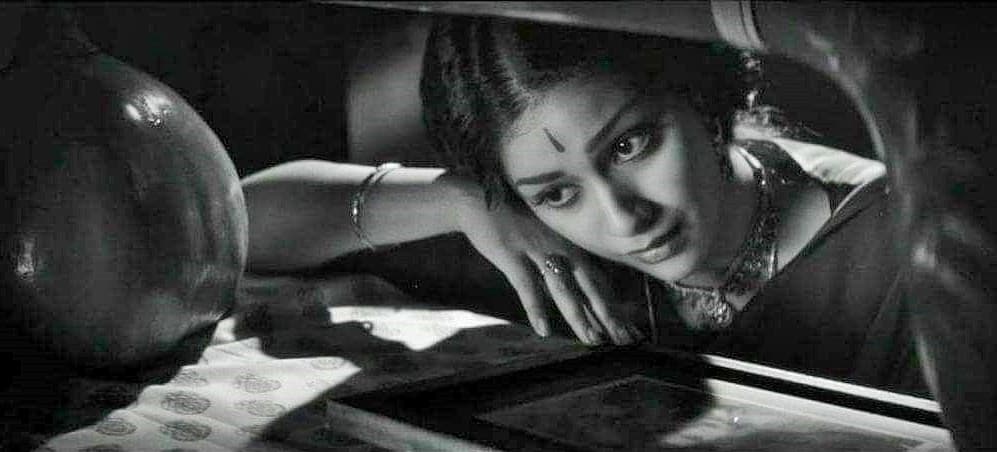 How was it like for Indrakshi – her on-job experience for Mahanati? She says,"Though it seemed like all I had to do was make banks of clothes era-wise, I didn't realize what I was taking up. We had crowds of around 400 people sometimes, where everyone had to be registered. The film's background is its skeleton and it was important that everyone looked as perfect as the leads."
Any clue of the places Indrakshi and her crew went shopping for the costumes and jewelry of the film? From the bylanes of Kolkata to Charminar, Hyderabad, they went everywhere.
The designers Gaurang Shah and Archana Rao worked very hard to meet the lavish costume demands of the script. While the producers Swapna and Priyanka Dutt went all out to make the film larger than life. Gaurang's beautiful saris and handloom and Archana's picture perfect finish to the costumes spelled magic for Indrakshi.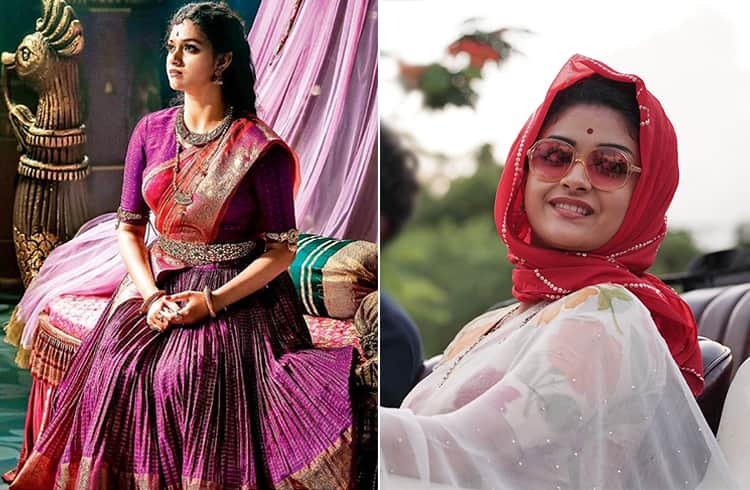 Keerthy As Savitri – The On-Screen Fashion Transformation:
Some quick bytes:
The film's heroine Keerthy Suresh had a total of 130 look changes during the filming of Mahanati.
Attire-wise, the look of the legendary actress Savitri revolved around sheer saris, chokers, bun, flowers in her hair, puffed sleeves and fitted blouses. As she aged in the film, she opted for wearing silk saris.
Fashion accessories were sourced from vintage flea markets in Florence (Italy). Back in India, the accessories were sourced from the streets of Hyderabad and Mumbai. Glasses were bought from an old Parsi shop in Dadar (Mumbai) and watches from shops that stock vintage pieces in chor bazaars.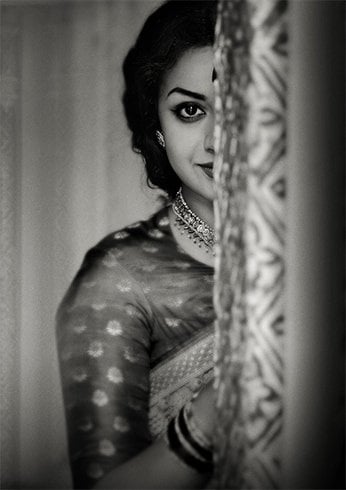 How can I miss Samantha Prabhu's costume profiling?
Sam mainly wore skirts and blouses at work and saris at home – chiffon type saris and small blouses.
[sc:mediad]
Decoding Keerthy's Looks In Mahanati:
Let us do a detailed fashion profiling of the legendary actress Savitri played by actor Keerthy Suresh in the biopic.
1. Silk Sarees:
For any period film of the 70s to 80s (that too a biopic), Kanchipuram saris have to be a part of the costumes. Actor Keerthy Suresh carried forward the same tradition by wearing Kanchipuram silk with great poise and grace. The large bordered heavy silk sarees are worn at weddings and puja ceremonies even today.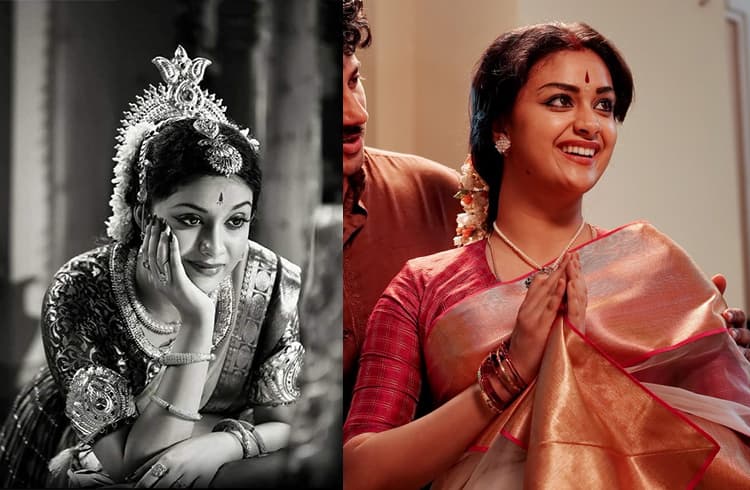 2. Closed Neck Blouse:
This was yet another signature style of the 70s. No cleavage-showing plunging necklines and backless blouses. That is why, elbow length sleeves and collared or close necked blouses formed a fashion statement. Many yesteryear actresses have been spotted wearing these kinds of blouses on several occasions.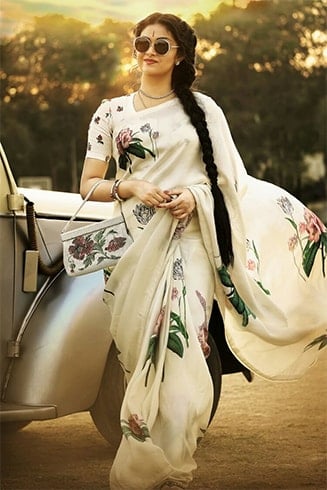 3. Teardrop Bindi:
Mahanati will stay back in our memories and dreams for its iconic teardrop bindi worn by Keerthy. If you have a round or oval face, wear a teardrop bindi of medium size and you will surely leave everyone spellbound.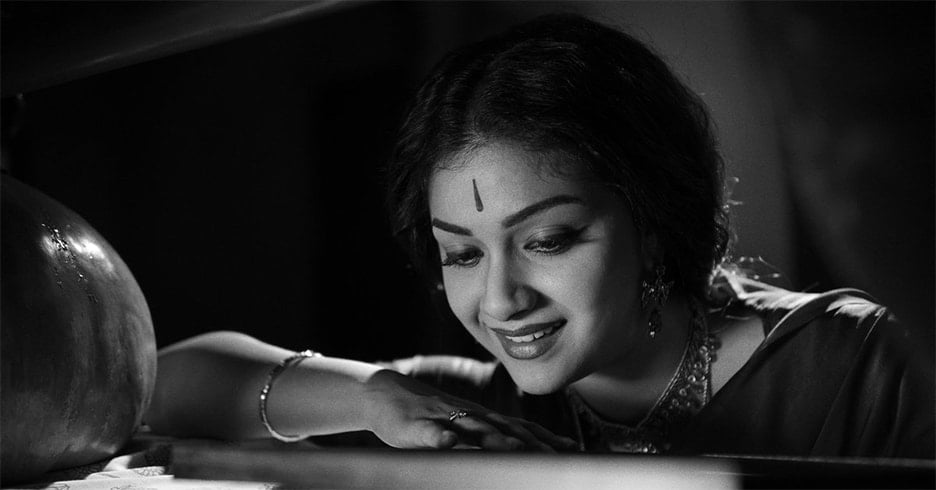 4. Jewelry:
The traditional jewelry designs have made a huge comeback with the film – whether it is jhumkas, chandbalis or the drop earrings.
The jewels that Keerthy Suresh wore in the film Mahanati were designed by L Bajrang Pershad jewelers and Sri Fine Jewelry.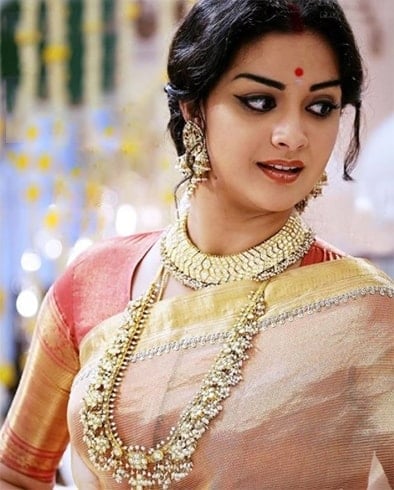 5. Makeup:
The usual staples were there – red and maroon shades for the lips, and eyes lined heavily with Kohl. Hairstyles were typical of the bygone era and comprised of the usual buns, plaits, and center-parted hairdos adorned with fresh flowers.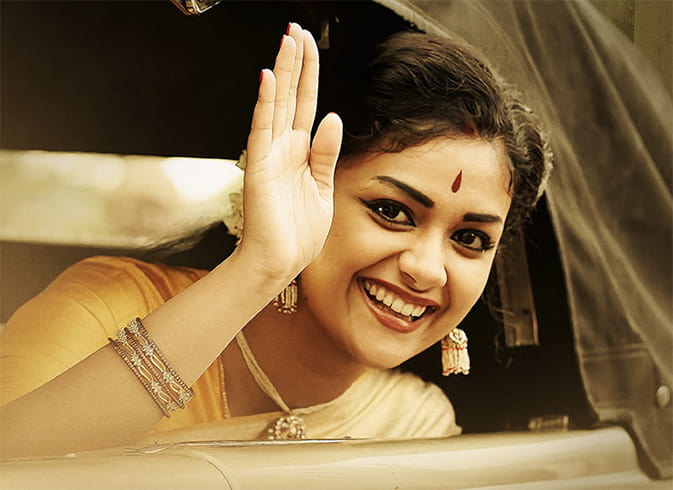 It is true that Keerthy Suresh dressed up vintage in Mahanati. If you want to look as gorgeous as her, why not take inspiration from her to ooze some retro charm? Have a look at the trailer of the magnum opus to get a glimpse of the evergreen charm of the legendary actress.
Hope you enjoyed reading this post on the fashion goals that the Mahanati Savitri gave us. Have you watched Mahanati? Don't you think the film has made South-Indian fashion take center-stage? Do write in the comments box and tell us your take on the fashion inspiration the film offers.
Images Source: twitter.com/KeerthyOfficial