Tarakasi – A jingling of anklets, a sparkle of silvery light, a glimmering artifact with a sheen of purity.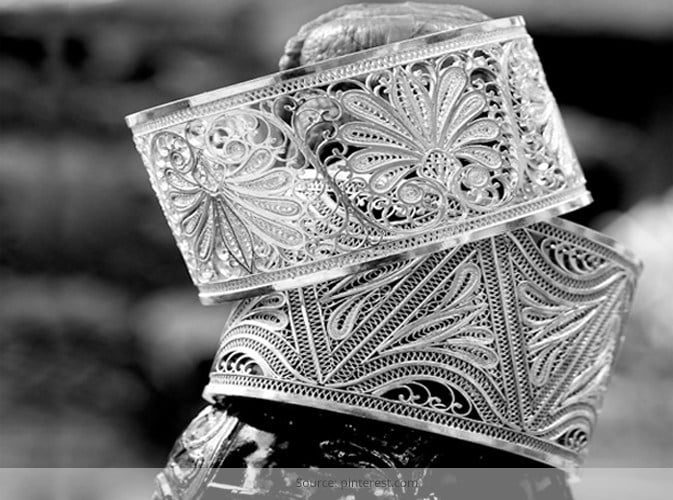 As promised we are back with our another special edition on Indian ethnic jewelry. By now we have covered meenakari and kundan. Today, we are going to discuss on Tarakasi, the silver Filigree work from Odisha.
If I am not wrong this is one of the most elaborate jewelry making craftsmanship India treasures till date. Odisha is home to an array of India's priceless art, so it's of no surprise that one of the most exquisite jewelry making arts.
This highly mastered art form dates back to 5 centuries and is still a pride possession of Odisha.
This age old craft is localized in Cuttack. This is one of the major cities of the state well known for varied cultural, historical aspects and craftsmanship. Above so many good reasons, the Filigree is considered of all the arts of this city. The city has garnered name and fame globally because of this kind of jewelry making and is thus known as the 'Silver City'.
The artisans who are involved in this craftsmanship are actually goldsmith. They work with pure silver or 90% of alloy. The lump of silver is placed on a small clay plot over a bucket full of blistering coals.
[sc:mediad]
A hand operated bellow is used to regulate the temperature. It takes about 10 minutes for the melting process. The molten silver is then poured into a rod shaped mold which is further put in water for cooling. The substance is then placed into a machine where it is shaped into very thin shaped wires.
This wire is then hand carved into numerous intricate designs. On the other hand, thick silver wires are used as frame into which these thin wires are embedded through soldering process.
These days advanced techniques such as granulation, snow glazing and casting are used to heighten the effect. Platinum polishing is also done to give it a shining effect.
Let me tell you all these processes are purely manual and involve great effort and engagement.
The tarakasi jewelries are particularly rich in patterns. The armlet, neck-pieces and anklets are quite popular in the fashion world. Especially various kinds of intricate anklets using semi-precious stones are hugely appreciated worldwide. Even brooches, pendants, hair accessories and earrings are also in demand.
Hope you enjoyed this post!