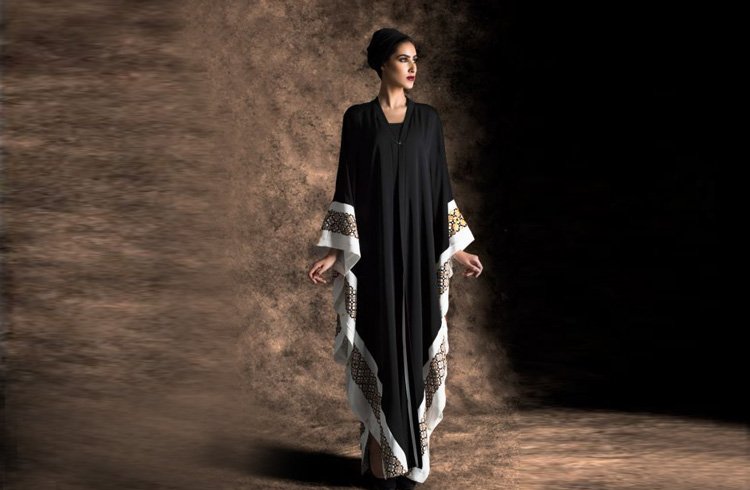 A mix of religion, culture, and fashion is the Abaya trend. Wondering what that is? Abaya or burkha is a cloak, a loose garment worn by Muslim women across the globe. This traditional attire is worn whenever they step out of their homes. This robe-like dress covers the entire body from head to toe.
Muslim dresses for women have always been extremely versatile, attractive and lavish. It seems fashion was always a hidden element in their dresses since the day immemorial, as it is with the case of Abaya. And we are introducing this element of fashion to the world along with an insight into the latest trends
Origin Of Abaya
The abaya trend that hails from eastern Saudi Arabia is now the regional apparel for most women from the Arab Gulf countries. Usually, in black, this large, oversize garment with large wing sleeves and opening in the front is modern in style compared to jilhab and burkha.
Though the traditional abaya garment is still in vogue as it represents the authenticity of the culture, the modern day has brought forward various fashionable, wearable forms of the abaya that will leave you spellbound.
[ Also Read: Dolce And Gabbana Launch First Hijab and Abaya Collection ]
Ever since the world's top fashion labels and designers like Dior, John Galliano, Blumarine etc. have turned their eyes upon abayas, these Islamic traditional attires are now seen in all leading fashion runway. These overcoats are now more a plain garment to cover the body, but they are now high on fashion.
Since these are the only visible piece of thing, so more attention is now given towards their style, designs, and fabrics. The burkhas are now extensively available in superb designs with elaborate detailing and heavy embroidery on arms and kaftans.
[sc:mediad]
Abaya is usually made up of chiffon, cotton, georgette, crepe, and sometimes different lace. Latest trends show the involvement of colorful threads in their designing.
Latest Abaya Designs And Abaya Styles
Abaya Kaftan
The kaftan style as we all know hides the actual figure of the women but manages to add a chic and contemporary feel to it. This would be the right pick for working Muslim women who can escape the tiresome draping as there is always a lot of hustle in the morning.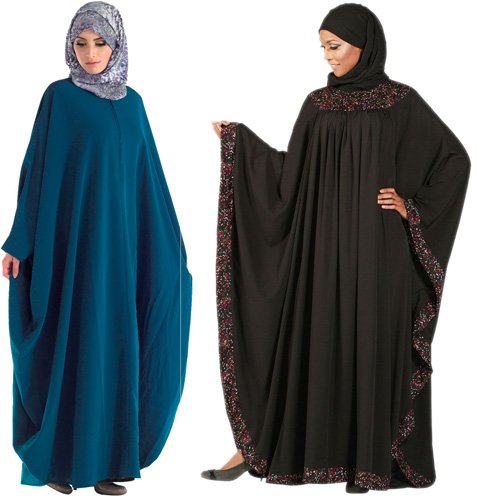 Dubai Abaya
This style mostly whirls around the black hue with improvements on sleeves, neckline with embellishments. Most of the ladies hailing from Dubai prefer black abaya and also earthy tones over bold colors when it comes to this abaya styles. Crepe, silk, and chiffon give the ultimate party feel to the wearer.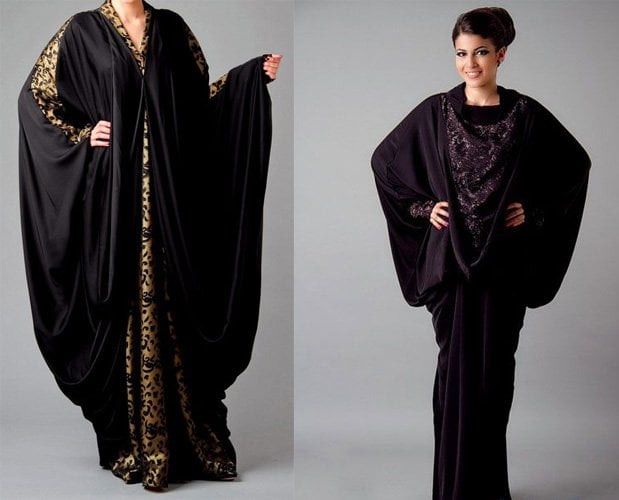 Butterfly Abaya
Very similar to the kaftan abaya design is this butterfly abaya modern pattern. They are a bit fancier and make the right choice for party wear. This trend has picked quite some speed in the abaya fashion world. They can turn your look glamorous keeping intact the purpose and reason of wearing the abaya.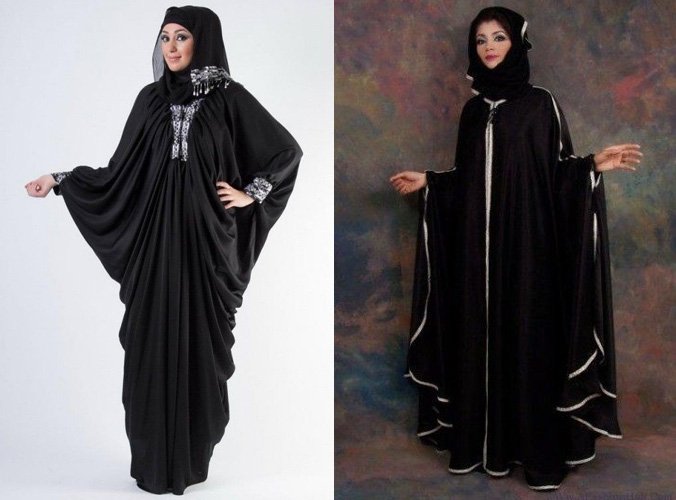 Wedding Abaya
While the traditional and classic abaya is usually in black, the wedding abaya plays with bold, bright colors to add spark to the celebration. With heavy embellishments, embroidery, crystals and much more, the wedding abaya is bound to be glittery and shining.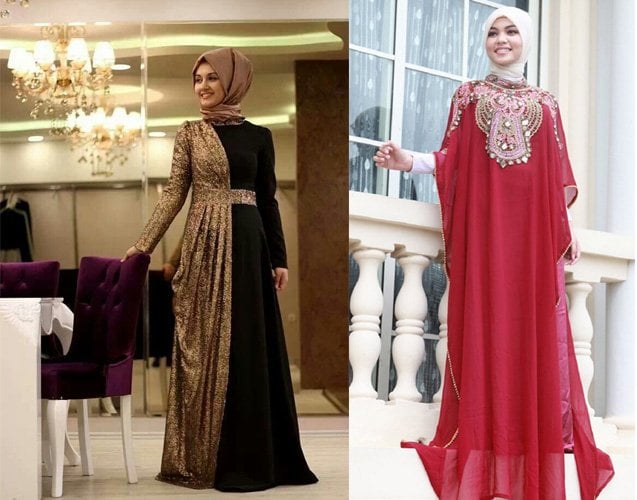 Party Abaya
A bold shade or a subtle one, the party abaya styles are worth a shot. Absolutely contemporary, these party abaya styles are a bit off the box from the regular, traditional patterns. This long abaya dress is for all the youngsters out there who love dressing up in vibrant, colorful tones and in ruffled up patterns.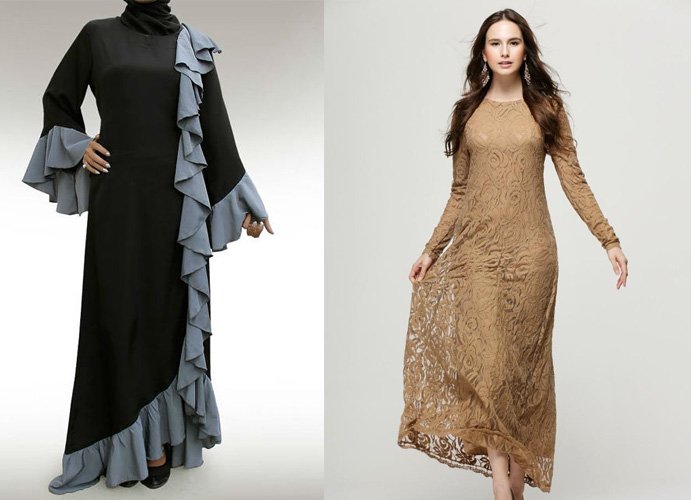 Khaleeji Abaya
Khaleeji abayas are the A line cutout abaya dress patterns with crystals glued to the sleeves and scarf lines. They are usually designed in black but the evolving fashion trends, we see a lot of colorful Khaleeji abayas.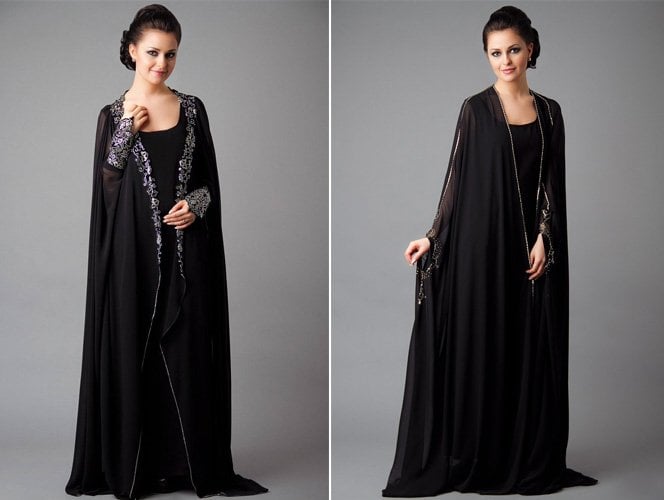 Hooded Abaya
With the cold chills of the winters freezing us, we undoubtedly look for a better layered piece of clothing. With abaya, we would not be requiring much as it already covers most part of the body. But if you are intolerant to the cold winter, opt for the hooded abaya style. Be it casual or festive, this style is currently trending.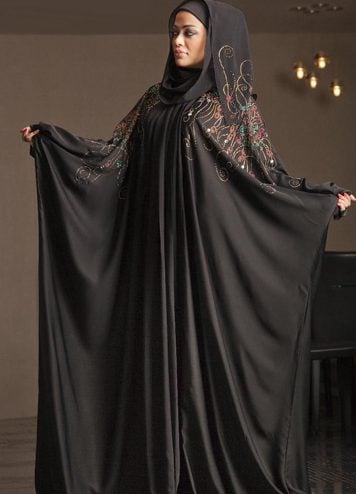 Coat Abaya
Embracing the winters in fashion is always a challenge. Acing this challenge are the coat abaya designs. Classic and sophisticated, they look promising. This coat style is perfect as a workwear. Pick one beautiful abaya designs this season that works well on your skin tone and looks stunning.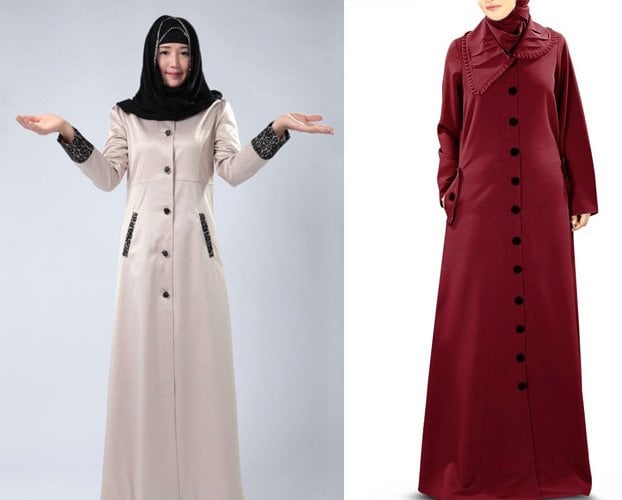 Frock Abaya
The current Muslim ladies have become more experimental and confident with their fashion sense. They don't hesitate anymore to try new ways of draping themselves in abaya. One such trend in abaya designs that got noticed is the frock abaya style. We mostly find abaya with hijab fashion in the Muslim world but with frock style abaya patterns, you can skip the hijab for a glamorous look.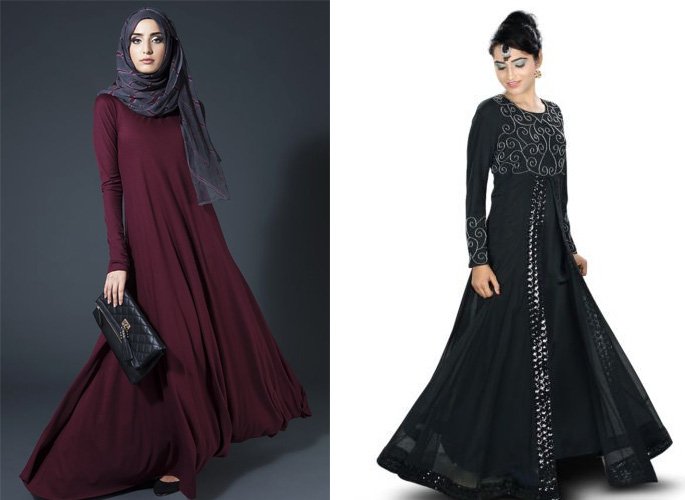 Net Abaya
If you are comfortable going sheer with your abaya, then you should try the net or lace abaya style. This style of Muslim abaya designs will turn your look attractive and pretty. You should add this abaya collection to your closet to make your appearances more interesting. Be it a party or a casual outing, the net abaya is totally chic.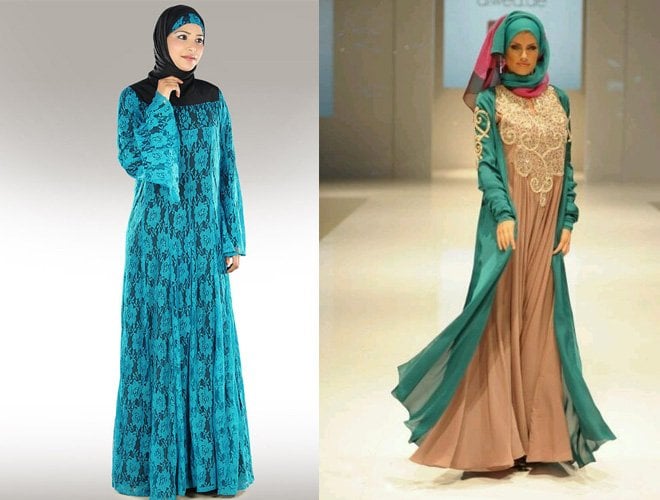 White Abaya
Be it Turkish abaya, abaya Arab or abaya Saudi, the usual color of choice is the black. But a white abaya fashion be it in any fabric, can make your look more classy and easy on the eyes. Here are a few to start with that will melt your heart and loosen your purse strings.
[ Also Read: Unveil 6 Fashionable Burqa Designs You Can Opt For ]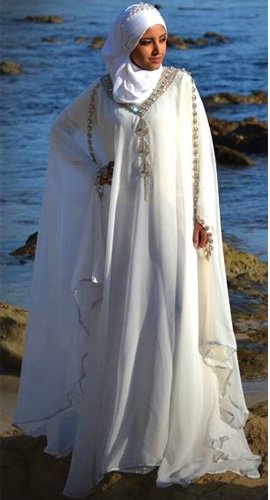 Pakistani Abaya Collection
Right from traditional to contemporary, Pakistani abaya collection has copious styles offered by myriad stores online. With intricate embroidery, crystal or pearl embellishments and intricate detailing along the sleeves, neckline, the abaya collection looks fascinating. In a variety of materials, this collection has produced a wide range of abaya design choices.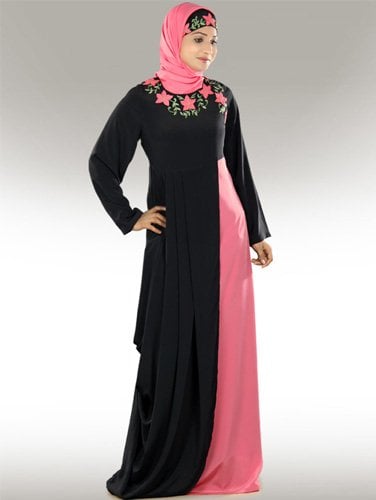 Open Abaya
Abaya fashion's most interesting style is the cape style. The front open abaya will look entirely like a long cape and look purely fashionable. This extended piece of garment is a perfect form of layering. You can pick lace, net, silk, chiffon or any other material to act like a cape.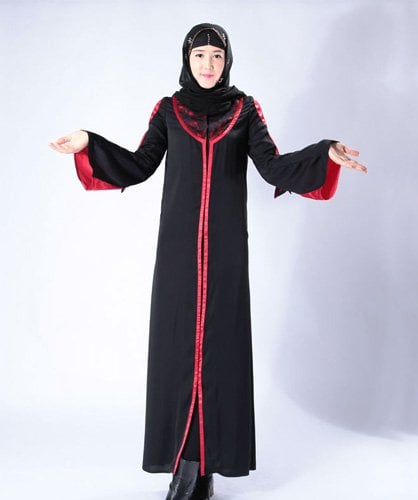 A brief online search will bring to you, the number of boutiques and fashion stores selling Islamic dresses for women. A designer dress worn inside always gets hidden, so these women are looking forward to fashionable outwear too. This wake-up call has motivated designers to conceive beautifully tailored burkhas for these sophisticated ladies.
Hope you liked this post!
Images Source: pinterest.com