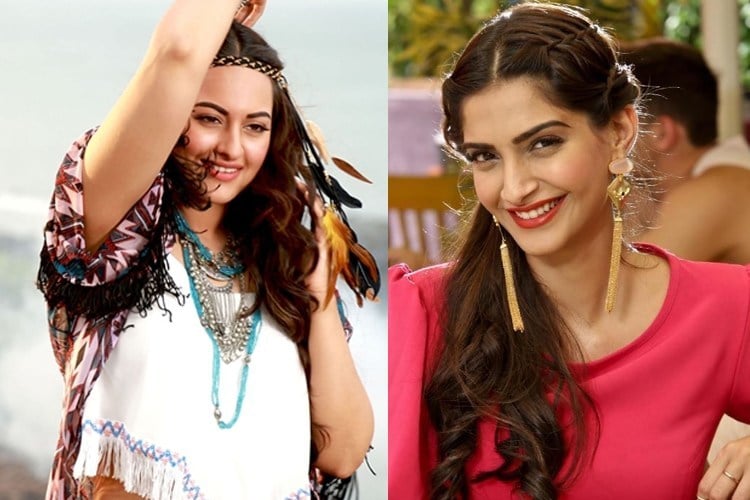 Gone are the days when we would be glued to our television screens, watching the hero romance his heroine in a song. These days our eyes (the fashionistas reading this would agree) travel more towards what the heroine wears onscreen and in that song. There are a million ways to seek fashion inspiration from, and watching our Bollywood numbers teach us a lot, without a doubt. Thus without much ado, here are four leading new-age Bollywood divas that show us how to look minimal, cool, comfy, retro and sexy in the best of prêt-a-porter ensembles. Take a look, because we have a touch of the old-glam flower-power seventies to the chic bohemian rhapsody lover's game being played here.
Sonam Kapoor
"Dheere Dheere se mere zindagi mai aana", a song where Bollywood star Hrithik Roshan romances Bollywood diva Sonam Kapoor, is a number we cannot help but put on loop. An attribute to the former version of the movie produced by Gulshan Kumar, AASHIQUI, Sonam Kapoor's first look in the song has stunned us all. Her ethereal hairdo is what has caught everyone's fancy, with waterfall braids in myriad layers- quite princessy and very elegant we say. Soft and wavy, the multiple waterfall hairdo falling over her bridal gown in white is the brainchild of celebrity stylist and makeup artist Namrata Soni. This is certainly a look not seen before on Indian screens, and sits apt with the mood of the song and the location too. Layers and more layers would become a rage with the fans of Sonam Kapoor, the next time they plan to dress chic for events and parties.
Sonakshi Sinha
She is proud of her curves and loves flaunting her plus sized contours too, and we are talking about the 'Dabangg' actress Sonakshi Sinha. From being the girl who coyly walked the streets opposite Salman Khan in Dabangg to shaking a leg or two with ace dancer Prabhudeva, Sonakshi now steals our heart in a quirky and very sassy way. Her maiden single 'Aaj Mood Ishqholic Hai', has her sporting a chic boho chick look in the video. Her style is that of peppy tones and a hip-hop aura around, and Sonakshi looks hot in hot pants with a cropped top and a printed jacket too. The hippie Navajo Aztec vibe comes through with feathers, beads and boots, paired with a little leg show and loads of attitude. You go girl, we love you just as you are- full and beautiful!
Esha Gupta
What do you get when serial kisser Emraan Hashmi and Bollywood siren Esha Gupta come back one more time for a flick- a duper fantabulous show and a fashionable tsunami. Now if you were expecting Esha to be another item girl dancing on a platform for a gang of hoodlums, you were wrong. This time though, it seems Esha was transported back to the good old seventies and bathed in flower power- Main Rahoo Ya Na Rahoo, Esha's maiden single has her looking all fresh as the marigolds in the summer sun. The 70s print and get up is now going to catch up soon; once flaunted posthumously by stars such as Zeenat Aman and Parveen Bobi. The brainchild of stylish Astha Sharma, the quirky and very retro touch on Esha's mini dress paired with the luxe Jimmy Choos on her feet, brought about a nostalgic touch from the days gone by. Vintage is making a comeback in more ways than one, and with Esha sporting a messy bun and the polka prints- the look comes off as dainty, gorgeous, powerful and very vibrantly retro too. Flamboyance at its best, Esha looked hot at the launch of her maiden single!
[sc:mediad]
Yami Gautam
Actress Yami Gautam once again is back and opposite Ayushman Khurrana – her new single 'Yahin Hoon Main' has left us breathless. She stuns the visual senses with a long flowing spaghetti maxi gown in white and reds, which is one of the reasons why she is being talked about by billions for her looks across social media platforms. The look is gorgeous for sure, with a distinctly different touch of an innocent college girl in the song. Yami is naturally pretty, which is why her makeup here isn't too loud- keeping it nude to the lips and the cheeks, the long floral maxi skirt makes a benchmarks for PYTs and college-goers to flaunt their sassy styles with when the semester begins this year.
If you have more suggestions and information as to why you like these four leading ladies in their single maiden numbers, do write in. We hope you loved this post as much as we loved penning it down for you!