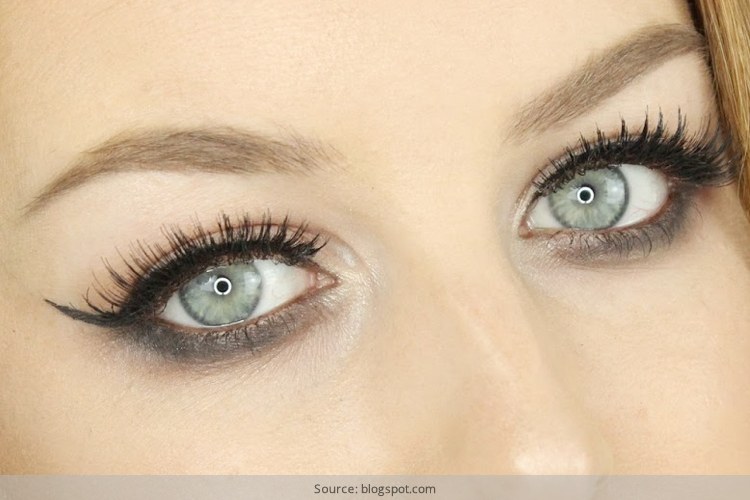 Now this is a trend where the focus shifts from the top lid to the bottom one, and you still get your mystery, drama and camera attention. Call it upside-down smokey or whatever, am talking about reverse smokey eye which has caught the eye of reality TV star Kim Kardashian.
[Also Read: Smokey Eyes For Brown Eyes: How To Glam Those Brown Peepers]
In the reverse smokey eye you get the flexibility to go rogue by dusting pigment on to the lower lash line as against the upper. It means your lower lash also gets a chance to be in the thick of attention. Jokes apart, if business is on top, its party on the bottom!
The first question that might come to your mind is has the reverse smokey eye been seen at the runways? Yes, at the show of Victoria Beckham's Fall 2015, reverse smokey eye trend made its point thanks to British make-up artist Pat McGrath's version of sexy make-up, wherein she created a smudgy reverse smoky eye on the lower lashline giving the eyes a mysterious feel. It also went in sync with the designer's effortless luxe appeal.
Tips On Creating Reverse Smokey Eyes
If you thought the beauty task of how to create reverse smokey eyes was difficult, I will make it easy for you through this step wise reverse smokey eye tutorial.
1. Once you have concealed the under eye, go ahead and prime the area with a primer. You can use Benefit Stay Don't Stray Eyeshadow Primer or Benefit The Porefessional Face Primer. This will make your make-up stay in place for a longer period of time.
Also, it is better to use concealer and powder as it will clean up whatever may have landed up on your cheeks.
2. Use a light shadow on your eyelids. Apply a pale pink eyeshadow to keep the element of contrast going strong. If you want a bold twist, then you can apply a bright shadow instead.
[sc:mediad]
3. Pick a black shade of eyeliner and apply it to your lower lash line. You can also choose brown to get a subtler look. Use the pencil liner along your lower lash line and waterline.
4. The trick to getting watery lustrous effect on your eyes is by putting Vaseline. Apply it on the inner corners of your eyes and across the eyelids till the crease.
5. Time now to soften the liner by using a small flat brush. Gently blend out your liner to avoid any harsh lines. Pay stress on the fact that your Reverse smokey eye and smokiness should look modern, not geometric.
Pick a shade of your kohl – it can be black, teal or navy, or something like the Maybelline The Colossal Kajal Super Black. Now apply it on onto the waterline, between the bottom lashes and the eyes.
6. Get a smudger for yourself in order to diffuse the kohl though the lashes. Take it down below the waterline, dab and smudge a bit from the center of your lashline till the very edge.
7. Finish of the look by swiping the Clinique Bottom Lash Mascara. Do it through your lower lashes, but remember to leave the top lashes bare. You can apply two coats of the mascara. While your eyes shine, give your lips some colour by going for pinkish-brown lipstick which will keep the lips an element of shine.
8. This is how you look with reverse smokey eye. Smoking hot, no?
Liked reverse smokey eye? Saw how to create reverse smokey eyes is not such a difficult task in your everyday routine. Tell us your viewpoints in the comments.