Dhoti pants remain constant throughout the season and assure maximum sartorial statement. One of the simplest methods to style this ethnic wear is to pair it with kurtas. The fitted, breezy hemline makes it perfect to wear it comfortably on all occasions. These pants are not only a stylish choice, but also have versatile styling options. For instance, pair it with a short kurta or a crop top and jacket for a touch of modern. Or if you want to go for something traditional, then pair it with a long kurta and dupatta. Or go for exaggerated dhoti options if you need that extra.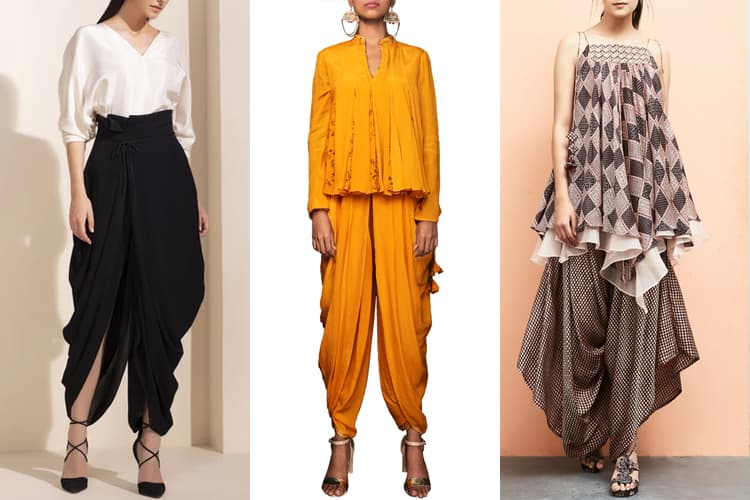 Best Dhoti Pants Sets To Make the Most This Season:
Scroll down to see our best 10 edit of dhoti pant sets:
1. Printed Dhoti Pants:
While you may not be daring enough to reconstruct an Indo-fusion look, these two combinations below prove that exaggerated bottoms can be sophisticated. You just need the sass to pull them off. Or skip the off-shoulder blouse and go for halter-necks for really posh occasion, or pull over an embroidered jacket for less skin show.
2. Pink Gold Floral Embroidered Dhoti Pants:
The best version of wearing dhoti pants is as part of a matching embroidered kurta piece that would make your BFF jealous. But if you're not willing to get your groove on yet, then balance it out minus the dupatta.
3. Lily Ochre Dhoti Set:
A lily ochre dhoti set would look fabulous with this matching beauty, while metallic heels with these pastel wonders would ease off sweet-feminine vibes and dramatize up the look.
4. White Embroidered Dhoti Set:
From desk to dancing at sangeet reception, wear these fine white embroidered bargains before throwing off the flats for heeled sandals come the evening.
5. Pink Pearl Embroidered Dhoti Set:
Potentially one of the styles most ladies like to indulge in at the moment-the pearly trend. As you know it has made a huge comeback. Thankfully, these dhoti pieces are not exaggerated but rather look cool straight out a 80s drama.
6. Black Paperback Dhoti Pants:
Be bold with an all-black dhoti pants and opt for a white top to break up the look a little. You want your dhoti pants to be the center-of-attention in this case, so a sober top that complements rather than distract, will be your best bet.
7. Lavender Embroidered Dhoti Pants:
If you're channeling the retro era, you want your dhoti pants to standout, so getting the right fit for your frame is essential. The lavender piece below is great to create more curves and attention.
8. Pink Dhoti Pant Set:
A flared pair of dhoti pant sets that elongates at the bottom is perfect for elongated frames. Look for fitting pairs, like these pink sets, to soften your look.
9. Aubergine Dhoti Set:
If you're fond of pop-up shades, then these dhoti sets are ideal. Just pair them with a pair of strappy heels and matching kurta, and you're halfway there. A looser bottom like this will also be suitable for busty girls who want to ease off their curves.
10. Bagru Printed Satin Dhoti Pants:
Or if you really cannot bring yourself to wearing cotton flares, go for a satin dhoti pant instead. These bagru printed bottoms are ever so slightly flared and would look fabulous with that statement heels you've been dying to wear.
These are our top picks of dhoti pants inspired by Indian embroideries and textile, reinterpreted by a modern aesthetic.