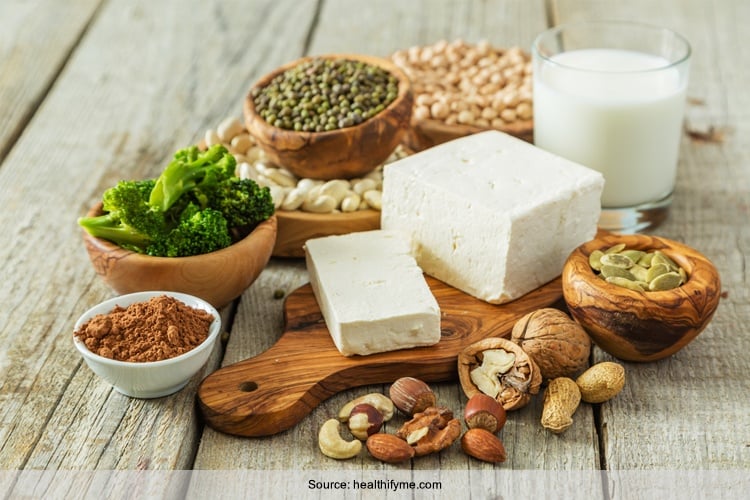 In today's health-conscious society, many people are focusing on eating much healthier and going meat-free. Not only are these food options more affordable and low calorie, but going vegan or veg is also good for the animal-lover in you.
Regardless of the kind of lifestyle you want to have – meat-full, meat-free or vegan, there is something that your body will need for repairing the wear and tear of the body and this is protein. Proteins are the repair blocks of your body and if you choose to be a vegan or a vegetarian, you have to understand that your dietary requirements change and you will need to have more protein-rich foods than your non-vegetarian counterparts do. The very simple reason is that the plant-based proteins are not well digested or absorbed by the body as well as the animal proteins. They are not that complete as 'animal proteins' and they are required in greater quantity for providing the vital nutrient to a vegetarian or a vegan person.
Research indicates that vegetarians should be eating about 10% more proteins than non-vegetarians should. This article will give you some idea of what are the different things a vegetarian or a vegan person should eat to satisfy the daily requirements of protein for the body. Remember, if you plan your food right, it can offer great nutritional dietary benefits. You will also get more antioxidants, magnesium, and potassium than a meat diet.
How Much Protein Do You Really Need?
There is a lot of debate on how much protein the human body really needs. Contrary to popular belief, it is not as much as people would have you believe. In reality, the recommended daily allowance of protein is 0.8 grams per kilogram of body weight (or 0.36 grams per pound) for the general population.
However, this may differ for people who are athletes because their requirements are a lot more than ours and they would need it to repair the wear and tear of their body faster in comparison to normal people. Many studies have done research on the amount of protein that is needed by the athletes. Endurance athletes need from 1.2 to 1.4 daily grams per kilogram of bodyweight, while strength athletes do best with 1.4 to 1.8 grams per kilogram. In order to understand this better, just remember this rule of the thumb – aim to get 15 percent of your calories from protein. We will explain this more in the later sections of the article.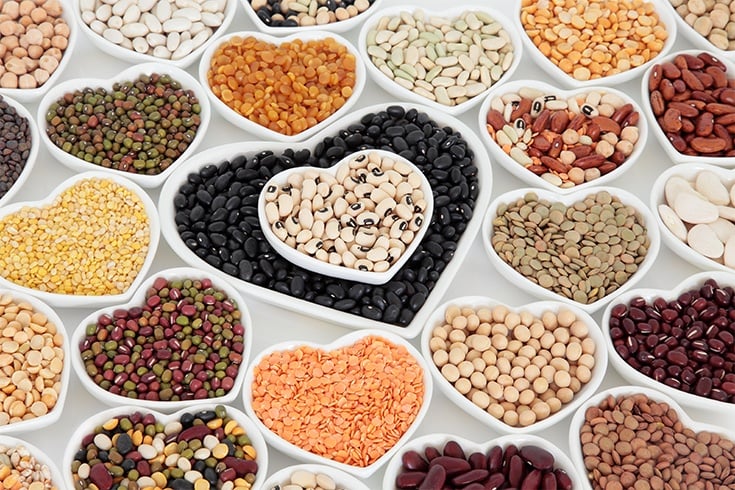 Where Do Vegetarians Get Their Protein From?
For vegetarians, getting the daily dose of proteins is a little difficult because they are off meat; however, if they plan their diet right, it is much easier. In this section we will give you all the deets about the best vegetarian foods you should have for your protein requirements:
1. Green Peas:
Some of the best sources of plant proteins come from foods in the legume family. Peas are good sources too and one cup of peas contains 7.9 grams, which is about the same amount as a cup of milk. It is important to note that women should get about 46 grams of protein per day, and men need about 56. If you are not okay with just having peas, you can have them in the blended form as pesto. You can also add peas to any vegetable dish for more flavor.
Here is one recipe you could try with peas:
Fresh pea hummus: Just combine walnuts, peas, garlic, salt and pepper in a blender. Process the mixture until it is smooth and serve on crackers. It makes a great side dish and appetizer.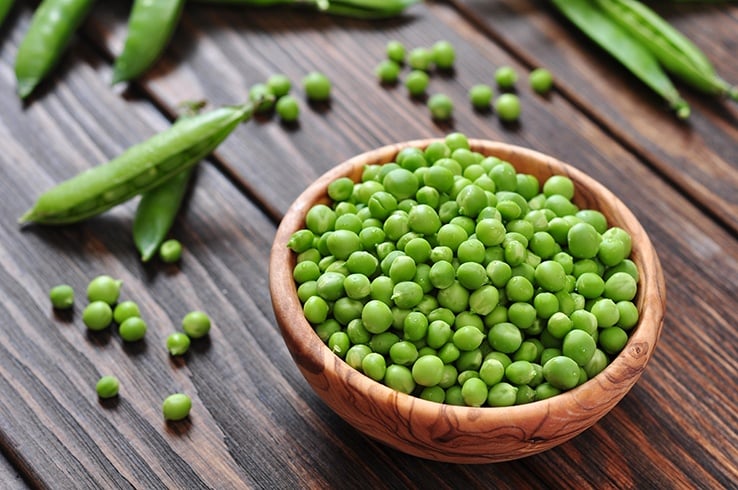 2. Quinoa:
This one is again a superb protein-stuffed food. One cup of Quinoa has 8 grams of protein and having it for breakfast or lunch can help you fulfill some of your daily protein requirements. For those trying to lose weight and give up on rice, this one is a great substitute and is known to be full of fiber, magnesium, manganese, and iron. Another great thing about Quinoa is that it is so versatile that it can be used to make almost anything – fritters, cookies and even cakes!
Here is one recipe you could try with quinoa:
Black bean and cilantro lime quinoa stuffed peppers: Remove the seeds from the bell peppers and boil them. Combine some quinoa and water and cook it. Stir in some lemon juice and cilantro in this quinoa. In a different pan, add some onions, garlic, and jalapeno and stir-fry for some time. Add some corn, the black beans, and some taco dressing into this mixture and stir well. Preheat the oven and stuff the bell peppers with this mixture. You can add some cheese while baking – the baking should be done for about 25 minutes.
3. Chia Seeds:
Chia seeds contain 2.5gms of protein per spoon and even though it is not enough, they contain essential amino acids that are very important for the body. Chia seeds contain the right proportion of satiating protein, fats, and fiber that helps stabilize the blood sugar. They are also very good to prevent hunger pangs. Additionally, they also contain ALAs a specific type of omega-3 fat. This can be very useful to decrease the risk of heart disease.
Here is one recipe you could try with chia seeds:
Peanut Butter Smoothie with Chia Seeds: When you would see this milkshake, you would feel you are committing a grave calorific disaster, but on the contrary, this one is a great way to reduce weight. Just add peanut butter, cocoa nibs, apple and almond milk together and blend all of them for a great breakfast drink.
4. Soybeans And Soy Products:
Soybeans are the biggest source of protein and just ½ a cup is enough to give you up to 21 grams of protein depending on what product you are having. The best part about soybean is that there are so many ways to eat them! An Indonesian dish called 'Tempeh' is actually the best way to have soybean, this one is a fermented dish – Just have half a cup of tempeh, and you will provide your body with about 21 grams of protein. Another solid way to get your proteins from soybean includes having it in the form of dry and roasted. It is a great snack and has about 18 grams of protein per serving. Soybean protein is a great way to boost muscle development, energy production, and carb metabolism.
Here is one recipe you could try with soybeans:
Stir-fry Tofu: This is the vegan substitute for paneer and packs a protein punch. It can act as a standalone snack or you can also have it as part of your lunch. Just buy tofu and stir-fry it with veggies of your choice – the more, the merrier. Use olive oil for more flavors add a pinch of soy sauce to pamper your taste buds.
5. Cashews:
Cashews are great as a snack and are healthy too. Besides these two benefits, they can also be a great source of protein. Per ounce of cashews (which could be approximately one fistful of nuts), contains 5 g of protein. Not just that, cashews are also a very good source of magnesium, and the presence of this mineral helps relieve constipation, boosts your immune system and at the same time supports cognitive function. It contains biotin that is needed by your body to keep your hair and nails healthy.
Indian Cashew Curry: This is quite a favorite curry in the northern and colder parts of the country. It is cooked like any other Indian curry with a generous dose of cashews. You can have it with roti or some fragrant or flavored rice. It is a complete meal. Cashews are also used as condiments in a lot of Indian households – they are used in Pulaos, in biryanis etc.
6. Almonds:
Another awesome snack, almonds pack in a punch and are a great way to get your daily protein dose. One ounce, that is about a fistful of almonds contain about 6gm of protein. Almonds are also known as the natural weight loss pill and having a calorie-restricted diet with almonds as snacks can help control your hunger pangs to a large extent.
Almond Smoothie: If you are not having enough nuts, you can chop in some almonds and drop it in your morning smoothie. Not only is it healthy, but it will also keep you fuller for much longer.
[sc:mediad]
7. Peanut Butter:
Do you not love the taste of peanut butter on your crunchy toast? However, you have to be very careful with the amount of peanut butter you are having in your diet. Too much can actually end up widening your waistline. Doctors recommend at least two spoonfuls of peanut butter in a day and this can help you get the daily dose of protein as well as minerals. They also contain many healthy fats needed for your diet.
Peanut Butter in your Smoothies: Peanut butter in your smoothie can be a healthy and delicious addition instead of refined sugar. Just drop in one teaspoon of peanut butter in your smoothie or in your oats bowl for a nutritious and power-packed breakfast!
8. Beans, Lentils, And Legumes:
These three – beans, lentils, and legumes are a very important part of our Indian diet. A lot of us have them in different forms and doctors and nutritionists believe that this is the best way to get your proteins, in case you are a vegetarian. Therefore, whether you are having black beans, kidney beans, or hummus, you are loading on some good proteins needed by your body.
Different types of dal and bean curry: Good for us Indians, we can have many dals in different forms. In every Indian household dal is a staple – so whether you are having chana dal, moong dal or urad dal, your daily dose will surely get fulfilled. Apart from that, beans curry or rajma or chole is also a favorite with many. These are very high sources of protein and can help you with your dietary requirements.
9. Green and Leafy Vegetables:
Though experts believe that green, leafy vegetables do not contain as much protein as other sources like lentils and nuts, they are rich in antioxidants and contain healthy fiber that cleanses and detoxes the system. A good amount of amino acids is added to your diet with an increase in the number of veggies on your plate.
Palak Paneer (Cottage cheese in Spinach Puree): A favorite vegetarian dish here, cottage cheese is added to a spicy and delicious spinach puree that can be had with rice or chapatti. A broccoli stir-fry can also be a great way to get your greens and proteins.
10. Ezekiel Bread:
Not readily available in India, but Ezekiel bread is a very healthy bread that is full of proteins. Ezekiel bread is actually made from a variety of protein-rich sources including sprouted grains, wheat, barley, beans, lentils, and millet. It is said to contain 18 amino acids—including all of the nine essential amino acids and one serving can give you 8 grams of protein.
Substitute normal bread for Ezekiel Bread: Instead of having the traditional white or brown bread, substitute them with Ezekiel Bread – not only is it healthy, but you are getting a good boost of protein effortlessly too.
11. Sun-Dried Tomatoes:
Normally, tomatoes are a rich source of lycopene – an antioxidant that decreases your risk of different kinds of cancers including those of the bladder, lung, prostate, skin, and stomach. It can also reduce your chances of developing heart and artery diseases. Sun-dried tomatoes can be a great condiment for salsa. Put it in your salsa or pop some in your sandwich for a complete health food.
12. Teff:
Not many of you might have heard of this grain, which is why we decided to call it the obscure grain! Teff is very rich in amino acids, calcium and strangely, Vitamin C – a nutrient that is not usually found in any of the grains. If you are one of those fancy grain-eating people, teff can be your calling!
Have a teff porridge: Substitute your daily oatmeal with teff and reap the benefits of this grain. You can also have it instead of quinoa or rice.
So there you go – that sums up our list of the best foods that vegetarians should be having to up their protein intake. Remember, most vegans and vegetarians become weak when their body does not have enough protein to fight back illnesses and age-related degeneration. Incorporate the above food items into your diet as much as possible to help your body cope with the wear and tear and stay fit. Do let us know which superfood is your pick from the list in the comments section below.