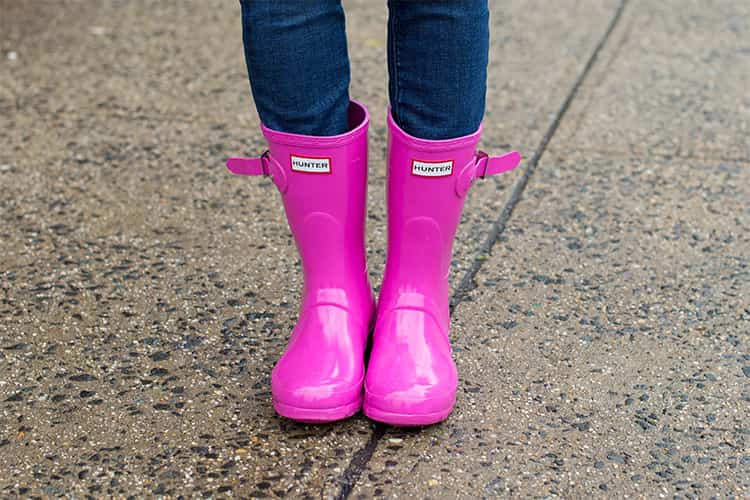 Everyone wants their wellies to be cute, but it's equally essential that they stop slipping and prevent your feet from getting soggy. We have listed our choice of top 10 wellies for women that have stood the test of time. Whether you are looking for clean, simple designs or colorful and stylish wellies, check out our list of top picks before you go out shopping for one.
Top 10 Wellies For Women:
Go ahead and select one that compliments your style to put your best fashion foot forward no matter what the weather is outside.
1. Hunter Women's Original Tour Wellington Boots:
The brand is synonymous with style for anyone who is looking for a pair of wellies hunter boots. This is the perfect foot protection to take for camping and rock festivals. The pair of rubber shoes is waterproof, comfortable, and sturdy. It is easy to pull on and off. The latest version has a foldable leg section. The top section of the boot can be easily folded down and wrapped around the base of the shoe. This can save space in your bag whilst packing. There is a range of boots colors to select from. Hunter wellies can also serve you for years so definitely the boots are worth a buy!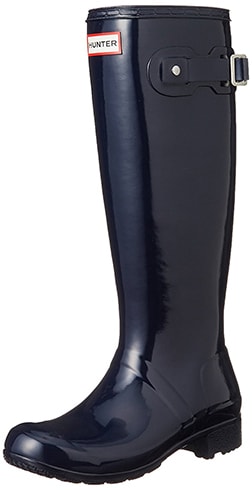 2. L.L Bean Tall Wellies:
With these pair of wellies, you can jump in puddles with a panache. These waterproof boots are available in both mid-length and ankle-length versions. The boots have a foam footbed for cushy comfort and a molded outsole that adds traction to avoid slips during the rainy season. You can easily pull on and take off the boot with its stretch panel at the back. In addition, the buckle and the strap can allow you to adjust the fitting. If you are looking for a perfect fit and firm footing, this one makes a great choice!
3. Barbour Blyth Navy:
These wellies rain boots are great for country walkers and those living in the city, as well. They are smart enough not to look boring when worn to work during a rainy day. The whole detailing of the shoe is made out of original leather. It also features a spare heel spur at the back. This can help in avoiding the one-foot hop while you are struggling to remove the second pair of welly in your hands.
4. Bogs Solid:
Bogs are known for boots that feature built-in handles which make it simpler to slip your foot in and out of the shoe. In addition, this pair of wellies is lightweight allowing you to put them on even on warmer days. Its insole also provides an antimicrobial protection to your feet from infections during inclement weather. It also has a slip-resistant textured outsole to keep accidents at bay. The sassiest of all wellies could be worn without socks for the best experience.
5. George Leopard Print Wellington Boots:
If you favor bold styles, then you will love these leopard print wellies. It is priced reasonably and is awesome to wear if you're looking for a super stylish yet pocket-friendly option. This is the perfect pair to purchase for college festivals and similar events. They have a calf level length and a comfortable grip. These pair of wellies can fend off the murk and dirt effectively and stylishly too!
6. ASOS Sparkly Glitter Wellies:
If you want something more glamorous than dark sober colors, then you try on the glitter pair from ASOS. You can carry these pair even when the weather is bad. Entirely groovy, they're made from PVC and are quite easy to clean. This pair can also add an element of fun to your festival ensembles and keep you in sync with the runway trends. The stretchy fabric on each side makes them simple to slip on while in a hurry while the glossy finish makes it easy to wipe them clean. But while they're awesome to wear, you might want to carry a replacement if the weather gets too rough. As these pairs can only cover your ankles, they might not survive thick mud. Instead, they can make an ideal party pair.
[sc:mediad]
7. Rockfish Tall Matt Wellies:
The Rockfish Tall Matt Wellies with a feminine silhouette is a beautiful footwear option and is a fashionable upgrade from your regular gumboots. These award-winning, slip-resistant wellies are great to strut around on city streets as well as on the farm! It is handmade from high-performance rubber and has got both style and substance. Though the rubber is waterproof this pair is not as slip-resistant as the others. It also has a comfortable outsole to help you step out in style even in wet conditions.
8. Joules Wellibob Ankle High Wellington Boots:
These cute and comfortable ankle boot wellies are great for working mums. It is available in navy printed colors. These boots are easy to put on and have a snug fit. Their designs are just as adorable as their name suggests. The polka-dotted designs and bright magenta detailing make them ideal for adventure trails during cold weather. These boots are not ideal for humid days because of their fur-lined cozy factor.
9. Muck Boots Women's Arctic Adventure Rain Boots:
Muck Boots are ideal for serious riders, walkers, and all outdoorsy lovers. These robust wellies rain boots are available in purple, green, tan, and black colors. These boots are of knee-height and are simple to clean. These riding boots look classy yet their rugged design makes them an ideal winner for us. So they are the perfect pair to carry out on a trail to a campsite, stables, and while going on a trip to the countryside. The combination of rubber and neoprene makes them easy to clean and quick to dry. They are well insulated making them comfortable to wear during cold days. The Muck Boots are also available in tall and ankle-length heights for less demanding weather.
10. Le Chameau Giverny Low Boots:
These stylish ankle boots have a slim body and sturdy features. They are available in colors like black, cherry, navy, and green. These smart boots look both elegant and comfortable. Its gum rubber sole has a strong grip no matter what the weather and terrain is.
You won't be able to stop showing off with our pick of top 10 wellies for women. They are undoubtedly the best for all weather conditions. Do tell us in the comments box which one from the above list did you finally pick.