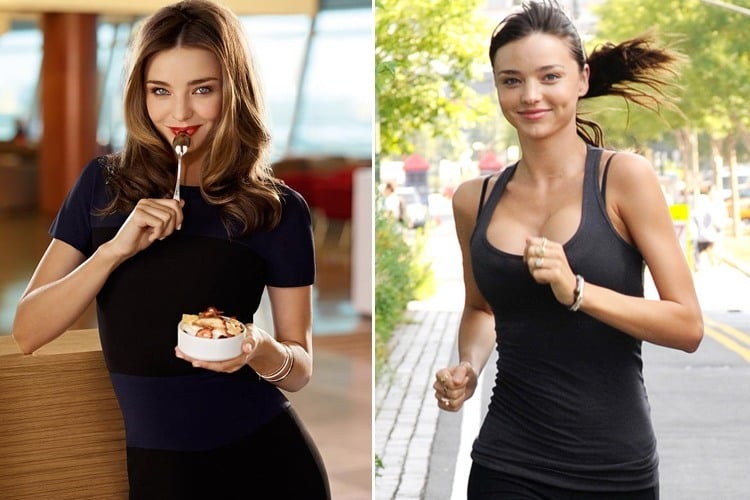 Her beauty is angelic and her youth is perpetual. Walking the ramp alongside girls who have not even hit 20, the 33 year old owns the walk making sure all eyes are on her. But being a mother of one, it doesn't come easy, and there must be a lot of hard work meant to go in one's schedule to keep that beauty continued and maintained.
Miranda Kerr Has An Extensive Workout Plan
Miranda Kerr has achieved that iconic slender frame by signing up for relentless effort and dedication and inspires envy in some and admiration in others. There are a few tips that her personal trainer shared with the world, and adopting these practices one might discover a slimmer and more toned up shape.
[Also Read: Gigi Hadid Fitness And Diet Regime]
Yoga Is a Great Escape
As yoga has been gaining popularity in the western countries lately, it was easy to guess that Miranda would have her share of liking for the practice as well. The model in a heart to heart session with Elle US revealed that she likes reserve her morning hours for working out in the morning and doesn't feel the hunch of engaging herself in exercising during the evenings. As per her conversation with Your Fitness, the celeb model tries to sit for at least a session of yoga for half an hour.
Weight And Strength Training Will Never Fail You
The yoga session is followed by some strength training with resistance bands and weights or Pilates that helps in elongating her muscles and also toning them. In her words, ""I like to exercise every day, but I mix it up. Sometimes I'll go for a walk or a run, or I'll do Pilates or resistance training. I may even just put some music on and let Flynn dance around while I hold the plank position for 10 minutes to strengthen my core."
Shape Yourself Up With The Ballerina – Get All The Moves
The Australian beauty, in addition to yoga strength training, relishes a love for ballet as well. She prefers this form of dance as it provides shape to her slender shoulders. Ballet also trains one to balance the weight of one's body into various moves thus extending arms legs and butts. The muscles also get into shape and the entire body is toned. Some of the moves Miranda practices to stay in shape are Fondue to Arabesque , Arabesque Pulses, Inner Thigh Splits to Sous-Sous, Side Lying Développé Series and Supine Grand Battements Series.
Miranda Kerr Is Very Particular About Her Diet
Breakfast – The internationally acclaimed model starts her day with a glass of warm water with lemon juice, followed by some green juice. She then takes a bite on eggs, glutton-free toast and avocado. A smoothie she loves to sip on after is made up of goji berry chia seed, and raw cacao. As shared with Body and Soul Australia, she also drinks a protein shake even before her normal breakfast. The green juice prefers should have Spinach, cucumber, celery and kale.
[Also Read: Kendall Jenner Diet And Fitness Routine]
Lunch – During lunch she keeps it simple with a spread of salad and chicken. Justin Gelbrand, a well-known Hollywood trainer, who has used to be Miranda's personal trainer earlier recommends that his models also take a serving of fruits with chicken or fish for lunch.
[sc:mediad]
Dinner – For dinner, the model would reach for a bowl of brown rice with sashimi. She also sticks to some veggies, turkey, and fish and avoids soy. As she told to Body and Soul Australia "quinoa salad with chicken cooked in coconut oil and turmeric, with a spinach and walnut salad". She tries to stay away from sugar and wheat generally.
[Also Read: Egg Fast Diet]
It was not unexpected that being a VS model would require straining determination. And Miranda abides by every rule she needs to, to stay in great shape. Being associated with the best fashion brands of the industry, she is one model to have earned fame and money that others can only dream of. Being a mother, she is exposed to the challenges and demands offered by motherhood, but she is not the one to shy away. She embraces every aspect of her beautiful life and stands up to be a role model for every aspiring model.