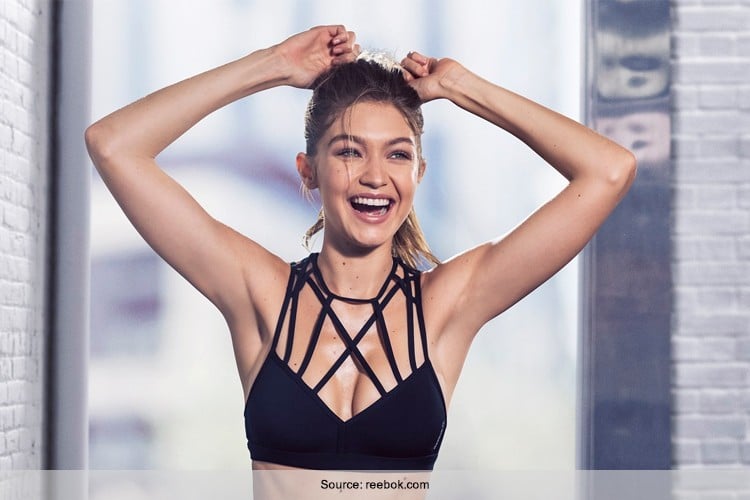 I am sure I am not the only one heartbroken that Gigi Hadid and Zayn has broken up. They were a super-hot couple and totally belonged together, especially after that scorching video of Pillow Talk. The super sexy model has been spotted with a puffy face in many high profile restaurants, but I just hope she doesn't get too high on chips, chocolates and other post break-up foods, because I'd hate to see her out of shape. Talking of which lets discuss how she achieved those deadly looks.
No fashion world serious follower is a stranger to Gigi Hadid. Right from being rejected by various model agencies as too fat, she has travelled to become the model for the Victoria's Secret Fashion Show! With a badaas attitude, she has carried her not so thin body to a near perfect figure with great oomph, style and attitude. Her serious weight loss has garnered her oodles of attention from the media and many women are killing to know the secret behind it. If you too are in the same boat, we move ahead to satisfy your urge by running down on some secrets behind Gigi Hadid weight loss journey.
[Also Read: Bipasha Basu Diet For That Perfect Bikini Body]
The daughter of yesteryear's super model and reality star of The Real Housewives of Beverly Hills, Yolanda Foster, has inherited that flawless face naturally, but genes are just not enough to make it big in the industry, specially when you have the likes of Miranda Kerr, Adriana Lima and Heidi Klum to get compared to.
Gigi Hadid Weight –Initial Stages
Gigi is candid about how she was rejected initially by the modelling world as being too fat and repeatedly being asked to get thinner. However, being an athlete and a strong individual, she refused to go for a waif like waist and argued that even a woman is allowed to have butts and thighs and feel good about it. Soon her views were accepted but she attributes her slimming down to losing her puppy fat. She believed that staying healthy and fit is the mantra to a super sexy body. A woman who works on her own terms, she is definitely one celeb we love to endorse.
What Kind Of Work Out Interests Gigi Hadid
The model says staying fit isn't a new thing for her and she had been in great shape since her school days. Thus, physical discipline is inbuilt in her and she has developed a natural craving for a hard physical workout session. She relies a lot on sports and played a lot of volley ball. The smoking hot angel also has a love for horses and rides them regularly, since she was a little girl. Staying in New York and her busy schedule might limit her activities but she makes regular trips to the gym. Also, missing volley ball in the city, she has taken up to boxing very seriously and is literally addicted to the sport. According to major new papers, the ace runway star is an expert in boxing. She calls it a perfect balance of cardio and resistance training. The adrenaline rush for her in the workout is losing herself completely into it helping her get both her mind and body in terrific shape. She feels that it is a terrific workout for the entire body and the core that it leaves you panting for more. Obviously, it satisfies that sportswoman urge within her as well. The credit for her boxing passion definitely goes to her trainer Rob Piela who is a former pro fighter. But before she puts on those gloves, she warms up by doing exercises like skipping and ladder training. Only then she starts punching the bag, real hard. Gigi is hoping to get better at it as the time passes by.
BFF, to Kendall Jenner, she starts her exercises with jumping rope that helps slimming down her never ending legs. Apart from skipping and boxing she also trains in some hard core exercise, and rounds it up with few ballet-inspired floor steps. Whoa – are we impressed or what? She swears by jumping rope as the best exercise to slim down the legs. Additionally, it is a terrific portable equipment to carry off anywhere and let the steam out of the body Post this, she gets into a 10 minute boxing warm-up session and then three sets of 40 rep crunches. This follows a high-intensity boxing session of 10 minutes and then three sets of bicycle crunches of 40 reps each. Another high-intensity boxing session of 10 minutes followed by a 60 seconds plank and finally four sets of leg raises of twenty-rep each!
The regime is called a typical three-to-one boxing ratio. She finishes the exercise with her cool down session of ballet-inspired session of floor exercises and dance. Gigi calls it an exhilarating and fun finish! But she honestly admits to her reluctance toward SoulCycle. She states that she has indeed tried it once but grew to dislike it soon. She is not up for the idea of being strapped to a bike and then keep an eye at the watch as she just can't enjoy herself doing that. It's safe to say the model isn't going to try it again anytime sooner.
While she performs these sessions thrice a week, she also indulges in yoga on other days. She feels yoga is terrific to build strength and stamina which has helped her acquire her current lean toned body. It also helps her get connected from inside.
Overall, it can be safely concluded, that Gigi Hadid weight loss regime is something that every girl can follow easily and get a body that will be the envy of all!
She Gave Away Her Fitness Secret
The former cover girl of Galore Magazine was generous to share a fitness secret as well. She is all about eating healthy and summing it up with regular workouts. Regardless of your workout method, she suggests on eating healthy all the time.
OMG! Gigi Loves Her Cheat
Having been the poster girl for GUESS, Gigi acknowledges the importance of "Cheat Days". They give you a good break from strict diet plan that might end up making you crazy. On an average cheat day she would hog onto anything ranging from cheeseburger to pasta to fries. But she does mention that cheat days could only justify if you are following them up with workouts religiously.
Smoothies Are All She Prepares
The kind of career she has needs her to plan her meals way in advance. She mostly does that when she is required to look super-hot for a campaign and works a lot for it. During such days, she prefers eating healthy and stays away from her favorite cheeseburgers.
[Also Read: Getting Curvaceous Body Is Not A Tough Task With Shilpa Shetty Diet]
Gigi Hadid Diet
The balance between Gigi Hadid diet and exercise is truly inspiring. Her favorite breakfast is scrambled eggs, bacon and toast with orange juice and coffee. Post her exercise session, she loves to dig into her favorite arugula salad. She loves to have a sushi and a drink for dinner and most of the time she loves to cook her dinner at home. For her in between meals and snacks, she loves to binge on acai bowls. Often her go-to snacks before a session in the gym constitute of chips and guac or carrots and hummus. She stresses on the importance of going for a bog meal after an exercise session. Above all, staying hydrated at all times by drinking gallons of water and fruit juices. Her occasional indulgence is pasta and ice-cream. Gigi Hadid weight loss is definitely not about starving or depriving oneself but eating healthy and satisfying your cravings in a healthy way. Appealing! Isn't it?
[sc:mediad]
It is hard to believe, but despite her busy schedule, she prepares her own meal, particularly because she wants to eat healthy. She admits that she isn't great at it, but her smoothies are okay, and that is what she sticks to most of the time. When she doesn't have the time to prepare, she opts for healthy outlets and her favorite is Juice Press which is at close proximity to her house. She also consumes Spicy Citrus regularly, especially when she is at the gym because it helps in heating up the body.
We thus understand that our favorite celeb isn't very secretive of her fitness and diet plans and shares the same with her fans willingly. Try out her routine and let us know if it helps you achieve the dream body.