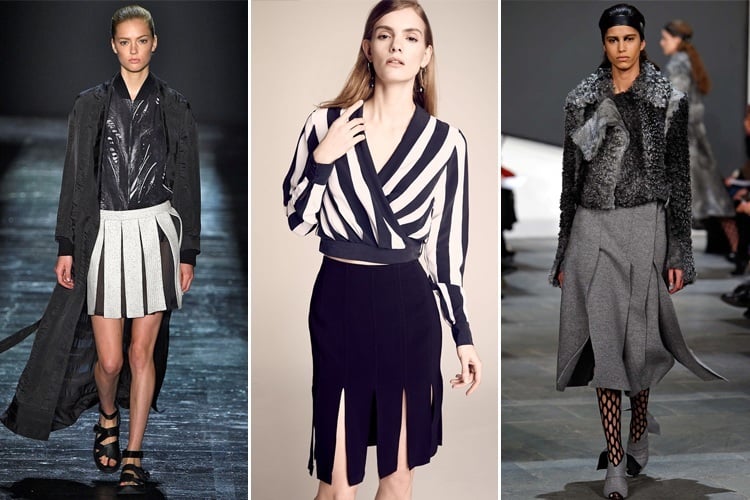 It's stylish, it's slick and it's perfect for the chilly days of spring & autumn. Car Wash skirts goes back all the way back to the 1920's and had made a comeback in the 1960's, 1990's and in this decade once again! This classy high-slit skirt keeps making its way into the fashion industry.
[Also Read: Awesome Ways To Wear Plaid Skirt Outfit]
What Exactly Is The Car Wash Skirt?
It is a skirt which has many lengthy fabric panels that have been segmented with slits. It is sleek and twirl-y, hence it allows easy movement.
So How To Wear The Car Wash Skirts?
We're here to give some great tips on what to combine with them.
Modern Outfit Ideas For Car Wash Skirts
1. The Cropped Outfit
Simply adorn a comfy crop top or cropped sweater along with your high waist car wash skirt. Correlate this outfit with a pair of lace up flats. Spotless wear for office.
2. The Bandeau Bra Outfit
Style your skirt by pairing it up with a bandeau bra and with a sheer top or leather jacket. It looks swank yet gives a defining look. Grab a clutch and a pair of chunky footwear. Now you are party perfect.
3. The Sweat Shirt Outfit
Style your car wash skirt with a sweatshirt made out of velvet. Choose a deep colour for the sweatshirt, such as navy blue or a ruddy shade. Put on sneakers for the cheerleader effect.
4. The Leather Jacket Outfit
Portray your bold demeanor by simply donning your sensual leather jacket with your car wash skirt. Wear pencil heels or clunky wedges, to keep the garb resolute.
5. The Chambray Shirt Outfit
Select out crispy chambray shirt and wear it with your skirt. You could even tie your shirt up from the waist and pull a printed jacket on top. This is the gorgeous brunch vestment you desired!
6. The Blouse Outfit
For the weekend appeal, enrobe your car wash skirt with a blouse. To complete the whole look put on a pair of boots and a statement necklace.
7. The Button Down Shirt Outfit
Just wear a vintage button down shirt with your high waist skirt. Bedeck yourself with a few pieces of jewelry and slip into some ankle boots. And you are office ready!
[Also Read: How To Style Your Sequin Skirt Outfit This Season]
8. The Overcoat Outfit
For the 90s getup team up a gray skirt with an overcoat. On top of this put on a cream coloured cardigan. Tie up the whole ensemble by sliding in to a pair of clogs.
9. The Tights Outfit
Have a pair of patterned tights? Simply don it along with your car wash skirt. Select out a cashmere skirt to make it foolproof for the winters.
[sc:mediad]
10. The Tank Top Outfit
Portray the everyday look by teaming up your skirt with a tank top. To furbish the look put on some slippers and some shades.
11. The Off Shoulder Top Outfit
For a light getup enrobe an off shoulder with your car wash skirt. Choose the top of block colour for a formal look and bright funky colours or patterns for a more casual one. Just jump in to a pair of heels.
Those were some fantastic ways to wear the skirt. But if you don't own one, did you know you could make one yourself!? So let's have a look at how to make your own DIY car wash skirts –
Put your skirt on. Measure and mark how high up you desire your car wash wings to come.
Take the skirt off and arrange the side hem so that the skirt is lying horizontal on your table.
Calculate the length of your flaps and make a marking on it with chalk. You could use the pattern of the skirt to help cut your strips in straight contour or you can use the chalk to draw lines all the way up the skirt (whichever you find more convenient).
Snip along the chalk marks all around your skirt.
To avert from the cloth coming undone, fasten the ends with some glue.
It's that easy to make!
So you have an idea now of what to put on along with a skirt and also how to make your own car wash skirt. These skirts come in varying lengths – from mini skirts to long ones. Have fun mix and matching these outfits and attaining that perfect look!