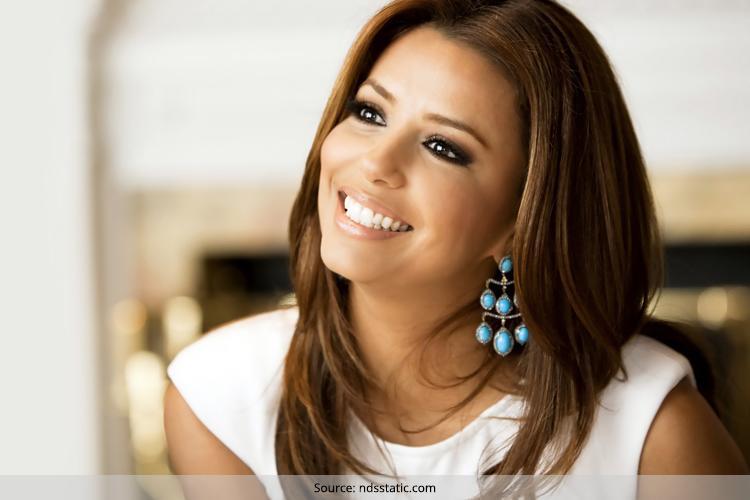 Eva Jacqueline Longoria or better known as Eva Longoria, height 5′ 2″ and hailing from Corpus Christi, Texas, U.S.A, the versatile and very talented yet quirky and elegant actress has stolen many nights sleep of men around the world. The grown up diva from the ranch in Texas, and a Science graduate too, was first noticed at a talent contest in LA, USA. The theatrical saga began after a signing spree and Eva thus surfaced into the world of tinsel town with the famous sitcom of the 80s, 'The Bold and the Beautiful'. The 90s saw her appear in the famous Beverly Hills 90210, and yes of course, how can we forget her naughty, quirky and wild stint as the nymph-housewife in the famous 'Desperate Housewives' series that hit every home across the world in 2004- Gabrielle Solis, remember that name?
Beautiful Eva Longoria Images
Sensuous and Gorgeous
All in blue, a summer coat for the top and hot blue shorts for the bottoms, with sexy peep toes for the feet, Eva steals the street with her haute hotness! Eva Longoria's Tuxedo Short Suit Style, rocks!
Eva Longoria in Shirt and Shorts
Says who the petite framed woman can never wear dress shirts and a pair of shorts? The peach and white combo makes a stunning affair for real, and when worn with nude pumps for the feet, minimal accessories and a quirky smile to flaunt, you too could emulate the naughty diva! Notice the Kymerah Bracelet, Cartier Shoes, Jimmy Choo too!
[sc:mediad]
Off-Work and All-White
Check her out with the minimal touch and yet so fashionable, Eva Longoria rocks the street look on an off-work day with an all-white look. She looks fabulous for sure, and the concept works well for the Indian summer climes, work or at play!
Cute Eva Longoria and Simple Too
A pair of denims for the legs, a nice powder top and a sexy bag for the hands, Eva dresses for the girl next door who needs chores to complete! She doesn't sport too much bling, other than a pair of shades that keeps her eyes covered and protected!
All Things Haute
Designer wear from top to toe, but who would say so! Eva sports a jacket from Reese + Riley, and shoes from Christian Louboutin, while the purse is courtesy Chanel. Heart the look ladies, emulate it now and create your own dramatic fashion ways!
[Also Read: Kate Middleton Style]
Tote and Sandals
Perfect for a girls evening out, Eva shows you how to dress with minimal touches and yet the super-sexy glam look. With a cute tote bag in hand, Eva wears a sheer top over a camisole and skinnies for the bottoms!
Glam Cocktail Look
With shoes from the famous Brian Atwood and a sexy Philosophy di Alberta Ferretti Spiced Coral Wrap Dress and sensual shades for the eyes with cat-eye frames, can we afford to ignore the drapes on this sexy coral number?
Eva Longoria in Black
No one wears the shade of black on an all-black monotone look, as sexy as what Eva does. The sensual actress made a statement in 2011, wearing black pumps, blue glasses for the eyes and a large bag for the hands to doll up with. The all-black suit was a rage!
Camel-Hued Shorts
Sport the camel-hued shorts like Eva Longoria, with sexy heels to flaunt those legs and to make you look tall and haute too. The hotness factor comes about with the blazer that flows feminine over the top and on a frilled dress-shirt! Style, glamour, fashion and chic comfort, all packed in one with a sense of all things wild too!
Green and Tan
We wonder who she's wearing here, but the green long sleeve dress and tan shoes are hotness factors that makes the look complete. Eva sure romps her style with minimalism and yet looks every bit the diva we would want to follow!
Wonder why the men go gaga over her? We have shown you many reasons!