Does your glittering nose ring come in your way whenever you go for a thorough makeup session? Do you always feel confused about how to do nose piercing makeup? Now, forget all worries. Here is a detailed process of how to apply makeup around a nose piercing perfectly.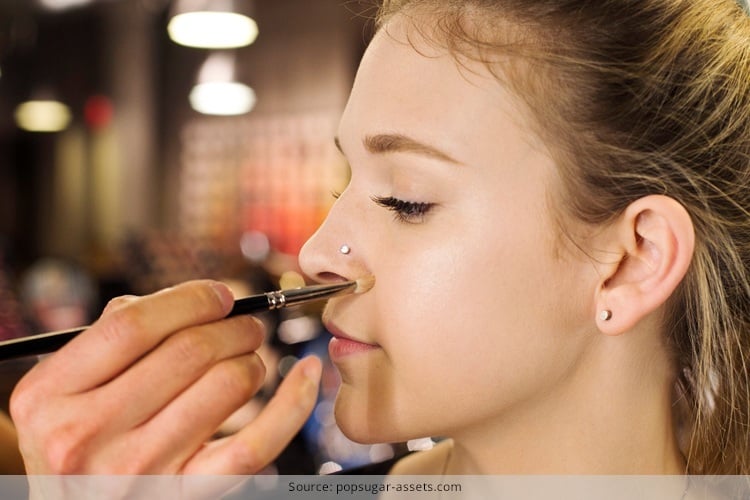 For nose piercing and makeup, continue reading
Have a look:
Things to Need for Nose Piercing Makeup
No, you don't need a whole lot of makeup products and tools to prep the skin around your nose piercing. It is a simple task of few minutes and requires only a couple of supplies.
[Also Read: Belly Piercing]
Check out them below:
A high-quality foundation (it should be lightweight for ensuring an easier application and must give excellent coverage as it is not possible to apply lots of products on that small area)
A foundation brush (you may go for the angled one, which is just perfect for using around a nose ring)
[sc:mediad]
Steps to Follow to Apply Makeup Around a Nose Piercing
Got your favorite foundation and the brush for applying it? Great! Just get ready to prime the skin around your nose piercing and add more bling to your dazzling nose ring.
[Also Read: Makeup Tricks]
Here is a breakdown of the makeup tutorial and trust me, the entire process will take very little time:
Take your angled foundation brush and dip its tip into the foundation carefully. Do not dunk the entire brush as you do not need the product in huge amount. The area around your nose piercing is really small and taking the foundation just at the tip of the brush will be enough for covering it the right way.
Apply the foundation gently around the piercing. Do not rub the brush against the skin. Rather, tap the tip of the brush quite a few times to cover the entire area. If you take an angled foundation brush, the task becomes really easy as the angled bristles help in applying the product exactly where needed.
Now, use your clean little finger to blend the foundation properly. Try not to go towards the piercing itself. Also, avoid using the brush onto the nose ring to keep the glow of the jewelry intact.
…..and, voila!
A Few Alternatives…
So, priming the skin around a nose ring is quite easy, right? Well, we have something more for you. As you have seen, you need a foundation and an angled brush for brightening up the skin around your nose jewelry. But what if you are not that fond of foundation or simply don't own an angled brush? Here are a few alternatives that will help you shake off these concerns:
[Also Read: Nose Rings You Will Love]
Replace the foundation with a concealer of medium coverage. This is especially helpful if you have blemishes around your nose ring. Many concealers even come in lipstick-like twisted tube packaging, which is good for precise application.
You may use a clean cotton swab or a Q-tip for applying your foundation or concealer to the skin around your nose piercing. This is one of the cheapest makeup applicators that can also be availed very easily in the market.
If you want to avoid using your finger for blending the makeup, go for a tapered blending brush. This works like magic and blend the makeup perfectly into the skin irrespective of the area.
Don't Forget These……
Last but not the least; you must take some preventive measures while applying makeup around your nose ring. It will help you stay away from all sorts of infections and make the method absolutely fun as well as hassle-free. Check them out here:
Do not apply makeup right after getting your nose pierced. The skin in that portion will take time to heal completely. If you start using chemicals onto it before that, you may end up increasing the risks of developing infections. So, if you have had questions on does make up infect nose piercings, we have cleared that bit now.
Be clean and hygienic as much as possible. Whether you use a makeup brush, a q-tip or your own finger, always ensure that they are completely clean. Each time you use your brushes or applicators, clean or disinfect them properly. You can learn how to clean makeup brushes for best results.
Just the way you keep your makeup products and tools clean, it is recommended that you take good care of your nose piercing too. Never ever go to bed with makeup around your nose ring. You can soak a Q-tip in some lukewarm water and wipe the skin around the piercing carefully with it. There should never be any sort of makeup inside the piercing itself.
So girls, are you still feeling doubtful about nose piercing makeup? Not at all, right? All you need to do is follow the right technique and you will be ready to shine in your beautiful nose jewelry!
Hope this article on how to apply makeup around a nose piercing is helpful.