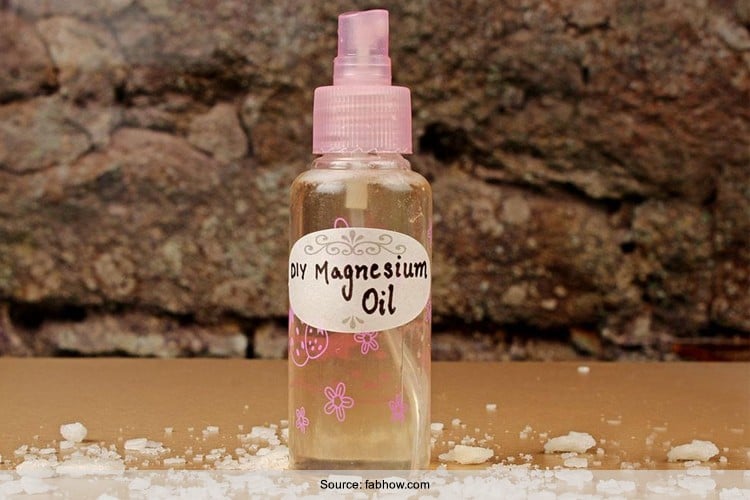 These days, wellness is on the mind. Everyone's mind. Whatever we eat, it hardly gets absorbed by our body. Tired and achy we all are, most of the time. Does that have anything to do with magnesium deficiency? Perhaps, yes.
Magnesium deficiency has been declared by qualified medical practitioners abroad as a "silent epidemic". This is one reason why most of the informed people are turning to magnesium oil – to get the magnesium they need (either as magnesium oil available at the stores or in the form of a solution which can be made at home).
Interesting fact –
Magnesium Oil is not an oil if you thought so. What is the origin of this name then? 'Cause when magnesium chloride flakes are mixed with water, the solution looks oily. Got it?
Some more facts about the magical mineral magnesium:
Magnesium is present in every organ of the human body.
It is an abundant element on Planet Earth.
It is found in dairy products, nuts, vegetables, fruits, grains, drinking water (unfiltered).
In the health and wellness section, the magnesium oil has been used in mineral baths, mud packs, herbal compresses, etc.
Let's find out why it is needed in the first place.
Why Do We Need Magnesium Oil?
Just like our calcium deficiency, most of us are deficient in magnesium too. This element – magnesium is so critical to our body that just eating dark veggies and nuts (which are magnesium-rich foods) is not sufficient. That is why we need to know about magnesium oil benefits – so that we can explore the easiest and most effective way to increase magnesium levels in our body.
Magnesium oil is an old home remedy for daily ailments – and you will be surprised reading about it. It not only helps decreasing stress, it improves sleep, boosts performance levels, improves skin quality, and brings relief from diabetes and hypertension.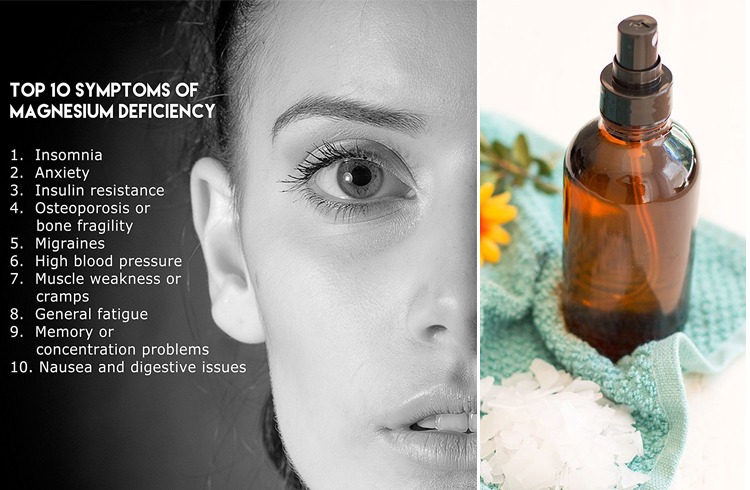 Wanna know more about the benefits of this oil? Plenty of them below…
Health Benefits Of Magnesium Oil:
Let's see how this magic potion works wonders does for our health:
1. Up The Magnesium Levels In Our Body :
What is the goal of magnesium oil? To increase the magnesium levels in our body. According to a 2010 study, those who used 'transdermal magnesium therapy' (meaning magnesium soaks either in the form of magnesium flakes or Epsom salts) or magnesium spray for 12 weeks showed more than 25% increase in cellular magnesium levels. This is the best way to get the requisite mineral dosage as magnesium is hard to get in food and water.
'Transdermal Magnesium Therapy' mentioned above is also called 'Topical Magnesium Therapy'.
2. Smooth Skin:
Along with 'dry brushing', magnesium oil is good for healthier skin. It helps reduce skin irritations (which are stress-related) such as acne and rosacea (adult acne). Use magnesium spray at night and wake up to smooth skin which is free from breakouts.
3. Ease Muscle Soreness:
Guess why some athletes swear by magnesium when it comes to post-workout recovery? Credit goes to magnesium spray which helps reduce muscle cramps and replenishes the levels of magnesium lost from the body via sweat.
4. Relief from a Migraine:
Those who suffer from a migraine have lower levels of intra-cellular magnesium at the time of an attack. But regular magnesium supplements can reduce the frequency of the migraines.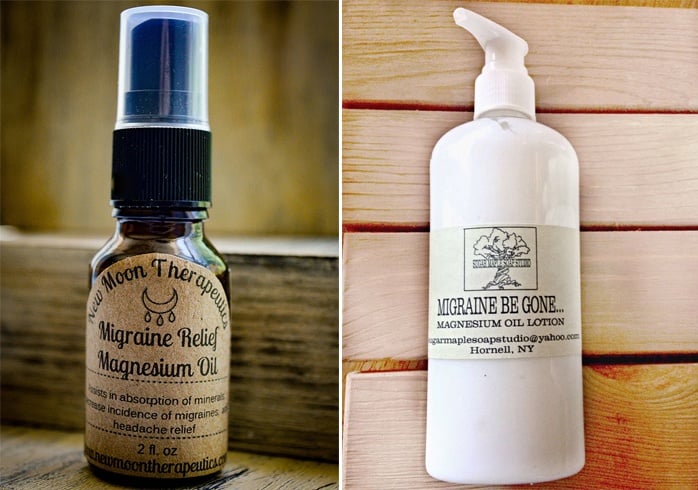 5. Regulates Diabetes:
Diabetes, when poorly controlled, leads to an increase in the glucose levels in the urine. This, in turn, reduces the magnesium levels of the body and has a major impact on the insulin resistance. Maintenance of proper magnesium levels is helpful in diabetes management.
6. Improves the Quality of Sleep:
Magnesium relaxes the GABA receptors in the brain and nervous system. This promotes a 'slow down' needed in order to sleep well.
There are other ways in which magnesium oil proves to be beneficial.
Protects against brain damage in premature infants.
During pregnancy, the magnesium oil helps combat morning sickness.
Helps to maintain a hormonal balance
Reduces PMS (premenstrual syndrome) symptoms
Prevents Osteoporosis
[sc:mediad]
How To Use Magnesium Oil:
As mentioned in the beginning, magnesium oil can be bought at the stores or online and can even be made at home.
But yes, whenever you start using magnesium oil, do it daily.
Here are some DIY ways to get the most of magnesium oil benefits:
Spray: The most common method to get the vital mineral is to use the magnesium oil spray. When the skin is clear of oils or lotions, that is the right time to use the magnesium spray, you can use it right after a shower. Then rub the liquid magnesium on the skin and let it get absorbed for about 30 minutes. Though you may experience an uncomfortable tingling sensation after using the magnesium oil spray initially, with subsequent sprays, it will peter down.
Massage: Massage as you know always helps in promoting blood flow. It also helps maximize the absorption of magnesium oil.
Sports Rub: To create even more potent oil for sports massages, you can add wintergreen essential oil to the magnesium oil.
Bath: Soaking in magnesium chloride in a hot bath, is a good alternative to direct application.
Foot Soak: FOOT BLISS! When you soak your foot or legs in warm water treated with magnesium chloride, you will love this relaxing foot soak.
Deodorant: The magnesium oil benefits are such that this oil works as a non-toxic deodorant. But never apply it to freshly -shaven skin, as it can cause irritation.
How To Make Magnesium Oil At Home:
Here is how to do it!
Ingredients:
1/2 cup magnesium chloride flakes
1/2 cup filtered water
Directions:
Boil the water first.
Turn off the flame and stir the flakes till they dissolve completely.
Once it cools down, transfer it into a spray bottle made of glass. Now, It's ready to use!
Now you know the multiple benefits of magnesium oil. Do you have any plans of using it in your health and wellness routine? Please share your ideas with other health enthusiasts here.