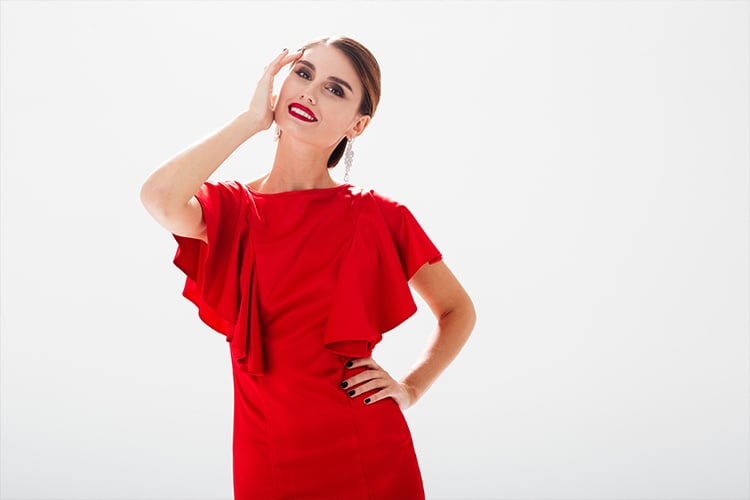 When you wear a red dress to a festive occasion, wedding, prom, an evening out or even to office, you are surely bound to turn heads. And if you have worn the right makeup for red dress, you will look stunning in no time.
Couple of questions are likely to hit your mind when red is your dress code – what is the ideal prom makeup for red dress, what lipstick to wear with red dress, what makeup to wear with a red dress and makeup ideas for red dress.
[Also Read: How To Wear Red Dress?]
Makeup For Red Dress Tutorial
My lord…so many questions regarding best makeup for red dress! But worry not, as I take you through makeup for red dress tutorial. Give it a read till the last word so that you are more equipped to handle makeup for red dress whenever you get a chance or an occasion in the near future.
Match Your Red Dress With Skin Tone
Often we girls (blonde or brunette) end up making the mistake of matching our red dress with hair colour. That's a wrong take.
You need to concentrate on matching your red dress with your skin shade. Just to give you an example – pink to red tone dresses and lipsticks will suit girls with blue-red skin tones. On the other hand, orange-red dresses and lipsticks will suit ladies with darker Asian and Mediterranean skin tones.
Highlight Your Lips Or Eyes, Not Both
You know how red is a vibrant colour. So when it comes to makeup for red dress occasions, avoid wearing excess of makeup, for example bright red lipstick, and heavily made up eyes, as they both will make you cut out a sorry figure.
To avoid looking vulgar, choose one of the two only – either lips or eyes. Also if you don't wear makeup at all, you could give a washed out look.
Apply Foundation Lightly
When it comes to makeup for red dress, never overdo whenever you are putting foundation. Applying it lightly is the best key. The foundation has to match or even out your skin tone after all. Make sure it blends well and doesn't leave any 'tide marks' under your chin or jawline.
[sc:mediad]
Smudge-Proof Red Lipstick Can Be A Good Choice
If red lipstick is on your mind with your red dress, then make sure the lipstick is smudge-free. As it so happens, red smudges show more dramatically than neutral colored ones.
Go for smudge-resistant red matte (non-shiny) lipsticks rather than glossy ones. If you ever feel a red matte getting to be too severe, then opt for a red satin lipstick.
If you want to avoid red lipstick marks leaving their pesky marks on glasses or cups, then blot your red lipstick with a tissue once you have applied the lipstick.
Before Applying Lipstick, Go Ahead And Do Prep
You need to prepare your lips first before you apply red lipstick. And for this, dab some foundation around your lip area and over your lips. This will bring down any redness and help in well-defining your lips.
Use Lip Liner To Prevent Red Lipstick From Bleeding
Buy a wax-enriched lip liner preferably in the same shade of red lipstick you want to put. The job of this lip liner is to stop the red lipstick from bleeding into the skin around your lips.
Once you are through with drawing around your lips, use a lip pencil to color them. This will secure your lipstick.
[Also Read: Ultimate Lipstick Shades For Red Dress]
Use Lipstick Brush To Paint On Your Red Lipstick
Whenever you are putting on a red lipstick, application mistakes are bound to show up. So it's best to use a lip brush to paint over your red lipstick for better precision and control.
For Neutral Lips
Coming back to what lipstick to wear with red dress, if you are not keen on wearing a red lipstick, then pursue a natural look on your lips. It means choose a 'nude' shade of lipstick which comes close to your natural lip color.
So how did you find this makeup for red dress tutorial? Hope it sorts out your queries. Let us have your replies in the comments section below.