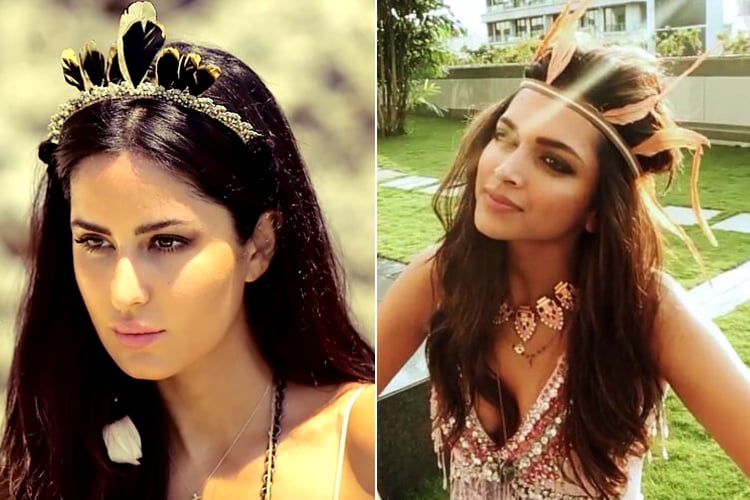 Bring on your flower crowns, bandanas, graphic tees, and sunnies; this is the season for retro boho love. If you are more into looking sassy without fretting much around your appearances, then you are a true bohemian at heart. To celebrate that aesthetic outlook of yours, here is a rundown on celebrity boho-hair ideas. Read ahead, and get inspired!
Carousel Braids
This boho-hairstyle works for those with long hair. Those with shorter hair can experiment with hair extensions. Actresses like Shraddha Kapoor and Kriti Sanon experiment with numerous hairdos depending on their shoots. We love their take on carousel braids particularly.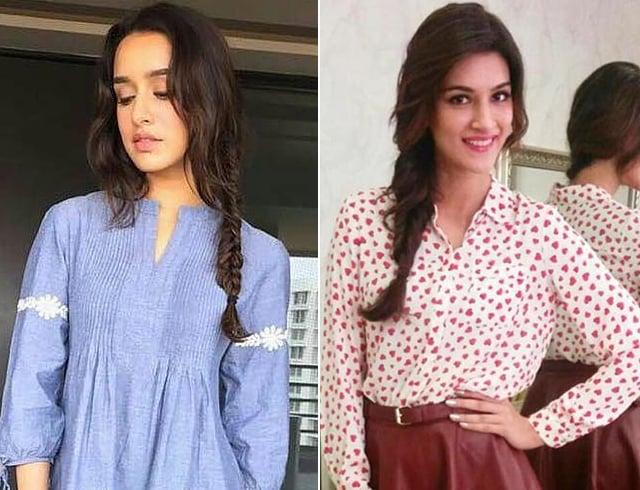 If you love this look, then you can try following these steps:
Part your sections above your ear on one side. The other side should be reserved for making your braids.
Divide your hair into three sections and start with a Dutch braid (a Dutch braid is where you switch the outside strands beneath the middle section)
After four stitches of Dutch braid, switch to a lace braid (a lace braid is when you add in new hair sections to only one side)
Finish the look with a regular three-strand braid
Next, bring this braid around the other end of your parted hair sections
Using the same braid, make three sections and start with a lace braid
Continue with the lace braid until it reaches the other end. Then, finish off with a three strand braid again
Next, begin wrapping the hair around your hair over your shoulder. Repeat with the same steps until there is no hair left to braid
You can tie your hair with a ribbon for a cute touch up
You can push, play the video link below if you are a fresh starter with fresh braids.
Boho Tight Pigtails
If you like Sonakshi Sinha's boho pigtails, here is what you need to do:
Part your hair into half, possibly into two sections. Start with loose braids on either side. You can give your braids an extra texture using the bristles of a comb against your braids
Retro Halo Braid
This is one of the retro braids you totally make yours. Actresses Deepika Padukone and Alia Bhatt are seen sporting halo braids in the image above. If you want to achieve the look, here is what you can do: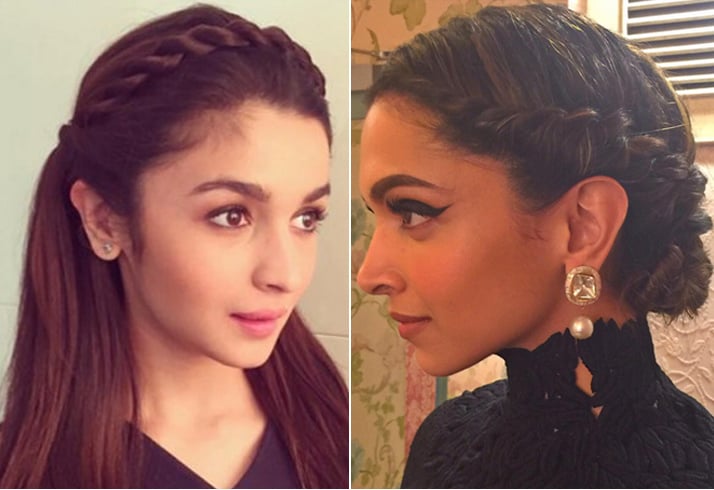 Start by parting your hair from the middle
Then, start with Dutch braiding your hair starting from the nape of your neck preferably from your left side
Repeat the steps until you reach the section you started from
Secure the hair ends by tucking it below the braid
Secure your brand new hairstyle using a bobby pin
Pay Attention to Hair Accessories
Flower Crowns for Tousled Boho Hair
Virtually, most celebrities have rocked tousled hair pervasively for major events. Actress Bipasha Basu looked pretty in pink at her mehendi celebrations. Her tousled hair is a classic boho hairstyle. You can work this look with hair accessories like flower crowns and chain necklaces. This is a good reason for you to achieve a tousled hair look. Here are few steps you can follow up with:
[ Also Read: Hairstyling Ideas with Feather Cut ]
Wash your hair with products that help moisturize your hair and minimize frizz
If you have wavy hair, then stick to towel-dry and spritz on a spray gel to control flyaways. If you have fine hair, use a large squirt of volumizing mousse, while hair is wet
When using a blow-dryer, do not touch your hair too much. It can cause frizziness. Flip your hair out for best results
Use a small round brush, as you blow dry sections of your hair. Then slowly roll away the brush from your face.
Next, take a curling iron and wrap one-inch hair sections each. Start from midway leaving the roots. If you like a more natural tousled look, then you can curl your hair randomly taking several sections in diverse directions
To break up the curls, smoothen out your hair using your hands
head scarf Roll Look
This hippy head on accessory is so right for the music festival or beach days. You can dress up your hair giving a hippie twist by accessorizing it with different head scarf roll look.
[sc:mediad]
Look up as how Sonam Kapoor, Aditi Rao Hydari, and Nargis Fakhri have rolled up their mane to beautifully frame their face. This bohemian style of pairing a cool head scarf will accentuate your best face features so you should definitely go for it.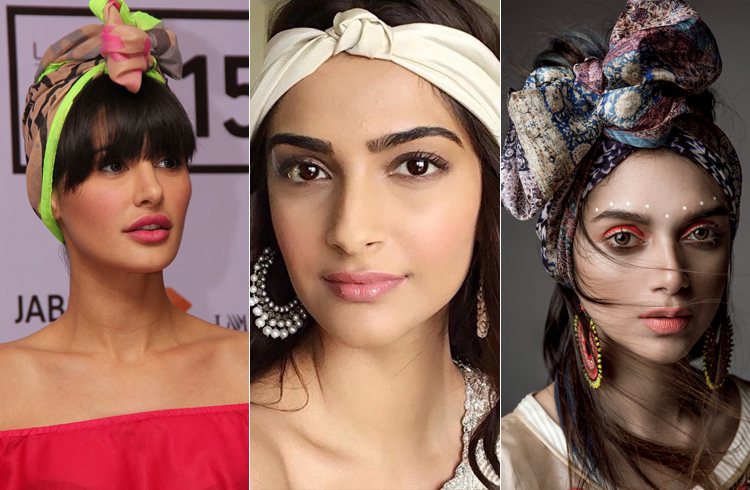 single band for sleek hair
A single headband can give your sleek hairdo a bohemian touch. You do not have to overtly style your hair for this. Any simple hairstyle decorated with a single band can give the wearer a balmy look.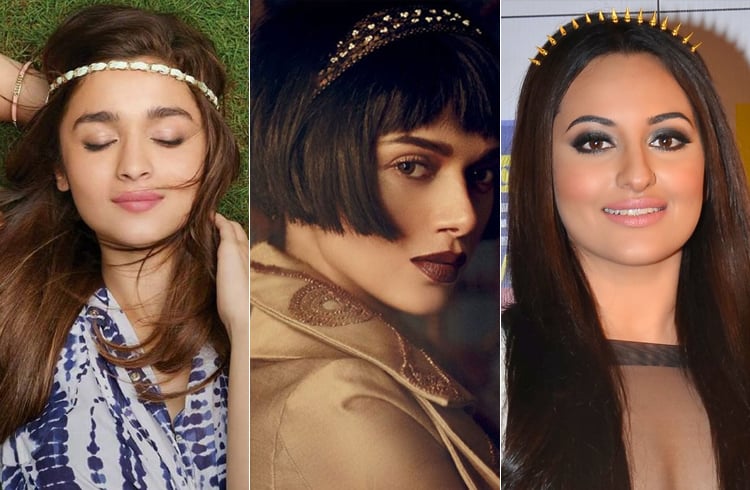 A gold hair band like Alia Bhatt can go well with girls with colored blonde hair
Earthy tone hair accessories are highly recommendable when it comes to hair accessories
Single Band for No Heat Natural Waves
If you are a boho at heart, then you care less about styling tools and always up for last minute plans. For that, you not only need the simplest hair accessory but a quick hairdo that suits your personality. Hence, no-heat natural waves set the tone for you. Here is a tutorial on how to achieve it: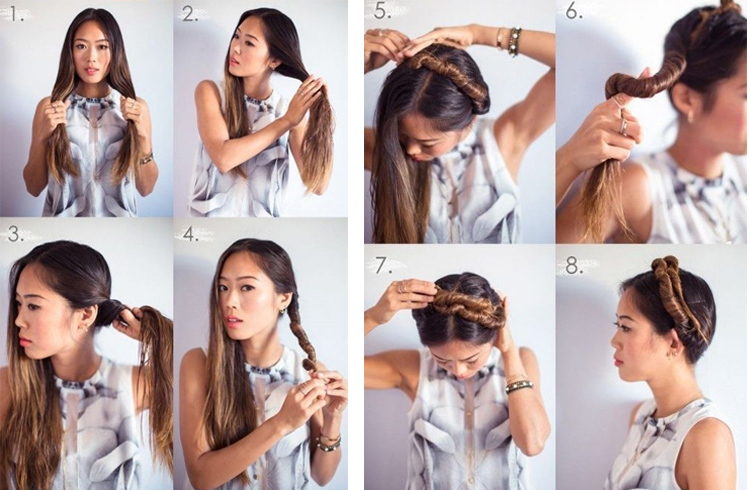 Boho Yarn for a Gypsy Mane
Want to create the same look like Katrina Kaif and Shraddha Kapoor? With the right take on feathers and braids, you will be all set. Here is how you create the look-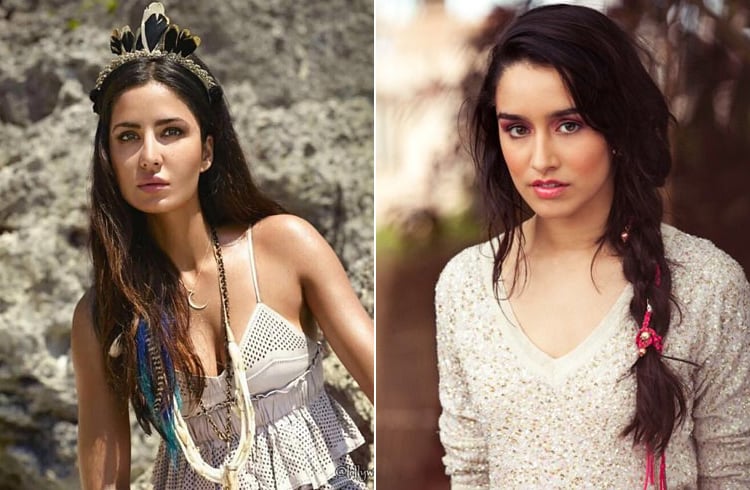 For achieving the headband look inspired from Katrina Kaif, you will a long piece of braided rope and artificial feathers from any local craft store. Tie the headband around your head for measurement. Now that you have your requirements set, braid the required length of the rope. Next, Use a hot glue to stick the feathers. Set it off to dry
For the next feather extension look, all you need are few decorative yarns like feathers, laces or ribbons. Tie the material around taking a four-inch section of your hair starting from your roots.
Secure it with bobby pins. If you like Shraddha Kapoor's idea of braided look, then you can slip in the yarn into your strands as you start to braid
Be sure to let us know your favorites in the comments box down below.