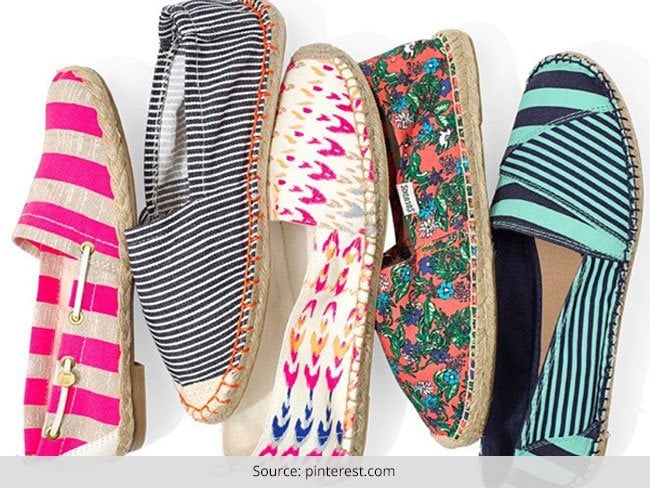 There is a pair of espadrilles that suites everyone's taste. But what are Espadrilles? Espadrilles are a type of footwear that are smart and trendy and their unique rope weaved soles are their trademark. These are worn by both, men and women. Once known as the peasant shoes, the espadrilles have comfortably paved their way to all the top designers' good books. Espadrilles have a slip on style so you can give your laced shoes a good break. The espadrille shoes are for those of you who want to feel liberated and take spring like steps wherever you go.
Espadrilles are usually found in flat canvas shoe styles. Wear them during your travels or vacations, and even to work. Let us talk about how to pair your favorite pair of espadrilles.
How to Pair the Espadrilles
You can pair your espadrilles with your jeans, jumpsuits, skirts and dresses. You can go versatile with these comfy shoes. Go simple with your denims and go print bold as well. It looks cool with every outfit. This is what makes an espadrille so special. Take any piece of clothing from your wardrobe and pair them with your espadrilles. Their multifaceted design works will weave their way into giving you a new makeover. These latest footwear styles can be bought at any retail store that sells footwear or can buy espadrilles online too.
Let me now show you 12 trendy pairs of espadrilles and how you can sport them.
1. Striped Espadrilles
These are so in vogue and have labeled their mark on Espadrilles. You can pair them with your white as well as bright colored. The striped Espadrilles look cool and chic. Unleash your liberated spirit with these amazing pairs.
2. Tie-up Espadrille Shoes
The tie up Espadrilles has a distinctive style and seen in the picture sporting Espadrilles is famous British TV Presenter and model Alexa Chung. She paired her espadrilles with her denims for a simple luncheon. She has unleashed a fresh wave of styling here. Instead of donning the normal look like simply pairing them with your trousers or dress, why don't you try out this amazing style?
3. Wedge Espadrilles
Wedge Espadrilles are playful and if you are willing to push the envelope and go versatile with your image, then this is the perfect pair for you. Wedges also gives you that extra height and you need not think it will make your walk wobbly. It is designed in such a way that you will be able to wear them comfortably. You can pair the wedge espadrilles with your skirts and maxis and since the heels accentuate your legs, why not show them off? And besides the wedge espadrilles are much more comfortable than all the regular wedges as the heel is made from rope making your feet walk most easily.
4. Ankle Wrap Espadrilles
Ankle Strap Espadrilles is a suitable footwear as it cuts the leg line and is very comfortable. The ankle strap espadrilles come in sandals, wedges and pumps too. The sleek version like the one shown looks pretty. Unlike the regular footwear, this ankle strap espadrilles cuts above the angle bone and is one step more attractive than the rest. You can also see Kate Middleton putting on nude pair of Espadrilles keeping it simple and classy with a white dress.
5. Crochet Espadrilles
The crochet Espadrilles looks like the most perfect classy pair of shoes. They are so lightweight that you will be happy in them. These crocheted espadrilles are a great fit for your everyday wear. You can wear them in any way you want to. They are designed in such a way that they will leave you wanting to add more of these into your footwear collection.
6. Embellished Espadrille Sandals
Espadrille Sandals are both classy and casual. Their simple straps makes for a flattering and comfortable fit. The coolest thing about them is that you can pair them with just about anything; be it your dress, skirts, maxis, shorts and pants. Its rope weaved soles soothes your tired feet and put you at ease.
[sc:mediad]
7. Canvas Espadrilles
Canvas Espadrilles are trending like never before. You can simply slip it on comfortably. They are the hippest of the lot. The Chanel canvas Espadrilles like the one sported by Kendal Jenner is spot on. She has simply paired it with her skinnies and a white tank but the footwear design stands out to give it a cooler dimension.
8. Espadrille Sneakers
These are completely Bohemian and they reveal a playful side as well. For a more girlish look, opt for lacey sneakers and if you want to go sporty then opt for a cat print espadrilles like the one highlighted in the picture. You can mix and match your sneakers – opt for something less crocheted or make way for different colored laces rather than the traditional white ones.
9. Animal Print Espadrilles
The one key item of every woman is an animal printed apparel or accessory in her amongst her favourite collections in the wardrobe. In fact, the animal print espadrilles are a must-have in any closet. It further enhances your image from plain and simple to a modern chic look. Contrasting your animal print espadrilles in an all black ensemble also works or you can work it up with more stripes and bolder prints.
10. Sling-back Espadrille Sandals
Your wardrobe won't be completed without a Sling back Espadrille Sandals. It is an ideal pair for summers and will sit pretty on your feet. Some of them are open toed while others are available in closed toe formats with an elastic back strap. The padded insoles are the perfect finishing's given to these great pairs. These espadrille sandals offer you great comfort together with a flirty touch.
11. Espadrille Wedge Sandals
Espadrille Wedge Sandals have small heels to add to your comfort walking and to sum up your summer wardrobe. You can pair these pairs with shorts or with a long summery dress. Its open toe style will let your feet breathe most easily.
12. Espadrille Heels
Last but definitely not the least are the heel shoes in Espadrille. It is stylish and extremely in vogue. It has rope woven soles to bring you all the comfort in your walk. Plus it looks very trendy. No one will be able to say no to these amazing pairs. Go versatile and pair them with high waist shorts to accentuate your toned legs more.
These are some of the Espadrilles which are making the rounds now. All of them are unique in style. Wear them like the final accents to complete your look.