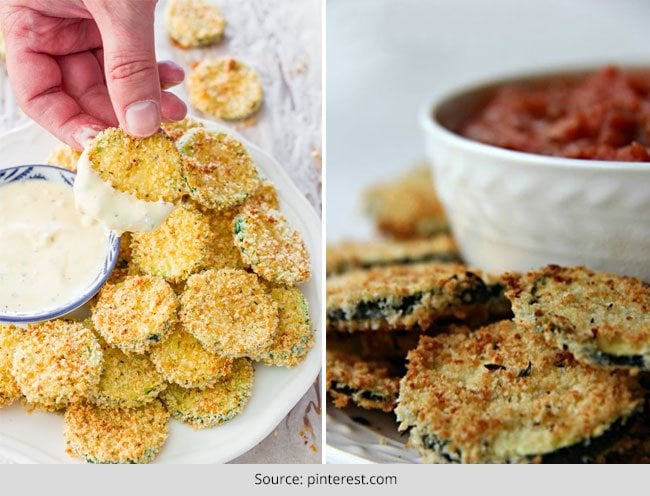 Did you always think that only fried snacks were tasty? There are plenty snack options to choose from, apart from those oily greasy ones that you've been crunching on for all this time.
Here's a small help from my side for all of you who are keen to find healthy baked snacks that can be irresistible and tempting. These five mouth watering baked snacks which I am going to share with you is sure going to kick your taste buds. You will love it because of its new tangy taste and it absolutely won't play with your pounds. So the next time around when you are craving to eat something you know exactly the right thing to do.
1. Asparagus Chips
If you want a healthy filling snack, then asparagus is for you. If you are a big snacker, then you will definitely love the baked asparagus. They have that crispiness and that crunch that makes you want to dig in for more. Moreover asparagus has all the natural healthy supplements that comes with it.
[Also Read: Blue Cheese Health Benefits]
Just dip them in beaten eggs and sprinkle some oregano and let it bake. The crunchy snack will simply be irresisitable.
2. Radish Chips
Did you ever think you could have Radish Chips? Well, here how you can have them and they are just brilliant at taste.
Place thin strips of radish on a baking dish and sprinkle it with some olive oil, salt and pepper. Bake them and relish every single chip.
3. Raw Bananas
The baked raw bananas are the perfect healthy snack that you can dig your hands into. They are super crunchy and calorie free. You can have this snack treat anytime without having any guilty pangs. Have it as your breakfast or as your dessert too. It does not matter. They are not only delicious and finger licking but also very healthy. Baked raw bananas are healthier than deep fried banana chips because of its low fat content. The sticky baked bananas will immediately give your mouth a beautiful burst of taste. Sprinkle some cinnamon powder for an additional spicy taste.
4. Baked Avocado Fries
Yum! Now avocados can be munched instead of just using them in just pasta sauces and soups. Sprinkle some oil – place them on a baking dish – Bake it – READY!
5. Potatoes
Baked potatoes are perfectly healthy and they are as tasty as any of the deep fried french fries. These are most easy to cook or even to bake. You can also try sweet potatoes instead of the normal potatoes. Wrap a silver foil around them and place them on a baking dish. Once ready they are ready to eat. Sprinkle some herbs if you want an additional flavor.
Fret not and add all these delicious snacks to your daily diet chat too. Now you no more have to follow the boring sad foods that you see on the internet to lose those extra pounds. This latest crisp and healthy snacks will come to your rescue during all your yummy and crunchy food cravings. In fact, you will never miss those bags of chips or the oily French fries ever again.
Fatty foods are definitely tasty but affects the health in more ways than one. When one can get the same pleasure with baked and crunchy foods, then let's try to keep the fried foods away and keep our body happy.