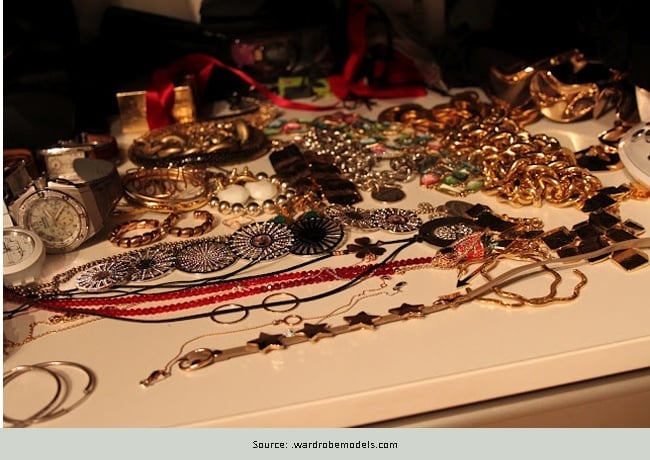 Isn't it true that our mothers are our role models? And whether it's their inner side or outer, we dream to look and be like her. Then, what will be better than stealing some of her most adored things to style, from her wardrobe!
The kind of elegance that our mom's carry is far beyond words! Maybe we can carry it too and in fact even more, by adding some funky accessories or wearing it with a completely different attitude.
Bringing to you 5 such awesome products, which you should definitely steal from your mom's wardrobe and spunk up your style for 2014!
Kanjivaram Silk Saree
Silk sarees are highly in trend these days and they look super elegant. Kanjivaram silk saree can be termed as the queen in the league of silk sarees. They are mostly made in Tamil Nadu and are considered to be one the finest silk sarees.
These sarees are so elegant in themselves that you won't even need a lot of accessories to add to your look. Just a pair of long earrings, a watch or some bangles and maybe a bindi would be brilliantly enough.
A lot of Indian celebrities have been seen wearing kanjivaram silk sarees. From Hema Malini & Rekha to Madhuri Dixit & Sridevi to Deepika Padukone & Sonam Kapoor, actresses among different age groups have been draping themselves in this saree and each one of them looks gorgeous.
So, go and grab a stunning kanjivaram silk saree from your mom's wardrobe and spice it up to get an elegant look!
Anarkali Suits
Anarkali suits have been popular for a long time now but it seems like that we just can't get enough. These long lengthen suits have beautiful flairs and usually have a long cut which starts from a bit above the torso.
To get this look right, you should probably just wear hangings, or just wear some make-up that focuses more on your eyes. This will give you a very classy look with minimal accessory and believe it or not, it works like a charm!
If you want to get a classy yet traditional look, this is the outfit for you. So what are you waiting for? Just go and grab that anarkali suit that you love in your mom's wardrobe!
Chiffon Saree
Chiffon is as feminine as it enhances a woman's curves. Chiffon sarees can never go out of trend. Thanks to the creative designers out there, who come with unique ideas and make chiffon sarees a wardrobe delight.
There are a lot of varieties under chiffon sarees, find which attracts you most and steal that from your mom. Ever since Deepika Padukone wore a royal blue coloured chiffon saree in a movie last year, chiffon has gathered a lot of attention especially from young females.
[sc:mediad]
If you want to go for a fun look like Deepika Padukone had when she wore it, just let your hair loose and be minimalist with accessories. Whereas, if you want a bit sophisticated or rather a classy look, then tie your hairs in a nice bun and accessorize your look with a watch! You can also experiment with the blouses.
Patiala Salwar
Patiala suits are a lot of fun! They come in vivid colors, which energizes not just the way you look but also, the way you feel. You can grab Patiala salwar of your mom and then style it as you want to.
Patiala suits look best when worn to a casual function or as a daily wear because they are very comfortable. Patiala suits originated from Punjab and thereby, carry a very fun vibe. They look fabulous when teamed up with a jooti whereas, the amount of accessories depends upon the look of your suit and where you'll be wearing it. Pair it up with either a t-shirt for a casual look to with a short kurti in block colours for a tradition funk look. Go for printed salwars and bright coloured kurtis.
So if you want a cool attire, like that of Kareena kapoor in Jab We Met, then pick out a Patiala suit from your mom's closet!
Palazzo Suit
Palazzos are a fresh trend in India and no matter what age, we all have one! And, there is absolutely no reason as to why we shouldn't have it. It makes us feel comfortable without even compromising on the looks!
Palazzo suits are an even more unique trend, that has taken off and a lot of celebrities are supporting it, including Vidya Balan, Kareena Kapoor and Priyanka Chopra.
These suits look absolutely flawless when worn with flats and accessorized with short length earrings. You can also choose to pair up your palazzos with crop tops. There are plenty of ways that you could opt to style your palazzos.
So don't waste any more time and just steel these amazing attires from your mom's wardrobe now!