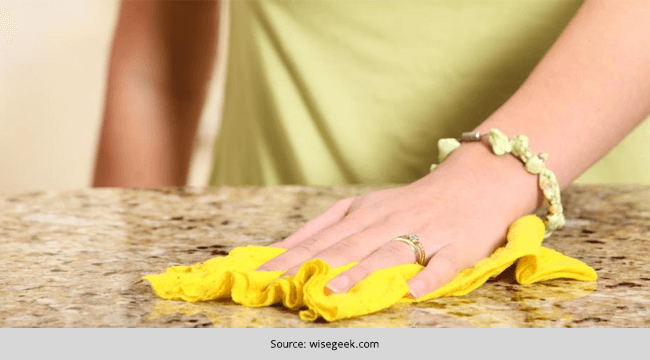 A kitchen is considered the heart of a household. It is where food is made, so it is quite a natural assumption that the kitchen should be spick and span at all times. An unhygienic kitchen is more likely to attract a lot of miscreants—from rats and cockroaches that attack your food supplies to the microscopic germs that are not visible to our eyes.
An unclean kitchen acts as the breeding place for diseases and could lead to food poisoning and other illnesses. So keeping your kitchen spanking clean is imperative to your as well as your family's good health.
Now let us move onto how to maintain your kitchen, keeping it clean at all times.
Have at least two cutting boards. One to cut vegetables and another one for cutting raw meats and poultry. Similarly, it is a good idea to also maintain separate knives for vegetables and meats. And opt for plastic ones as they are much easier to clean and dry than wooden boards that are porous and tend to retain moisture.
Regularly wash your kitchen towels, aprons, and oven mittens. You have no idea of the germs and dirt that gets accumulated in dirty clothes. Use a disinfectant and wash them in hot water to properly get rid of the germs.
Make a schedule to clean your kitchen appliances. Have a monthly schedule and do a thorough cleaning of all your kitchen appliances. These are often neglected, making them hotspots for bacteria and debris to accumulate. Ovens particularly, get greasy over time; so put it on your list of priorities.
Ensure your trash can is always closed and regularly empty trash, especially if you have food wastes in them. You don't want to leave rotting food in your kitchen, making it a breeding ground for all kinds of bacteria and insects. Also, wash your trash can at least once a week.
Wash all fruits and vegetables thoroughly. Here's a handy tip: soak your vegetables in some water with a big pinch of sea salt. Leave it for half an hour and then wash the vegetables in running water before using them. The salt helps remove any traces of fertilizers, insecticide or pesticides that can be coating the vegetables.
Make it a point to periodically clean out your kitchen cabinets and refrigerator. Throw out any expired items or items that smell "off". Never risk using stale foods; it's just not worth the risk. Be extra cautious when it comes to meats and dairy products as these tend to spoil easily. If you're not sure if something's gone bad, ask for a second opinion.
[sc:mediad]
Never over-fill your fridge. This is a common mistake that most of us make. Over-filling your fridge will lead to it not working to its full potential. Your fridge needs some space for air circulation to ensure that the foods are kept smelling nice and fresh. Over-filling leads to foods taking on a stale smell and you run the risk of having your raw food coming into contact with your cooked food, which is never a good idea.
Make it a regular habit to clean all work surfaces once you're done working in the kitchen. Use a disinfectant to clean the surface areas to curb germs from breeding.
Never leave the dishes in the sink overnight. Did you know that the sink is one of the most contaminated areas in a house? Leaving the dishes unwashed in the sink is a complete no-no. As tired as you are, just grit your teeth and finish up that one chore. That way you can sleep peacefully at night without worries of bacteria and rodents.
Keep your kitchen free of insects and rodents. Once they invade the kitchen, you can never be sure of where they've been and what foods they've touched. If you're kitchen already has insects and rodents, take strong action to get rid of them. Rope in the services of a pest-control agency if you have to. Even those seemingly harmless insects and bugs are spreading illnesses and diseases wherever they go.
Always wash your hands with soap before you start cooking and once you're done cooking. Just washing it with water alone is not enough, especially if you're handling raw meat. Keep your hair tied up in a pony, away from your face, thus ensuring they don't end up in the food! There's nothing as off-putting as a strand of hair in your food.
Follow these basic tips on kitchen hygiene to protect yourself and your family. Always remember to wear rubber gloves while doing the dishes to protect your nails and prevent them from chipping.